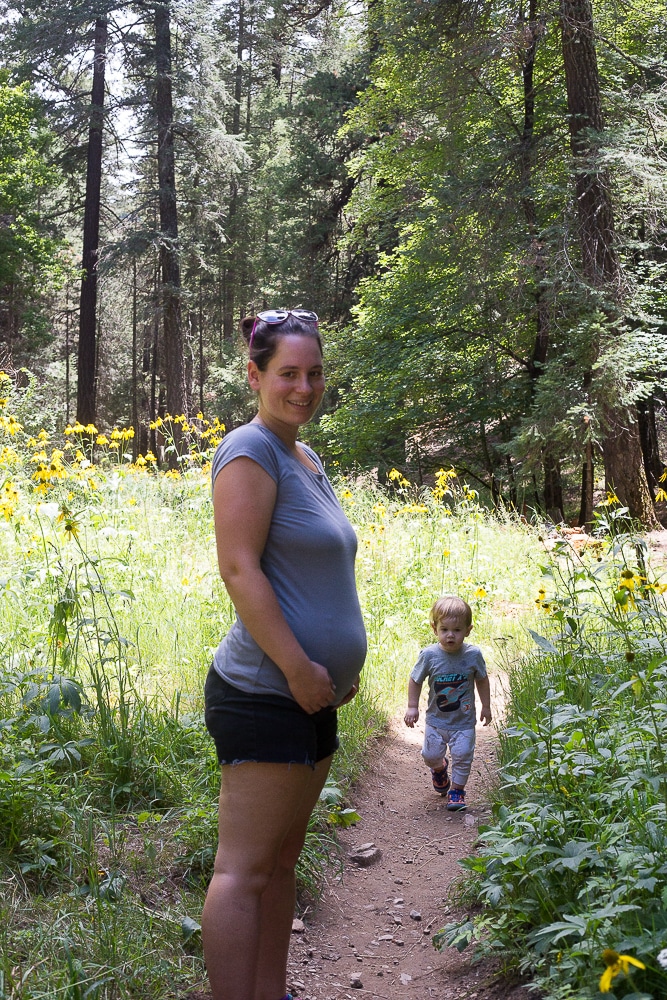 Hello!  I feel like this post has been a long time coming!  While I wasn't lying when I mentioned that one of the reasons I've been absent from here for most of the summer is because we're moving and it's been a little crazy, there's also another big reason! 
About a month before Eric got offered his new job I found out I was pregnant!  And then as soon as the morning sickness started to hit we found out that Eric got a new job in Santa Fe, NM, we put our house here in Tucson up on the market and we started house hunting in NM.  Needless to say, the last 3 months have been quite the whirlwind and I don't even feel like I've had time to even think about the fact that we are having another little human.
How far along am I?  I'm only 13.5 weeks along right now but it looks like I'm about 20 weeks!  I never quite lost all of my baby weight that I gained with Eli and they aren't lying when they say you start showing earlier with the second baby.  Baby is due at the very end of January and I'm excited to have a winter baby this time.
How am I feeling?  This pregnancy has been quite different than last time so far.  Even before I got a positive test I was feeling really exhausted.  With Eli my nausea kicked in around 6 weeks and was really bad until about 15 weeks.  I threw up multiple times a day and wasn't able to eat very much.  This time my nausea didn't get bad until 7 weeks but besides gagging a little fist thing in the morning I've only throw up about 4-5 times so far.  While I'm thankful I haven't been as sick as I was with Eli, I've been so hungry but haven't been craving anything healthy and I've been keeping all my food down so I've already gained about 10 pounds in the first trimester.  With Eli I maybe gained 1 pound by this point.  I'm finally starting to feel better and I already feel my eating habits changing so I'm hoping everything evens out this trimester! It's also been super hot here so I haven't been exercising at all.  Now at 13 weeks I'm only feeling a little nauseous in the evening and I'm very thankful for that!
Any cravings?  The only craving I ever remember having with Eli was for fresh oranges but this time around I've mainly been craving junk food and sweets.  I'm finally starting to crave more big salads and I'm pretty excited about it!
Are we finding out gender?  While I think it's exciting in theory to wait until the birth to find out gender, I'm definitely not one of those people!  With Eli we found out at our 20 week ultrasound but this time we actually found out at 12 weeks with a genetic blood test.  We're having a boy!!!  To be completely honest I was totally thrown off when we found out.  As soon as I found out I was pregnant with Eli I had such a strong feeling it was a boy and I ended up being right.  This time I felt even more sure that it was a girl, I would have put money on it.  So when we found out it was a boy I was a little confused!  Before we started trying there was part of me that wanted a girl.  I've always pictured myself with a little girl, as I think is true for a lot of women but there was also part of me that really wanted Eli to have a brother.  I know that same sex siblings can be super close but there's something about the bond between two brothers that I just loved the thought of.  I know having two boys might be a crazy ride but I'm so excited about it!  I can't wait to see how this little boy is different from Eli and I really can't wait to see the bond that grows between them! <3
Are we going to have anymore kids?  Good question!  If you ask my husband he will say absolutely not!  When I was younger I always said I wanted three kids but now that I have one crazy toddler two kids sounds a little more manageable to me than three.  I do like the idea of waiting about 4-5 years and having another one once Eli and this new baby are a little older.  I'll have to work on Eric though!  And, I definitely don't want to have a third just in hopes that it might be a girl, if we have a third baby it will be because we really just want three kids!
So, this is why I've been absent for most of the summer!  I hope you all understand!  I plan on getting back to my regular two posts a week schedule starting in August but may have to take a little time off once we move into our new house at the end of August but hopefully not too much!  I'm looking forward to finally being settled into a new house and new city and being able to relax a little and enjoy the new life that is coming into our family soon!
I hope you all are having a wonderful summer!
SaveSave
SaveSave
SaveSave
SaveSave