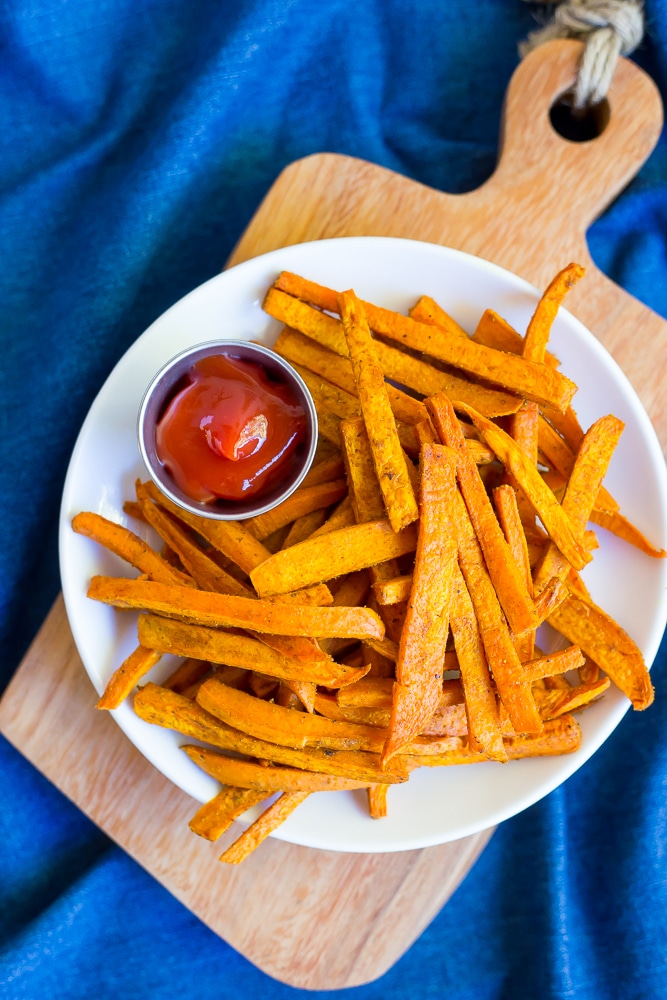 I feel like I need to put a disclaimer on this post before I even begin. Yes, I am calling this recipe Moroccan Spiced Sweet Potato Fries. Yes, technically these are Moroccan Spiced Orange Skin Yam Fries. I do know the difference between sweet potatoes and yams but I've always universally called them all sweet potatoes and sweet potato fries sounds much better than yam fries! I hope that doesn't offend you, but I'm gonna do it anyway 🙂 (sorry, I've seen a lot of people calling out sweet potato recipes as yam recipes lately and in my mind it doesn't really make a difference!)
I've been watching way too many episodes of House Hunters: Renovation this weekend, but now that I'm finally off the couch I'm happy to bring you these Moroccan Spiced Sweet Potato Fries! I make a lot of regular sweet potato fries in this house and I thought it would be fun to mix things up a little bit and add some new flavors. I've never really cooked Moroccan food before but for some reason the idea of Moroccan spiced fries sounded really good to me. I googled the key spices and sure enough, most of them were ones I use regularly: Cumin, ginger, turmeric and cinnamon.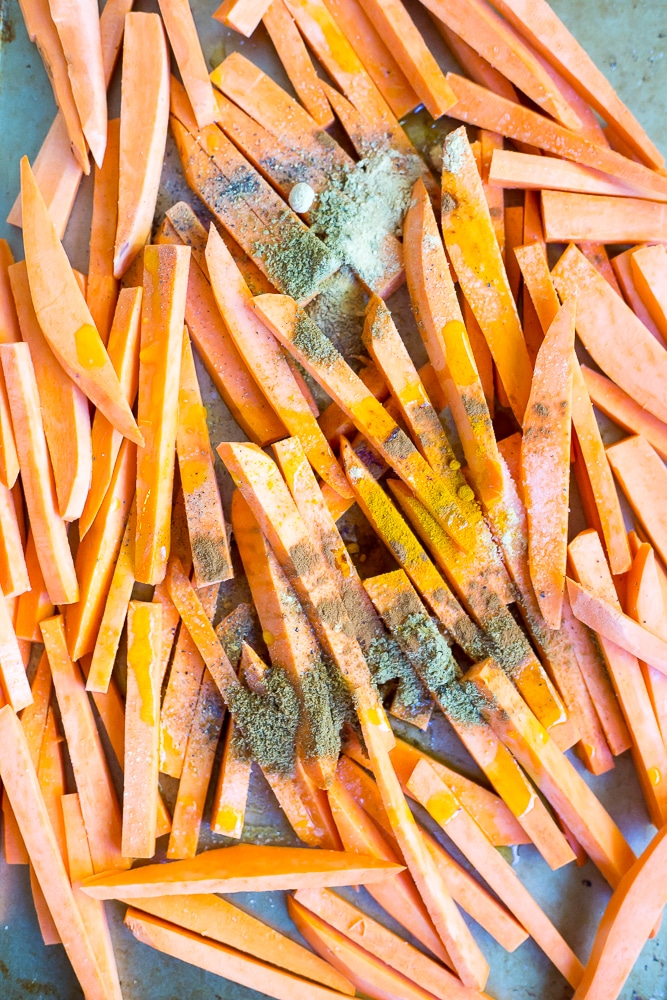 Coriander was the only spice that I don't use very much around here, but I was able to find some really cheap in the bulk spice section (one of my favorite sections of the grocery store). And I love cilantro so I knew I wouldn't be dissapointed. I tossed the sweet potatoes with all the spices and about 5 minutes after I put them in the oven I had no doubt that they were going to taste delicious. I've been enjoying them with ketchup as well as chopping up the leftovers and throwing them into breakfast hash and using them on top of rice bowls. They will be delicious anyway you choose to enjoy them!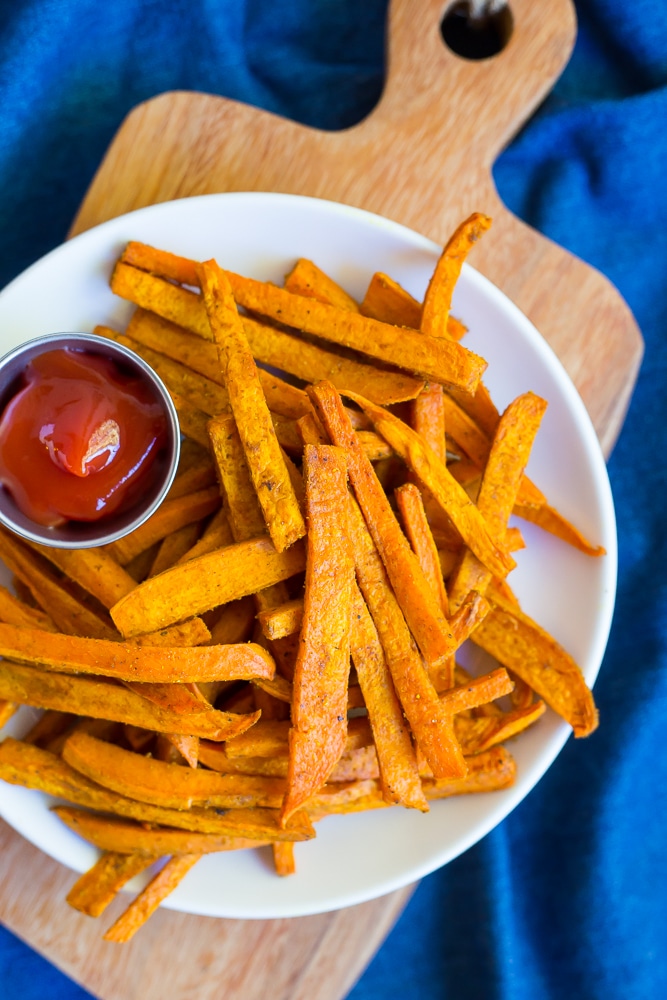 If you love regular sweet potato fries you are going to really love these Moroccan Spiced Sweet Potato Fries!
Print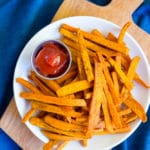 Moroccan Spiced Sweet Potato Fries
---
Prep Time:

10 mins

Cook Time:

45 mins

Total Time:

55 minutes

Yield:

4

-

6

1

x
Category:

Side, Gluten Free, Vegan
Ingredients
2

medium sweet potatoes (or orange skin yams)

3

–

4

teaspoons olive oil*

1 teaspoon

salt

1 teaspoon

ground cumin

1 teaspoon

ground coriander

1/2 teaspoon

ground ginger

1/4 teaspoon

ground turmeric

1/4 teaspoon

ground cinnamon

1/4 teaspoon

black pepper
---
Instructions
Pre-heat oven the 375 degrees Fahrenheit. Peel sweet potatoes and cut them into thin french fry rods. Place sweet potatoes on a large sheet pan and toss with all the spices and the olive oil.
Bake fries until cooked through and beginning to brown, about 45 minutes, flipping once. Enjoy with ketchup or dipping sauce of your choice.
Notes
*First use 3 teaspoons of oil and then add a fourth one if necessary. It will depend on exactly how many fries you end up with.