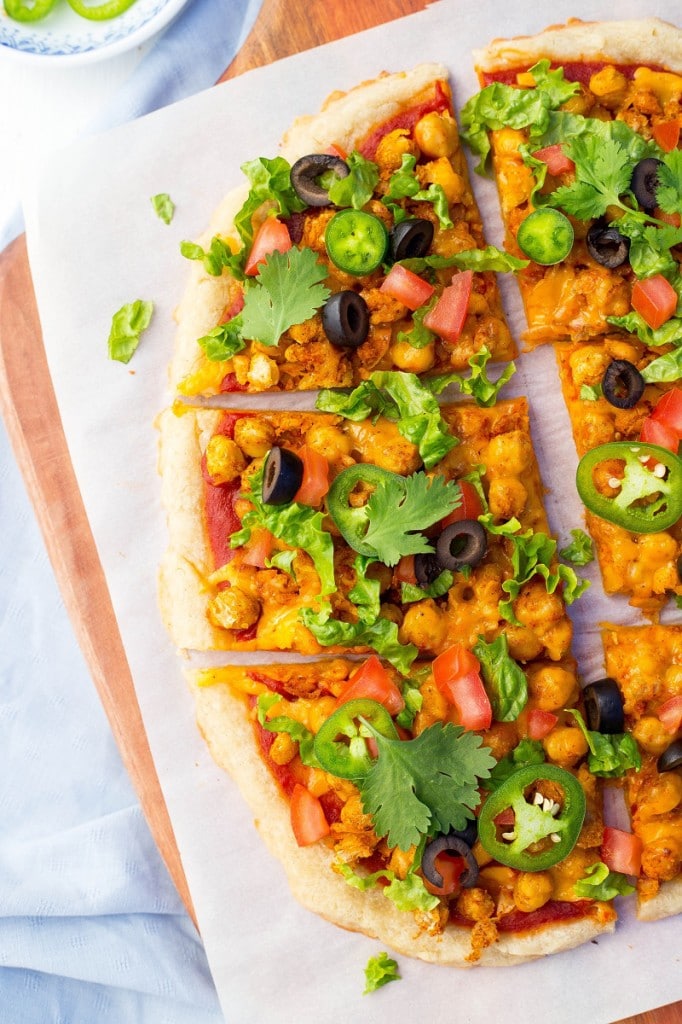 Taco Pizza is the ultimate compromise and crowd pleaser in this house.  It makes us both really happy and can pretty much mend any fight we might get into.  If Eric snored loudly all night and I didn't get any sleep, Taco Pizza for breakfast makes me forget all about it.  And, if I am lazy and leave the pumpkin orange bread that I am photographing outside for 2 hours and our yard is overrun by a swarm of bees, you better believe I am making Taco Pizza for dinner that night!
The thing is, my husband could eat pizza for every single meal every single day of his life, no joke.  And I could happily live on Mexican food, specifically tacos, for the rest of mine.  So, you put them together and you get pure amazingness!  And, by the way, I am totally using Cinco De Mayo as a huge excuse to make Mexican food recipe after Mexican food recipe and not have to apologize about it.  I hope you don't mind!
Ever since the awesome people over at Melissa's Produce sent me a box of goodies including their Steamed and Peeled Garbanzo Beans I have been dreaming up with Smashed Chickpea Taco Pizza.  But, for some crazy reason I am only getting around to making it now.  Better late than never though!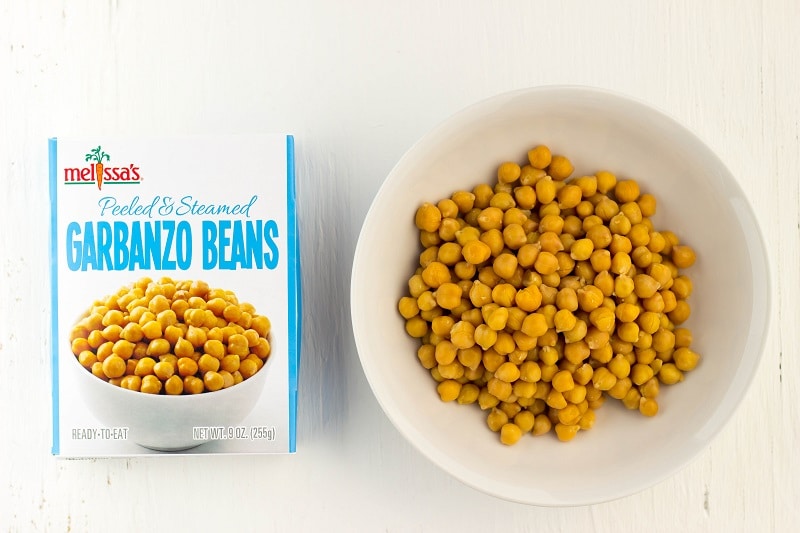 I'm not sure how they go about de-skinning the chickpeas, but they do a pretty good job of it.  There were only a few chickpeas left with their skins on but that was completely ok for this recipe.  The skinless chickpeas are a little smoother than regular chickpeas and make for amazingly creamy hummus and perfect smashed chickpeas.
I slightly smashed the chickpeas and then crisped them up a little bit with my homemade taco seasoning blend that includes, cumin, paprika, garlic powder, onion powder, salt, and pepper.  I've never been a fan of the storebought taco seasoning packets and this homemade version is not only so much better but also really easy to make.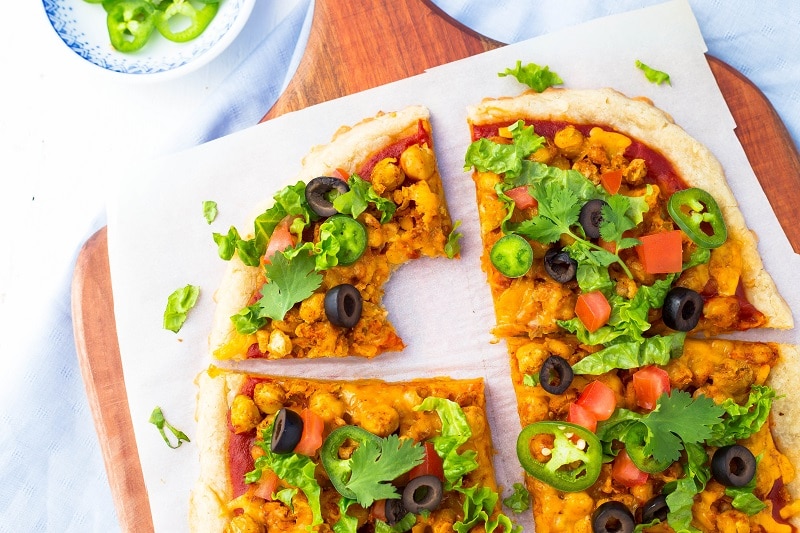 Print
Smashed Chickpea Taco Pizza
---
1

ball of gluten free pizza dough or

1

pre-made crust, you can also use non-gluten free

1/2 cup

cooked chickpeas

1/2 teaspoon

olive oil

1/2 teaspoon

ground cumin

1/2 teaspoon

paprika

1/4 teaspoon

garlic powder

1/4 teaspoon

onion powder

1

pinch salt

1

small pinch black pepper

1/4 cup

plus 2 tablespoons taco sauce

1/2 cup

grated cheddar cheese, or your favorite kind
Your favorite taco toppings, such as; lettuce, tomato, black olives, jalapenos, cilantro, etc…
---
Instructions
Pre-bake your pizza crust if needed. Pre-heat oven to correct temperature for pizza crust you are using.
Place chickpeas on a large plate or shallow bowl. Mash them lightly with a potato masher or fork. It is ok if you leave some whole. Heat a large pan over medium heat and add olive oil. Then add chickpeas and all seasonings. Cook for 5 minutes until chickpeas are beginning to crisp. Set aside.
Evenly spread the taco sauce over the top of the pizza, then evenly distribute the chickpeas on top. Finally, add the cheese and bake in the pre-heated oven until the crust is cooked through and the cheese is melted, 10-20 minutes, depending on your crust.
Let pizza cool for a few minutes and then top with your favorite taco toppings and enjoy!
Notes
These ingredient measurements are based on a 10 inch pizza, you may need more of each if you have a larger pizza. Feel free to let me know if you need help figuring out how much of each to put on!
Category:

Entree, Mexican, Gluten Free
  A few more delicious Cinco De Mayo Recipes for you to enjoy!