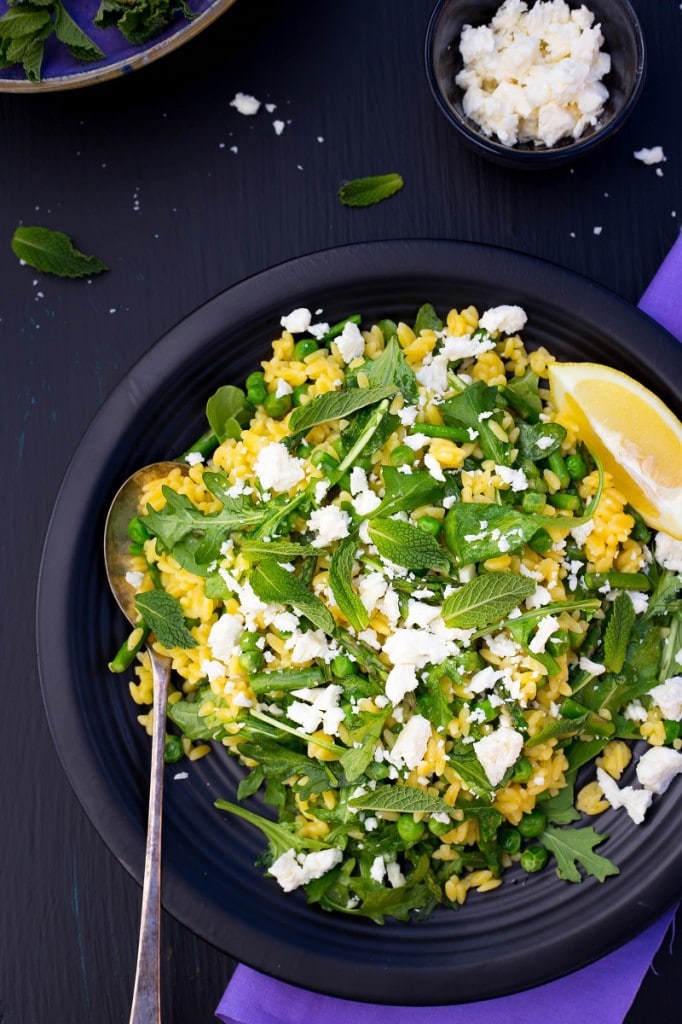 It is going to be 90 degrees here next month, but I'm not going to give up on Spring that easily! You are going to have to get me away from these fresh spring salads kicking and screaming! It just isn't fair that spring is my favorite season and you basically blink and it is full on summer. Like, A/C set to 50, sprinting from the car to the house, and eating popsicles in bed kind of summer.
But for a few more days I'm going to enjoy all the peas and asparagus I can stuff into my mouth. And, thankfully salads never seem to go out of style, so we are all set there. So, let's talk about this salad. We eat a lot of pasta in this house and since it is common knowledge that mini food tastes much better than regular sized food orzo has always been a favorite of mine. But, gluten free orzo isn't something that you see in the grocery store all the time so I always get super excited when I spot some. While I normally prefer to eat gluten free brown rice pasta, this corn based orzo was the only thing I could find so I didn't have much of a choice. Sometimes you gotta make a few sacrifices when you have something specific in mind.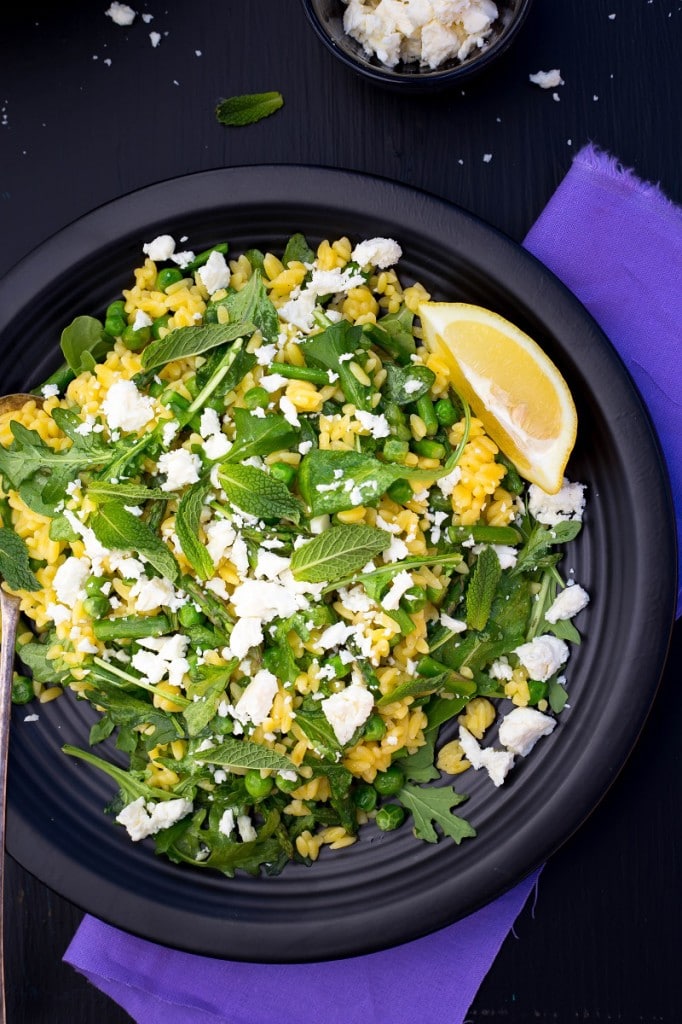 I make so many salads like this one that I don't post on here because they would all be pretty similar to each other; pasta, veggies, and a simple lemon dressing. Which is a delicious combination and perfect for a quick dinner, but you guys might get bored and I would never want that! But I convinced myself that this salad was exciting enough to post and I hope you agree with me. I really love the combination of mint, peas and feta and I think those three ingredients really take this salad to the next level. The arugula is nice for adding some roughage to the salad and the asparagus because, hello, it is a spring salad and you can't spell spring without asparagus!
The dressing is really simple for this salad, but so good. I started exclusively making my own salad dressings a few years ago and now it is hard to even stomach most of the store-bought ones because they are so sweet. My favorite simple dressing consists of lemon juice, olive oil, and liquid aminos. It takes about 3 seconds to make, most times I just add the ingredients directly on top of the salad, and is perfect for most types of salads. I added a little bit of dijon to this dressing to make it a little thicker, and it really gives it a nice little punch. Whether you are just starting to enjoy some spring weather or you are like me and hanging onto the threads of spring as long as you can, I think you will love this fresh orzo salad 🙂
Print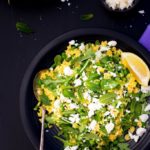 Spring Orzo Salad with Asparagus and Peas
---
Total Time:

30 minutes

Yield:

2

-4

1

x
1 1/2 cups

dried orzo

1 teaspoon

olive oil

1 cup

frozen peas

1 1/2 cups

diced asparagus, about

1/2

inch dice

2 cups

baby arugula

2 tablespoons

chopped fresh mint

1/3 cup

crumbled feta cheese
salt, to taste
pepper, to taste
Simple Lemon Dressing:
1/4 cup

olive oil
juice of

1/2

a large lemon

1/2 teaspoon

dijon mustard

1/4 teaspoon

salt

1/8 teaspoon

black pepper
---
Instructions
Fill a medium sized pot with water and bring to a boil. Once boiling, add orzo and cook according to package directions. Make the dressing by adding all dressing ingredients into a small bowl and whisking until combined. Set aside.
While orzo is cooking, place a large pan over medium heat and add 1 teaspoon olive oil. Next, add the frozen peas and cook for about 2 minutes. Once peas are almost finished, add the asparagus. Season with salt and pepper and cook until peas are warmed through and asparagus is tender. Try not to overcook.
Drain the orzo and add the peas, asparagus, arugula, feta and mint. Slowly drizzle dressing over the top of the salad just before serving. Season with salt and black pepper, to taste.
Notes
Salad tastes great served warm or cold.
Prep Time:

10 mins

Cook Time:

20 mins

Category:

Salad, Gluten Free