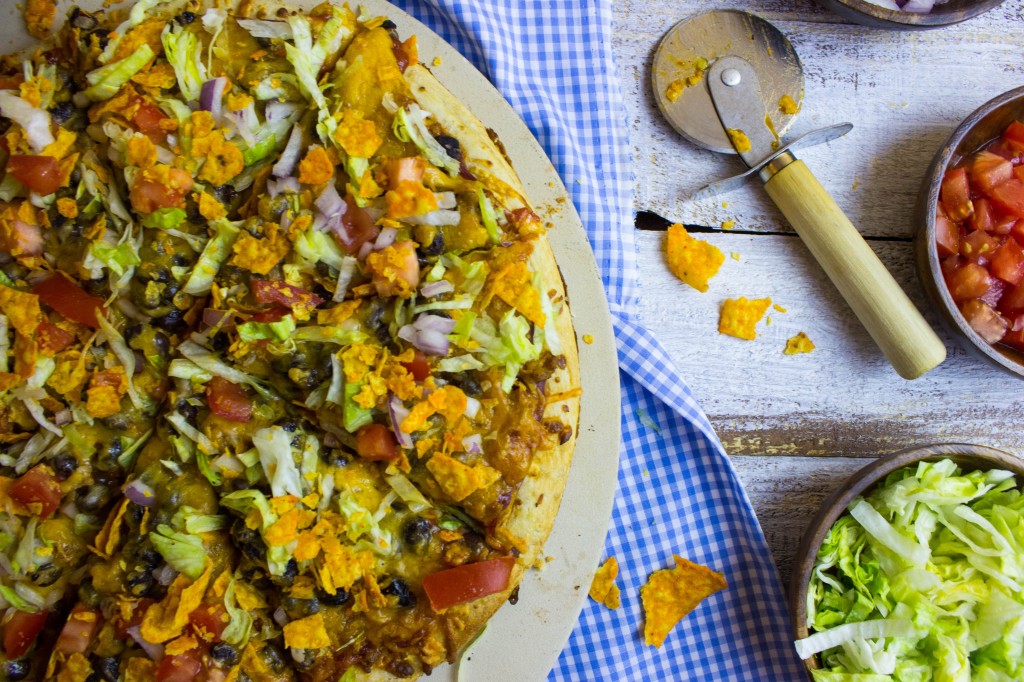 I apologize for being a lazy food blogger.  If I was really on top of things I would have made this taco pizza days before the Superbowl, so I could post it in time for you to make it for the Superbowl.  It would have also allowed for me to eat taco pizza twice in one week, which would have been pretty great.  But instead I made it for myself the evening of the Superbowl and am just getting around to posting the recipe now.  In my defense, I don't think that you really need an excuse like the Superbowl to enjoy some taco pizza.  In fact, taco pizza is so good that every time I make it, I think to myself, "Why do I not eat this every single day?".
I think that I have professed my love for Mexican food and my husbands love for pizza before, but in case you missed it, it is safe to say that those would be each of our "desert island" or "if you could only eat one food for the rest of your life" foods.  So, it is only natural that our perfect dinner, one that we can always agree on, is taco pizza. I've eaten a lot of taco pizzas in my day from many different restaurants.  In my opinion, what really makes a taco pizza stand out and takes it to the next level is the chips crumbled up on top of it.  Some places don't use any chips, big mistake, can you even call that a taco pizza?  Some places use regular, plan tortilla chips, better, but still not great.  Other paces, that I wasn't aware of until I visited my husband (then boyfriend) at home in Dubuque, IA, use crumbled up Nacho Cheese Doritos.  Not only does it add a crunch, but it also adds a delicious cheese flavor,(that is if you like Nacho Cheese Doritos).  Sometimes we even add Taco Flavor Doritos to the top of it, both flavors really make this taco pizza delicious.
Now that we have the chips out of the way, I like to keep the rest of the pizza pretty simple.  I use a good taco sauce for the base, my favorite so far is La Victoria brand, really flavorful, not too spicy, and gluten free
(which is usually a priority for me, but I have to admit that it was not the night I made this taco pizza).  Then I add seasoned taco meat (I used turkey), black beans, and a very generous amount of cheddar cheese.  You could use any kind of ground meat that you like, or even omit if you are not a meat eater.  Once the pizza is out of the oven and looking all melty and delicious, it is time for the cold toppings.  My toppings of choice are usually lettuce, tomato, red onion, and of course, the chips.  My husband also likes to add a little bit of extra taco sauce to the top of it.  You are welcome to make this taco pizza your own by adding all of your favorite taco toppings to it.  I hope you enjoy this taco pizza as much as we do!
What You'll Need:
1 pizza crust or pizza dough, I used a Boboli pre-made crust
Taco sauce, I used 1/2 cup plus a few tablespoons, it will depend on the size of your crust and the amount of sauce you prefer
Grated cheese, I used about 2 big handfuls of cheddar cheese
1/2 pound of ground meat, browned, I seasoned mine with a little bit of salt, pepper, cumin, garlic powder, and paprika.
1 Cup of black beans
Crumbled up Nacho Cheese or Taco flavored Doritos, or chip of your choice, I used about 1 large handful
Additional toppings: shredded lettuce, diced tomato, diced red onion, diced avocado, salsa, etc…
What To Do:
Preheat oven according to temperature the pizza crust you are using requires.  If you are using pizza dough, roll it out and pre bake it if required by the recipe.

Top your crust with the taco sauce and spread out evenly.

Next add the layer of ground meat, then beans, then finally top with the cheese.

Put the pizza in the oven and bake according to pizza crust directions, or until crust is cooked through and cheese is melted.

Take the pizza out of the oven and let cook for a few minutes.

Top with your favorite taco toppings, such as: lettuce, tomato, onion, then add the chips.

Slice and enjoy!
Cheeto ate a little too much taco pizza!