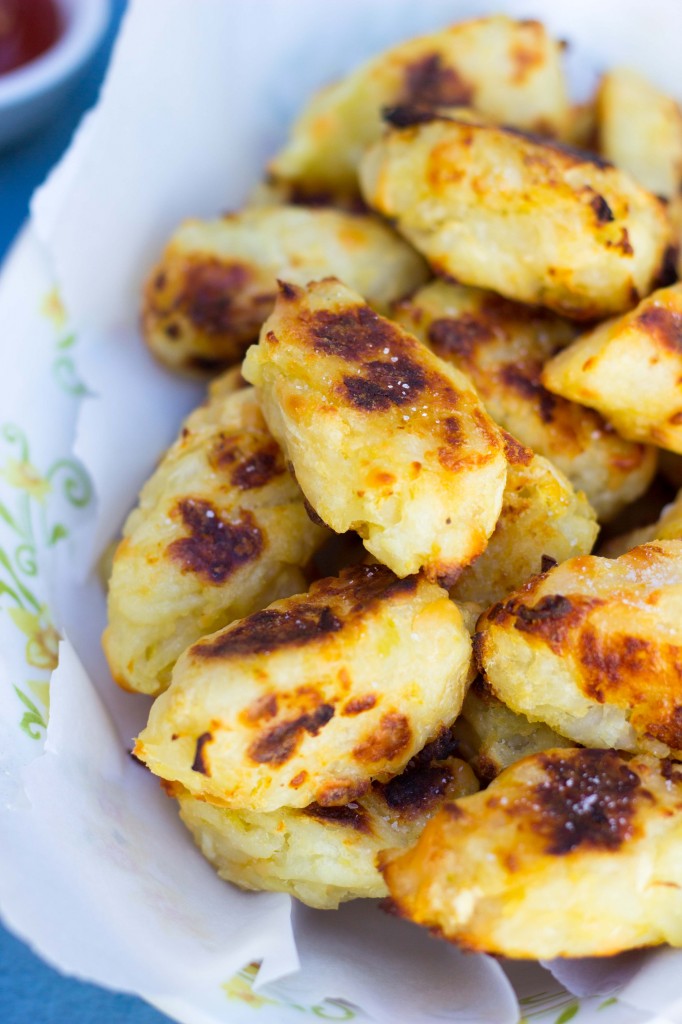 Does anyone else out there regularly get packages delivered to their doorstep and get so excited because they've completely forgotten what they ordered a few days before? Or am I the only one with an online shopping addiction?!
Ok, good, I knew I wasn't the only one who did things like that! Today I came home from work and there was this long skinny package and I couldn't, for the life of me, remember what I hard ordered. The worst part is, it isn't like I'm ordering something and then waiting weeks for it to come. I'm ordering something and then thanks to my BFF Amazon Prime it comes to my doorstep 72 hours later. Somewhere in that 72 hours I completely forget that I've ordered something and it is like Christmas when my package arrives!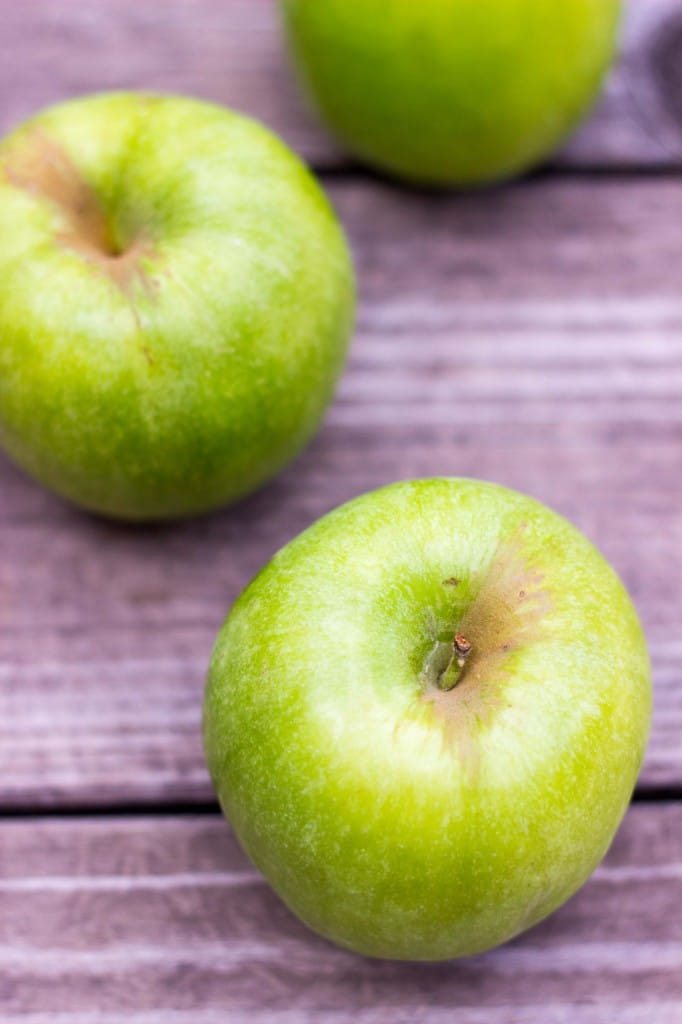 I was so excited when I pulled up the driveway to see a package at the door. Although I couldn't remember what it was, I figured it was for me and I was really hoping that maybe my husband had possibly missed the huge package sitting by the front door when he came home. He doesn't quite approve of my online shopping addiction as much as Cheeto does. That might have something to do with the fact that my husband gets no satisfaction out of jumping in and out of empty boxes!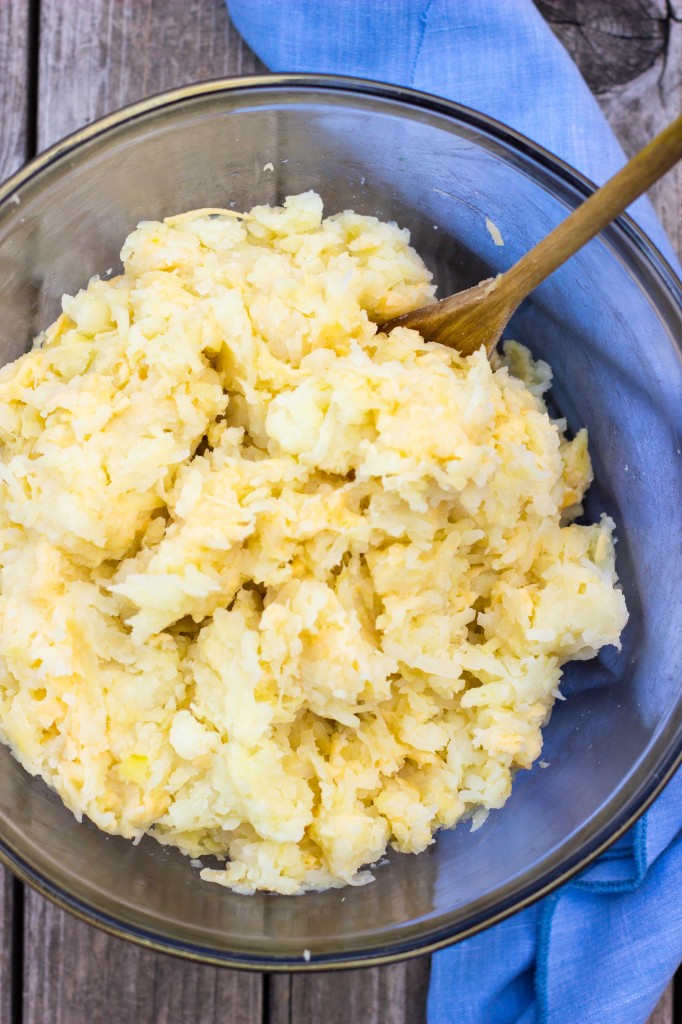 I finally opened my package and was delighted to find my new tripod sitting inside! I had been using a tripod that I got from a friend for some time now and apparently in its previous life the top had fallen off. A few days ago I had my camera sitting on top, thank goodness I was holding it, and the entire top of the tripod just came right off! I grabbed my camera and then had a mini heart attack! I usually only use a tripod if I am doing a fun action food shot, but now that I have a nice new one I'm gonna try to shoot with it more. I'll let you now how that turns out!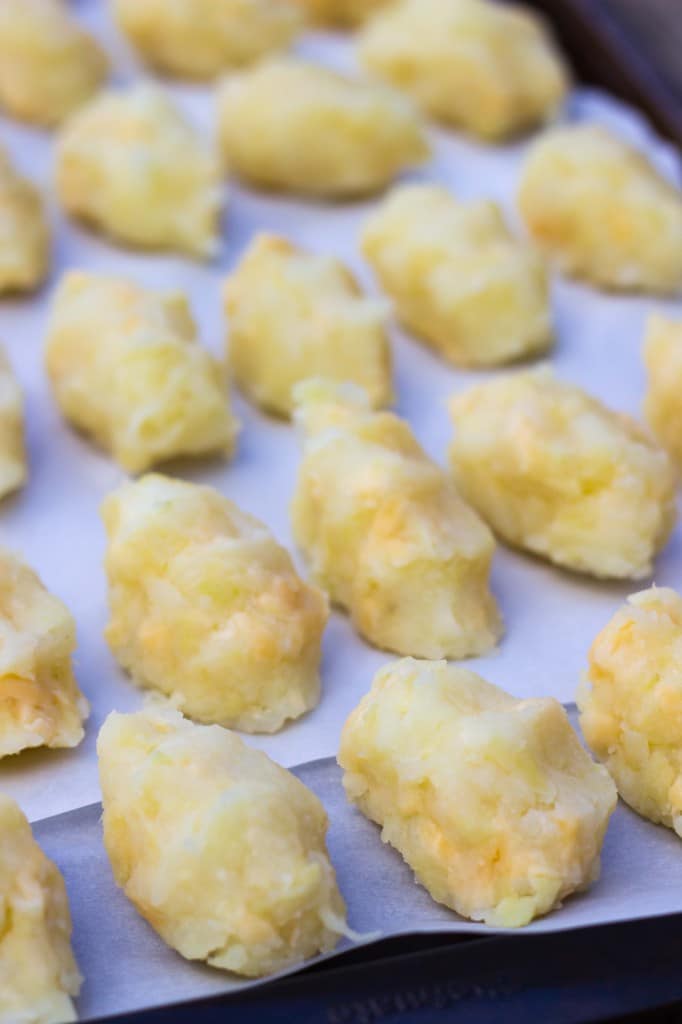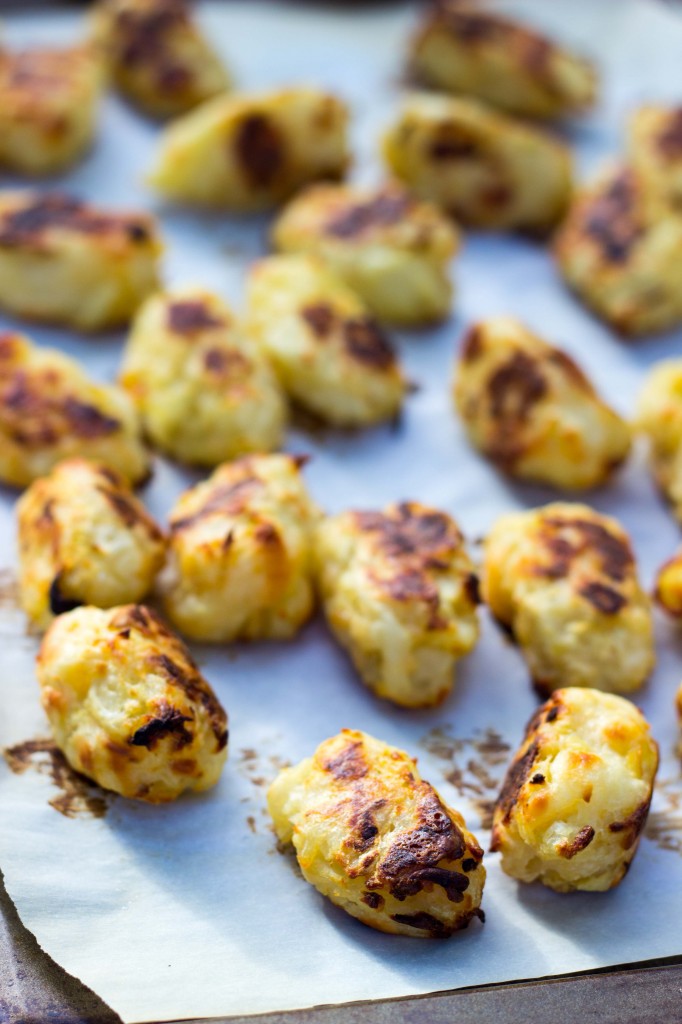 Now, onto the tots! If you've never made homemade tater tots before you really should start homemade tater totting asap! And, yes they are good enough to have their own verb! I love eating tater tots, but for some reason I always feel like a kid when I have them. These tater tots are baked so you don't have to feel too guilty about eating a whole tray full (not that that happened…) and they also have some grown up flavors in them like green apples and smoked gouda. I try not to eat too much cheese these days, but I can never pass up a big block of smoked gouda.
I used to work in a cafe where one of my jobs was to grate all the gouda cheese. I always ended up eating more cheese than I grated 🙂 These baked tater tots are seriously so easy to make and hardly require any ingredients at all. And, to top things off they are even seasonal with the addition of the green apple! And, if you weren't already convinced, we all know that apples and cheese go hand in hand so these tots will be one of best bites you've ever had!
Print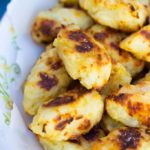 Baked Tater Tots with Smoked Gouda & Green Apple
---
Total Time:

1 hour 30 minutes
4

russet potatoes

3

green apples, peeled and grated

1 1/2

–

2

cups shredded smoked gouda cheese, depending on how cheesy you want them

1 teaspoon

salt
olive oil, coconut oil, or canola oil
---
Instructions
Place potatoes in a large pot and cover with cold water. Bring to a boil over medium heat and boil for 15-20 minutes, until you can stick a fork into the potato, but it is still firm in the middle. Let potatoes cool for a few minutes and then peel the skin off of them. Grate potatoes using a box grater and place in a large bowl.
Heat a large pan over medium heat and saute the grated apples, with a very small amount of oil for about 3 minutes, until just beginning to soften.
Pre-heat oven to 450 degrees F. Add the green apple to the potatoes and then add the salt and shredded cheese. Mix potato mixture with your hands until everything is evenly distributed. Form mixture into cylinders and place onto a sheet pan covered in parchment paper. Place tater tots in the freezer for about ten minutes until they have firmed up.
Cover another large sheet pan with parchment paper and lay tater tots out evenly spaced. Brush the top of each tater tot with a small amount of olive oil. Place into the pre-heated oven and bake for about 30 minutes, flipping halfway though.
Notes
Recipe makes 40-50 tater tots, depending on how big you make them.
Prep Time:

40 mins

Cook Time:

50 mins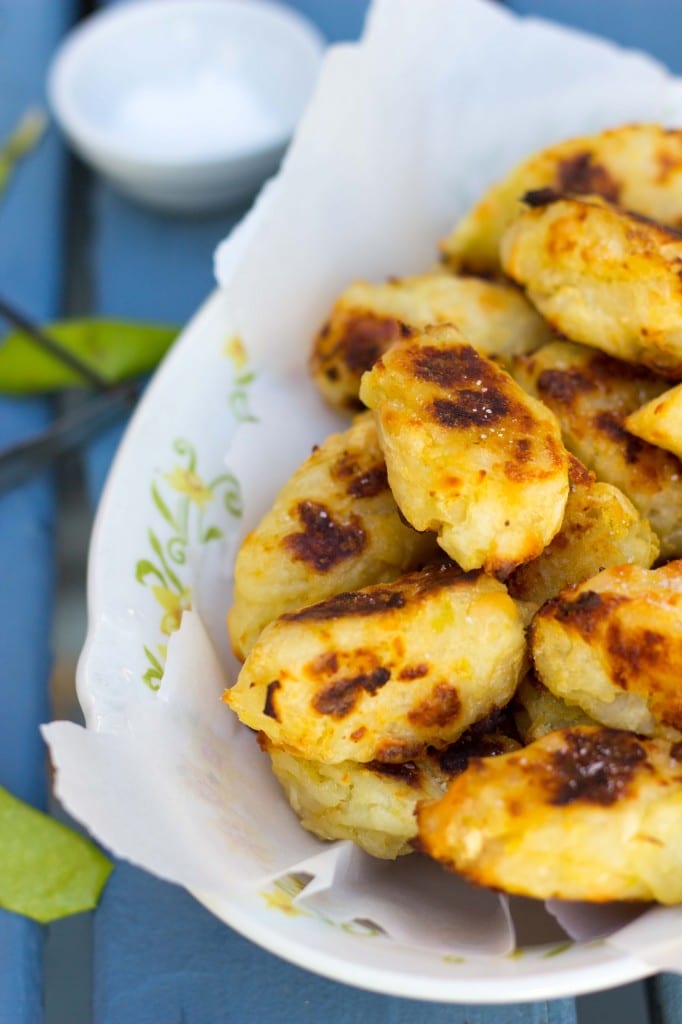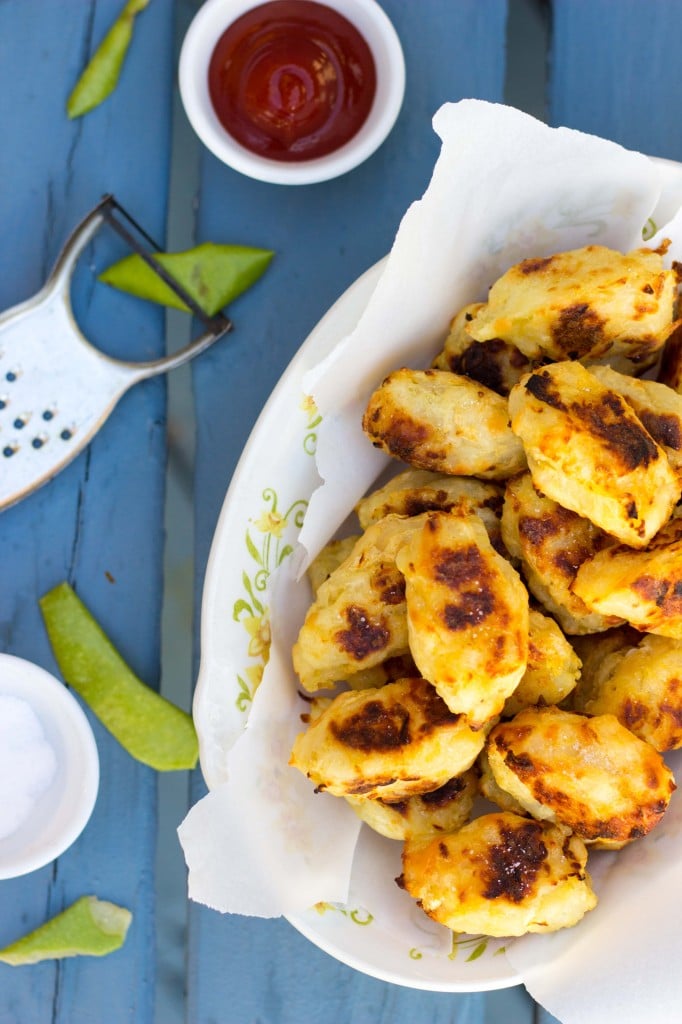 Throw back Thursday of Cheeto and the husband!