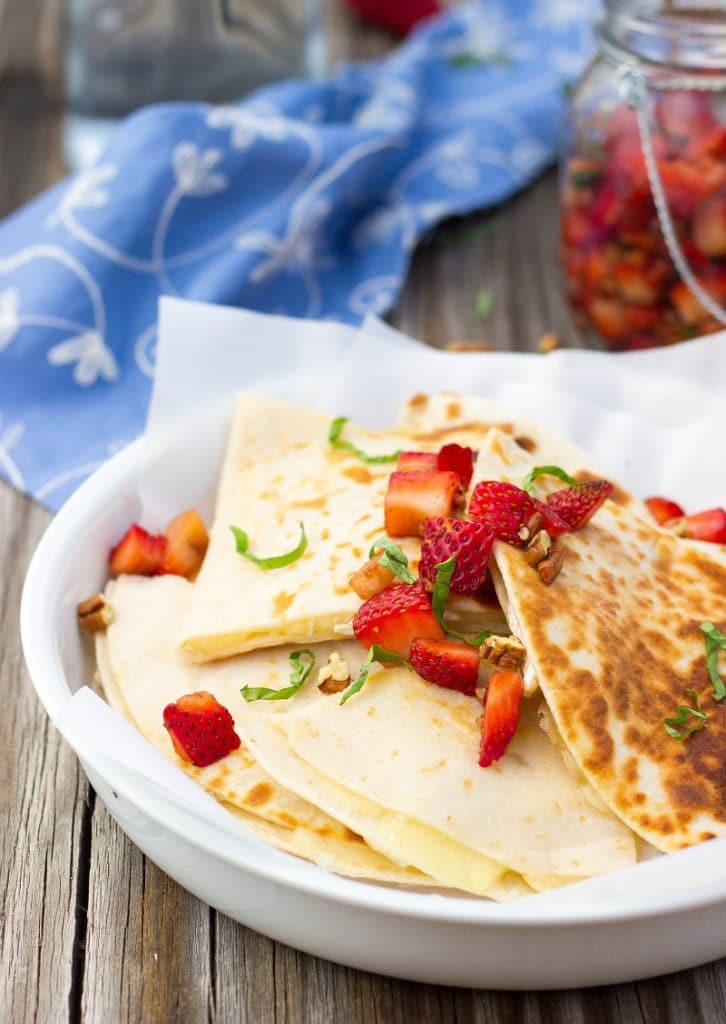 As much as I hate being behind with my posting, it is kinda nice to be writing the post and eating the dish at the same time! I try to be at least a post or two ahead, but somehow this week just got a way from me. Things have been busy in a good way though, and these Brie Cheese Quesadillas with Strawberry Salsa are making things even better right now!
I got the idea to make a strawberry salsa sometime last Spring, but I just never got around to it. I was going to pickle the strawberries and use the salsa as a topper for a fun and exciting taco. Now that I'm thinking about it again, I may still have to do that, but for now I'm giving you these quesadillas and I think they will make you happy 🙂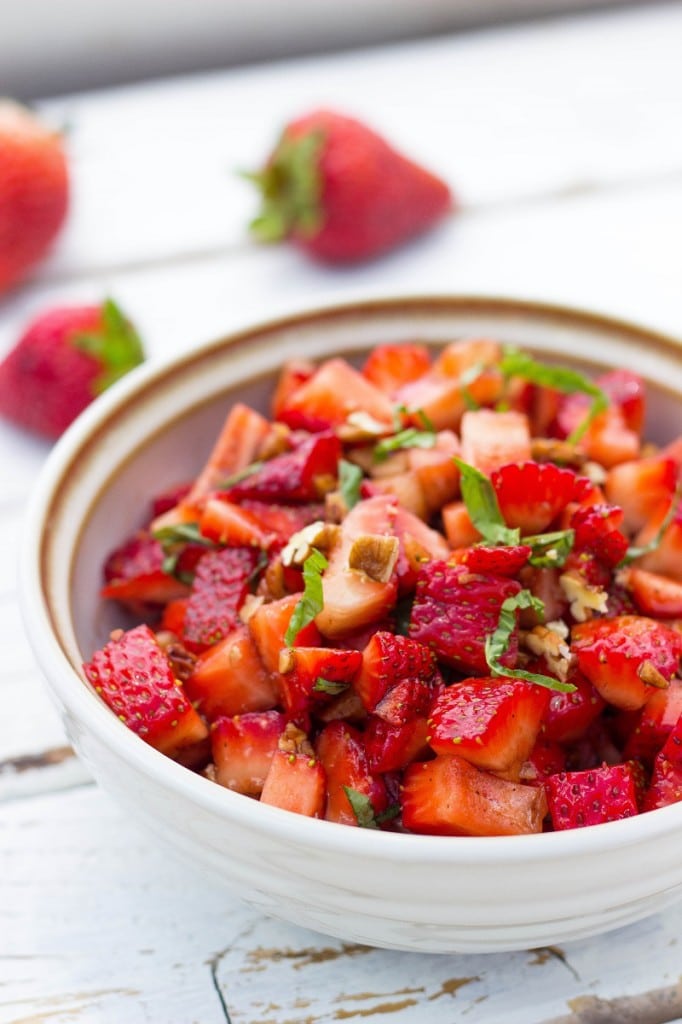 As you may have inferred from some of my previous posts I don't eat much dairy. I'm a big cheese lover at heart, but my stomach likes me much better when I stay away from it. In high school I have up dairy for a month and I swear that I lost ten pounds because cheese was one of my main food groups back then! That being said, I have a very special place for quirky cheeses like goat cheese, feta, and brie.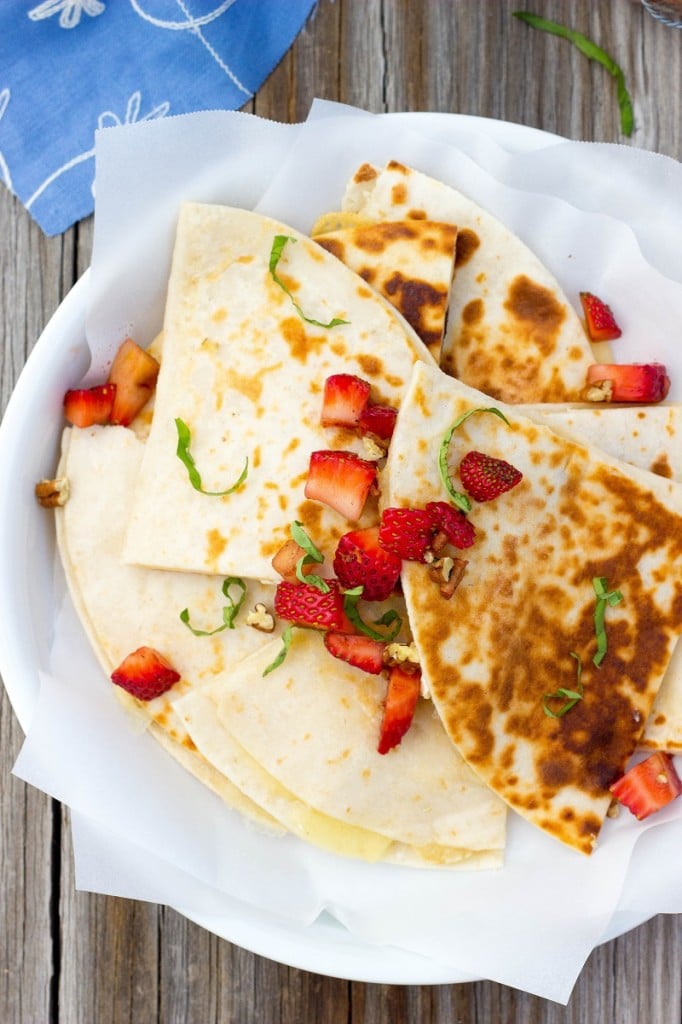 Brie cheese is one of the meltiest, gooiest, most amazing cheeses ever! It comes wrapped in a rind that makes it look super fancy and the taste is really like no other. It is commonly served with fruit and honey and sometimes even baked inside of a puff pastry, I told you it was fancy pants cheese! I figured it would go great inside of a quesadilla because of it's high powered melting capabilities and as it turns out, these are some of the best quesadillas I have ever eaten! The strawberry salsa is sweet with a little bit of maple syrup but also tangy with some balsamic vinegar and goes so well with the cheese.
I enjoyed these quesadillas for lunch, but I'd be lying if I said the thought of eating them for breakfast didn't cross my mind 🙂
Print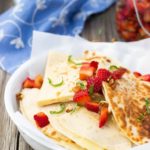 Brie Cheese Quesadillas with Strawberry Salsa
---
Total Time:

20 minutes

Yield:

4

1

x
2 cups

small diced strawberries

1 tablespoon

chopped pecans

2

–

3

basil leaves cut in a chiffonade

2 teaspoons

balsamic vinegar

2 teaspoons

maple syrup, or honey

1

small pinch salt

1

small pinch black pepper

4

large tortillas, gluten free if necessary

7 ounce

wheel of brie cheese*
Butter or oil for cooking
---
Instructions
Add the strawberries to a medium sized bowl. In a small cup, wisk together the balsamic vinegar and maple syrup. Pour mixture over the strawberries and then stir in the basil and pecans. Season with salt and black pepper to taste. Set aside.
Heat a large pan over medium heat and grease if desired. Cut the brie into thin slices. Lay out a tortilla and fill half of it with the cheese slices. Fold the other half of the tortilla over and place in the pan. Cook for 2-3 minutes until cheese is melted and tortilla has browned. Repeat with remaining tortillas and cheese.
Spoon strawberry salsa on top of quesadillas just before serving.
Notes
*You can cut the rind off the cheese if you would like, but it is not necessary.
Prep Time:

10 mins

Cook Time:

10 mins

Category:

Entree, Snack, Gluten Free