These Chickpea and Lentil Taco Salad Meal Prep Bowl are filling, healthy and delicious!  They only have 2 Freestyle Weight Watchers Points in each bowl!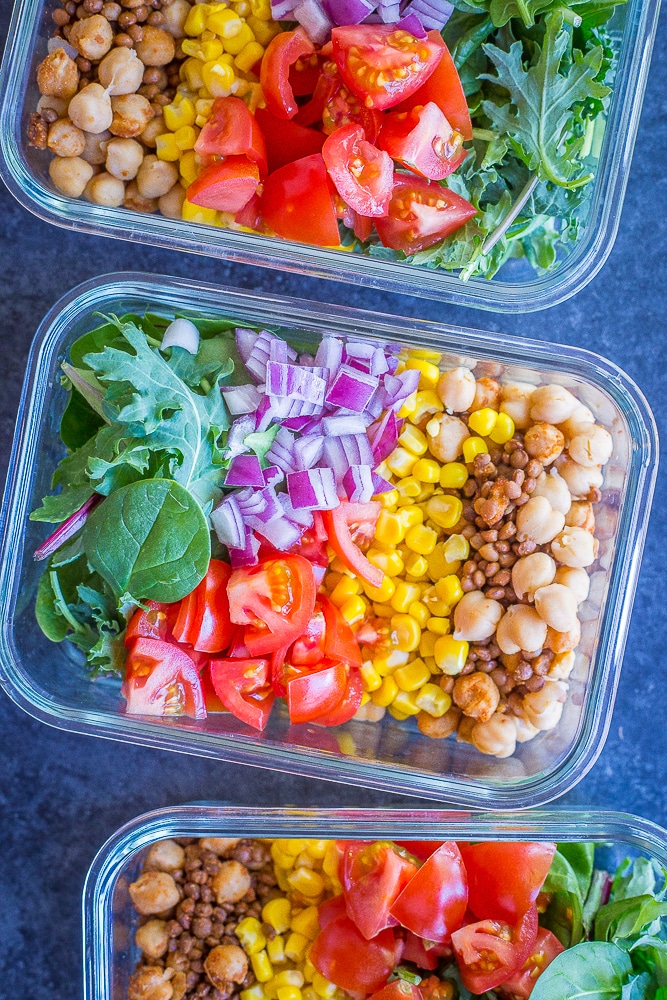 My husband gets home today after being away for 8 long days and I couldn't be more excited!  I'm definitely excited to see him, but most of all, I need a break.  A break from chasing after Eli all.day.long.  A break from Cheeto (our cat) whining for food.  A break from cleaning the house and doing the dishes.  I really just need a all day spa day 🙂

Being a single parent (to a 19 month old boy with way too much energy and no fear) is exhausting.  Major major props to all you moms out there that do it every single day!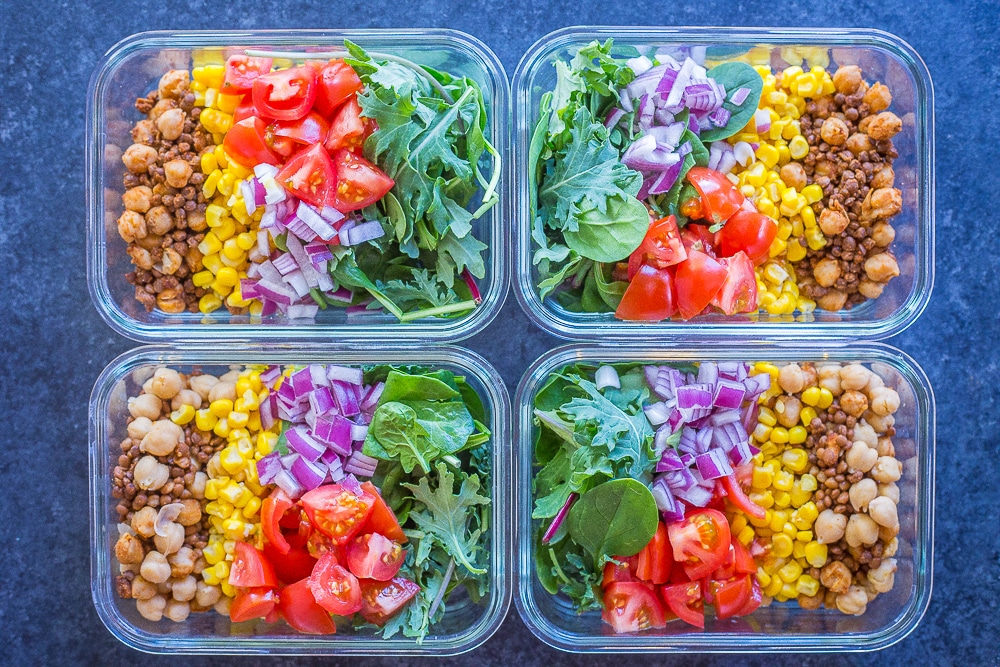 Binge watching Friends re-runs and meal prepping have been my saving grace.  Last week I made these delicious Cold Sesame Noodle Meal Prep Bowls from my friend Denise and they were so good!
After those ran out I decided to make these Mexican inspired meal prep bowls and I've been eating them for lunch and dinner the last few days.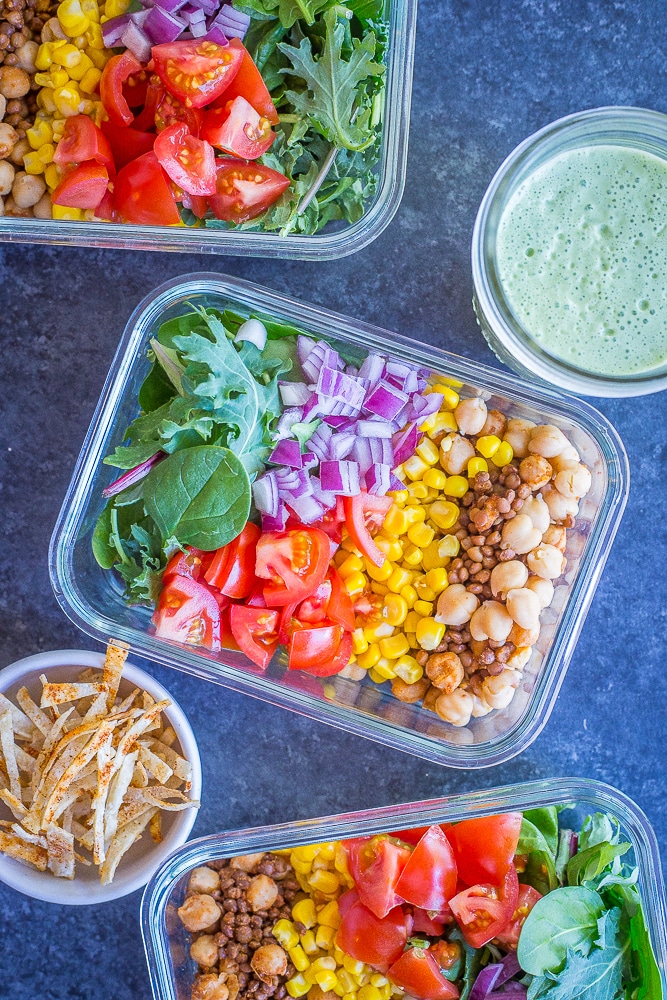 Do you want to know the really awesome part about these Chickpea and Lentil Taco Salad Meal Prep Bowls?  They are only 2 Weight Watchers Freestyle points!!  And the 2 points come from the  crispy tortilla strips that you top them off with, so you could even make these a zero point lunch if you leave those off 🙂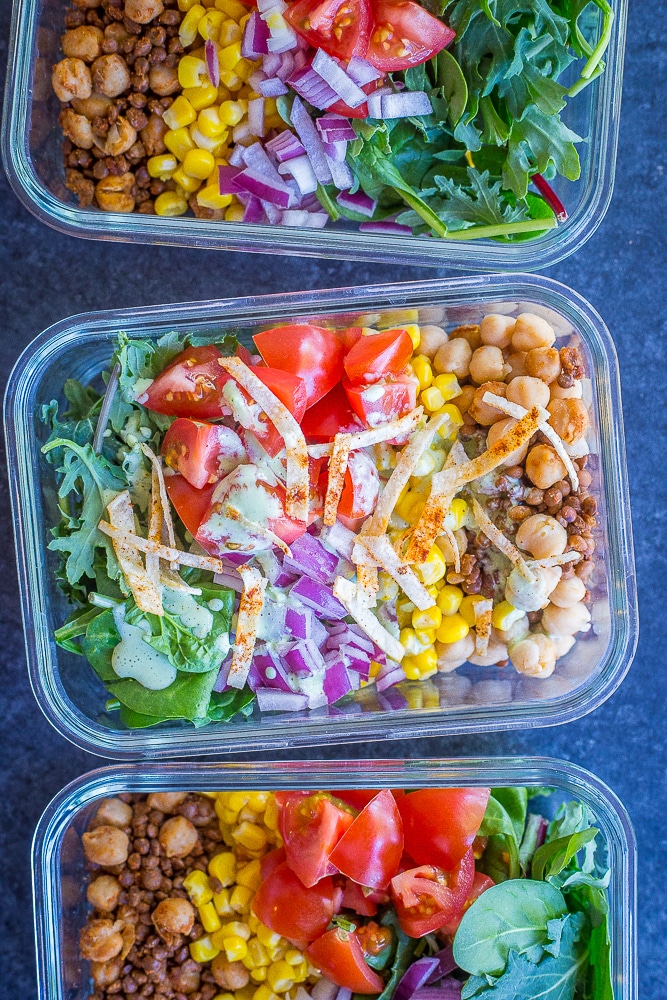 On the old Weight Watchers program they would be more than 2 points, but with Freestyle lentils, chickpeas, corn and non-fat yogurt are all free points!  I almost feel like I'm cheating 🙂
These Chickpea and Lentil Taco Salad Meal Prep Bowls are healthy, filling and delicious!  They're packed with protein and topped off with a refreshing yogurt dressing and crispy tortilla strips.  I hope you enjoy them as much has I do!
Print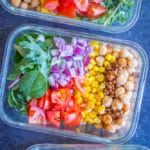 Chickpea and Lentil Taco Salad Meal Prep Bowls
---
Description
These Chickpea and Lentil Taco Salad Meal Prep Bowls are healthy, filling and delicious!
---
Ingredients
1/4 teaspoon olive oil, or your favorite oil
1 cup cooked chickpeas
1 cup cooked lentils
1 teaspoon ground cumin
1 teaspoon paprika
1 teaspoon garlic powder
1 teaspoon onion powder
1/2 teaspoon salt, or less if desired
2 cups corn kernels
4 cups mixed greens or chopped lettuce
1 cup diced tomatoes
1/4 cup diced red onion
Other optional toppings: salsa, jalapeños, cilantro, black olives (would add extra WW points)
Crispy Tortilla Strips:
4 corn tortillas
cooking spray
Salt
Paprika
Garlic powder
Greek Yogurt Ranch:
1 cup non-fat Greek yogurt, or non-dairy yogurt of choice
1/4 cup diced cucumber
1 tablespoon chopped basil
1 tablespoon chopped dill
1 tablespoon chopped green onion, or chives
1/2 teaspoon garlic powder
1/2 teaspoon onion powder
Juice of 1/2 lime
Salt, to taste
---
Instructions
Pre-heat oven to 375 degrees F.  Slice the tortillas into bite sized thin strips and place on a medium sized sheet pan.  Spray with cooking spray and season with garlic powder, paprika and salt.  Bake until crispy and just starting to brown, 7-10 minutes.  Let cool and then separate into 4 equal portions.  Store in an airtight container or ziplock bag on the counter.
Add all dressing ingredients to a blender and blend until creamy.  Separate dressing into 4 small containers in equal amounts and store in the refrigerator.
Heat a large skillet over medium heat.  Add olive oil, chickpeas, lentils and all the spices.  Mix until combined and cook until heated through (to let the spices develop) about 5 minutes.
Assemble bowls: I like to use these glass meal prep containers, but you could use any kind you like.  In each container add, 1/2 cup chickpea/lentil mixture, 1/2 cup corn, 1 cup lettuce, 1/4 cup tomatoes and 1 tablespoon red onion.
When ready to eat top with dressing, crispy tortilla strips and any other toppings you desire.
Notes
You could also use 2 cups of just chickpeas or just lentils instead of using both.
I would recommend a hearty lettuce, like romaine, iceberg or heart greens like kale and spinach.  They will stay fresh longer in your containers.
Each bowl contains 2 Weight Watchers Freestyle points.  If you omit the crispy tortillas each bowl has zero points.
SaveSave
SaveSave
SaveSave
SaveSave