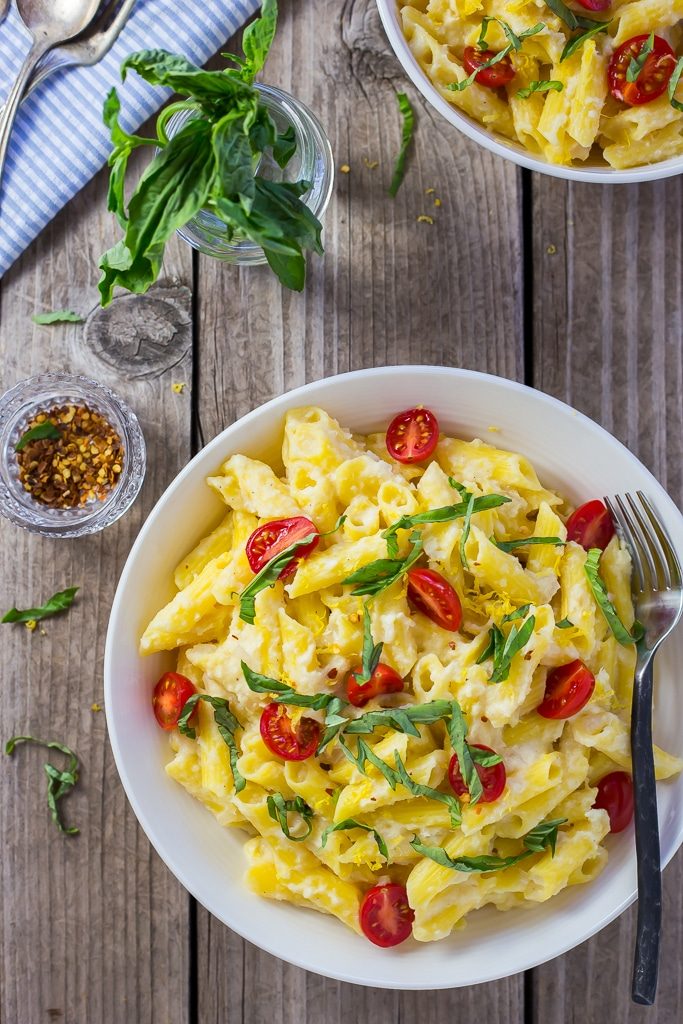 Guys, I'm not gonna lie, this recipe is pretty freaking good!  You know sometimes when you try a recipe for the first time and you have no idea if it is going to be awesome or a complete dud?  Well, this one is certainly not a dud!  I saw this recipe for spaghetti with corn carbonara and crab in the latest edition of Food & Wine magazine and I was so intrigued by it.

Carbonara pasta has always interested me but I've never gotten around to making it myself.  And, to be honest, I'm a little scared of the whole adding the raw egg part.  I'm sure it cooks up just fine and is delicious, but it seems like you gotta move really fast to make things turn out correctly and that just makes me nervous!  So, when I saw this corn carbonara recipe I just had to try it, not to mention that it is summertime and corn should go into every recipe you are making these days 🙂
So, I bought my corn, cut off all the kernels, blended them up in the blender, strained the pulp from the liquid and then I threw out the pulp and kept the liquid.  The whole time I was wondering how I was gonna thicken up the liquid but for some reason it never occurred to me that you actually use the thick pulp for the recipe and not the liquid, oooopps!  Would you judge me if I told you that I then scooped the pulp out of the trashcan (I swear there wasn't anything gross in there!) and mixed it in with my spaghetti just to make sure I actually liked the dish before trying it again the correct way?!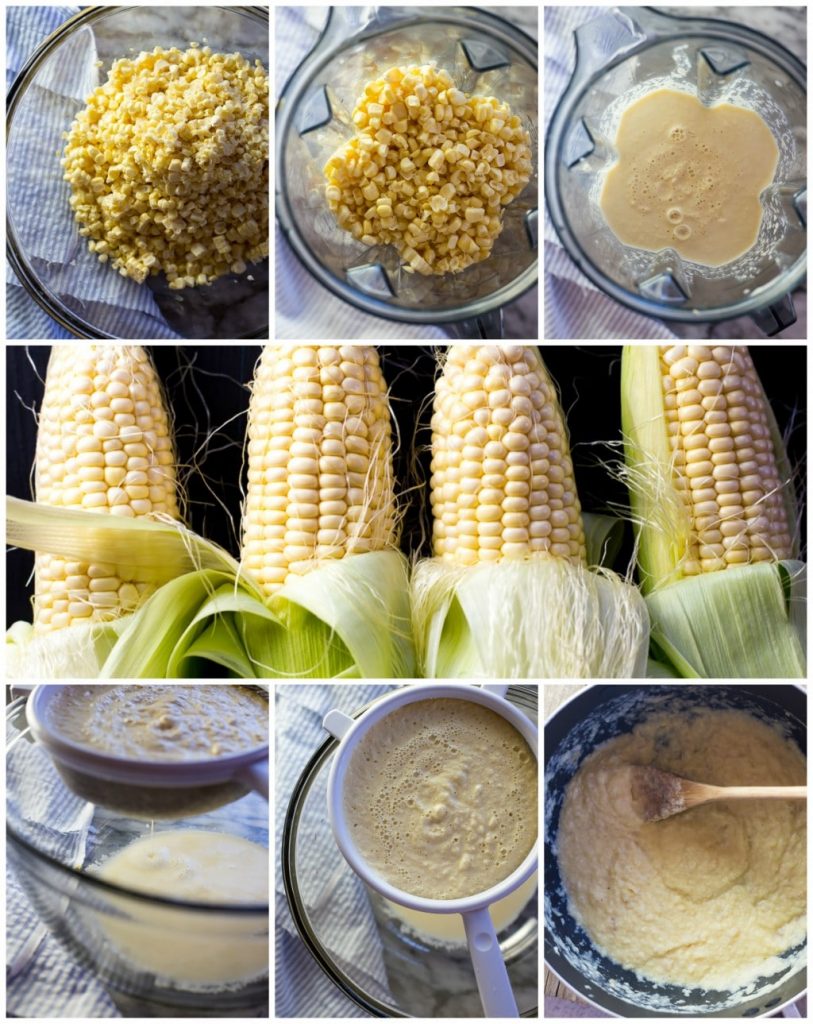 So, I tried it again the very next day and this pasta is seriously one of the best pastas I've ever made!  The corn makes it so creamy without adding any dairy and the basil, tomatoes, and lemon zest give it a really fresh taste that is absolutely perfect for summer!
I tried using gluten free spaghetti noodles in one of the batches and I had a little trouble keeping them from all congealing together when I put them in the sauce.  I ultimately decided to use gluten free corn penne, just to keep the corn theme going, and it worked so much better for me.  But, if you would like to make it more of a carbonara feel free to use spaghetti noodles.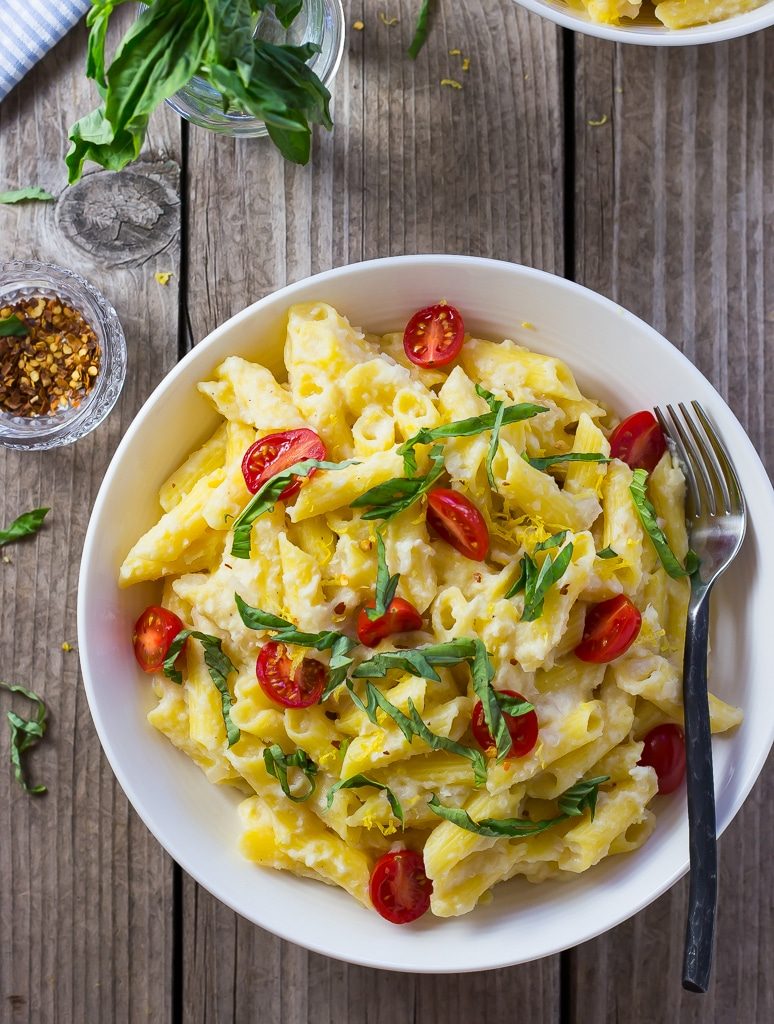 Rather than waste all the delicious corn liquid that I stained out, I'm planning on sharing a 3 Ingredient Sweet Corn and Coconut Milk popsicle recipe with you on Thursday!  So, if you do make this pasta before Thursday make sure to keep the extra liquid so you can make yummy popsicles too!  It will stay good in the refrigerator for 4-5 days.
Print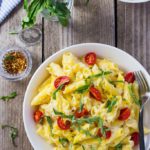 Creamy Corn Penne with Basil & Cherry Tomatoes (vegan)
---
Total Time:

35 minutes

Yield:

4

-6

1

x
5

ears of corn, shucked

12 ounces

penne pasta, I used gluten free corn pasta

1 tablespoon

unsalted butter, I used Earth Balance

1

medium shallot, minced

2

cloves garlic, minced
Juice of

1/2

a lemon, plus finely grated zest for garnish
salt and pepper

3 tablespoons

chopped fresh basil, plus more for garnish if desired

1

small container cherry tomatoes, cut in half, I used an 11 ounce container
---
Instructions
On a cutting board, cut the kernals off the cobs and then scrape the pulp off the cobs as well. Transfer the kernals to a blender and blend for about 30 seconds, until smooth. Place a strainer over a large bowl and pour the corn puree into the strainer. Use a spoon to help press on the solids. Strain until most of the liquid is in the bowl and you are left with thick corn pulp in the strainer.
Bring to boil a large pot of water and cook pasta according to package directions. While pasta is cooking, heat a large pan over medium heat. Add the butter, shallots, garlic, a pinch of salt and pepper. Cook for 3-4 minutes and then add in the corn pulp and lemon juice. Slowly add in some of your pasta water to thin out the sauce a little bit. I used about 1 1/4 cups of pasta water, but you can use as much or as little as you like. Continue cooking, stirring often, until pasta is finished cooking. Drain pasta and add it to the corn mixture. Mix until everything is combined and then add the basil and cherry tomatoes. Garnish each bowl with lemon zest and fresh basil, if desired.
Prep Time:

20 mins

Cook Time:

15 mins

Category:

Entree, Gluten Free, Vegan
Adapted from this Spaghetti with Corn Carbonara and Crab from Food & Wine Magazine