These Frozen Chocolate Covered Strawberry Banana Bites are easy to make and such a great refreshing snack! You can keep a stash in the freezer for easy snacks and dessert. They're vegan and gluten free and very kid friendly!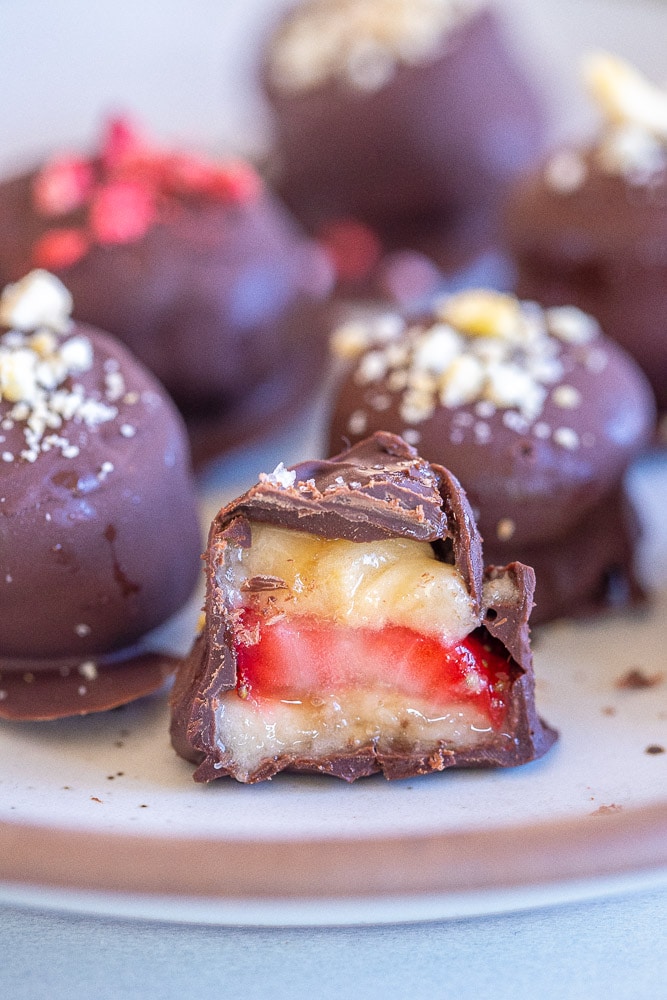 The weather is finally starting to warm up (in some places) and these Frozen Chocolate Covered Strawberry Banana Bites are so refreshing and delicious! They're perfect for a fruit based summer snack or great for a healthier dessert.
I have to admit that I make all my treat recipes with my kids in mind. I enjoy a moderate amount of sweets but my kids are kind of obsessed, haha, and I'm happy to say that these Strawberry Banana Bites are extremely kid friendly!
INGREDIENTS NEEDED FOR THESE CHOCOLATE COVERED STRAWBERRY BANANA BITES
Bananas – You want your bananas to be perfectly ripe. If your bananas are mushy with brown spots they won't hold up as well. This Vegan Banana Bread is a much better way to use those ones!
Strawberries – I always buy organic strawberries because strawberries are hard to clean well so I want to make sure there are no pesticides on them.
Chocolate – I made these vegan so I used a dairy free chocolate chunk. You can use whatever kind of chocolate you prefer, as long as it's good for melting.
Coconut Oil – The coconut oil helps the chocolate harden faster and thicker. If you don't want any coconut flavor you should use refined coconut oil.
Optional Toppings – You don't have to top yours with anything at all, but I thought it was fun to add some color to mine. I used freeze dried strawberries and dried banana slices that I crushed up, as well as some flakey sea salt.
HOW TO MAKE FROZEN CHOCOLATE COVERED BANANA BITES
You start by thinly slicing your banana and strawberries. You want them to be pretty equal in size but you can make them as thin or thick as you like. You then make little stacks by placing one banana slice down, topping with a strawberry slice and then topping with another banana slice. You could also put the banana in the middle and strawberries on the outside if you like.
Next, we need to freeze the stacks until they are completely frozen. This helps them stay together when dunking in the chocolate. It's best to freeze on a parchment paper so they don't stick.
Once the stacks are frozen you can melt your chocolate. I prefer to add the chocolate and coconut oil to a glass bowl and melt in the microwave. I do it for 30 seconds at a time and I mix well between each time. You just want to make sure you don't overheat the chocolate.
Now it's time to dip the stacks in the chocolate. It's easiest to use two forks to move the stacks around to make sure they are completely coated with chocolate. Let all excess chocolate drop off and then place back on the parchment paper. You want to be pretty speedy during this step so the bananas and strawberries don't thaw too much. You can also sprinkle your toppings on while the chocolate is still wet.
At this point I like to place them back in the freezer to harden the chocolate and to make sure the banana and strawberries are still completely frozen.
RECIPE FREQUENTLY ASKED QUESTIONS
Can I make them with just bananas? For sure! These would be great as just frozen chocolate covered banana bites!
Can I use two strawberry slices and one banana slice instead? Of course!!
Do I have to use vegan chocolate? No, you can use whatever kind of chocolate you like, just make sure it melts well.
How do I store these strawberry banana bites? Store them in the freezer and take out only when ready to eat immediately. They are best enjoyed when still frozen.
How long can I freeze these for? I would suggest no longer than 6 months.
How many bites does this recipe make? The ingredient measurements are just suggestions. You can make however many you like.
Have a question I didn't answer? Ask me in the comment section below!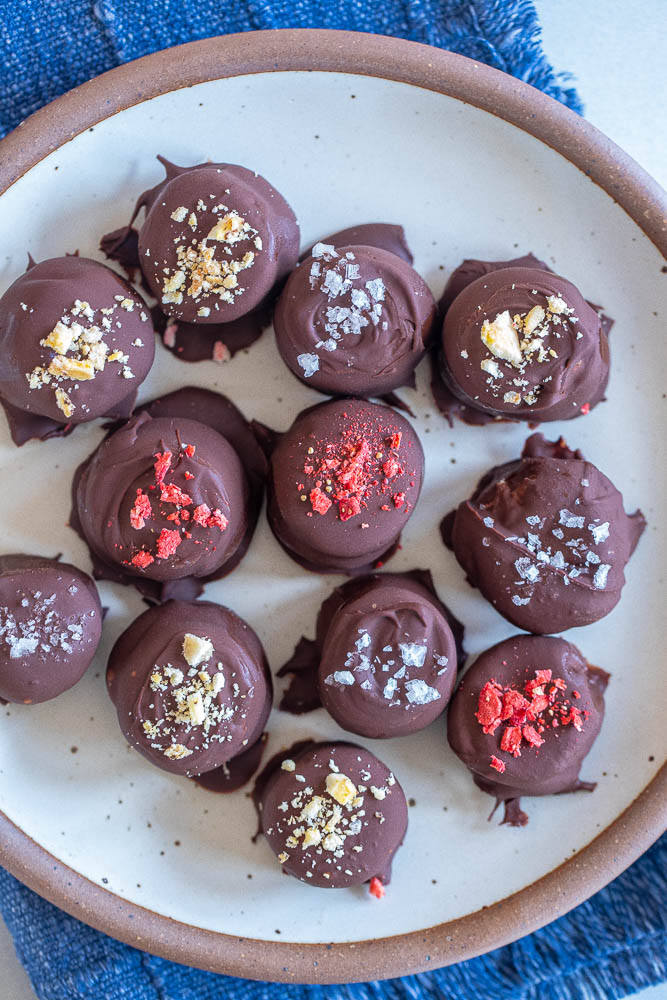 LOOKING FOR MORE DELICIOUS BANANA FLAVORED TREATS?
Chocolate Covered Frozen Mini Bananas
Strawberry Banana Breakfast Muffins
Print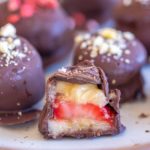 Frozen Chocolate Covered Strawberry Banana Bites
---
Author:

Total Time:

3 hrs 3 mins

Yield:

1

5

1

x

Diet:

Vegan
Description
These Frozen Chocolate Covered Banana Bites are so refreshing and the perfect sweet treat for summer!
---
2

Bananas

2 cups

fresh strawberries

1

(10 oz) bag dairy free chocolate chips

1 teaspoon

coconut oil (use refined if you don't want any coconut taste)
Optional toppings: freeze dried strawberries, dried banana slices, sea salt
---
Instructions
Peel the bananas and thinly slice them. I like to make mine about 1/4 an inch thick but you can really make them as thin or thick as you like.
Rince your strawberries well. Cut the green stem off and then slice the strawberries to about the same thickness as your bananas.
Make your stacks. Place down one banana slice, top with a strawberry slice and then a second banana slice. Place on a parchment paper lined tray or plate and freeze for about two hours.
Once bananas are frozen, melt your chocolate and coconut oil together. You can melt over a double boiler or in the microwave. I like to place a glass bowl in the microwave and microwave for 30 seconds at a time, stirring in between, until chocolate is smooth and melted.
Allow the chocolate to cool for just a minute or so. Place your frozen strawberry banana stack into the chocolate and use two forks to make sure it is completely coated with chocolate. Place chocolate covered stack on parchment paper and, if desired, top with a sprinkle of sea salt, crushed freeze dried strawberries or crushed dried banana chips. It's best if you can move quickly during this step so the bananans and strawberries don't thaw too much.
Once all of your stack are coated with chocolate, place back into the freezer until everything is completely frozen again, 30 minutes – 1 hour.
Notes
*Ingredient amounts are just suggested. You can make as many or as few of these bites as you like!
Store your strawberry banana bites in a freezer friendly container in the freezer. They're best when enjoyed cold, right out of the freezer.
They can be stored for up to 6 months in the freezer.
Prep Time:

20 mins

Cook Time:

10 mins

Category:

Dessert, Vegan

Method:

Freezer

Cuisine:

American
Keywords: Frozen Chocolate Covered Strawberry Banana Bites