This Peanut Butter and Banana Oatmeal Bake is probably as close as I am going to get to making a back to school recipe. I've been out of school for quite some time and have no intention of going back and I don't have any kids yet. Well, I do have Cheeto but he is already so smart he doesn't need to go to school 🙂
And honestly, I kinda hate school. I was that kid who always cried on the first day of school. I'm pretty sure I cried everyday for the first month of 1st grade and 2nd grade probably wasn't much better. Back to school meant that the freedom of summer was over and that it was going to be a very long time before it was back. It almost meant mean teachers, lots of homework and only getting to play outside for a limited time each day.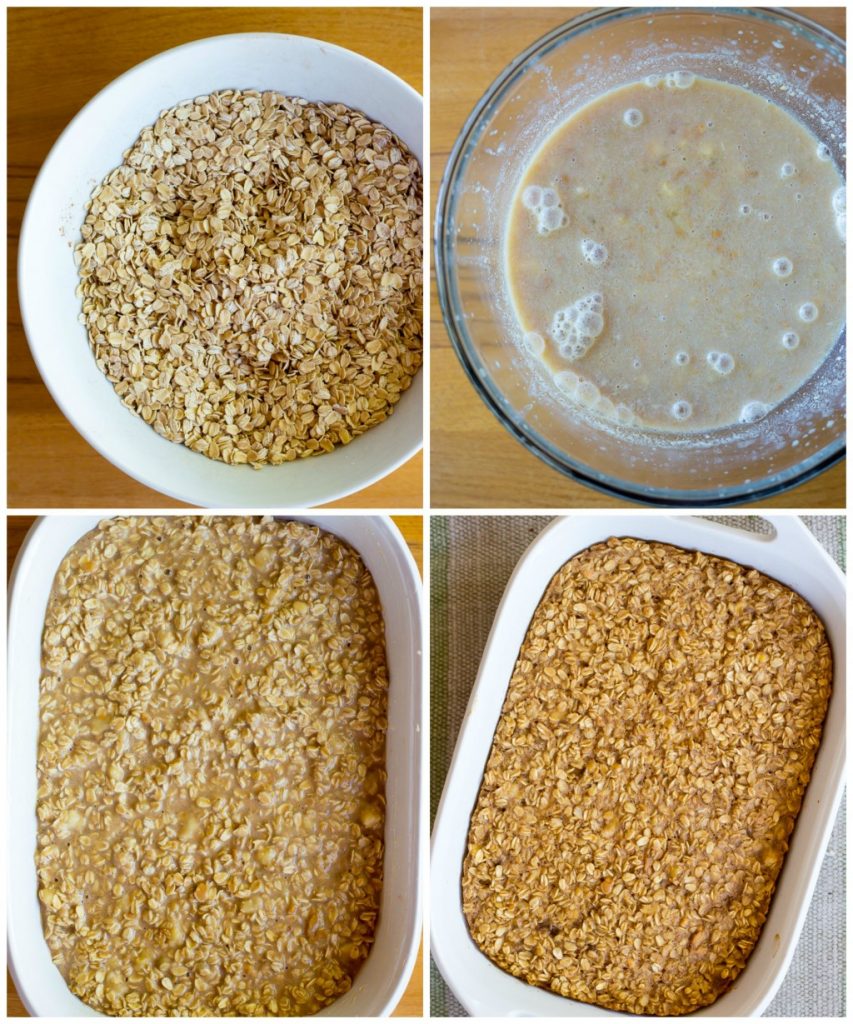 I know that there are kids out there that love school and might even look forward to the first day of school, but I certainly was not one of them! Even now when I see the school buses picking up kids my stomach tenses up and I get a little bit nervous. But mostly I'm thankful that I don't have to get on that school bus!
But, if you do have to go to school you might as well get to eat a delicious breakfast that is fast and filling! I made my first oatmeal bake last year with this Ginger Peach version and I was amazed at how easy it was to make and how nice it was to just grab a slice and go every morning. Peanut butter and bananas are one of my favorite flavor combos so I knew this one would be a winner too! It is kind of like a mixture between an oatmeal bake and banana bread with some peanut butter thrown in and makes my mornings much brighter!
Print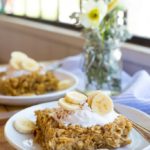 Peanut Butter and Banana Oatmeal Bake
---
Total Time:

40 minutes

Yield:

10

-

1

2

1

x
4 cups

old fashioned oats, gluten free certified if necessary

1 1/2 teaspoon

ground cinnamon

1 teaspoon

baking powder

1/2 teaspoon

salt

2 1/3 cup

unsweetened almond milk

1/4 cup

coconut sugar or brown sugar

2 teaspoons

vanilla extract

1/3 cup

pure maple syrup

1 teaspoon

fresh lemon juice

3

mashed bananas

1/2 cup

peanut butter, creamy or crunchy
Optional toppings: sliced banana, coconut whipped cream, ground cinnamon
---
Instructions
Pre-heat the oven to 375 degrees Fahrenheit. Add all of the dry ingredients to a medium sized bowl and mix.
In a large bowl, add the almond milk, sugar, vanilla, maple syrup and lemon juice and mix together. Next add the mashed bananas and peanut butter and carefully beat with an electric mixer until bananas and peanut butter are evenly incorporated.
Add the dry mixture to the wet mixture and stir until combined. Pour mixture into a greased 9″x13″ baking dish and shake dish or use a spoon to make sure everything is evenly spread out. Bake oatmeal for 20-25 minutes, until set. Can be served immediately or re-heated each morning. Oatmeal bake will last for about 5-7 days in the refrigerator.
Prep Time:

15 mins

Cook Time:

25 mins

Category:

Breakfast, Gluten Free, Vegan