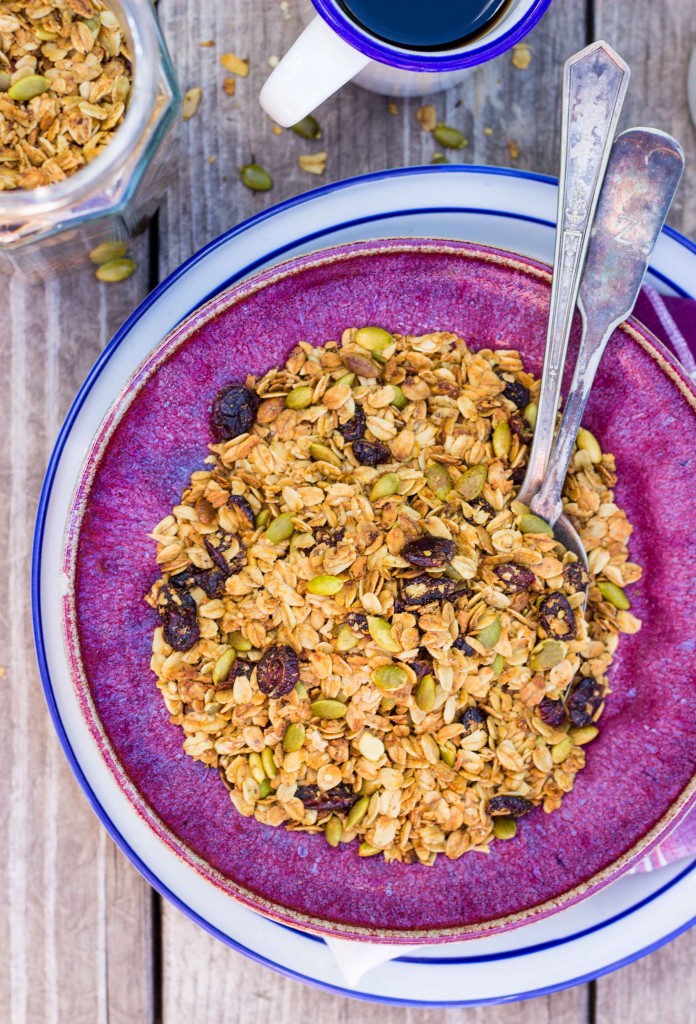 My good friend Gayle, who blogs over at Pumpkin 'N Spice beat me to the pumpkin granola, but is there really such a thing as too much pumpkin granola?? I didn't think so!

While there is no actual pumpkin in this granola, I added all the delicious spices that you would put in your pumpkin pie, along with some pumpkin seeds and dried cranberries and it is pretty tasty!
I'm embarrassed to admit that this is the first time I've ever made granola. I know, I'm so behind it's sad, but for some reason I always thought that it would be complicated to make. And guess what? I was completely wrong and from this day forward I will only ever eat homemade granola for breakfast!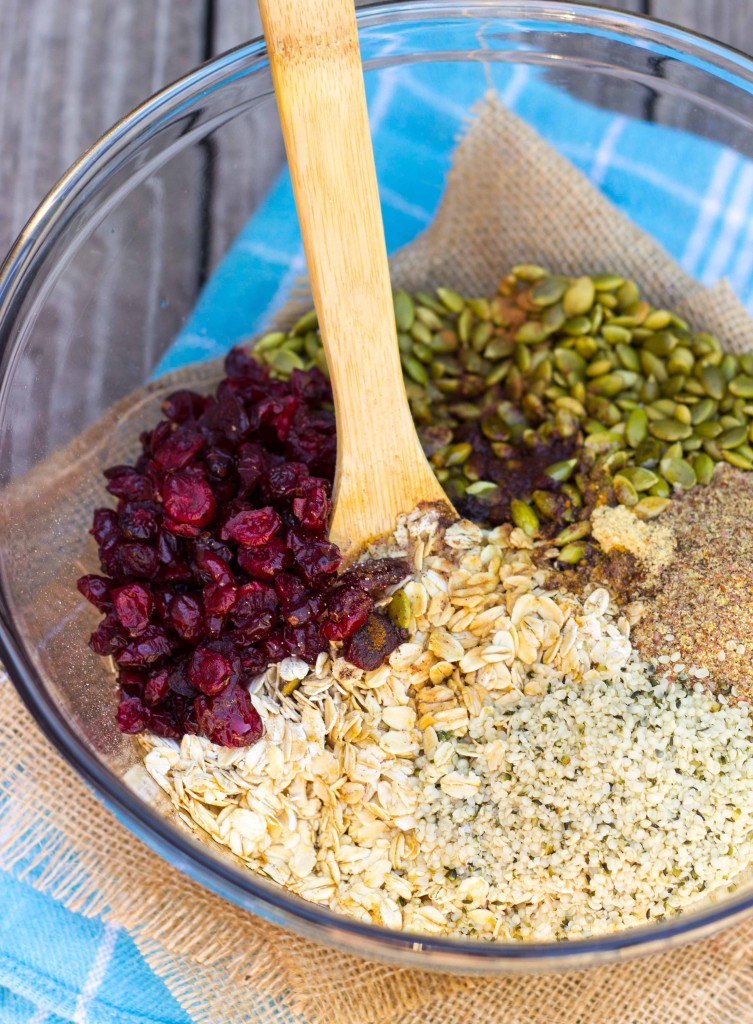 As healthy as I try to be, breakfast is always the one meal that I drop the ball on. My husband is one of those people who wakes up at least an hour and a half before he has to leave the house and he has an entire morning ritual that he takes part in. It involves drinking coffee, making a nutritious breakfast, and reading sports articles online while listening to the radio.
I, on the other hand, hit the snooze button about seven times until I realize that if I absolutely don't get up at that very second I will be late. I then cuddle with Cheeto for about five minutes while I tell myself that Cheeto cuddle time is much more important than being on time for work. I then jump into the shower for about three minutes and thank god that my work uniform is long pants and I don't have to show my un-shaved and neglected legs.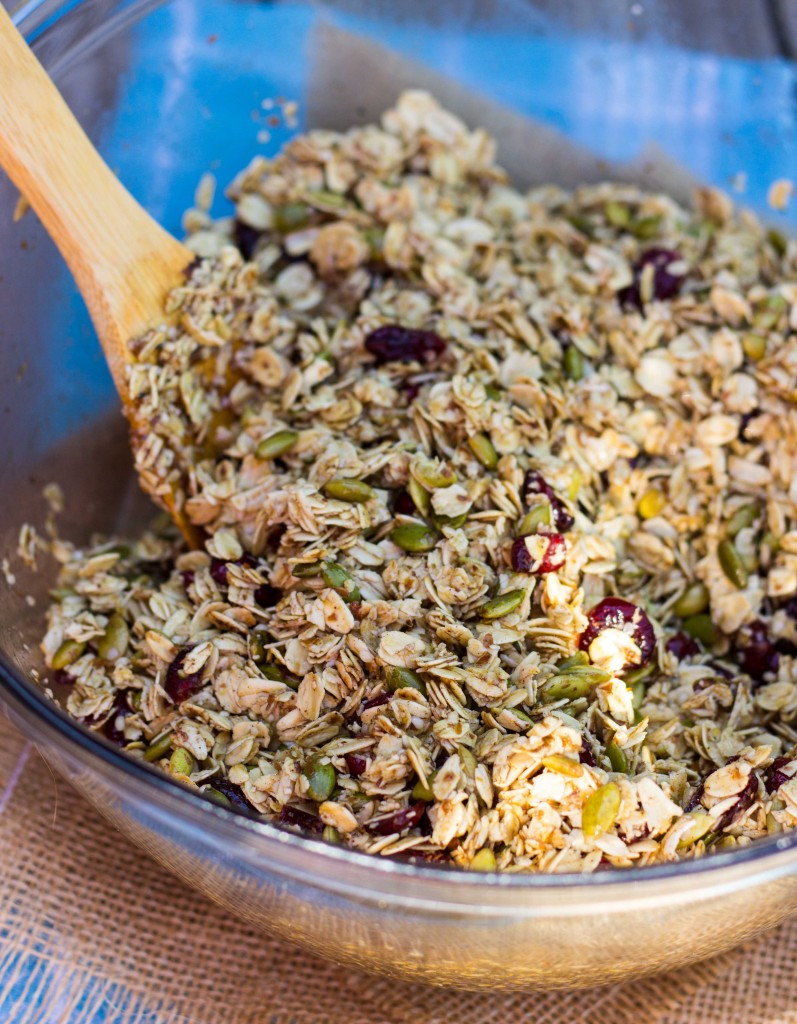 After I get out of the shower I curse having to put on my uniform because it consists of long pants and a long sleeved shirt and it is 100 degrees out, not to mention I can never look stylish at work, but at the same time I'm kind of thankful because I don't have to spend extra time deciding on what to wear. And, let me tell you I could probably spend hours picking out my outfit!
I then spend about ten minutes walking around the house making sure that every door is closed and locked and that every burner on the stove is off. There is a slight chance I get a little obsessive over this, but who can blame me when I have a cute little cat sitting at home all day?! There is also a change that sometimes I drive a few minutes away and then drive all the way back home to make absolute sure that I closed the door. Did I mention I was a little obsessive?! At this point, breakfast is the last thing on my mind. I just want to make sure that I pack enough to eat for lunch because I know I will be starving by the time noon rolls around after my breakfast of champions that consists of 1 plain rice cake or a handful of almonds. I told you my breakfast menu was pretty pathetic!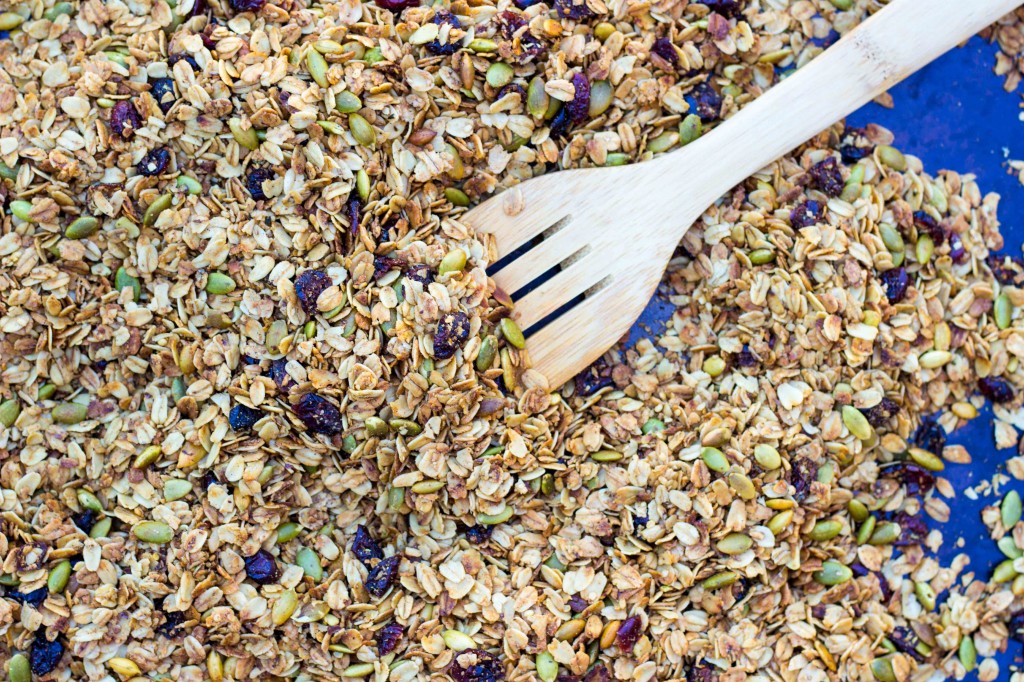 My lazy morning routine is one of the reasons I fell in love with this granola, besides the fact that it has all these delicious pumpkin flavors in it! How I'm currently enjoying this granola is by putting some of it in a tupperware or bowl with some almond milk the night before and placing in into the refrigerator so that I can easily grab it in the morning to eat quickly or bring with me to work. Soaking it in milk for a while, or even overnight, softens it up and really intensifies the flavor! You can, of course, enjoy this granola however you want!
Print
Pumpkin Spiced Granola with Pepitas & Dried Cranberries
---
Total Time:

30 minutes

Yield:

5

-

6

cups

1

x
4 cups

old fashioned oats, certified gluten free if necessary

2 tablespoons

flax meal (optional)

3 tablespoons

hemp hearts (optional)

3/4 cup

unsalted roasted pumpkin seeds

3/4 cup

dried cranberries

1/3 cup

+

2 tablespoons

melted coconut oil

1/3 cup

+

1 tablespoons

pure maple syrup

1/2 teaspoon

vanilla

3/4 teaspoons

ground cinnamon

1 teaspoon

ground ginger

1 teaspoon

ground cloves

1/4 teaspoon

ground nutmeg

1/4 teaspoon

salt
---
Instructions
Pre-heat the oven the 350 degrees F. Add all of the ingredients into a large bowl and mix until combined. Pour oat mixture onto a large backing sheet and spread out with your hands. Place into the oven and bake for about ten minutes. Remove pan and stir granola, place pan back into the oven and bake for another 15 minutes, until granola is just beginning to brown.
Serve with almond milk or yogurt, if desired.
Prep Time:

5 mins

Cook Time:

25 mins

Category:

Breakfast, Gluten Free, Vegan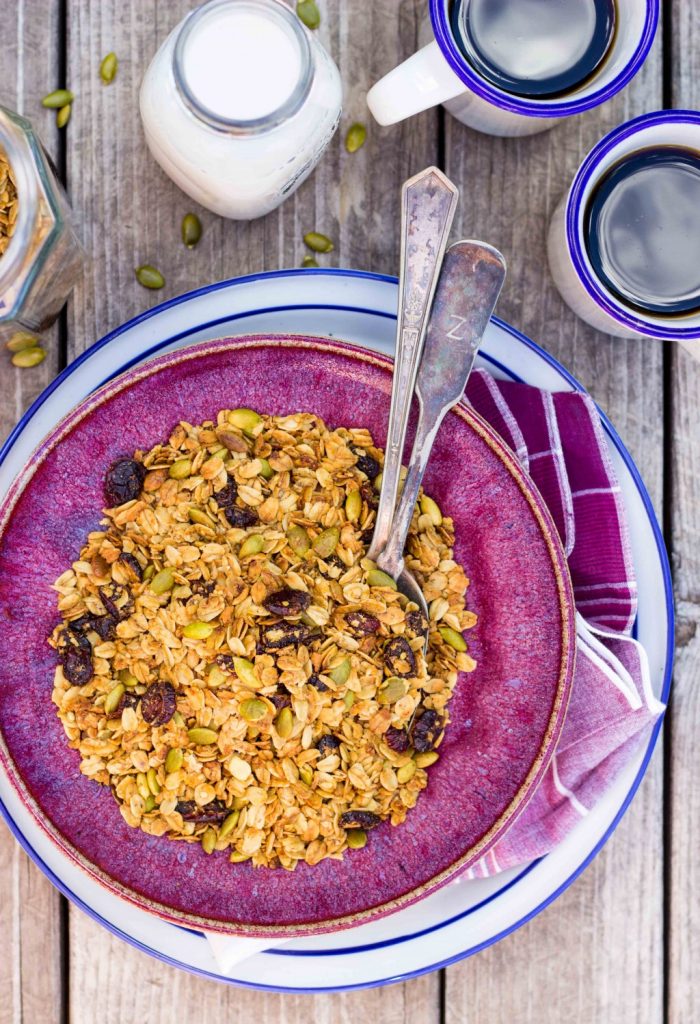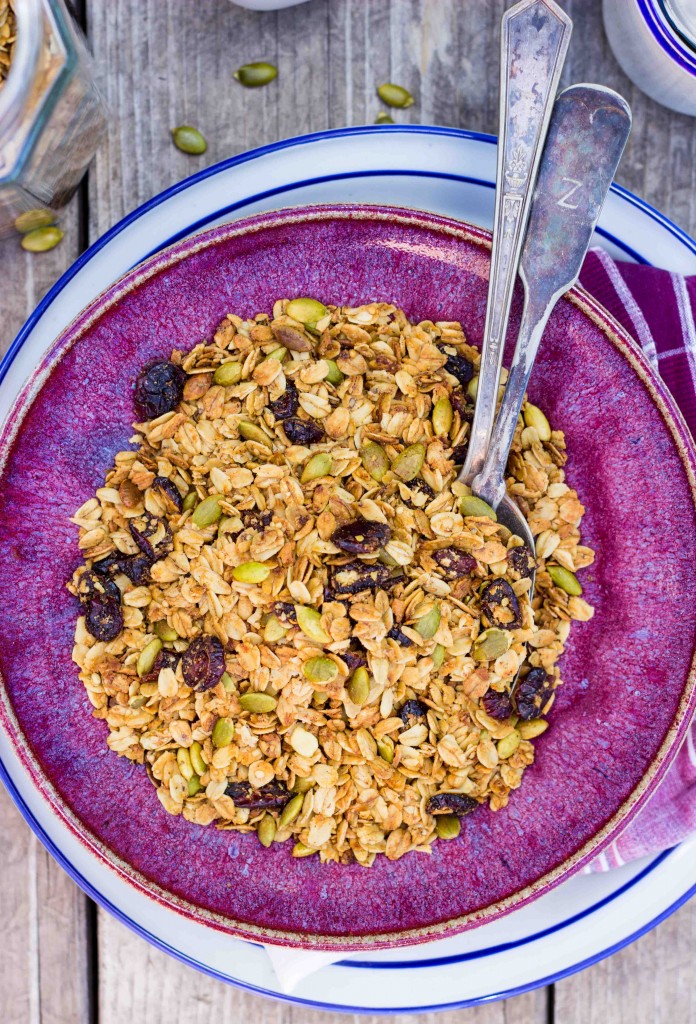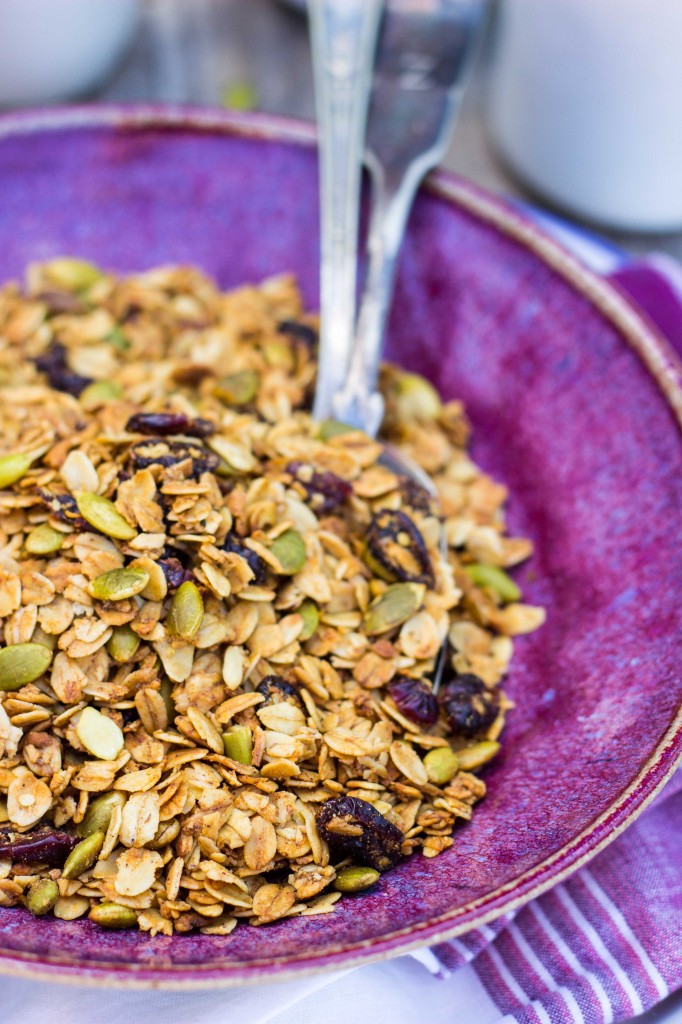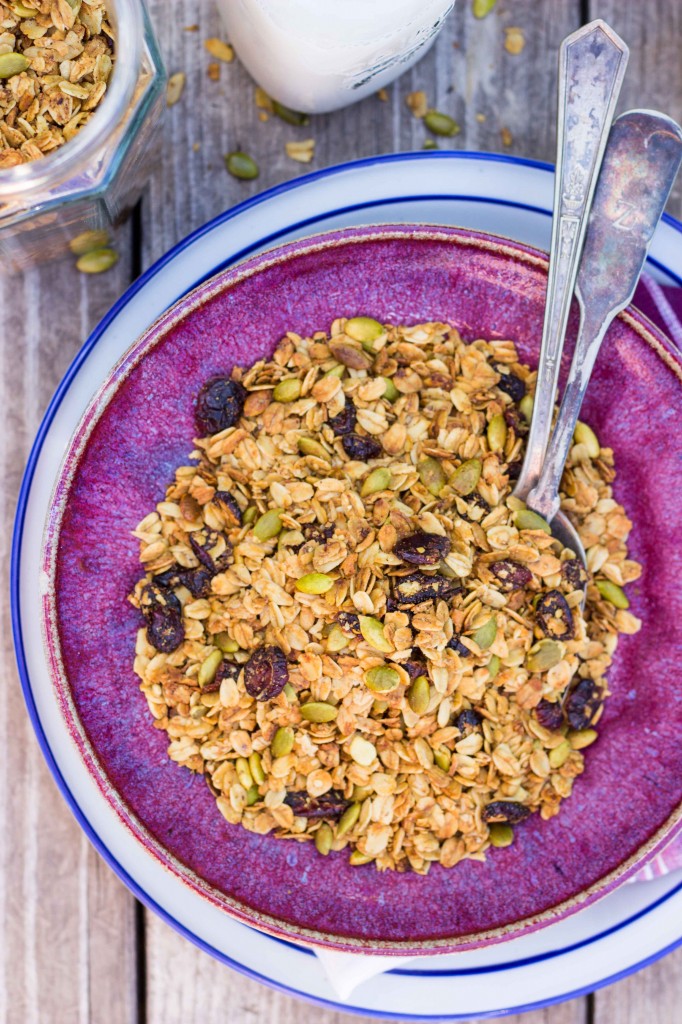 My little pumpkin, when he was a lot littler!