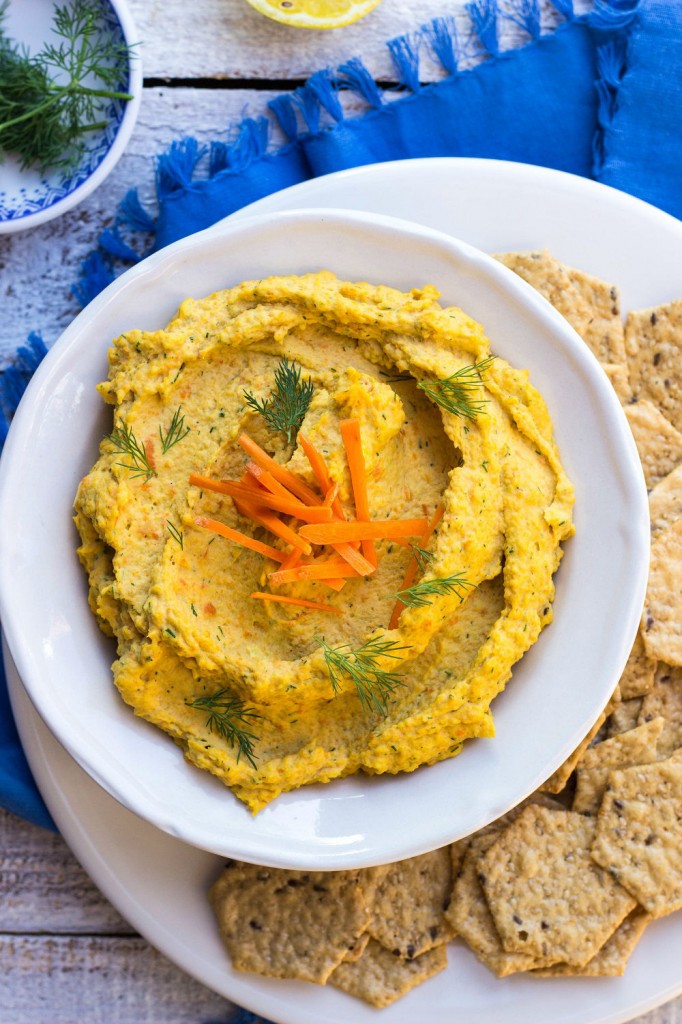 Just when I thought I had found the holy grail of hummus with this Curry Cilantro Hummus (also my very first blog post ever!) I made this Roasted Carrot and Dill Hummus and I think I have a new love! I'll give you a sneak peak into my mind and share with you how I came up with this delicious concoction.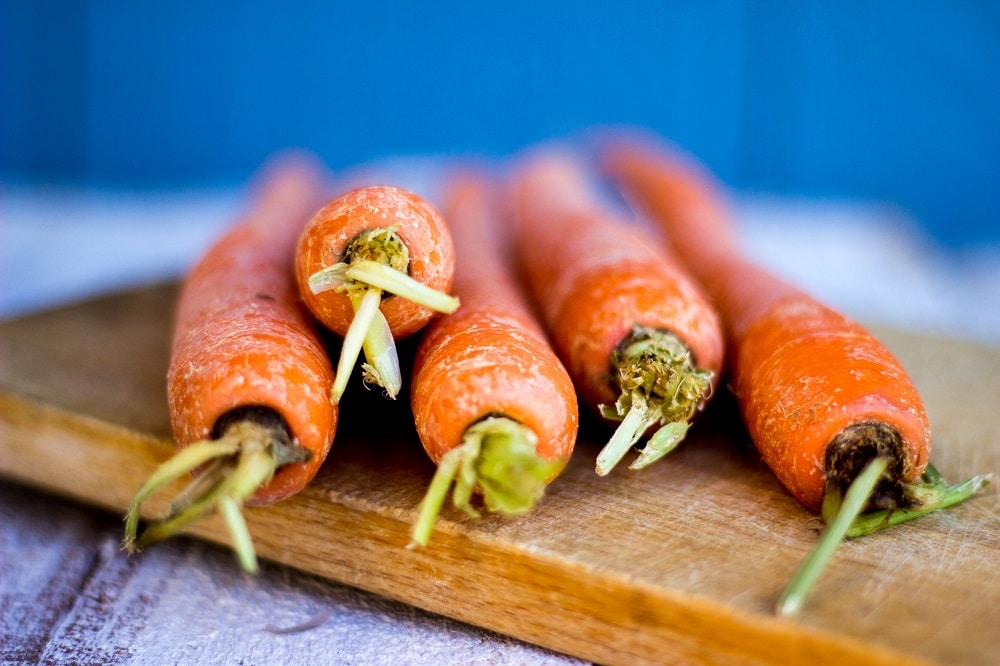 I love hummus so much that I really just want to eat it with a spoon most of the time. But, I also really love carrots and like to get some of my daily vegetable servings by dipping carrots into my hummus, and we all know that carrots and hummus are a match made in heaven. But, if I'm being honest, I really just want to go straight in with a spoon and eat my hummus that way. So, after much back and forth in my mind of how I should eat my hummus, I decided to take out the middle man, the carrots, and put them right into the hummus. By doing this, I feel that it is perfectly acceptable to eat my roasted carrot hummus with a spoon!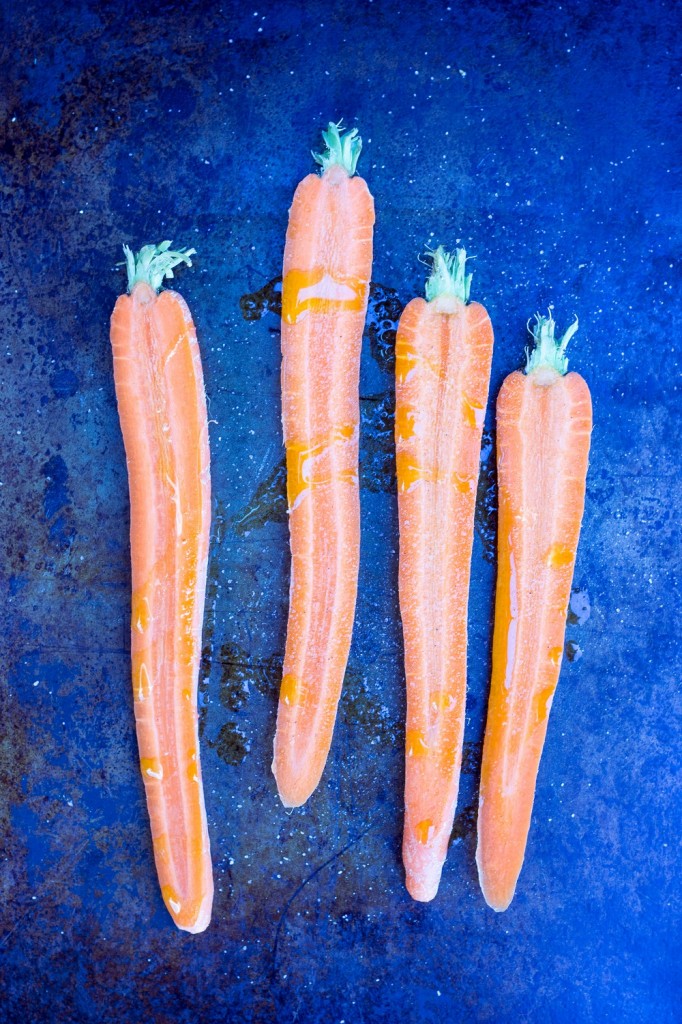 If you are still not convinced that you want to dig right in with a spoon, hopefully I have at least solved the dilemma of, do I dip a carrot or a cracker into the hummus? Yes, I do struggle with that too sometimes…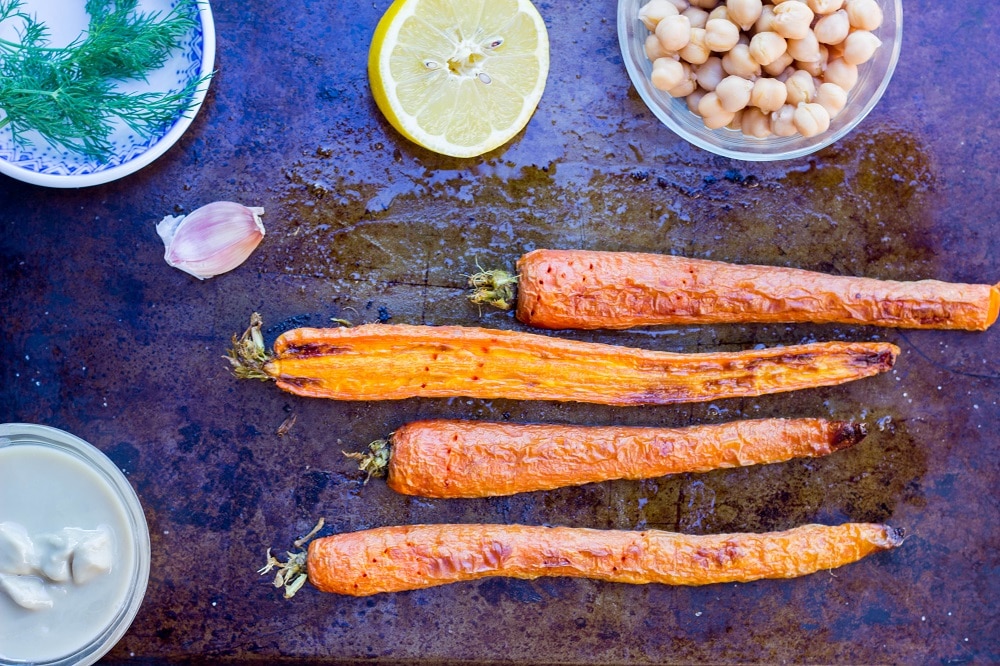 So, last time I made hummus (another early post that you shouldn't look too closely at 🙂 ) I vowed that from then on, I would always peel the skin off of my chickpeas to ensure that I had the softest, creamiest hummus ever. Well, times have changed and people have gotten a little lazy (and by people, I mean me), and this time, instead of spending 20 minutes bent over a small bowl of chickpeas making sure I got every last piece of skin off, I tried a new method and I gotta admit, it worked wonders. I had read about this method before, and had it confirmed by a friend (Thanks Savanah!), and it truly does give you a much creamier hummus without all the chickpea peeling nonsense.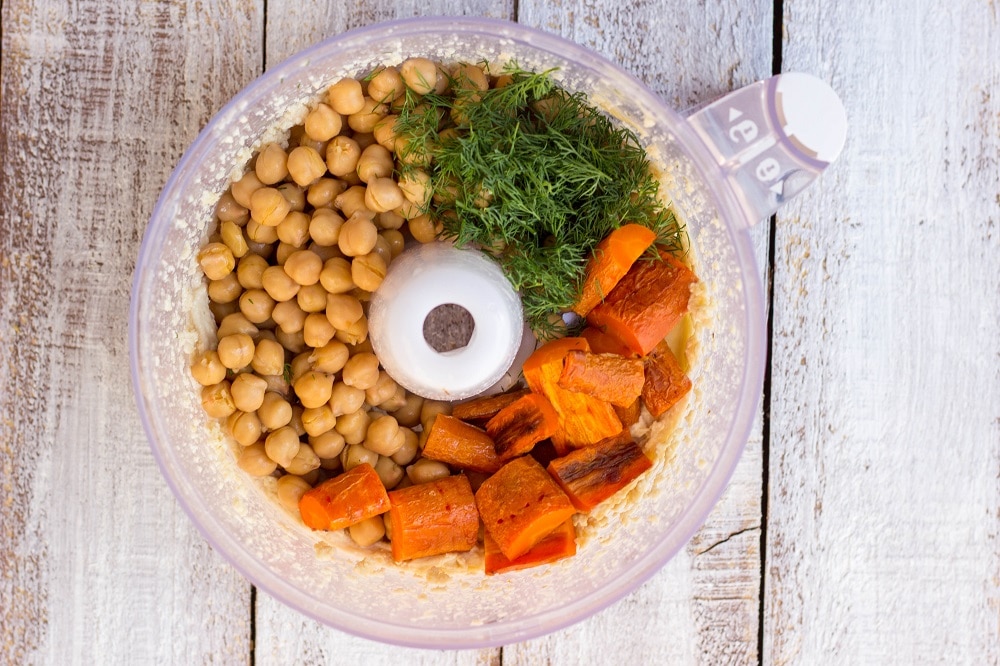 All you have to do is, before you add the chickpeas and other delicious flavors to the food processor, put the tahini, lemon juice, garlic, and a few tablespoons of reserved chickpea juice into the food processor, or blender, and pulse it until it becomes a smooth mixture, about 30 seconds – 1 minute. By doing this, you whip the tahini and make it really smooth, which in turn makes your hummus really smooth. Once you have achieved the smooth tahini, you can add in all the other ingredients and pulse until you have hummus. This really helps the hummus get a super smooth texture. In fact, I don't think any hummus so smooth has ever come out of my kitchen before, even when i spent 20 minutes peeling chick pea skins off. And the best part? It is a really easy method and does not give you a neck ache!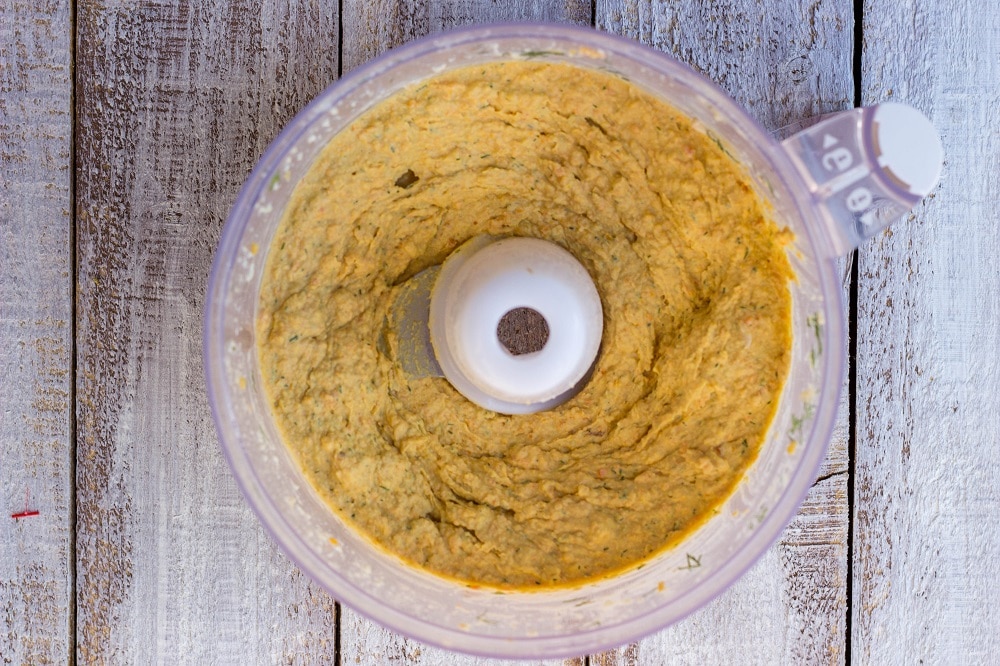 Print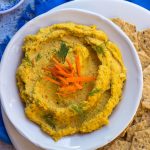 Roasted Carrot & Dill Hummus
---
Ingredients
1 15 oz can of garbanzo beans, drained and rinsed, save the juice and set it aside*
1/2 cup tahini
juice of 1/2 a lemon
2 cloves of garlic, minced
2 large carrots, or about 1 1/2 cup diced carrots
2 tablespoons chopped dill
3/4 teaspoon of salt, or more to taste
olive oil
salt
---
Instructions
Preheat the oven to 400 degrees F.
Cut the carrots in half and drizzle with olive oil to coat and season with a pinch of salt. You can also cut them into small chunks to roast faster.
Place the carrots in the oven and roast them for about 40 minutes, or until you can easily pierce them with a fork. Set aside and let cool for about 15 minutes. When ready to use, cut the carrots into small chunks.
In a food processor or blender, add the tahini, lemon juice, garlic, salt, and about 2 – 3 tablespoons of the reserved chickpea juice, or water.
Turn the food processor on for about 30 seconds until mixture is combined and smooth. (This step is what makes the hummus really smooth and creamy, so you don't want to skip it!)
Then add the chickpeas, dill, and carrots. Turn the food processor on and slowly drizzle in the remaining chick pea juice, or water, until hummus has reached its desired consistency.
Scrape hummus into a bowl and serve with crackers, if desired, or just dig in with a spoon!
Notes
*I used about 3 tablespoons of chickpea juice in the first round of blending with the tahini and lemon juice and about 3 more tablespoons once I put the rest of the ingredients in. The amount you use will depend on how thick you like your hummus.
*If your can of chickpeas doesn't contain a lot of juice, you can use water instead.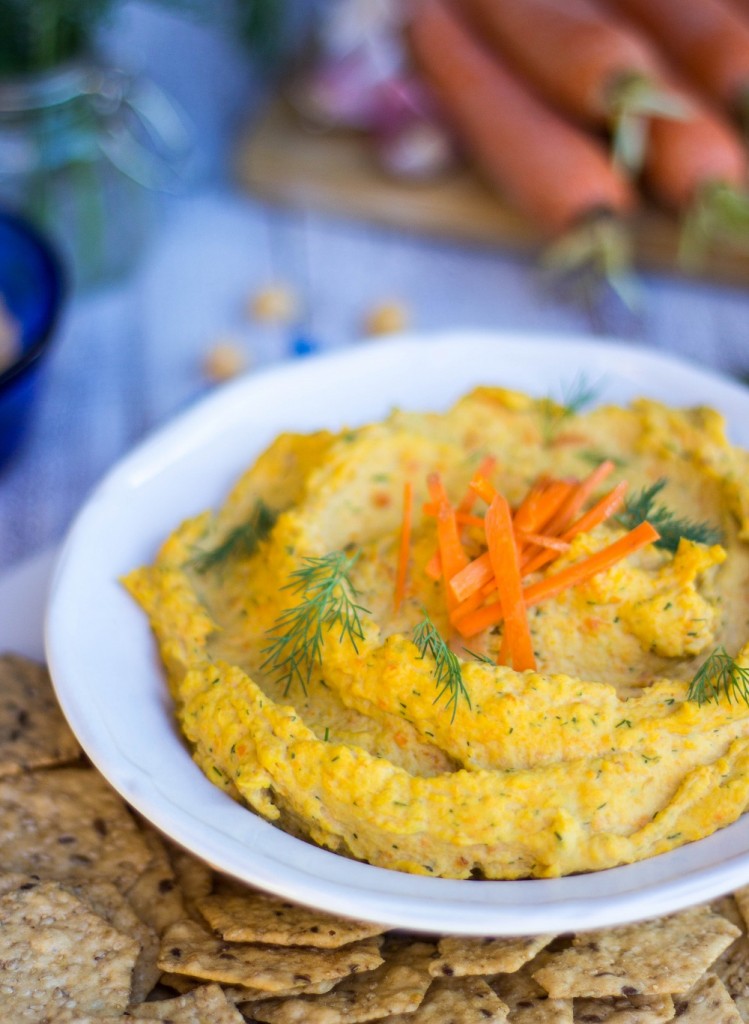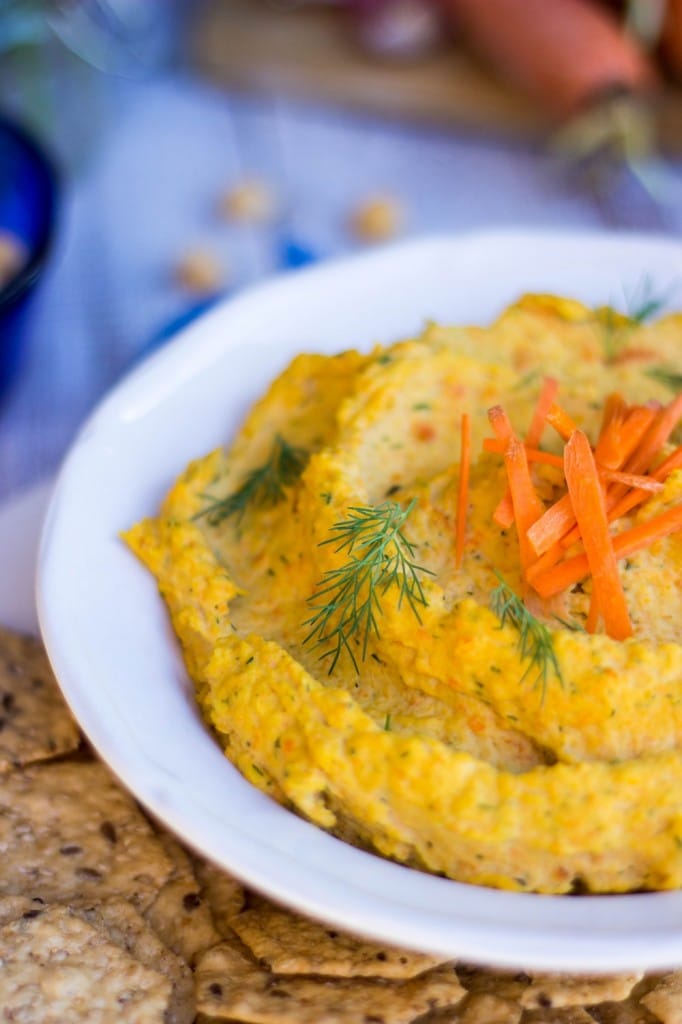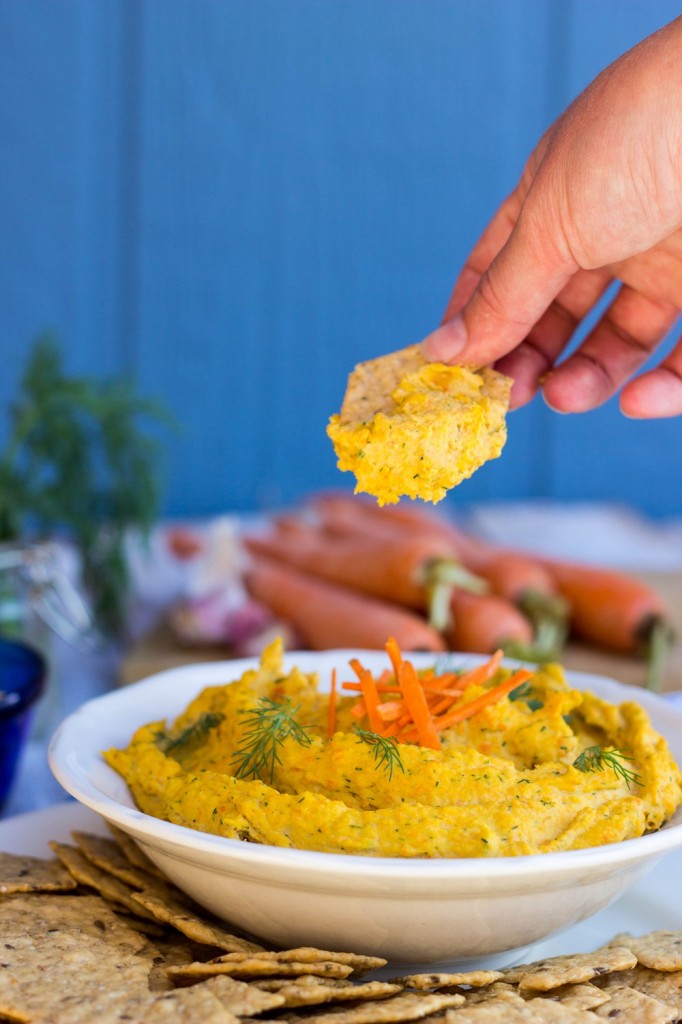 I spy little cat ears!