This healthy Vegetarian Stir Fry Recipe is quick and easy and can be made with almost any vegetables you have on hand!  It's a great family friendly 30 minute meal!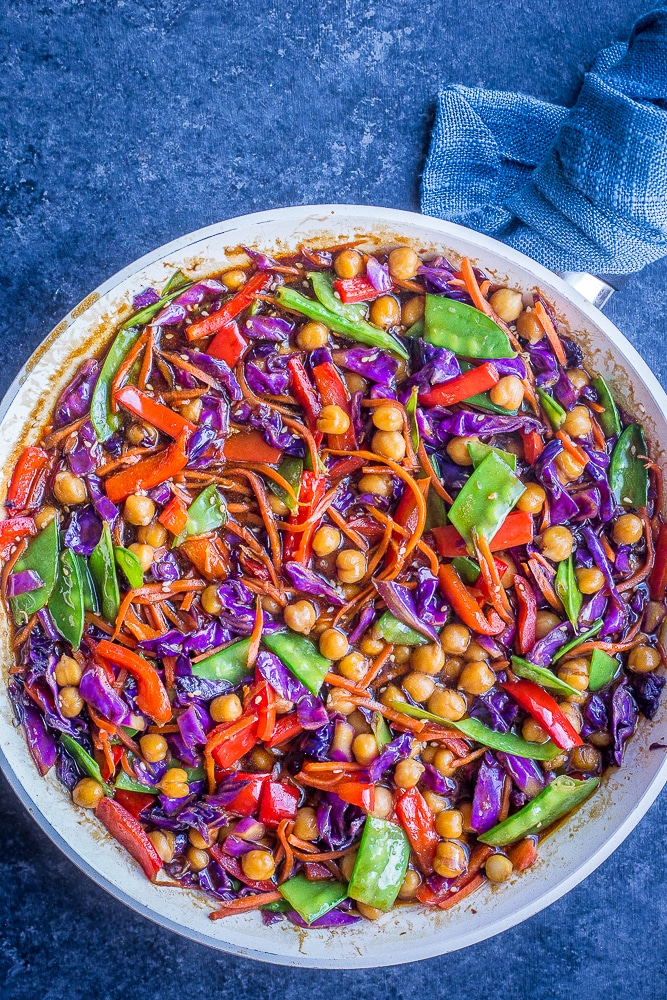 Do you guys remember that Stir Fry Sauce Recipe I shared with you on Tuesday?  Well, today we are putting it to use in what I like to call a Clean Out The Refrigerator Vegetarian Stir Fry Recipe.  This is a great recipe to have on hand when it's the end of the week and you're not super motivated to cook and you have all those half used veggies in your refrigerator.
I can't be the only person who has good intentions buying lots of vegetables while grocery shopping and then forgets to use most of them… 🙂  This Vegetarian Stir Fry Recipe can be adapted to use with most any vegetables and protein that you have on hand.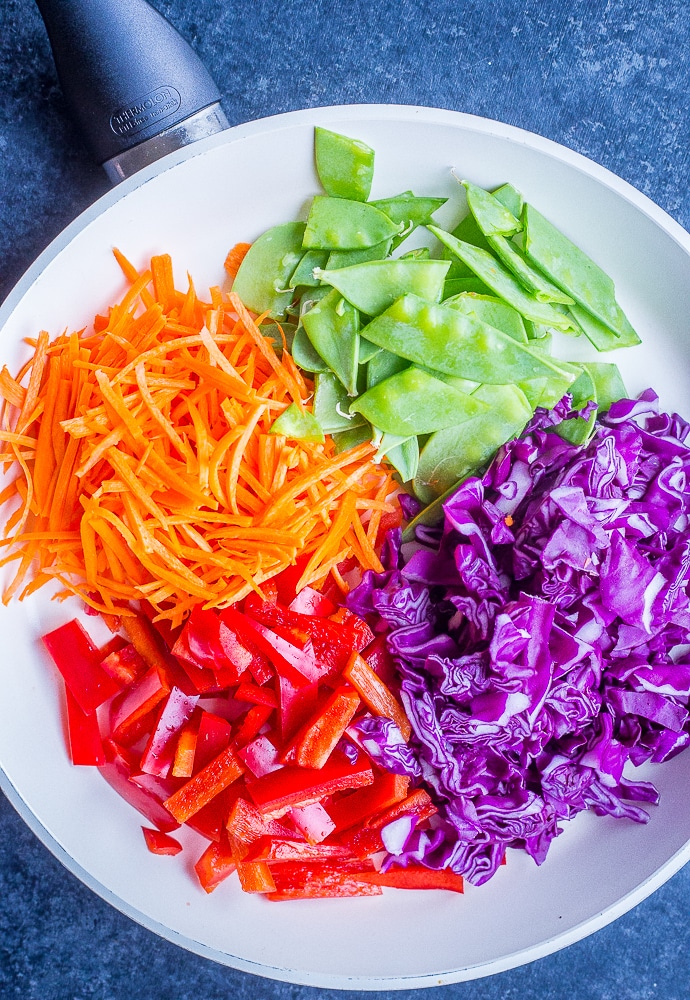 How To Make Stir Fry:
Stir fry is a super easy meal to make and can be made with so many different ingredients.  You start by heating a large pan and adding some oil.  I usually like to use sesame oil when making stir fry because it adds some nice flavor but you could use any kind of oil you like.
I like to use chickpeas in my stir fry because they're already cooked and only need to be heated up at the very end.  If you're using a protein like tofu or tempeh you will want to brown it first before adding in the vegetables.
I like to make sure all the vegetables I use need to cook for the same amount of time.  If you're using a vegetable that may take a little longer than the others to cook you will want to add that vegetable in by itself first and then add all the other veggies.
If I'm using a super flavorful Stir Fry Sauce then I don't worry about seasoning up the vegetables or tofu too much.  I usually throw a little tamari, or soy sauce in to add some flavor and help brown things, but I rely on my stir fry sauce for most of the flavor.
You don't need to use a stir fry sauce to make your stir fry taste good.  I've also made them just by adding in a few spices that I have on hand like, ginger and garlic.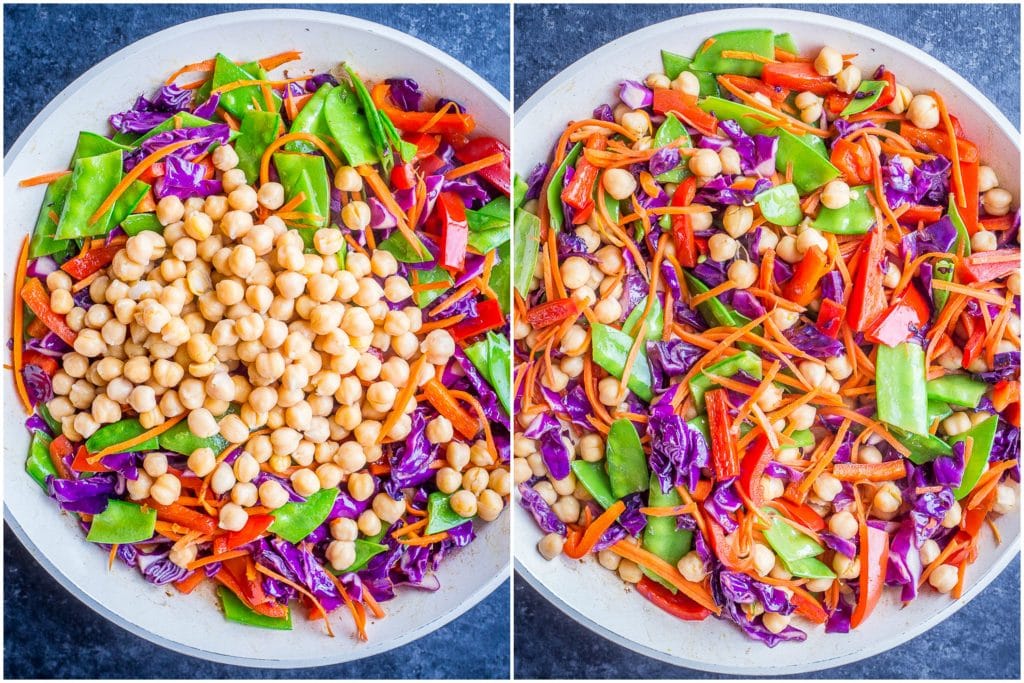 A Guide To Stir Fry Vegetables:
As I said above, you can pretty much add any veggies you like to your stir fry.  I like to make sure my vegetables have a variety of tastes, textures and colors.  The more colors the better!
I also like to choose vegetables that cooks fairy quickly.  I usually make stir fry when I'm needing a quick and easy weeknight dinner so I don't want to wait forever for the vegetables to soften.
Quick cooking vegetables for your stir fry: carrots, cabbage (green or purple), bell pepper (all colors), sugar snap peas, sweet peas, box choy, zucchini, summer squash, broccoli, green beans, mushrooms, asparagus, onion, and eggplant.  I'm sure there are much more but these are the common ones that I would use.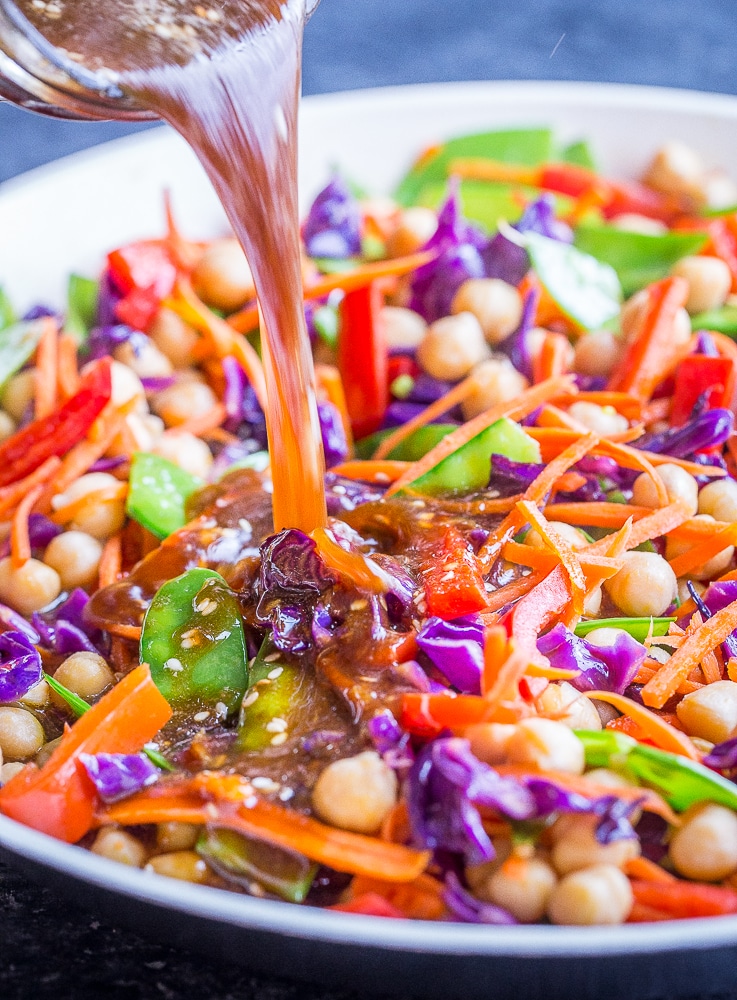 How To Enjoy This Vegetarian Stir Fry Recipe:
Rice – Rice is my go to starch to eat my stir fry with.  It's easy to make and I pretty much always have it on hand.  I like to use white basmati rice but you could use any rice you like, including cauliflower rice.
Noodles – If I'm using noodles I usually use either rice noodles or lo mein noodles.  You could also just use whatever noodles you have in your pantry and it would still be good!
Polenta – Polenta is really quick and easy to cook and would be perfect for enjoying with a veggie heavy stir fry.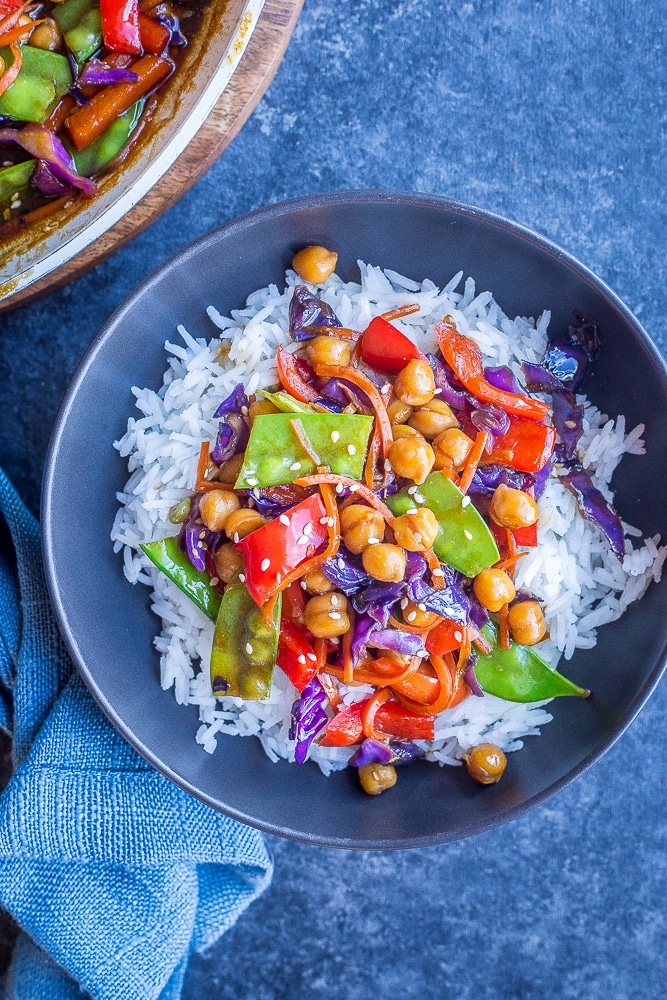 Recipe Tips for this Vegetarian Stir Fry Recipe:
Tofu/tempeh can be swapped for the chickpeas.  You'd just want to brown the tofu for 5-7 minutes before adding the veggies.
I love using this homemade stir fry sauce in my stir fry but you could also use a store-bought kind or another recipe that you enjoy.
Stir fry is great for a meal prep lunch.  Just divide the rice/noodles and the vegetables into four re-heatable containers and take for lunch.  Leftovers should be good for up to 3-4 days.
Print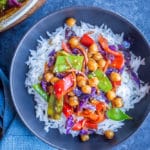 Clean Out The Refrigerator Vegetarian Stir Fry Recipe
---
Author:

Total Time:

30 minutes

Yield:

4

1

x
Description
This healthy Vegetarian Stir Fry is quick and easy to make and perfect for a family weeknight dinner!
---
2 teaspoons

sesame oil, or oil of choice

4 cups

thinly sliced vegetables, I used carrots, peas, purple cabbage and red pepper

1

(15 oz) can chickpeas

1

recipe for The Best Stir Fry Sauce
---
Instructions
Heat a large skillet over medium heat and add sesame oil and vegetables.  Cook vegetables until softened, about 10 minutes.
Add the chickpeas, stir and then pour jar of stir fry sauce in.  Cook until sauce has thickened and coats the back of the spatula, 3-5 minutes.
Serve stir fry over rice, noodles or polenta and top with fresh herbs if desired.
Prep Time:

15 mins

Cook Time:

15 mins

Category:

Dinner, Vegan, Gluten Free

Method:

Stovetop

Cuisine:

Asian
Keywords: Stir Fry Recipe