This Vegan Chocolate Cake is perfectly moist, fluffy and so chocolate-y! It's made with vegan egg substitute, diary free butter and cashew based yogurt. Easy to make and perfect for your next birthday party or other special occasion!
It's finally February and Valentine's Day is just around the corner! I'll admit that we don't really do much in celebration of Valentine's Day but I do alway love an excuse to eat chocolate cake 🙂 Today I'm sharing the BEST Vegan Chocolate Cake Recipe with you! This chocolate cake is light and fluffy but also fudge-y and perfect.
This Vegan Chocolate Cake Recipe is adapted from my favorite Gluten Free Chocolate Cake Recipe and I always get amazing reviews on it. People repeatedly say that no one could tell that it was gluten free, and I assure you that no one will be able to tell that this cake is vegan!
VEGAN CHOCOLATE CAKE INGREDIENTS
Flour – I use organic all purpose flour for this recipe. I have also tested it with Bob's Red Mill 1:1 Gluten Free Baking Flour and it works perfectly!
Cocoa Powder – I use regular unsweetened cocoa powder. I assume that dutch process cocoa powder would work as well but I haven't used it myself.
Baking powder, baking soda and salt
Dairy Free Butter – I like to use the Earth Balance brand sticks of butter for baking but you can use whatever dairy free butter alternative you feel comfortable with, you just need it to be softened to room temperature. Softened coconut oil would also work, just make sure to use the refined kind if you don't want it to taste like coconut.
Sugar – I use a mixture cane sugar and light brown sugar. This vegan chocolate cake is not low in sugar, but sometimes it's nice to treat yourself! Coconut sugar could be subbed for the brown sugar. I also add vanilla extract.
Vegan Egg Substitute – I used two servings of Bob's Red Mill Vegan Egg Replacer. It is my favorite vegan egg substitute because it's light in color and mild in flavor. It also works really well in everything I've used it in so far. You could also use ground flax or chia seeds to make your vegan egg substitute.
Dairy Free Yogurt – I think that any plain, dairy free yogurt would work in this recipe. I used Forager cashew based yogurt. In my non-vegan version of this cake, I used non-fat greek yogurt so the thicker the better.
Dairy Free Milk – I used plain, unsweetened almond milk because that's what I usually have on hand, but any plain dairy free milk would work.
FROSTING YOUR CHOCOLATE CAKE
I love topping my chocolate cake with chocolate frosting, chocolate on chocolate is just perfect to me! Vanilla, cream cheese or even strawberry frosting would be great too, really anything you like. I have included a vegan chocolate buttercream recipe in the recipe card but feel free to use something different.
This vegan chocolate cake is so good though that I honestly don't even think it needs frosting!
TIPS FOR MAKING THE BEST VEGAN CHOCOLATE CAKE
Make sure to follow the recipe exactly. Baking is much more scientific than other kinds of recipes and a simple ingredients swap or change of measurement can really change things. Feel free to ask me if you have questions on changing things up.
Let the cakes cool in the pan for at least 20 minutes before transferring them to a wire rack to cool completely. This chocolate cake recipe is very light and delicate and it's important to be careful with the cakes.
Let cakes cool completely before frosting. You don't want warm cakes to melt the frosting. You can put them outside or refrigerate them if needed.
Don't over bake the cakes. I always have trouble figuring out exactly when chocolate cake is done because you can't tell if the edges are turning brown. You want to bake the cake until it's firm to the touch and an inserted toothpick or fork comes out clean.
This cake is delicate and tender, which is great because it makes it super light and fluffy, but you want to be extra careful when transferring the cakes out of the pan and onto your cake stand.
FREQUENTLY ASKED QUESTIONS
Can I make this cake gluten free also? Yes! I have tested it with Bob's Red Mill 1:1 Gluten Free Baking Flour and it works perfectly. I have not used any other kind of GF flour to test this recipe.
Can I make this into a two layer cake instead of three? Yes, just cut the recipe down by 1/3 and you will get enough batter for two round cakes, or one large rectangle cake.
Can I make cupcakes instead of a cake? Yes, just scoop about 1/4 cup of batter into a muffin pan and halve the baking time.
Can this cake be frozen? Yes, make sure to cool the cakes completely and then wrap each individually in an airtight freezer friendly material. Freeze cake up to 6 months. Thaw in the refrigerator or on the counter before using.
Can I cut the amount of sugar down? I wouldn't change the measurements too much since it's a baking recipe but you would probably be able to cut it down a little bit without seeing much of a difference.
Have another question? Ask me in the comment section below and I will try my best to answer it!
Print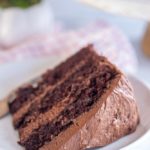 The BEST Vegan Chocolate Cake
---
Author:

Total Time:

1 hour 10 minutes

Yield:

10

-

1

2

1

x

Diet:

Vegan
Description
This Vegan Chocolate Cake is has a light and fluffy texture and is perfect for any special occasion!
---
2 1/4 cup

plus 2 tablespoons all purpose flour

1 1/2 cup

cocoa powder, sifted

3/4 teaspoon

salt

2 1/4 teaspoon

baking soda

1 1/2 teaspoon

baking powder

1 1/2 cup

vegan butter, softened

1 1/4 cup

cane sugar

1 cup

packed brown sugar

2

servings of vegan egg substitute*

3 teaspoons

vanilla extract

1 1/4 cup

plain, unsweetened almond milk

1 1/2 cup

plain dairy free yogurt
Vegan Chocolate Buttercream Frosting:

2 cups

vegan butter, softened

2 1/2 cups

powdered sugar

1 cup

unsweetened cocoa powder

1 teaspoon

vanilla extract

1

pinch salt
---
Instructions
Preheat oven to 350 degrees Fahrenheit. In a medium sized bowl, mix together the flour, cocoa power, salt, baking soda and baking powder.
In a large bowl, cream together the vegan butter and sugars. Add the egg substitute and then add the vanilla and mix again. Finally add the almond milk and mix one last time. The wet mixture might look a little strange at this point, but that is ok!
Add the flour mixture and the yogurt to the wet mixture, one half at a time alternating between the two, starting with the flour. Give the batter one last mix until everything is combined.
Grease three 8 inch cake pans and equally distribute the batter into the pans. Bake cakes for about 30 minutes or until an inserted toothpick comes out clean. Let the cake cool inside the pan for 20 minutes and then transfer to a cooling rack to cool completely. Cakes will need a little more time if you bake more than one at a time.
Once the cakes are completely cooled, transfer to a plate or cake stand and stack the cakes on top of eachother, frosting in between each one. Frost the top and sides of the cake, smoothing out with a knife if necessary. Cake can be served immediately or refrigeratored until ready to eat.
To make the frosting: add the butter to a large bowl and beat with an electric mixer until creamed. Add the powdered sugar, cocoa powder, vanilla extract and salt and beat again until frosting is smooth and creamy. If you want frosting to be less thick you can add a few tablespoons of almond milk. Frosting spreads easiest when used immediately.
Notes
*Reccomended options for an egg replacer:
Chia seeds – Two tablespoons ground chia seeds mixed with 6 tablespoons water, let sit for about 1 minute.
Flax seeds – Two tablespoons ground flax seeds mixed with 6 tablesoons water, let sit for 1-2 minutes.
Bob's Red Mill Egg Replacer (my favorite option) – 2 tablespoons egg replacer mixed with 4 tablespoons water, let sit for 1-2 minutes.
Prep Time:

30 mins

Cook Time:

40 mins

Category:

Dessert, Vegan

Method:

Oven

Cuisine:

American
Keywords: Vegan Chocolate Cake