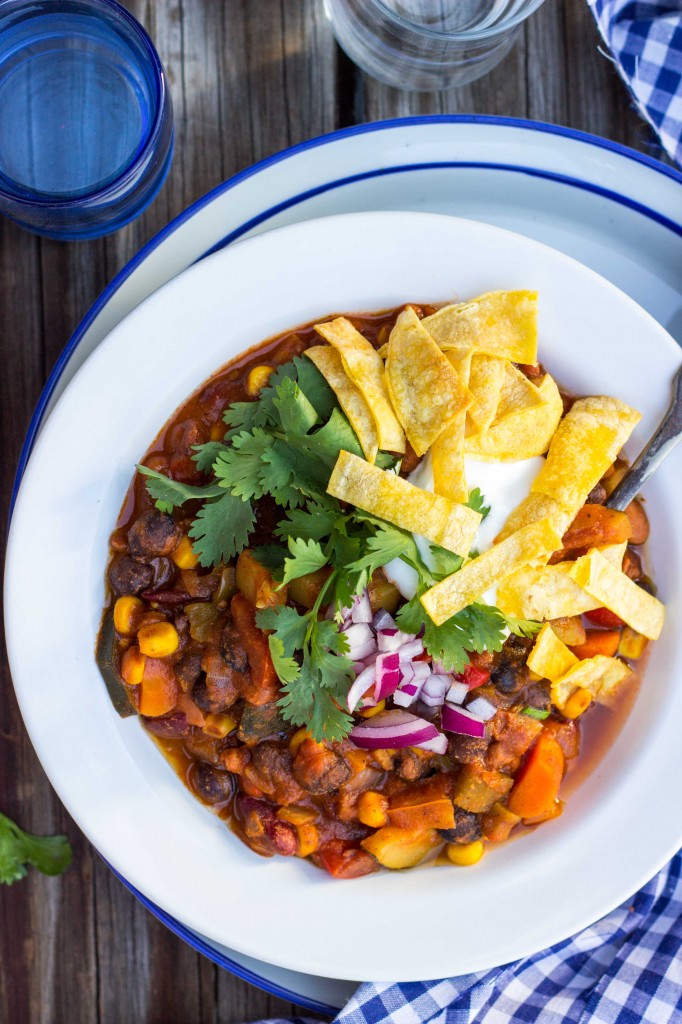 I'm bringing you this chili recipe today for a few different reasons. One: because chili is freaking awesome and everyone should have a great go-to chili recipe!
Two: because it has been raining non-stop all day today and what a better dish to sit on the couch under a warm blanket watching Friends re-runs with than chili? Three: because this is how I am slowly dipping my spoon into the waters of fall recipes. To me, chili is more of a fall/winter dish, but I've also added in some corn, zucchini, and fresh tomatoes to give it a little touch of summer. And, four: because football season has started and everybody knows that football and chili go hand in hand.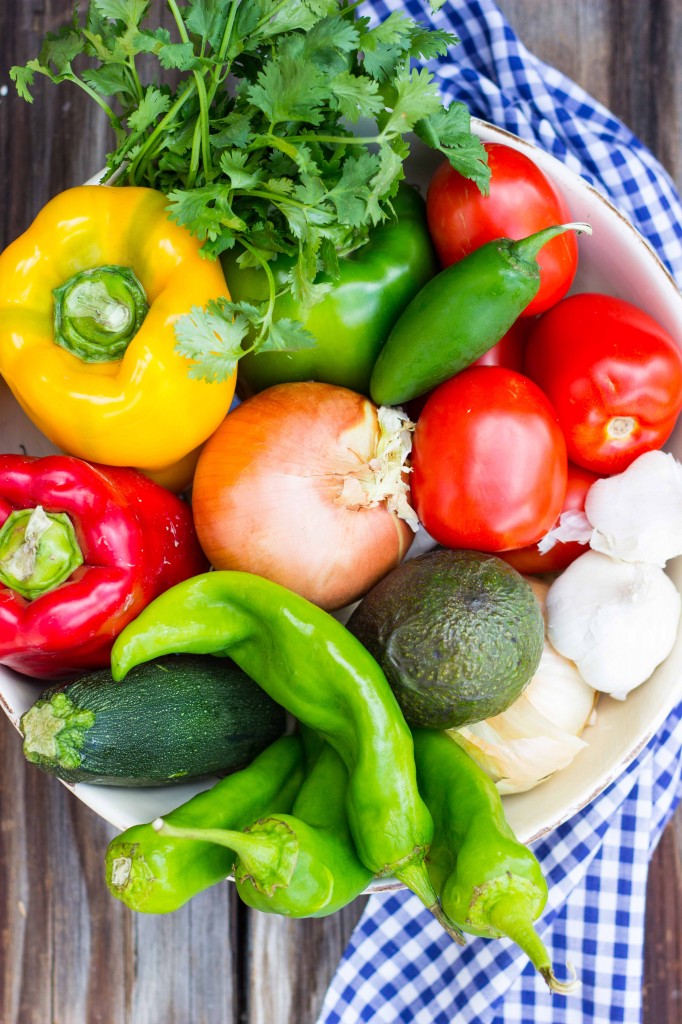 To be honest, I'm not a huge football fan myself, but I happened to marry one and I promise that I'm trying to enjoy it more. But, after 7 years, I still much prefer the snacks that go along with watching football than the actual football watching itself. I also use it as my excuse to have wine on Sunday. Every once in a while I try to impress my husband with a few important facts that I've picked up about some of the football players, such as: Tom Brady has two children with Giselle Bunchen, and Croy Bierman just got a vasectomy because he now has six kids with Kim Zolciak. You know, all the important stuff! Thankfully my husband is a reality show addict as much as I am and really does appreciate my anecdotes.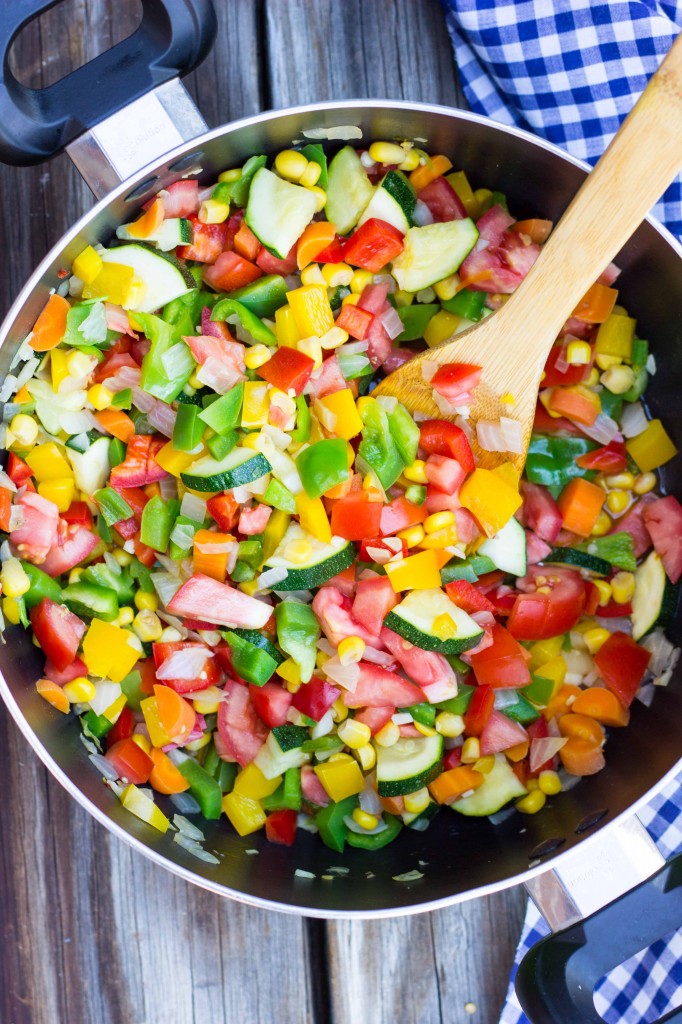 Another reason why I love chili so much is because it is one of my "everything but the kitchen sink" recipes. Which literally means that when I'm making chili, I pretty much just ransack the refrigerator and pantry and throw in all kinds of different ingredients. I usually use the same base and the same spices, but look out when it comes to everything else, because you never know what you are going to get! And I mean that in the tastiest way possible!
While I'm ready to welcome fall into my life with open arms, I just can seem to shake the summer heat that seems to be following me around. For that reason, I used the usual chili vegetables, like onions, garlic, and peppers, but I also threw in some corn, zucchini, and fresh tomatoes (you could also used canned tomatoes).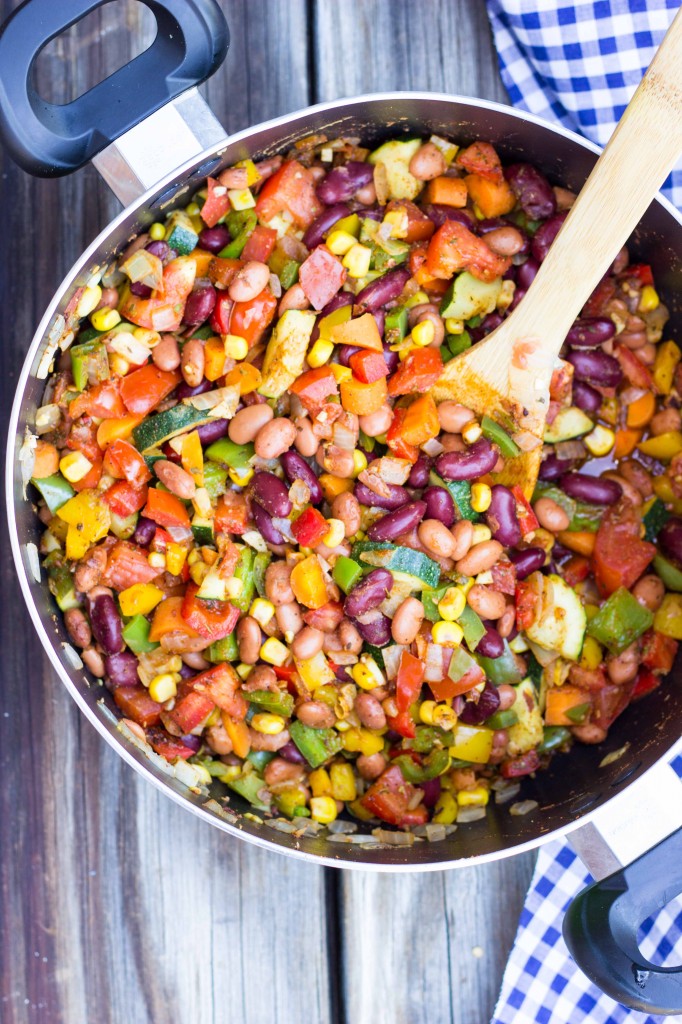 My husband likes his chili to be really thick, so I laid off the broth a little bit and I loaded it up with 3 kinds of beans and tons of vegetables. Not only is chili a hearty and filling dish, but it is also so versatile. You can eat it with cornbread, fritos, or biscuits. You can top it with sour cream, cheese, onion, cilantro, and avocados. And, you can also bake it in between two layers of cornbread (recipe coming sometime this season!).
Whether you are looking for a game day snack or just a good ole fashioned chili recipe, you have come to the right place and I hope you enjoy it! P.S. it is also a great recipe to get your loved ones to eat a few more vegetables!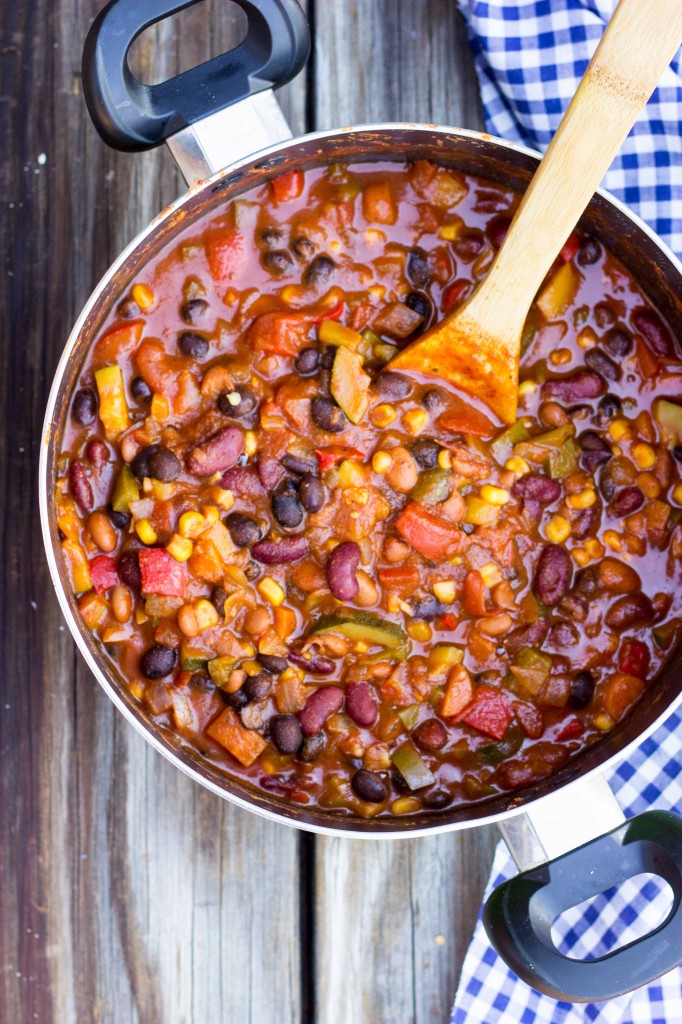 Don't let the long list of ingredients scare you! You most likely already have the spices in your pantry and you can use any vegetables you like 🙂
Print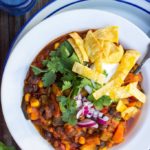 Three Bean Loaded Veggie Chili
---
3

–

15

ounce cans of beans, rinsed and drained, I used: pinto beans, black beans & kidney beans

2

large roma tomatoes, diced – or

1

–

15

ounce can of crushed tomatoes

3 cups

of vegetable broth

1

–

6

ounce can of tomato paste

1 cup

corn kernels

2

cloves garlic, minced

1/2

yellow onion, diced

1/2 cup

diced carrots

1/2 cup

diced zucchini

1/2

red bell pepper, diced*

1/2

green bell pepper, diced*

1/2

yellow bell pepper, diced*

1

large hatch green chili, diced (optional)
diced jalapeno, to taste

2 1/2 teaspoons

chili powder

2 1/4 teaspoon

cumin

1 teaspoon

Italian seasoning

1 teaspoon

paprika

1/4 teaspoon

smoked paprika

1/4 teaspoon

black pepper

3/4 teaspoon

salt

1

small pinch brown sugar or coconut sugar
red pepper flakes, to taste
olive oil
Optional toppings: cilantro, green onion, red onion, avocado, tortilla chips, sour cream, Greek yogurt, vegan sour cream, cheddar cheese
---
Instructions
Heat a large pot over medium heat and coat the bottom with olive oil. Add in the onion, garlic, diced peppers, carrots, and a pinch of salt. Stir for 5 minutes, until vegetables are beginning to soften. Next, add in beans, corn, tomato and all of the seasonings. Stir together and cook for 3-5 minutes.
Stir in the tomato paste and then add the vegetable broth. Mix until everything is combined. Reduce chili to a simmer and simmer for at least 20 minutes, but can be left on the stove for a couple of hours to help develop the flavors.
Spoon chili into serving bowls and add toppings of your choice!
Notes
*You don't have to use all 3 colors of bell pepper, just use the equivalent of 1 1/2 large bell peppers.
Category:

Entree, Soup, Gluten Free, Vegan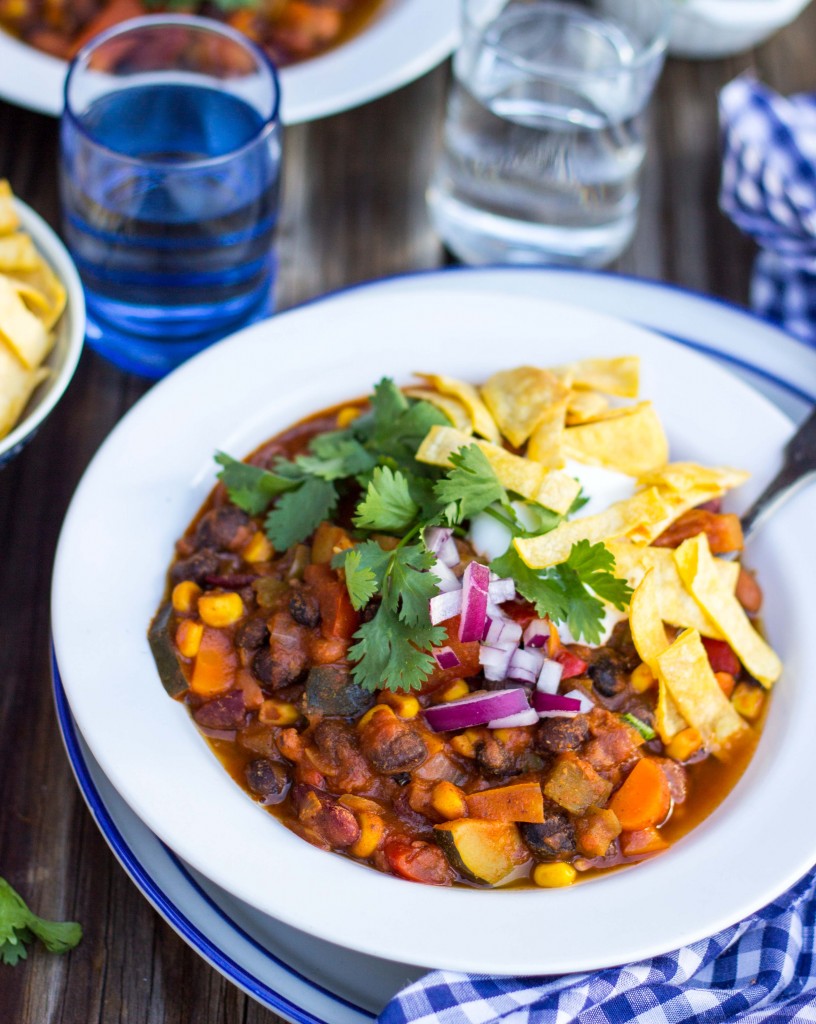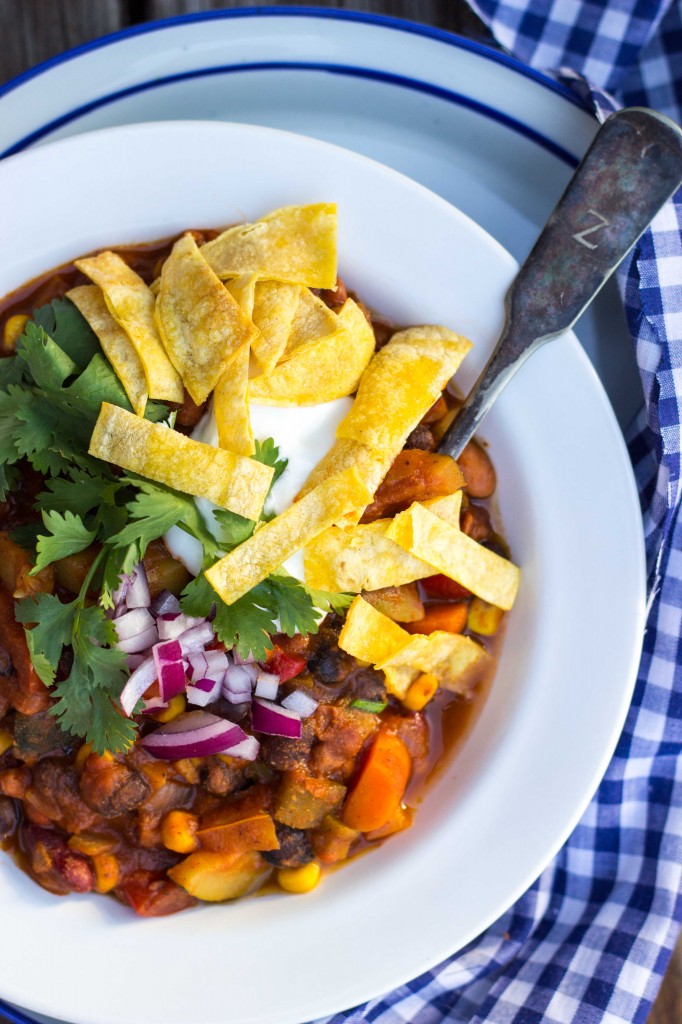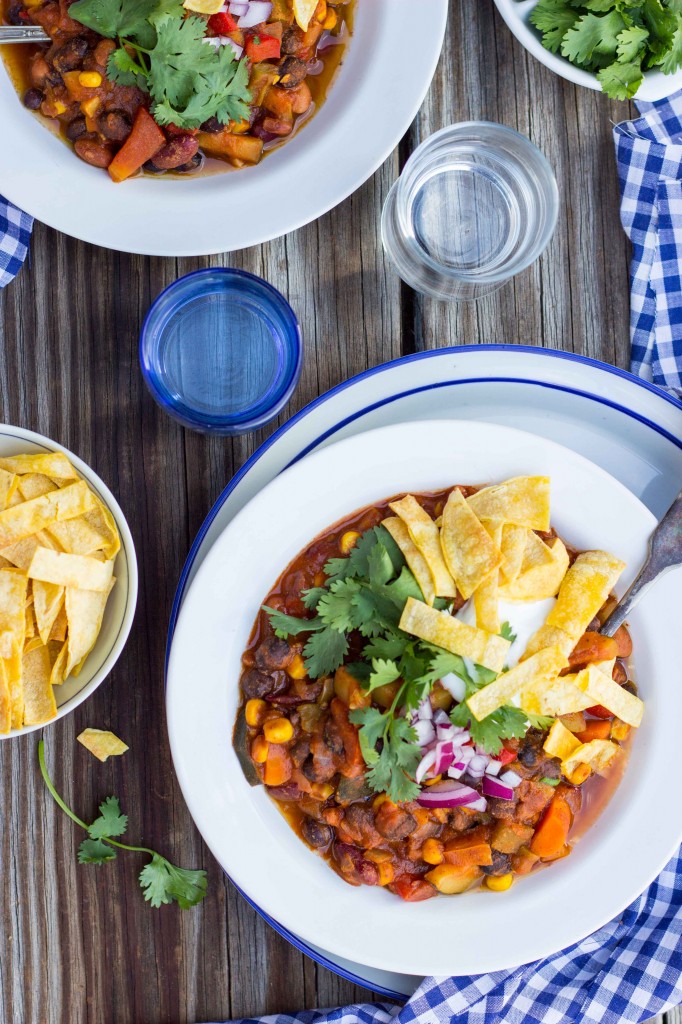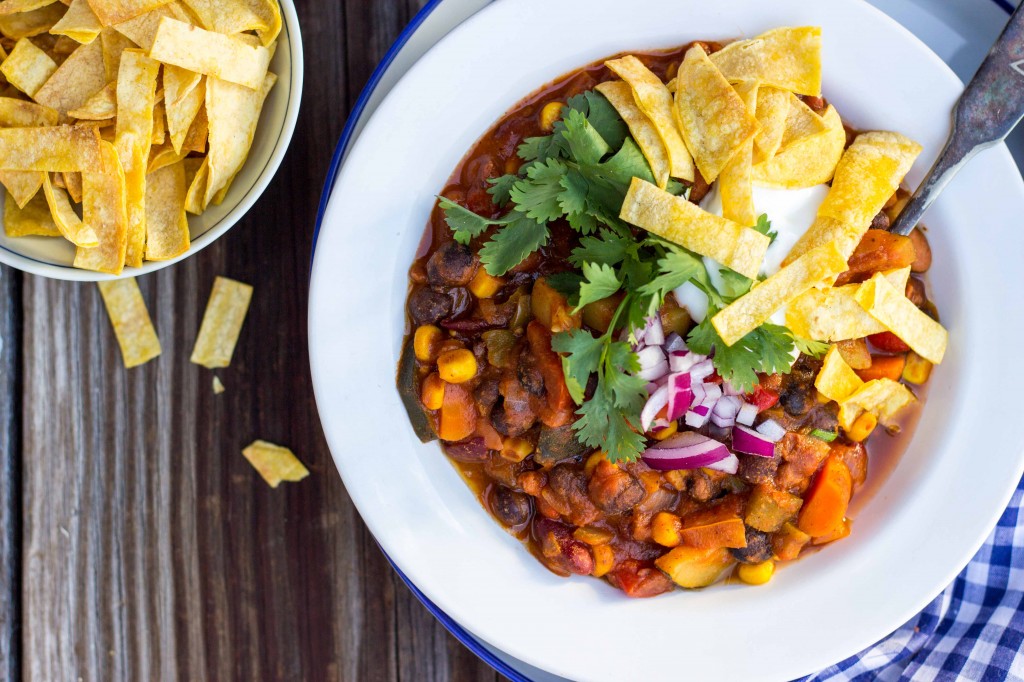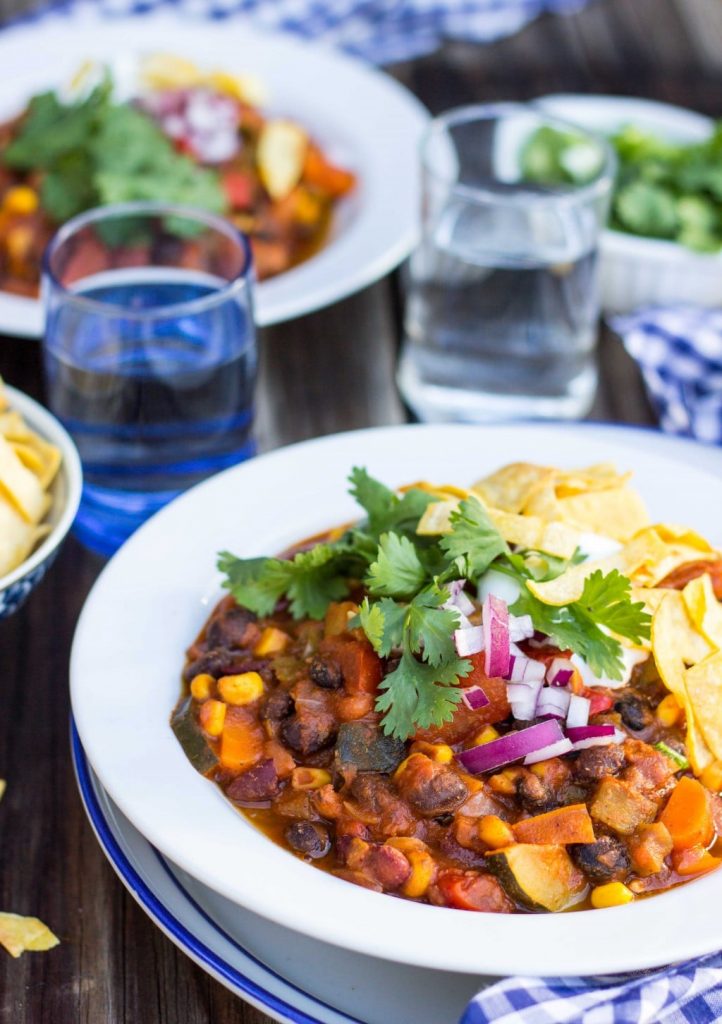 Talk to the foot!