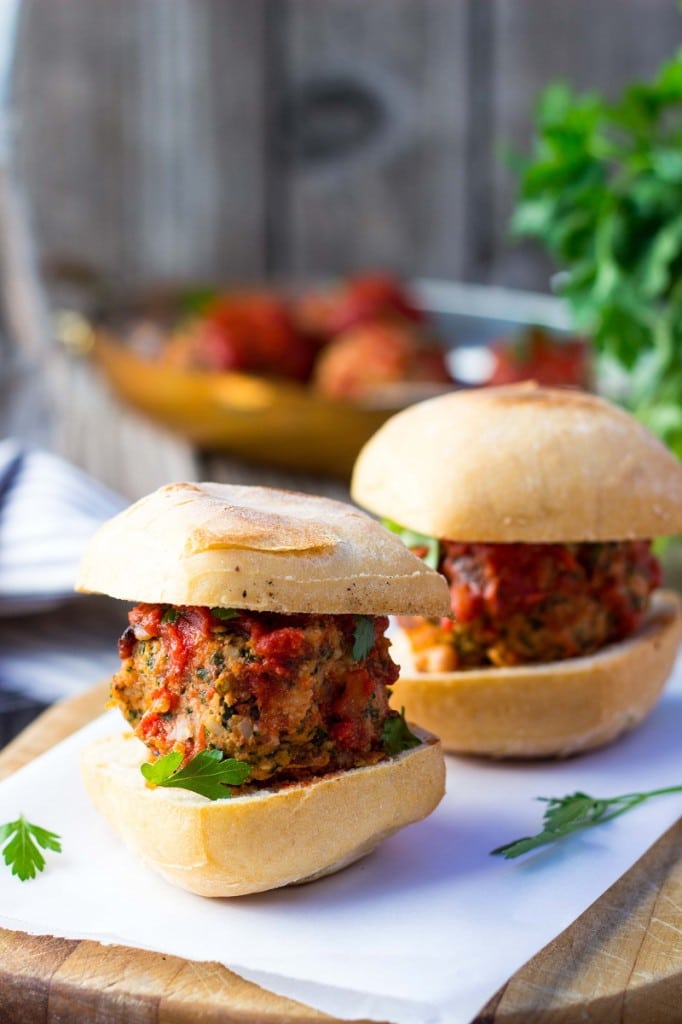 I've been on a veggie burger kick for a long time now, so I decided to make some veggie meatballs to mix things up a little bit! I know I probably shouldn't be calling these "meatballs" since they don't have any meat in them, but I thought veggieballs sounded a little strange!
A while ago, I saw a comment on another blogger's vegetarian meatball recipe asking why vegetarians needed meatballs. In my mind, when I make things like veggie burgers and these meatless meatballs, I'm not necessarily trying to re-create the flavors or texture of the meat dish it might be based off of, rather my goal is to mix a bunch of delicious ingredients and flavors together and have something I can eat between two pieces of bread!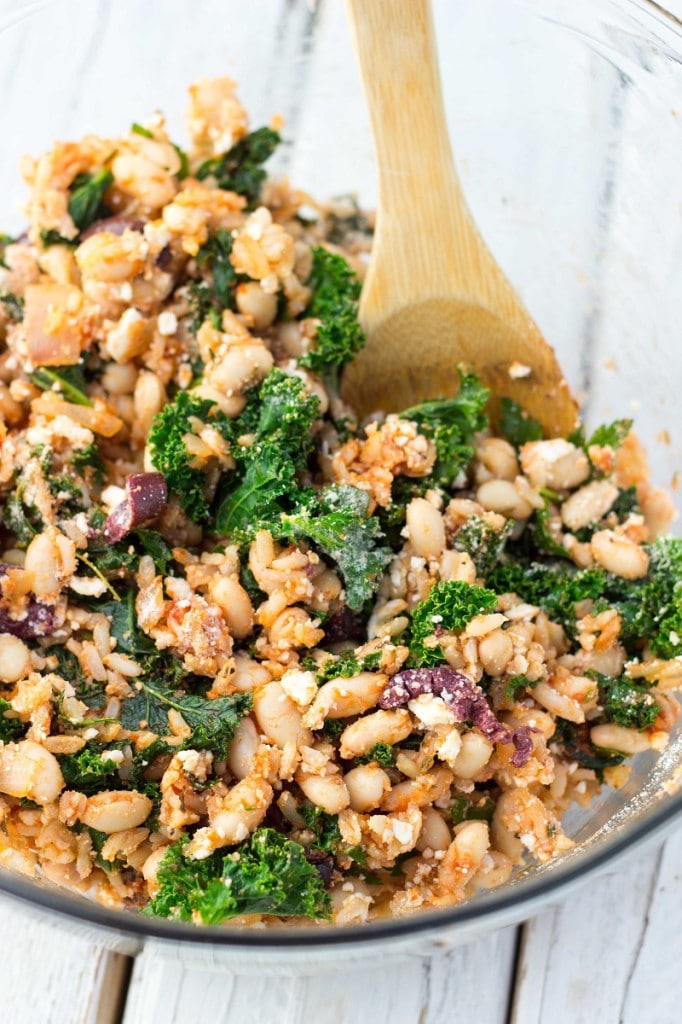 I know I probably say this with each new veggie burger recipe I post, but I think this one really is my favorite! These vegetarian meatball sliders are packed with brown rice, white beans, kale, feta and kalamata olives, which to me are some of the best flavors in the world.
If you aren't a fan of olives you can always leave out the kalamatas, but I highly recommend them! People seem to either absolutely love olive or completely despise them. Is it bad that I loaded these with olives knowing full well that my husband can't stand them?! You can also make them vegan by omitting the feta cheese. Either way, I don't think you will be disappointed! Not only do these go well as sliders, but you could also add them to some pasta or even enjoy them on their own with a little bit of tomato sauce.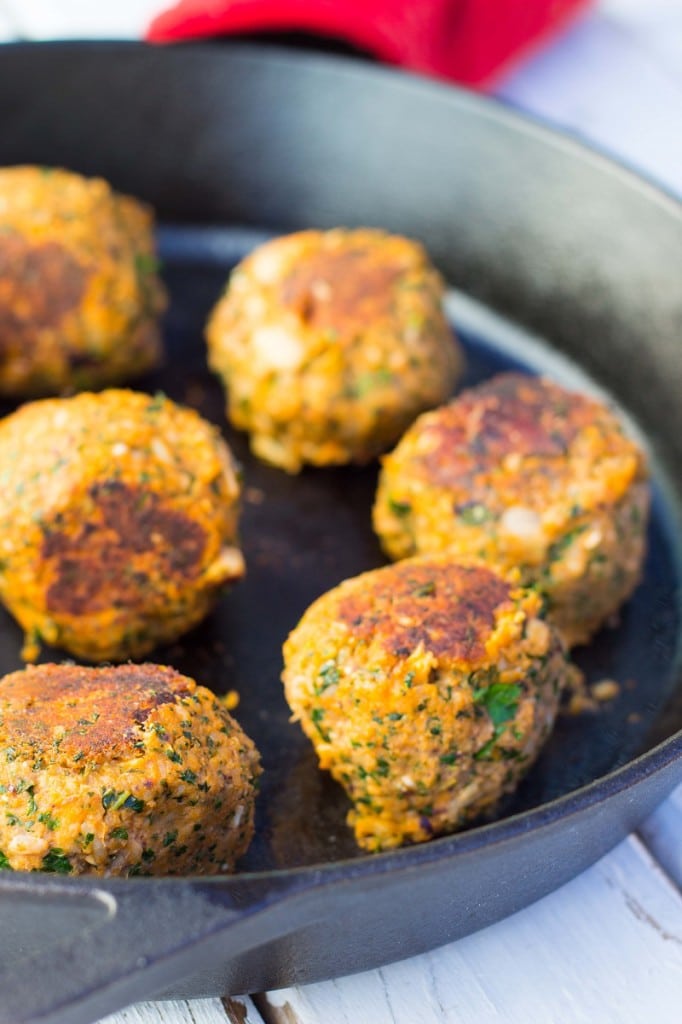 Print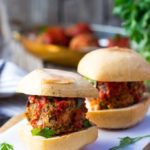 Vegetarian Meatball Sliders with White Beans, Kale & Feta
---
2 teaspoons

olive oil, divided

1/3 cup

diced yellow onion

1

clove garlic, minced

1/2 teaspoon

salt

1/4 teaspoon

black pepper

4 tablespoons

tomato paste

3 cups

kale leaves, torn into small pieces

2 cups

white beans, cannellini or northern white beans

1 1/2 cups

cooked brown rice

2 tablespoons

bread crumbs, gluten free if necessary

2/3 cup

crumbled feta cheese – omit if making vegan

1/4 cup

chopped kalamata olives

1 tablespoon

chopped fresh parsley

1/4 teaspoon

dried oregano

1/2 teaspoon

tried thyme

1 1/2 cups

tomato sauce

8

–

10

slider sized buns, gluten free if necessary
---
Instructions
Heat a large pan over medium heat. Add 1 teaspoon olive oil, onion, garlic, salt and pepper. Stir for 3 minutes, until onion is softened. Add tomato paste and stir. Then add kale leaves and cover with a lid. Cook for 2-3 minutes, until kale is wilted.
In a large bowl add the brown rice, white beans, bread crumbs, feta, olives, kale mixture, oregano, thyme, and parsley. Mix until combined and then add mixture to a food processor. Blend for about 30 seconds until mixture is blended together, but still slightly chunky. Form mixture into balls, about palm sized, and place on a tray lined with parchment paper. Refrigerate for 30 minutes.
Heat a large pan over medium heat and add remaining 1 teaspoon of olive oil. Place meatballs into the pan and cook until browned on all sides, about 10-15 minutes. Pour tomato sauce over and stir.
Heat oven to 400 degrees fierenheit. Place buns on a large sheet pan and toast in the oven until beginning to brown, about 5 minutes. Spoon meatballs and sauce onto buns and enjoy!
Category:

Entree, Gluten Free, Vegan Option