These Vegetarian Stuffed Delicata Squash are so hearty, filling and flavorful!  They're topped off with a delicious Curry Tahini Dressing that everyone will love!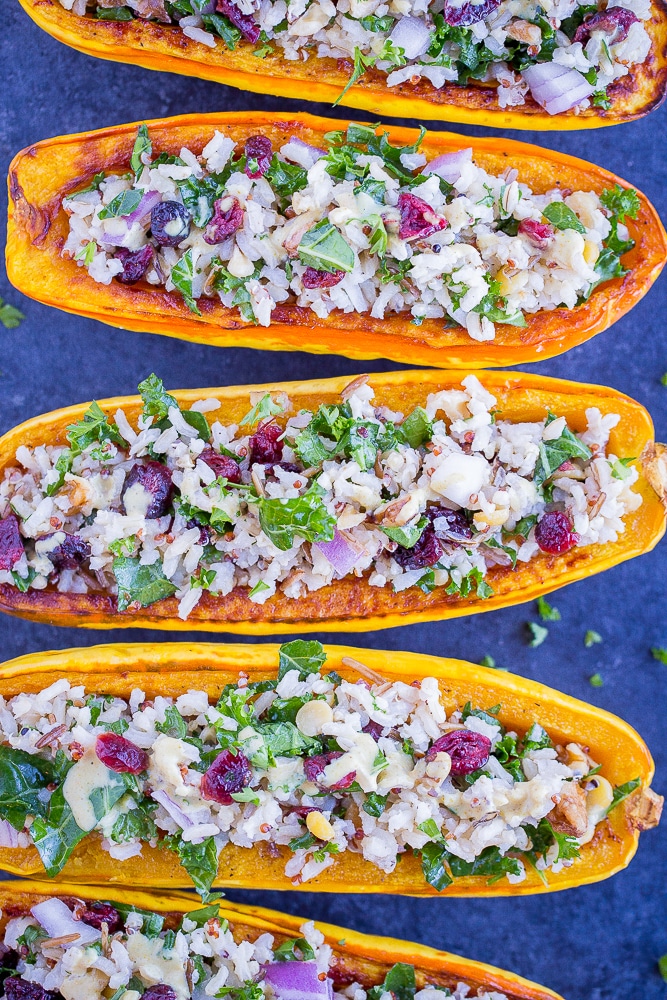 This post is sponsored by Floating Leaf, but as always, all opinions are mine alone.  Thank you for supporting the brands that support She Likes Food!
We've had quite a bit of snow here recently and all I want to do is curl up on the couch with a warm blanket and a cozy meal.  This Vegetarian Stuffed Delicata Squash just happens to be the perfect cozy meal for couch sitting!
I love finding new products to use in my cooking and I'm so excited to share these Floating Leaf Prairie Blends with you today!  I use a lot of grains and beans in my cooking and just love that this Floating Leaf blend already contains both!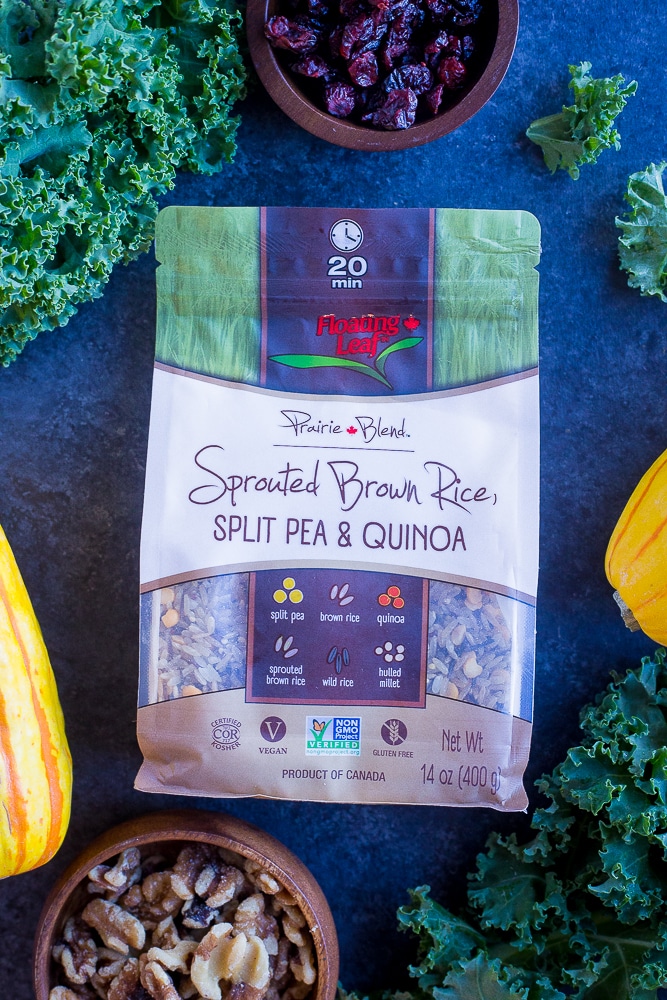 This helps to add high quality plant based protein to your meals and also goes perfectly with these Vegetarian Stuffed Delicata Squash!  Floating Leaf has quite a few different Prairie Blends but the one that I used today is their Sprouted Brown Rice with Split Peas and Quinoa.  They all cook together and it's ready in just 20 minutes, which is awesome for a brown rice blend!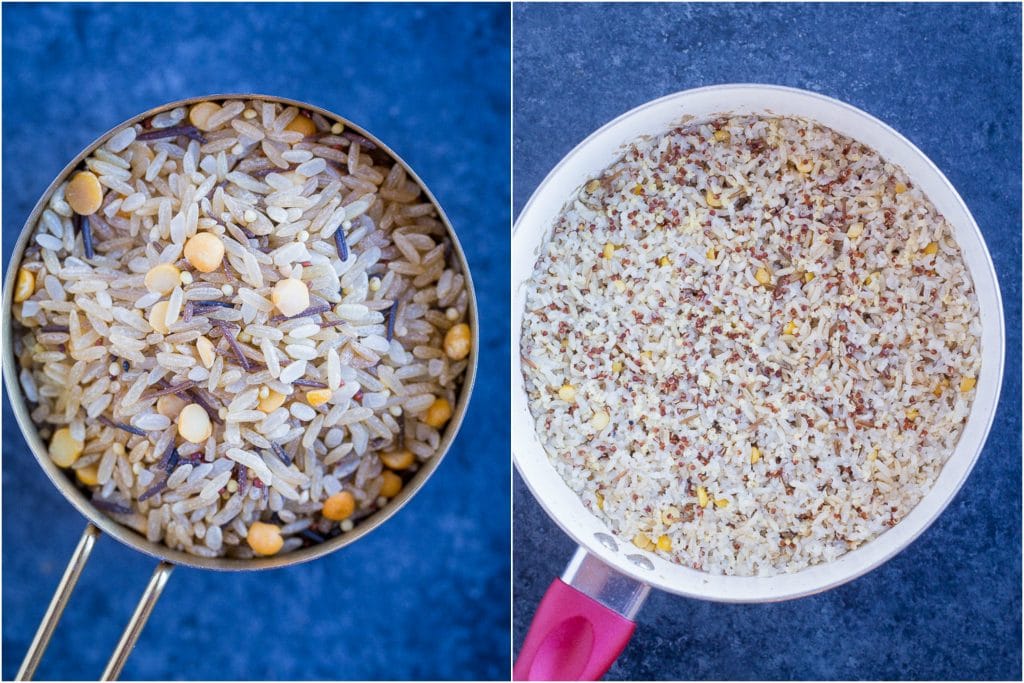 The Floating Leaf rice blends are perfect for people who have dietary restrictions, like celiac disease or diabetes, because they're completely gluten free and hearty healthy.  They also add a good amount of protein to your dish making it super filling and nutritious!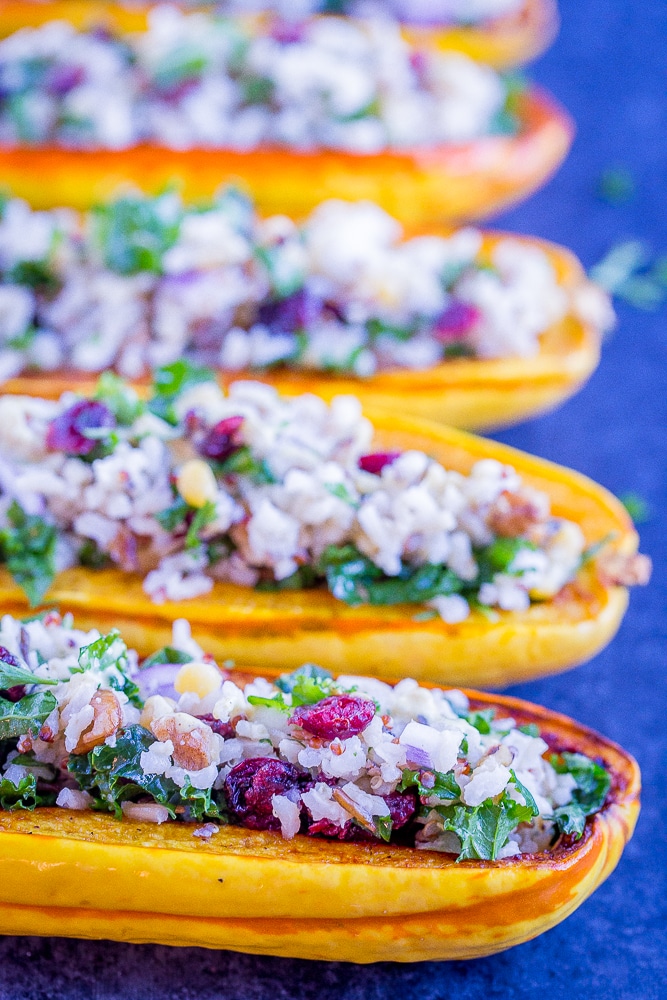 I haven't cooked with winter squash nearly enough this season so I thought it would be perfect to use this rice blend in a stuffed squash recipe.  You could really stuff this filling into any winter squash, but I chose to use delicata squash because it cooks fairy quickly and is a nice portion size.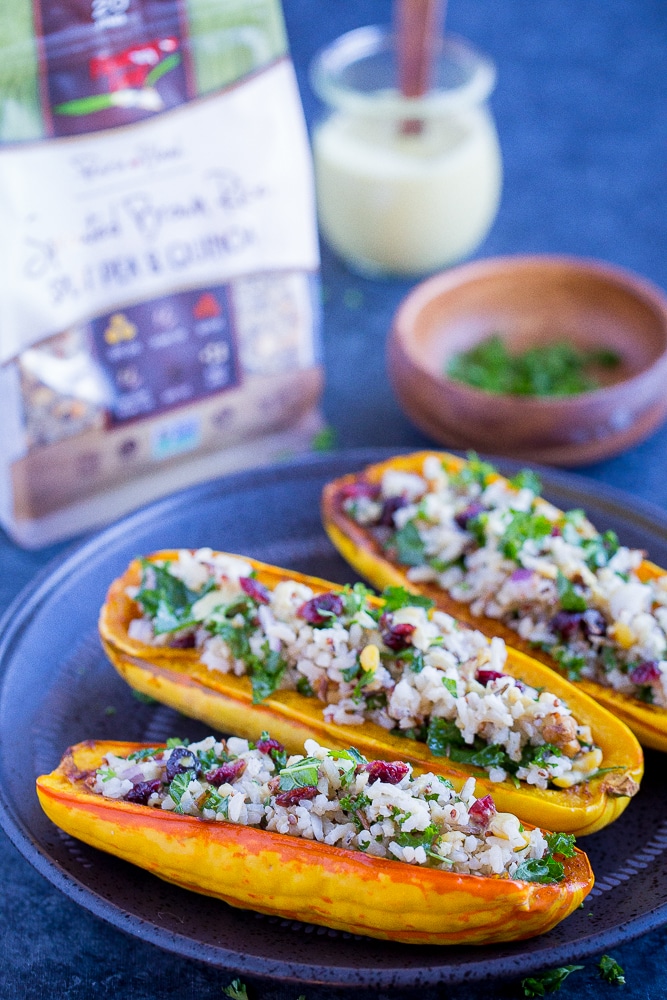 I also added in some of my favorite winter salad ingredients: kale, dried cranberries and walnuts.  I always love to have some green, some sweet and some crunch in my meals.
I also love to have a tasty dressing to drizzle over the top and it doesn't get much better than my favorite Curry Tahini Dressing!  I first used it in this salad recipe and have been basically putting it on everything ever since 🙂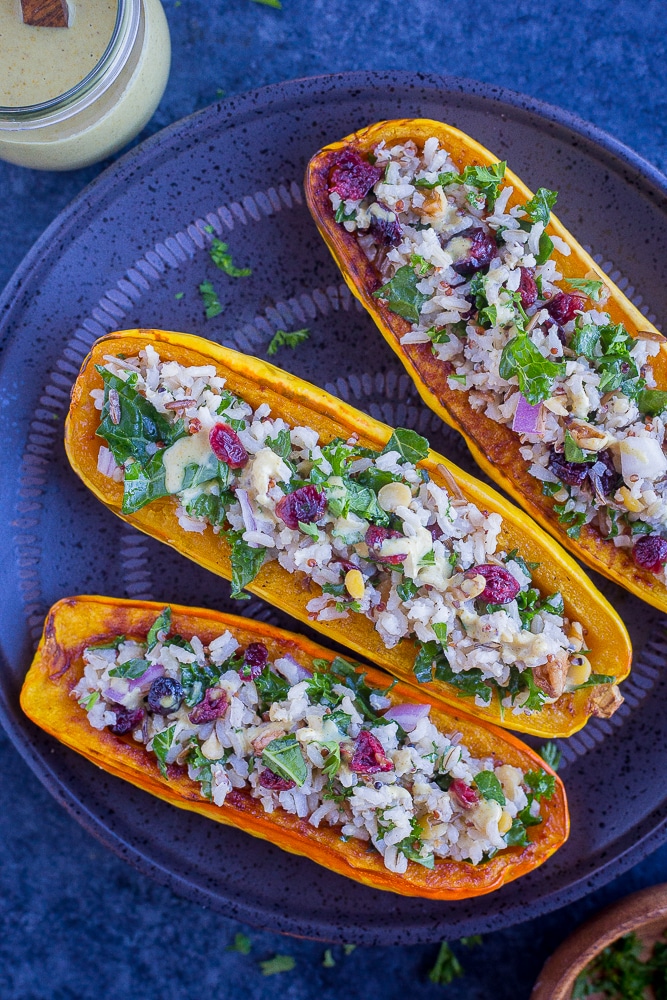 Recipe Tips for Vegetarian Stuffed Delicata Squash with Curry Tahini Dressing:
I cooked my Floating Leaf rice blend in water but if you want to add a little more flavor you could cook it in vegetable stock.
I don't cook the kale before I add it in but I do like to add it to the rice when it's hot so it wilts it a little bit.
If desired you can sub raisins or dried cherries for the cranberries and your favorite nut for the walnuts.
If you love the curry tahini dressing as much as I do you can mix the dressing with the rice salad before stuffing the squash so you get some in every bite!
Print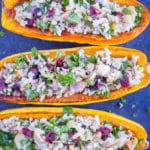 Vegetarian Stuffed Delicata Squash with Curry Tahini Dressing
---
4

whole delicata squash
Olive oil
Salt and pepper

1 cup

rinsed Floating Leaf Prairie Blend, Sprouted Brown Rice with Split Pea & Quinoa

2 cups

chopped kale, I like to make chop it really small so that's it similar size to the other ingredients

1/2 cup

dried cranberries

1/2 cup

chopped walnuts

1/3 cup

diced red onion
Curry Tahini Dressing:
1/3 cup

tahini
Juice of

1

lemon

3 tablespoons

water, or more depending on the consistency you desire

1 teaspoon

tamari, or soy sauce

1 teaspoon

pure maple syrup

1/2 teaspoon

curry powder

1/4 teaspoon

garlic powder

1/4 teaspoon

ground cumin

1/4 teaspoon

salt
---
Instructions
Pre-heat oven to 400 degrees F.  Cut delicata squash in half, lengthwise.  Scoop out the insides and brush each half with a small amount of olive oil and season with salt and pepper.  Place squash cut side down on a large baking sheet and bake until fork tender, about 30 minutes.
Cook Floating Leaf Prairie Blend according to package directions.  Let sit for a few minutes and then fluff with a fork.  Add rice blend to a large bowl along with the kale, dried cranberries, walnuts and red onion, 2 teaspoons olive oil and salt and pepper, to taste.  Mix until everything is combined.
Add all dressing ingredients to a jar or small bowl and whisk until combined.
Fill each piece of squash with a generous amount of the rice mixture, about 1/2 cup.  When ready to eat drizzle desired amount of dressing over the top and enjoy!