This is The Best Gluten Free White Cake!  It has such a great vanilla flavor and is perfect for your next birthday party or celebration!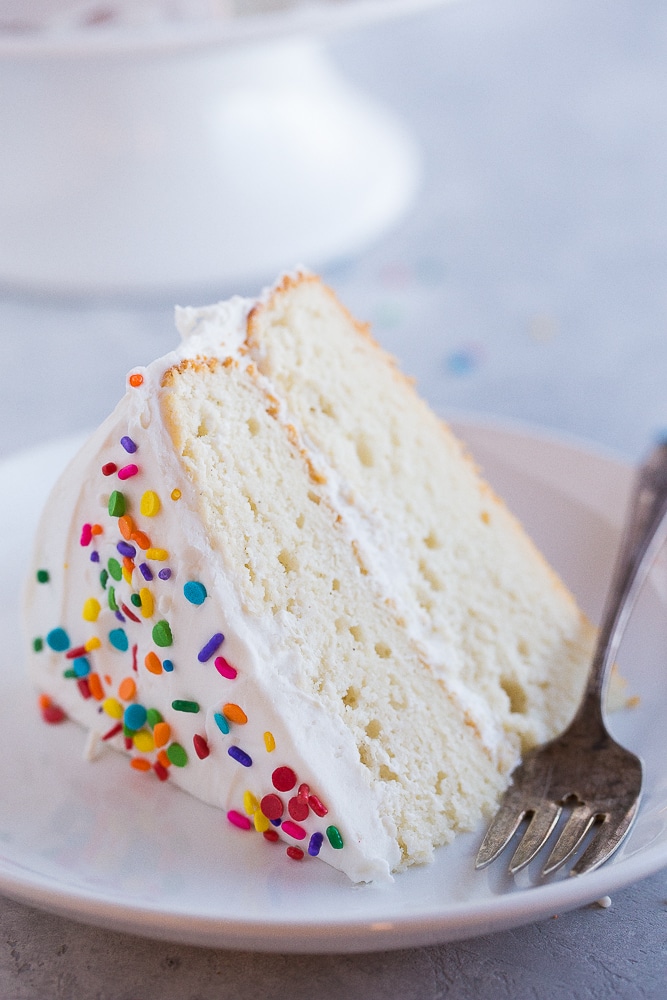 I hope you all had a wonderful Christmas!  I thought I'd squeeze in one last recipe for 2018.  Ever since I published my Gluten Free Chocolate Cake I've had so many requests for a white version.  I'm definitely not an expert on gluten free baking, but over the past few months I've been testing and testing this recipe and I'm pretty sure I've finally Come up with the Best Gluten Free White Cake recipe for you!

As some of you asked, I was hoping it was as easy as just removing the cocoa powder and adding in some extra flour or sugar, but it turns out white cake is much different than chocolate cake.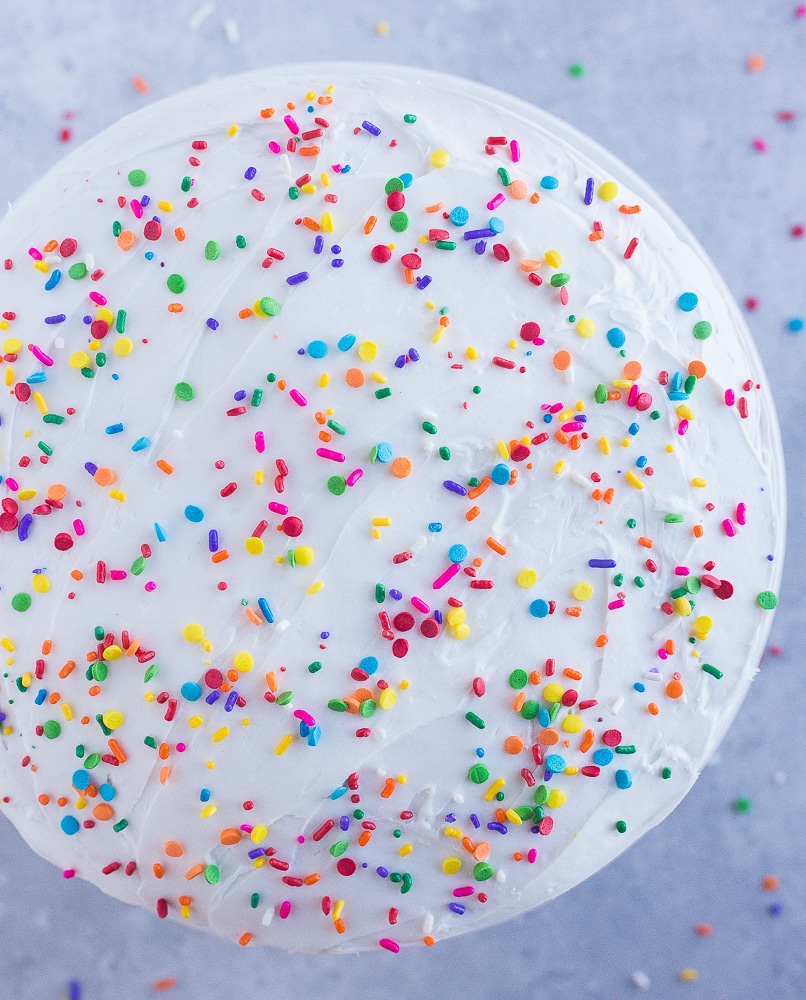 My Gluten Free Chocolate Cake can easily be adapted to vegan, but this white cake is a little more tricky. It does contain 6 whipped egg whites and I have it on my list to test it out using aquafaba but was completely caked out by the time I perfected this recipe.  I hope to test out a vegan and gluten free white cake in the near future though!  I'll keep you updated 🙂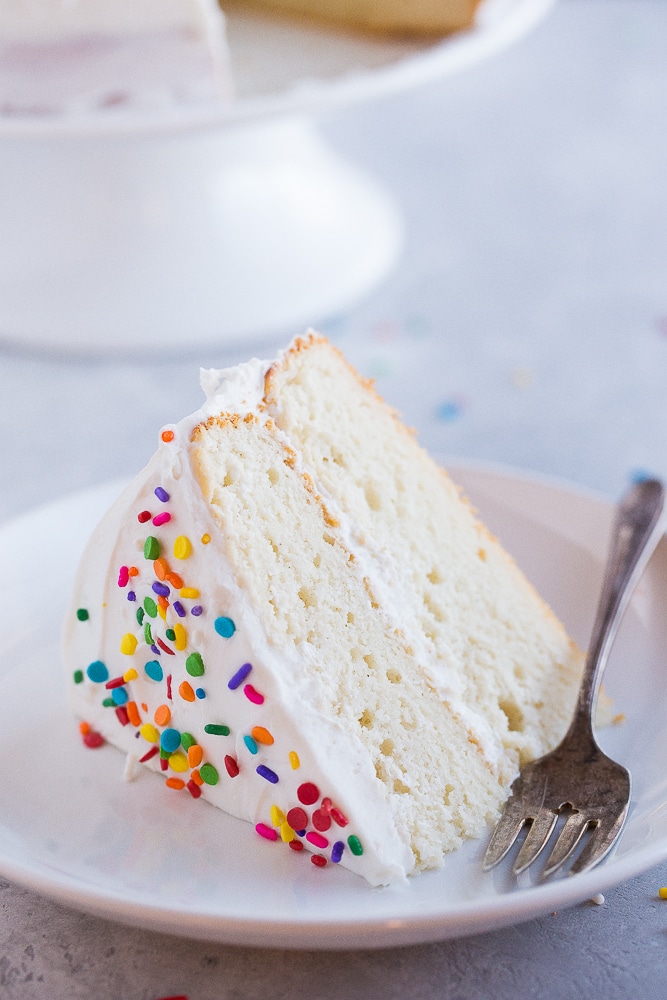 This gluten free white cake also does use white sugar, you could probably sub in coconut sugar if you like but it definitely wouldn't be a true white cake anymore 🙂
These days I'm used to baking using healthier ingredients like coconut sugar and coconut oil, but this Gluten Free White Cake is definitely not one of my healthier creations.  Maybe one of these days I'll come up with a healthier version!  But, I feel like sometimes it's ok to indulge a little bit and birthdays and celebrations that call for cake are times like that!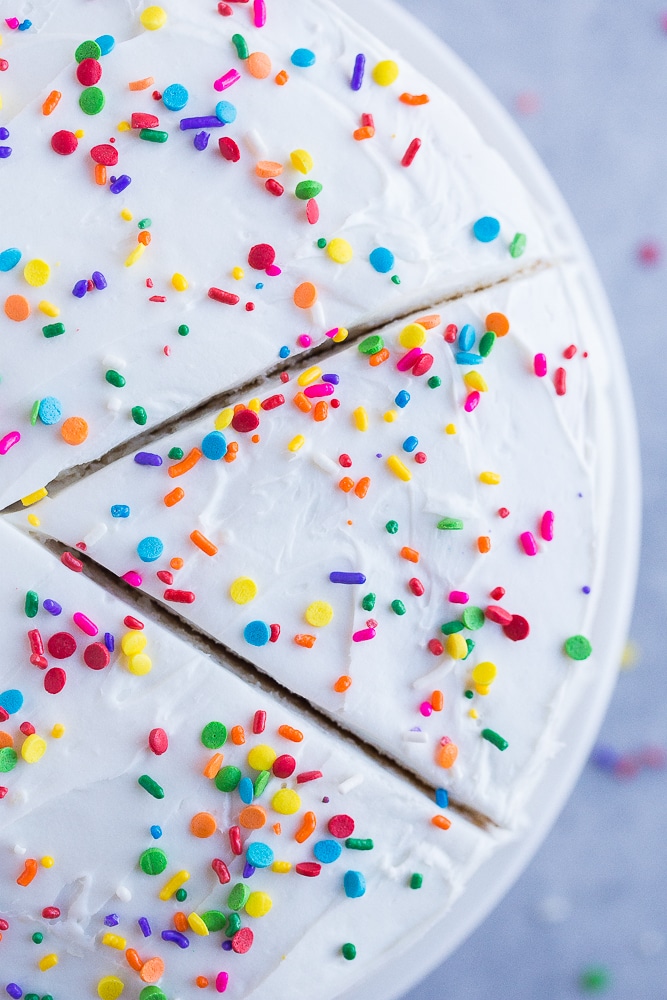 This Best Gluten Free White Cake is perfect for your next celebration!  It can easily be made into a sheet cake using a large rectangular pan or you can make it into cupcakes.
I like to use a white frosting with white cake, but you can use any kind of frosting you like.  If you like strawberry frosting, I made this recipe from Sally's Baking Addiction last year for my friend's daughter's birthday and it was totally amazing!
Recipe Tips for the Best Gluten Free White Cake:
As with most baking recipes, it is suggested that all you ingredients be room temperature.
I used Bob's Red Mill 1:1 Gluten Free Baking Flour.  I tested this recipe with another GF flour blend and it was really grainy.  If you have another trusty gluten free flour blend that you always use it would probably work just fine.  Make sure that it contains xantham gum though.
It's important to whip the sugar and butter together for 4-5 minutes until it's light and fluffy.  This will help to create a light and fluffy cake.
It's also important that you whip the eggs until they form stiff peaks, this will also help to create a light and fluffy cake.
Some people use clear imitation vanilla extract in order to get a truly white cake.  I used regular vanilla extract and didn't find that it make the cake much less white.
If you're looking for a delicious Gluten Free Chocolate Cake, make sure to check out this recipe!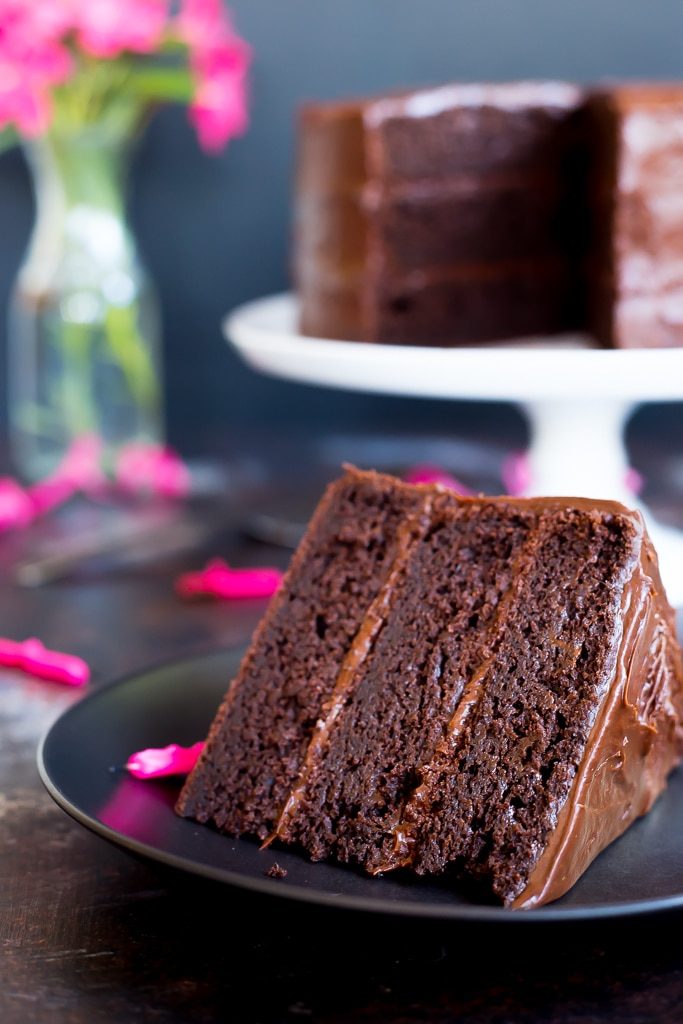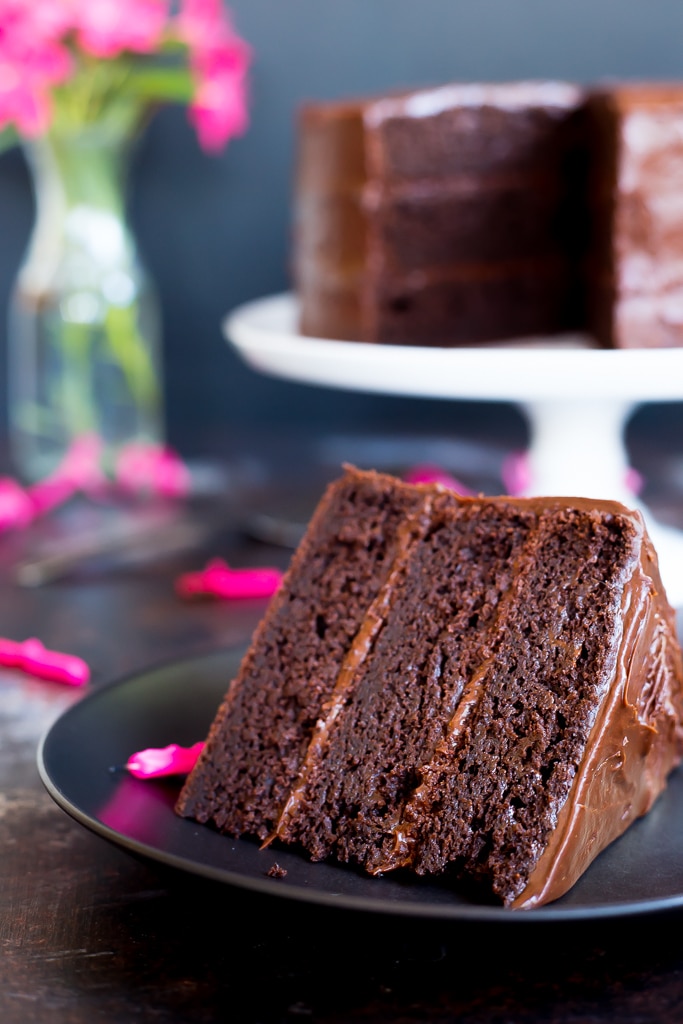 Print
The Best Gluten Free White Cake
---
3 cups

gluten free flour with xantham gum, I highly recommend using Bob Red Mill's 1:1 Gluten Free Baking Flour

1 tablespoon

baking powder, I like to use aluminum free

3/4 teaspoon

salt

1 1/2 cups

granulated sugar

1 cup

softened butter

1 tablespoon

pure vanilla extract, you can use imitation clear vanilla extract if you are want the cake being super white

1 1/4 cups

milk

1 cup

non-fat Greek yogurt

6

egg whites

2

–

3

cups preferred cake frosting
---
Instructions
Pre-heat oven to 350 degrees F.  Grease two 8 inch cake pans and set aside.
In a medium sized bowl add the flour, salt and baking powder and mix until combined.
In a large bowl beat together the butter and sugar for 4-5 minutes with an electric mixer, this way it will become light and fluffy.  Next, add the vanilla extract and milk and mix again with your electric mixer.  It will look a little curdled but that is ok!
Next, add in half of the flour mixture and mix until combined, followed by half of the yogurt and mix again.  Repeat with the remaining flour mixture and yogurt.
Add the egg whites to a large bowl and beat until stiff peaks have formed, 3-4 minutes.  Gently fold the egg whites into the cake batter until completely combined.
Pour equal amounts of cake batter into each cake pan and bake until sides are starting to brown and an inserted toothpick comes out clean, 30-35 minutes.  Let cakes cool in the cake pans for about 5-10 minutes and then transfer to a wire rack and cool the rest of the way.
Once cakes are completely cooled you can frost them!