Learn How To Make Date Paste! Date paste is a natural sweetener made with just dates and water. It can be used in so many delicious ways and has many more health benefits than regular sugar.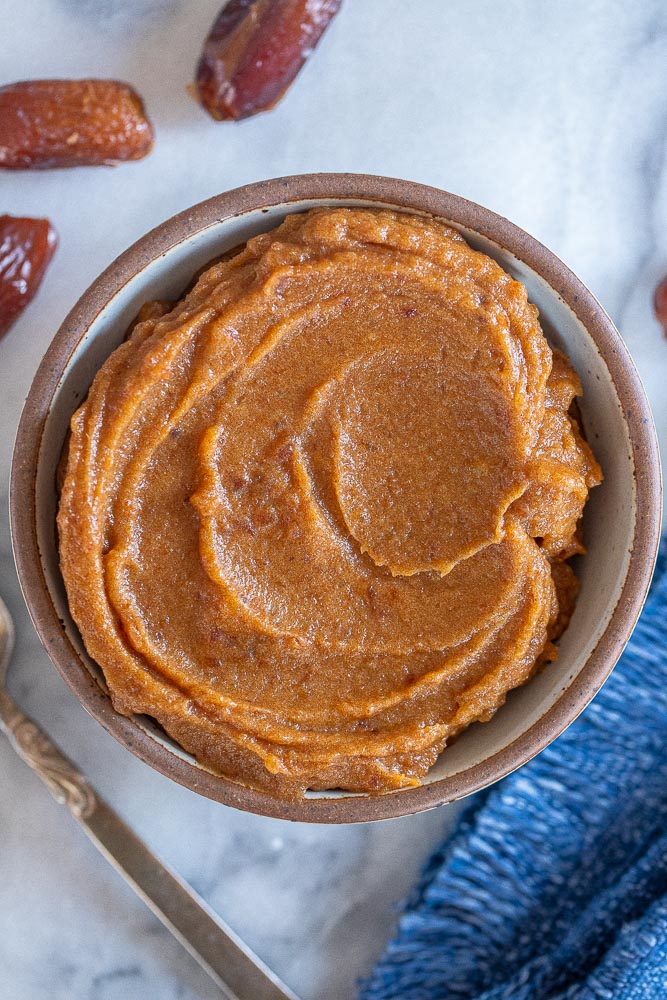 Have you used Date Paste before? I recently started making my own and I love using it in baked goods in place of sugar. While it is still sugar, it is a natural sweetener and you can feel much better about using it than regular white sugar, or even coconut sugar.
Date Paste Recipe Ingredients
Dates – Whenever I make date paste, I like to use Medjool dates. They're large, soft and have great flavor and a high moisture content. You can either buy pitted dates or you can buy non-pitted dates and remove the pit yourself. Either way, you want to make sure that you aren't adding any date pits to the recipe!
Water – I just use regular filtered drinking water to make my date paste. If you want to make it a bit sweeter you could always use fruit juice.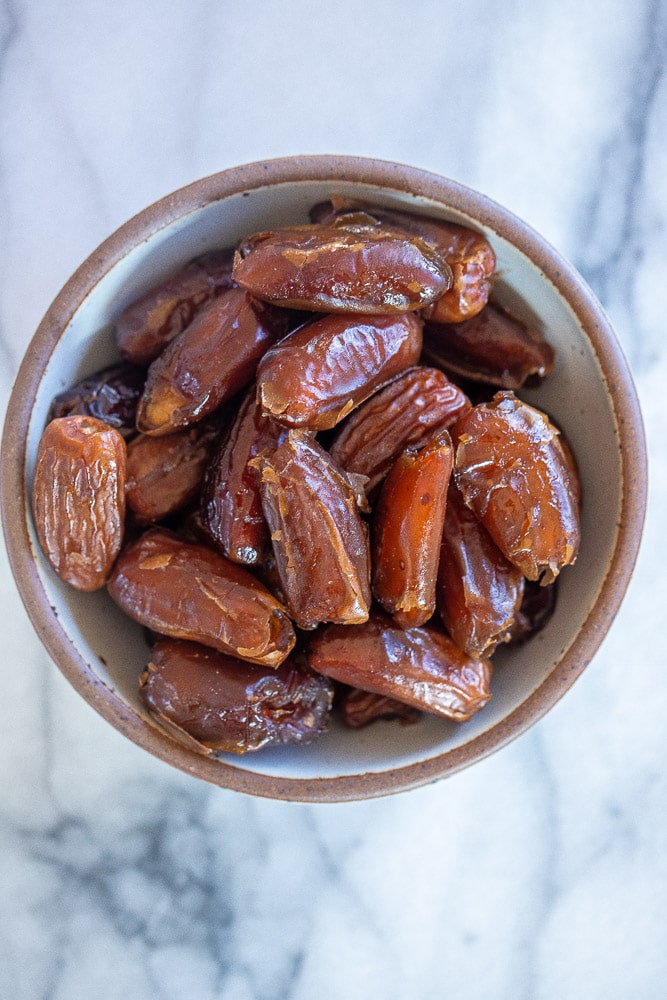 Date Paste Flavor Additions
I usually just use date paste by itself, but here are a few fun flavor add-ins you can use to make it even more delicious:
Cinnamon – I love to add a little cinnamon to mine to give it a cinnamon sugar flavor. I have an awesome pop tart recipe coming up later this week using cinnamon flavored date paste.
Cocoa Powder – A few teaspoons of cocoa powder will make this date paste chocolatey and delicious!
Peanut Butter – a tablespoon or two of creamy peanut butter or almond butter would be great for sandwiches or spreads!
Vanilla Extract – I don't normally add vanilla extract to my date paste but it would give a little more sweetness. Almond or maple extract would be great too!
Spices – You can add any spices you like. A pumpkin spice would be great this time of year, or even some ginger and molasses for Christmas time.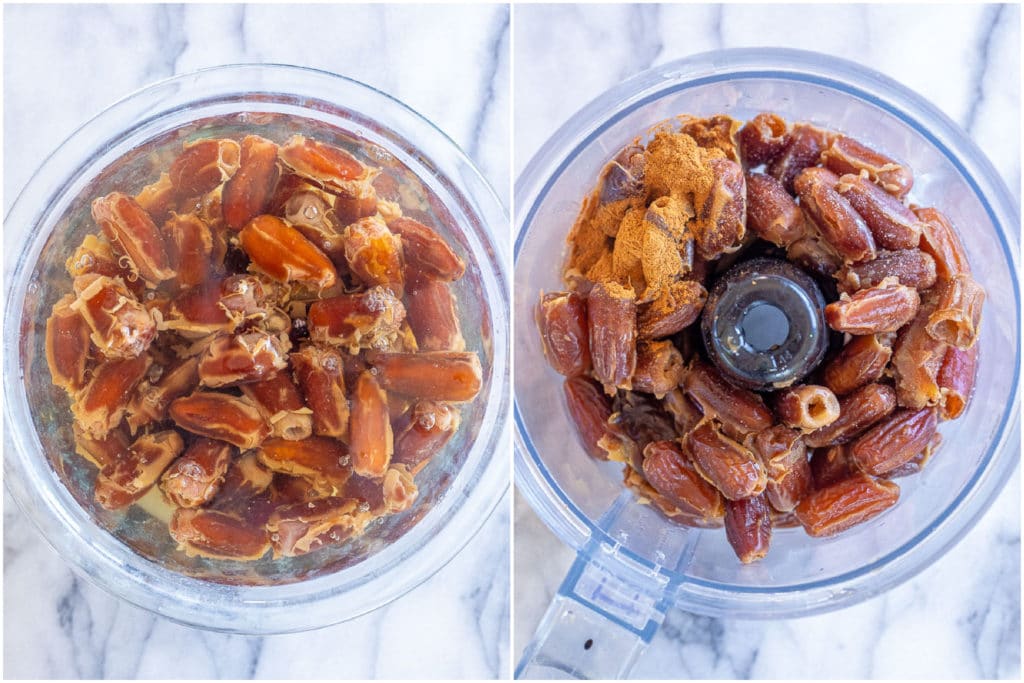 How To Use Your Date Paste
Date paste can be used in many different ways, here are a few ways I enjoy it:
Baking: The big question is, how can you substitute date paste for sugar in a recipe? This can be a complicated question because the consistency of sugar and date paste is completely different. Date paste will add more liquid/moisture to a recipe so I would not recommend subbing it as a 1:1 ratio for granulated sugar. I would suggest using about 2/3 cup of date paste for every 1 cup of sugar. Check your consistency and add more dry ingredients if needed.

Date paste can be used in a lot of baking recipes in place of sugar but it won't work for everything. Definitely ask me in the comment section below if you have any specific questions!
I do use date paste with a 1:1 ratio when substituting for a liquid sweetener, such as maple syrup or honey in a recipe. I have these baked oatmeal cups that are sweetened with just date paste and they're so delicious!

Aside from baking, date paste can be used as a naturally sweetened spread. You can spread a spoonful on your morning toast, add a tablespoon into your oatmeal, and even use it as a filling for homemade poptarts! (Recipe coming soon!). You can make a peanut butter and date paste sandwich, rather than using jelly and even spread it on your pancakes or French toast instead of using maple syrup.
Date paste can be used in place of honey or maple syrup in sauces. You can add it to homemade peanut sauce or even teriyaki sauce. You can also use it as the sweetener when making homemade salad dressing.
What is your favorite way to use Date Paste?!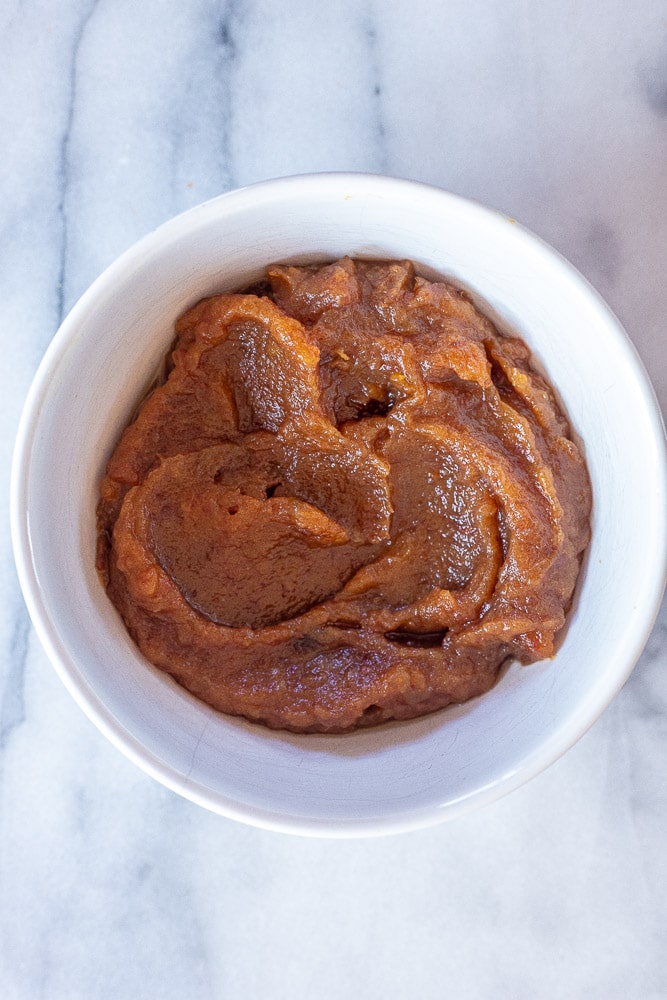 Health Benefits Of Dates
Dates are a source of fructose which is a sugar found naturally in fruits. For this reason I don't call recipes that use date paste, Sugar Free, but dates are much better for you (most people) than any other kind of refined sugar or even maple syrup and coconut sugar. Here are just a few health benefits that dates have:
Dates are high in a few vitamins and minerals such as: potassium, copper, magnesium and vitamin B6.
They're high in fiber. A 3.5 serving of dates contains almost 7 grams of fiber. Fiber is really important to keep your digestive system running smoothly.
Dates are high in antioxidants, which protect your cells from free radicals which can cause disease. They also protect against heart disease, cancer, Alzheimers and diabetes.
They've been shown to help promote brain health and memory, which in turn can help prevent Alzheimers.
Lastly, they may play a role in having a smooth natural childbirth. I've read that if you eat 6 dates a day for the last 4 weeks or so of your pregnancy that it can really help with having a natural labor. I did this with my first child and had one of the longest, worst labors ever but I've heard some people swear by it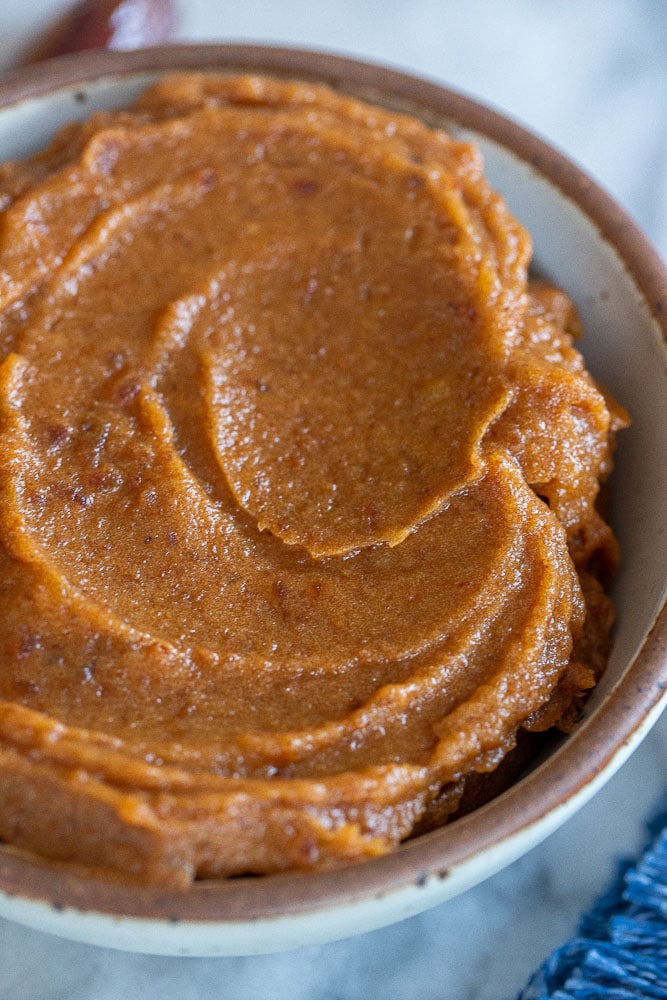 Date Paste Frequently Asked Questions
Can I use date paste as a 1:1 ratio to granulated/coconut sugar? No, I would not suggest that because date paste has much more moisture than sugar so it will affect the texture of the recipe. Instead, I would suggest using about 2/3 cup date paste to every 1 cup of sugar and then evaluating whether you need to add more date paste or more dry ingredients.
Can date paste be used as a 1:1 ratio for liquid sweeteners, such as maple syrup? Yes, they both have similar consistencies so they can usually be used as a 1:1 replacement for each other.
How thick/thin should I make my date paste? I don't make mine too thin, I like to be able to spread it nicely on toast but depending on what you're using it for, you can make it as thin or as thick as you like.
How should I store my date paste? I store mine in the refrigerator in an airtight container for about a month and you can store your date paste in the freezer for about a year.
Have a question I didn't answer? Ask me below and I'll get back to you ASAP!
Check out exactly how I make my Date Paste Recipe below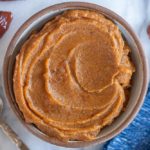 How To Make Date Paste
---
Author:

Total Time:

35 minutes

Yield:

1

0

1

x

Diet:

Vegan
Description
This Date Paste is easy to make and works great as a natural sweetener in baked goods or as a spread!
---
1

(12 oz) package medjool dates, pitted or with pits removed
Water, 2-4 cups
---
Instructions
Pour dates into a medium sized glass or ceramic bowl.  Add water to a medium sized saucepan and bring to a boil.  You want to add enough water to cover your dates completely when you pour the water over them.
Bring water to a boil and then carefully pour hot water over the dates in the bowl.  Let sit for about 30 minutes.  Drain the water from the dates, but reserve the liquid.
Add the dates to a food processor or blender, turn on and then slowly drizzle in your reserved date soaking water.  Depending on what you are using your date paste for you can make it as thin or as thick as you like.  I usually add a few tablespoons of water and make mine thick enough to be able to spread on a slice of bread.
You can use your date paste immediately or you can store it for use later on.  Store in an airtight container in the refrigerator for about a month and in the freezer for about a year.  If frozen, thaw on the counter or in the refrigerator before using.
Prep Time:

5 mins

Cook Time:

30 mins

Category:

Condiment, Vegan

Method:

Stovetop, Blender

Cuisine:

American
Keywords: How To Make Date Paste