This Roasted Carrot Falafel Salad with Citrus Tahini Dressing is light, fresh and flavorful! It's a filling vegetarian salad that is great for lunch or dinner.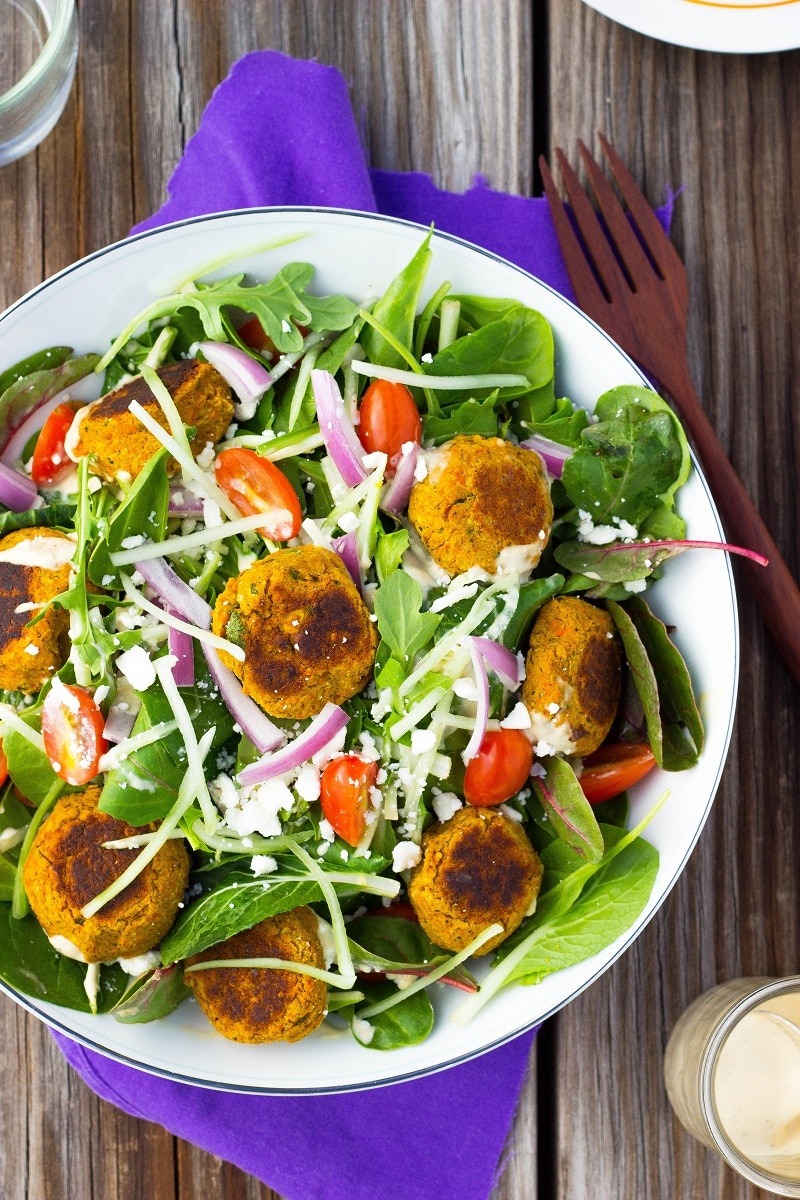 In case you weren't aware, falafels are pretty much the best food ever! My mom made them for us when we were kids and I haven't stopped eating them since. I've been wanting to make a traditional falafel recipe for blog for a while now, but then I got this idea for roasted carrot falafel and I couldn't shake it!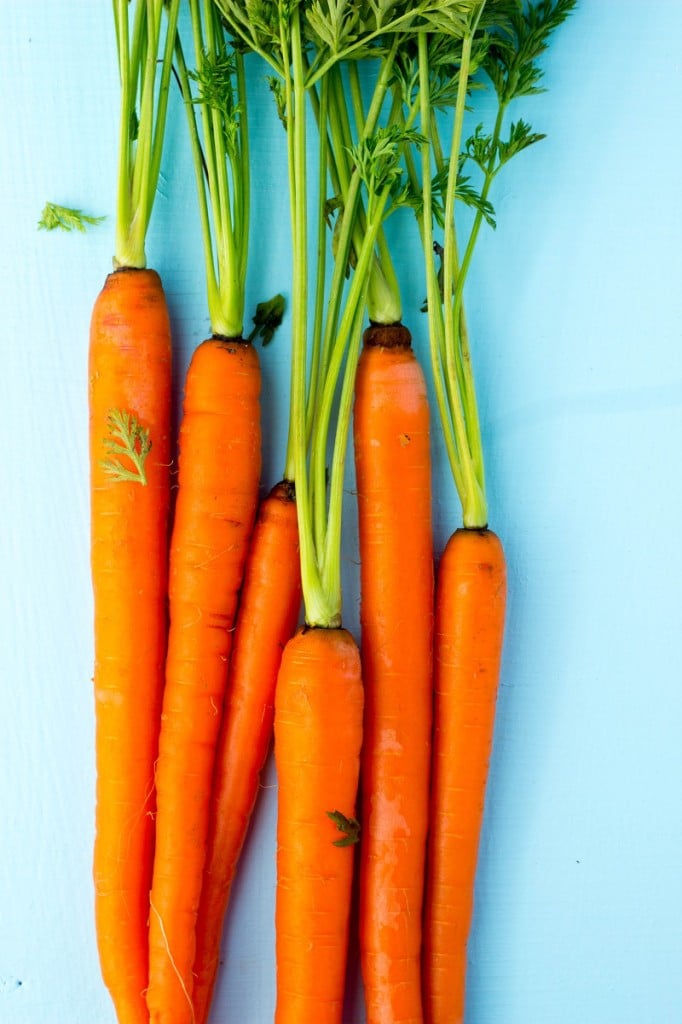 And I must say that I'm glad I didn't because these falafels are seriously delicious! I've also been on a 'drizzle tahini over everything' kick lately, so this roasted carrot falafel salad with citrus tahini dressing took care of all my cravings in one big, bright salad. Most falafels that you get at a restaurant are fried, which is delicious and creates a really crispy crust, but as great as it tastes, deep frying at home is a huge mess and makes the entire house smell like a fast food restaurant. I decided to cook these falafels in a frying pan with a little bit of olive oil. They browned right up and the center stayed soft without having to cook them in a bunch of extra oil.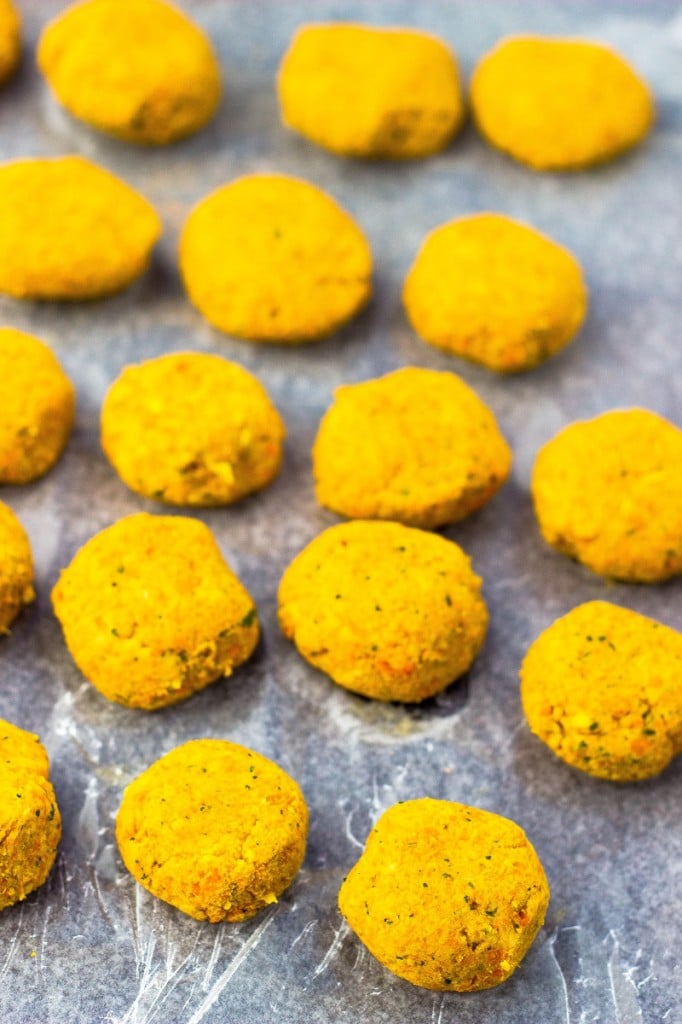 We don't go out to eat often, but when we do our favorite place is this little Greek place downtown right near the university and I always get the falafel salad. It is pretty much as big as my head and the falafels are crispy on the outside and soft and delicious on the inside. The salad is covered with huge chunks of feta, cherry tomatoes, red onions, and kalamata olives with the pit still in, just like they should be! And as much as my stomach resists, I eat the entire thing because everyone knows that salad doesn't keep well for leftovers 🙂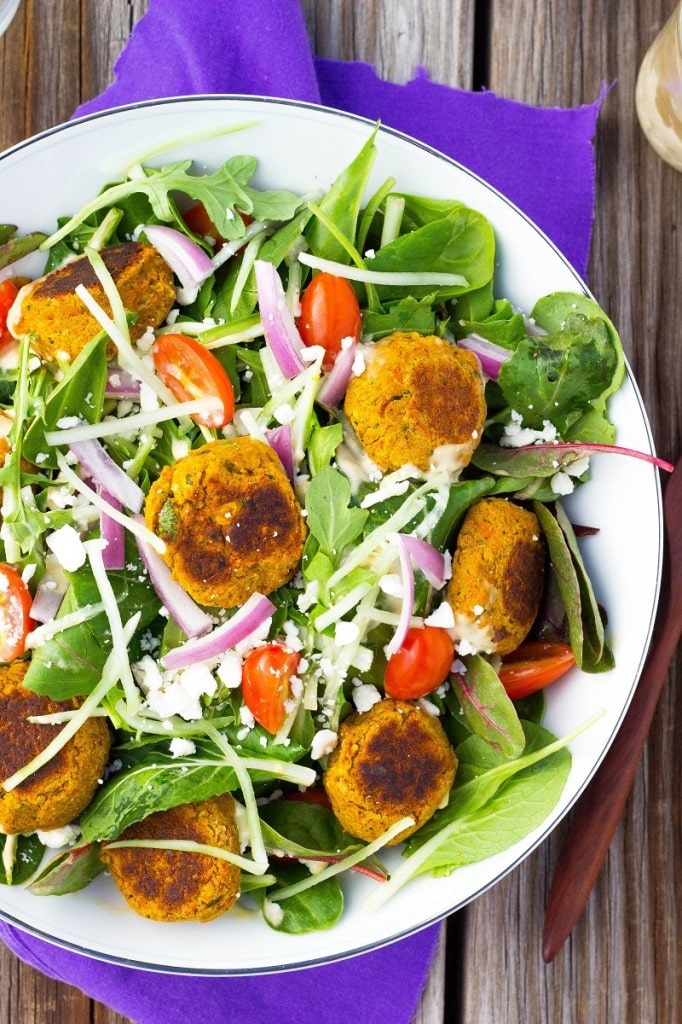 Print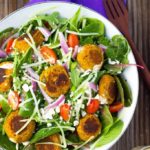 Roasted Carrot Falafel Salad with Citrus Tahini Dressing
---
4 cups

diced carrots

1 teaspoon

olive oil, plus more for cooking with

1 3/4 teaspoon

salt, divided

1/4 teaspoon

black pepper

2 1/2 cup

cooked chickpeas

2 tablespoons

flour, gluten free if necessary

1/8

–

1/4

teaspoon cayenne pepper, depending on your heat level

1 1/2 teaspoon

cumin

2

cloves garlic, minced

2/3 cup

cilantro leaves
Citrus Tahini Dressing:
1/2 cup

tahini

3 tablespoons

fresh lemon juice

3 tablespoons

fresh orange juice

1/2 teaspoon

lemon zest

1/2 teaspoon

orange zest

1

clove garlic, minced

3

–

6

tablespoons water, depending on how thick you would like the dressing

1/2 teaspoon

salt
Salad Ingredients:
6 cups

spring mix, or desired lettuce

1/4

small red onion, thinly sliced

1 cup

sliced cucumber

1 cup

sliced cherry tomatoes

1/2 cup

crumbled feta cheese
---
Instructions
Preheat the oven to 400 degrees Fahrenheit. Place diced carrots on a large sheet pan and drizzle with olive oil and season with 3/4 teaspoon salt and 1/4 teaspoon pepper. Toss to coat and roast for about 25 minutes, until carrots are fork tender. Let cool for a few minutes.
Add the rest of the falafel ingredients plus the carrots to a food processor and process for 30 seconds – 1 minute, until everything is mixed together. You can leave it however chunky you would like. Scoop mixture into a bowl and refrigerate for 30 minutes.
Remove mixture from the refrigerator and, using your hands, form into small balls or disks, about 1 tablespoon per ball. Place falafels on a sheet pan lined with wax or parchment paper and refrigerate for another 30 minutes.
Heat a large pan to medium heat and add 1 teaspoon olive oil. Place falafels into the pan and cook for about 3-5 minutes on each side, until browned and heated through.
Assemble the salad either in a large bowl or smaller serving bowls by layering lettuce, onion, cucumber, tomatoes, feta, falafels, and dressing with desired amount of dressing.
Category:

Salad, Gluten Free