These Sesame Ginger Tofu Meal Prep Bowls are a great vegan meal prep recipe and will keep you feeling full all afternoon long!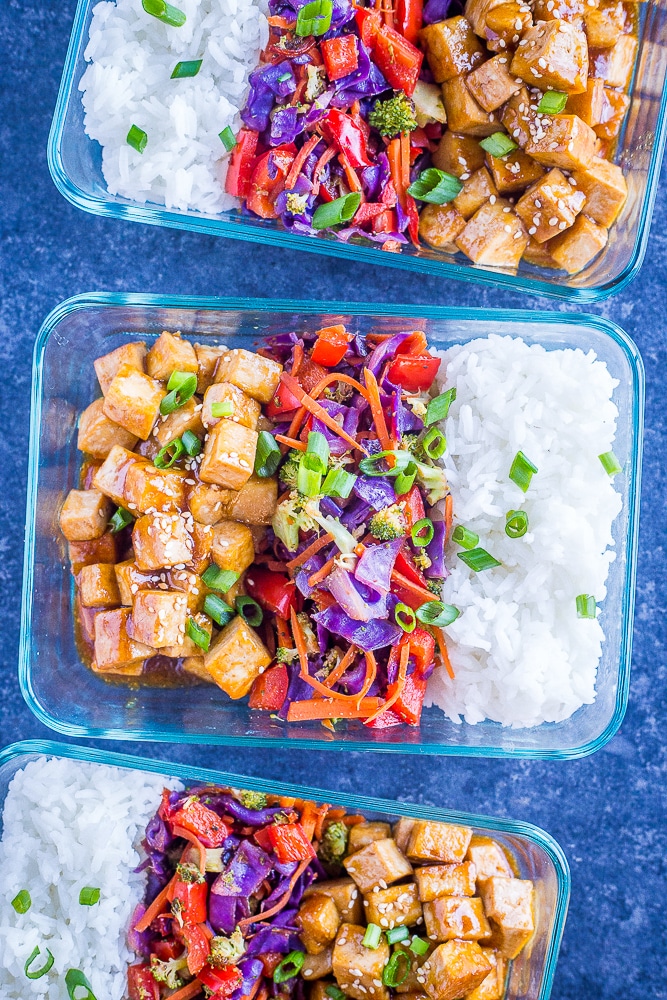 If you think tofu is boring and has no taste, you've got to try these Sesame Ginger Tofu Meal Prep Bowls! I used my go-to Sesame Ginger Sauce on the tofu and paired it with rice and veggies for a filling and flavorful vegan meal prep recipe!
I know they say that breakfast is the most important meal of the day, but I love to have a fun and exciting lunch planned out so I have something to look forward to in the afternoon.  This was especially true when I worked an 8-5 office job.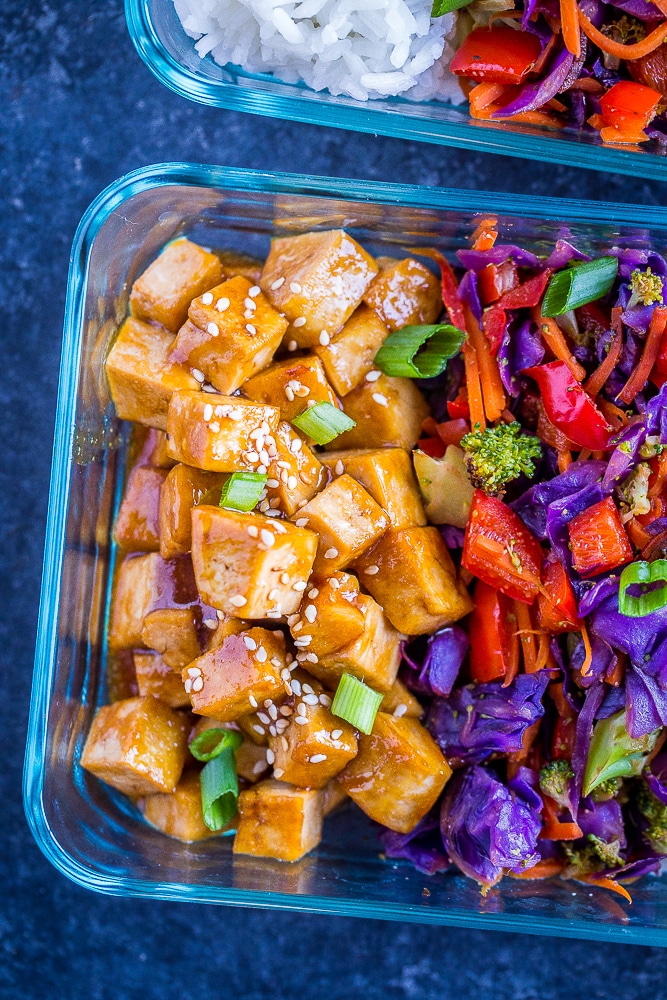 Before I started to do more meal prep, I would wake up not very hungry or with not much time to prepare lunch, and the result was a poorly packed lunch that I regretted so much once noon rolled around.  I'm pretty sure once I just brought a plain bagel haha.
Whether you're sitting at a desk all day or out doing manual labor, a filling and nutritious lunch is so important!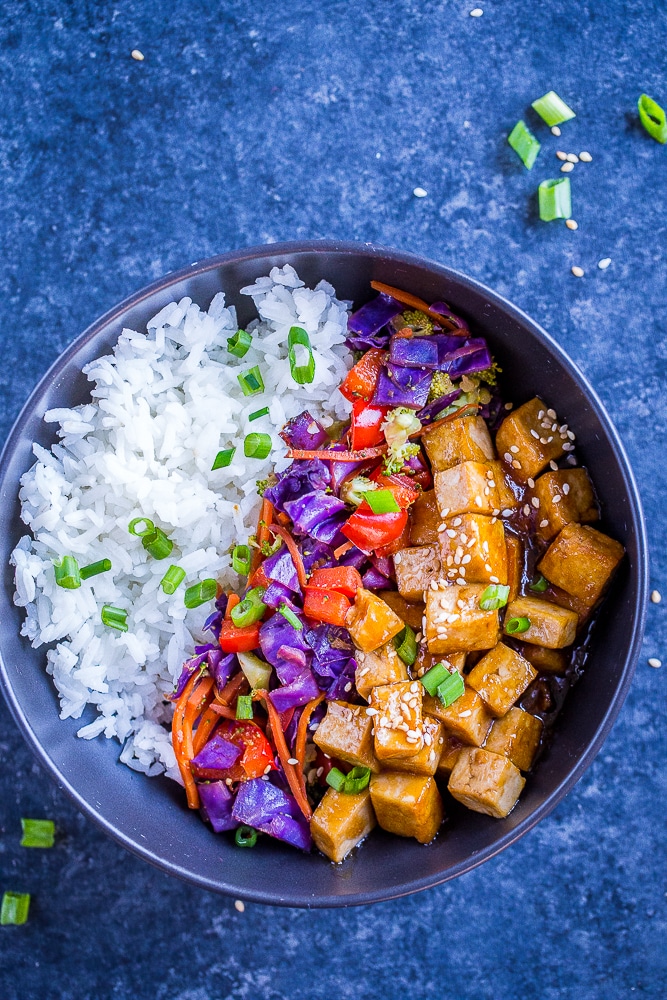 When creating meal prep lunches I like to add some protein, veggies, a grain and then a delicious and flavorful sauce to top everything off with.  To me, these Sesame Ginger Tofu Meal Prep Bowls are definitely a lunch that I look forward to eating.  They fill me up and I feel good about all the ingredients.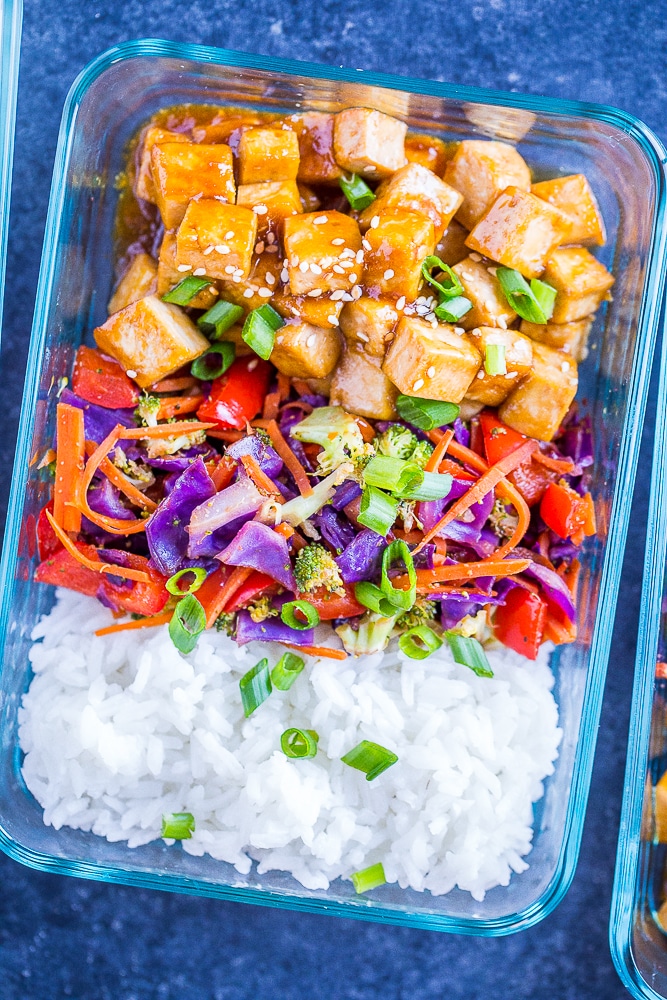 Recently I've been loving buy this super firm high protein tofu.  So far I've seen it at Trader Joes and Sprouts and I always buy so much of it when I come across it.  One thing that I really love about it is that it isn't packed in very much liquid at all and it's pre-pressed so all you have to do is cut it up and cook it!
I have to admit that I'm terrible at pressing my tofu and usually just pat it dry without trying to press all the water out of it.  It's not quite as firm, but I never have any issues with it.  That being said, I much prefer using pre-pressed tofu, so if you can find it, it's a godsend 🙂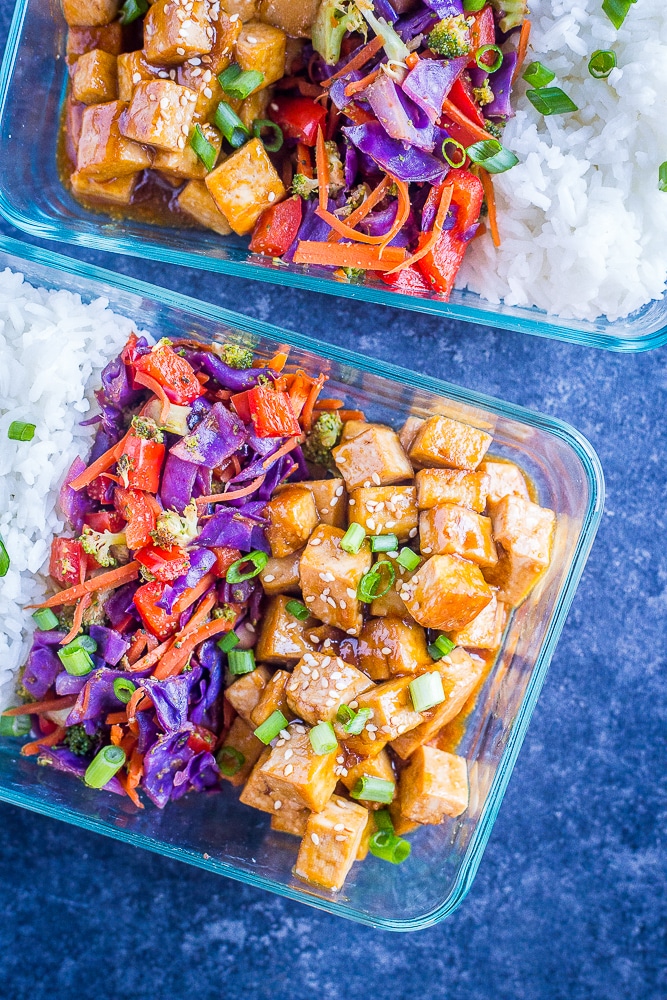 Recipe Tips for Sesame Ginger Tofu Meal Prep Bowls:
This recipe can be eaten as a dinner rather than a meal prep recipe.  Just cook it up and serve it all together in a bowl rather than portioning it out into meal prep containers.
I like to use glass meal prep containers for this recipe because you can safely heat them in the microwave or oven.  I love these meal prep containers!
I used white rice because I was making these for my husband but you could use brown rice or any other grain you like.
You can also use different vegetables if you prefer or can't find the ones I used.  You just want to make sure you have 6 cups total of veggies.
This meal prep recipe could probably be made into 5 portions, but I'm hungry these days and wanted to pack a lot of food into my container!
Print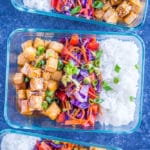 Sesame Ginger Tofu Meal Prep Bowls
---
Author:

Prep Time:

20 mins

Cook Time:

30 mins

Total Time:

50 minutes

Yield:

4

Category:

Meal Prep, Lunch, Vegan, Gluten Free

Method:

Stove Top

Cuisine:

Asian
Description
These Sesame Ginger Tofu Meal Prep Bowls are so flavorful and will keep you feeling full all afternoon!
---
Ingredients
3/4 cup rice, or grain of your choice
2 teaspoons oil of your choice
2 cups diced red pepper
2 cups diced purple cabbage
2 cups small broccoli florets
2 teaspoons low sodium tamari, or soy sauce
1/2 teaspoon garlic powder (optional)
1/2 teaspoon ground ginger (optional)
16 ounces tofu, pressed and diced into bite size pieces
Green onion and toasted sesame seeds for garnish, if desired
Sesame Ginger Sauce:
1/3 cup water
1/3 cup low sodium tamari, or soy sauce
1/4 cup toasted sesame oil
1/4 cup pure maple syrup, or honey
1 teaspoon grated fresh ginger
1 teaspoon grated garlic
1 1/2 teaspoons corn starch or arrowroot
---
Instructions
Cook rice according to package directions and divide evenly into meal prep containers once finished cooking.  Heat a large pan over medium heat and add oil, all the veggies, tamari and garlic and ginger powder.  Cook veggies until just softened, 7-10 minutes.  Remove veggies from the pan and divide evenly into your meal prep containers.
If necessary add another teaspoon of oil and all of the tofu.  I like to add a little more tamari or salt to give the tofu a little flavor while it cooks.  Cook tofu until browned, 10-12 minutes.
While tofu is cooking, add all Sesame Ginger Sauce ingredients to a small jar and mix until combined.  Once tofu is browned add in the sauce and cook until sauce is thickened and coats the back of a spoon.  Divide tofu evenly into meal prep containers.  Top each finished bowl with sliced green onion and toasted sesame seeds.
Notes
See recipe tips above.