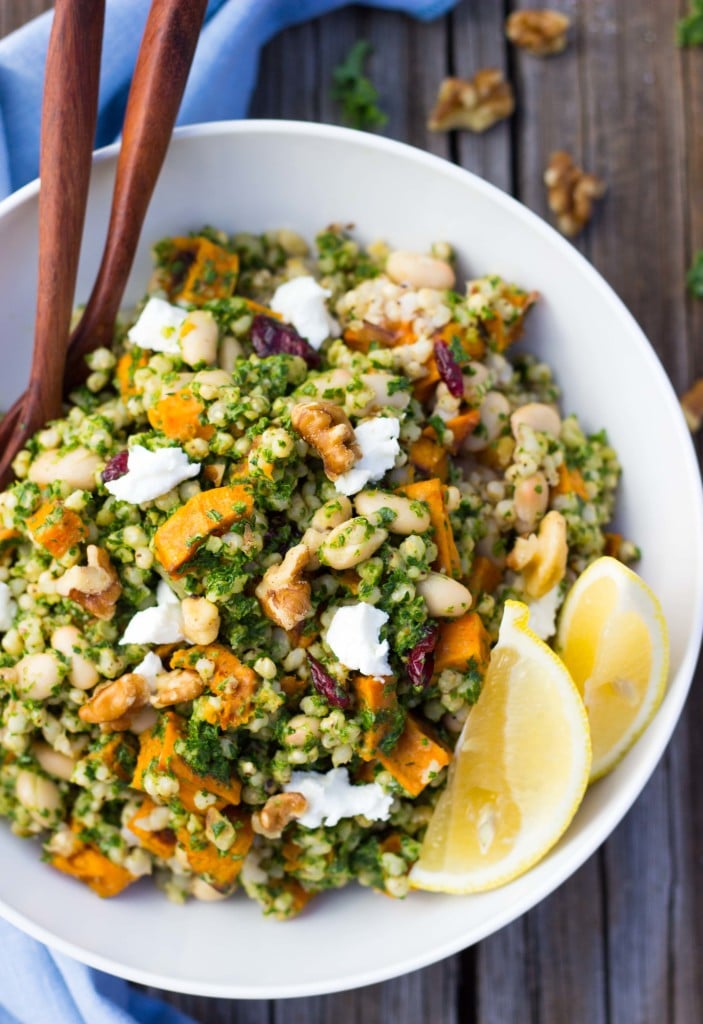 Some of you may remember that time I ranted on and on about how I couldn't find sorghum anywhere. Well, since that post, I've been searching and searching and I still haven't been able to find it at any store. So, I finally had to take matters into my own hands. If you know me, you might have an idea where I am going with this, I finally went to Amazon (my favorite place ever) and I ordered myself some!
Amazon pretty much has everything under the sun for sale, and sure enough, I found my coveted sorghum for only a few dollars! And of course a salad is the first thing I'm going to make with it. Sorghum is a gluten free grain that kind of reminds me of Israeli cous cous or wheat berries. It does take a little time to cook, about 50 minutes, but it is a great grain to add to your pantry. It is a really great source of fiber, with 8 grams per serving, and it's also a great way to add some whole grains to your diet. I'm also really looking forward to making some popped sorghum since as much as I love popcorn, it doesn't always agree with my stomach.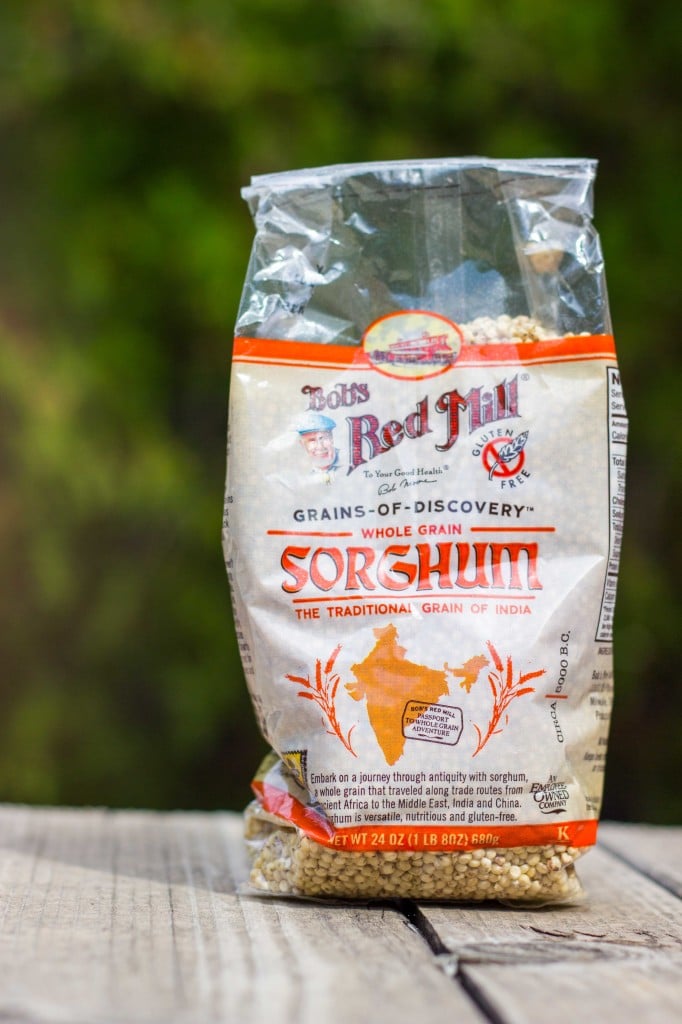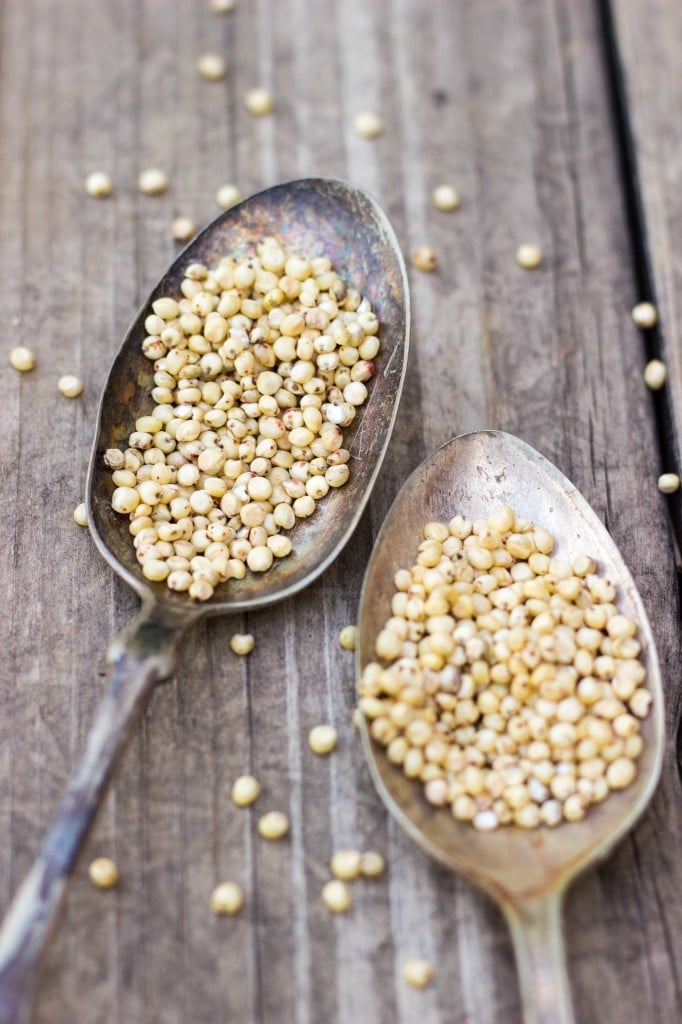 Sorghum has a slightly chewy texture that is perfect for making hearty salads. I was eating salad non-stop all throughout summer and lately I feel like I've been neglecting it a bit. But, one thing I haven't been neglecting this season is the sweet potato. I'm kind of sorry for posting three sweet potato recipes in a row, but not really! Sweet potatoes are one of my favorite ingredients to use and they go so well with so many flavors. They are also super healthy for you so it is a good idea that you load up on them! They are packed with tons of vitamins, B, C, and D to name a few, and they are very versatile. More on my love of sweet potatoes in an upcoming post!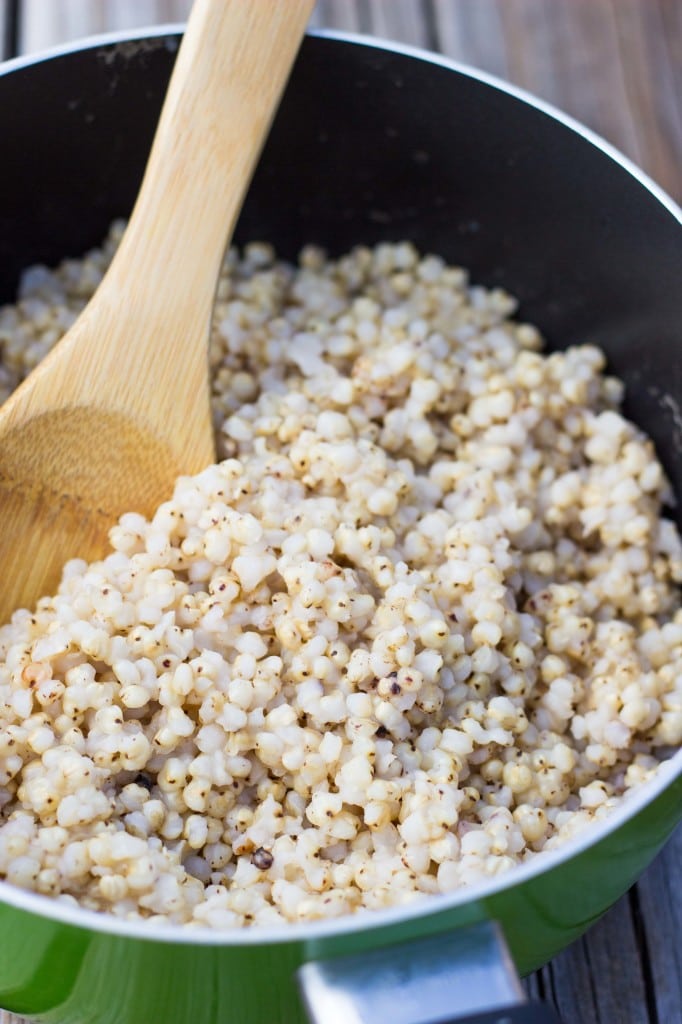 One of my favorite dishes to make is basically a big bowl of healthy, tasty goodness! I like to add some type of grain, a legume, and lots of vegetables. I usually make a big batch of one of these said bowls and take it for lunch the entire week. They are really filling and they keep well in the refrigerator for a few days. I added all of my fall favorites to this delicious bowl: sorghum, sweet potatoes, white beans, walnuts, dried cranberries, goat cheese, and the star of the dish: the kale pesto.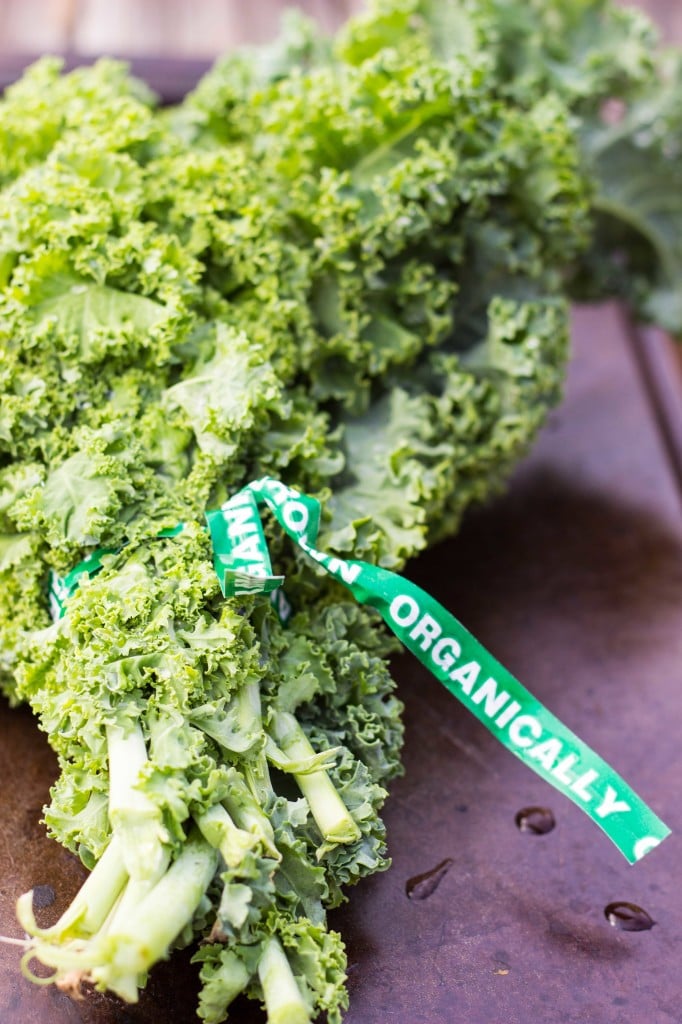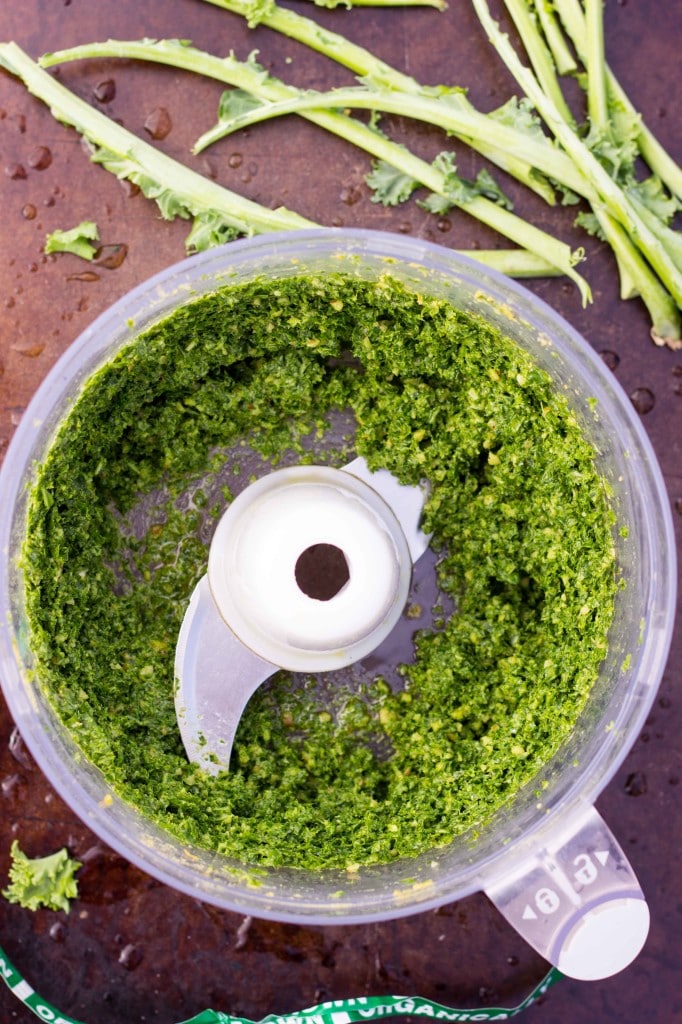 A few weeks ago, I noticed that I had a bunch of kale in the bottom drawer that was on its last legs. I threw the kale in the food processor with some nuts, olive oil, lemon juice, nutritional yeast and this pesto was born! It is so easy to make and the perfect way to get some more kale into your diet. Ever since, I've been dreaming of ways to use it and I think I hear a pizza calling my name next!
Print
Sorghum, Sweet Potato & White Bean Salad with Kale Pesto
---
1 cup

dried Sorghum

1

–

15

ounce can of white beans, rinsed and drained

1

large sweet potato, peeled and cut into cubes

1

handful dried cranberries

1

handful toasted walnuts

3

–

4

ounces goat cheese, crumbled
olive oil
salt
pepper
lemon slices for squeezing over, if desired
Kale Pesto:
1

bunch of kale, stems removed
Juice of

1/2

a lemon

1

large clove garlic, roughly chopped

1/4 cup

toasted walnuts

1 1/2 tablespoons

nutritional yeast, or

2 tablespoons

grated Parmesan cheese

1/4 cup

+

1 tablespoon

extra virgin olive oil

1/2 teaspoon

salt

1/4 teaspoon

pepper
---
Instructions
Cook sorghum according to package directions. Let cool for a few minutes when finished cooking.
Pre-heat the oven to 400 degrees F. Place the peeled and cubed sweet potatoes on a large backing sheet and drizzle with a little bit of oil and season with salt and pepper. Toss to coat and place into the oven and bake for about 20-25 minutes, or until fork tender.
Make the kale pesto by adding all of the ingredients to a food processor and processing for about 30 seconds, or until everything is mixed together and a pesto spread is formed.
Add the sorghum, white beans, sweet potatoes, walnuts, dried cranberries, goat cheese, and kale pesto to a large bowl and mix until everything is combined. Season with salt to taste.
Category:

Entree, Salad, Gluten Free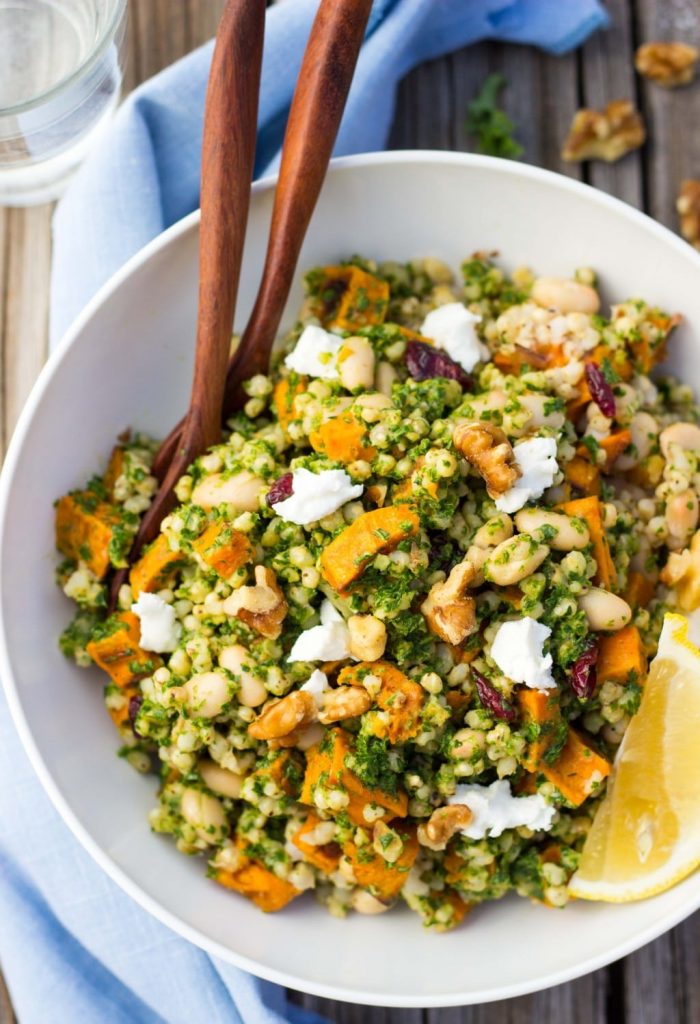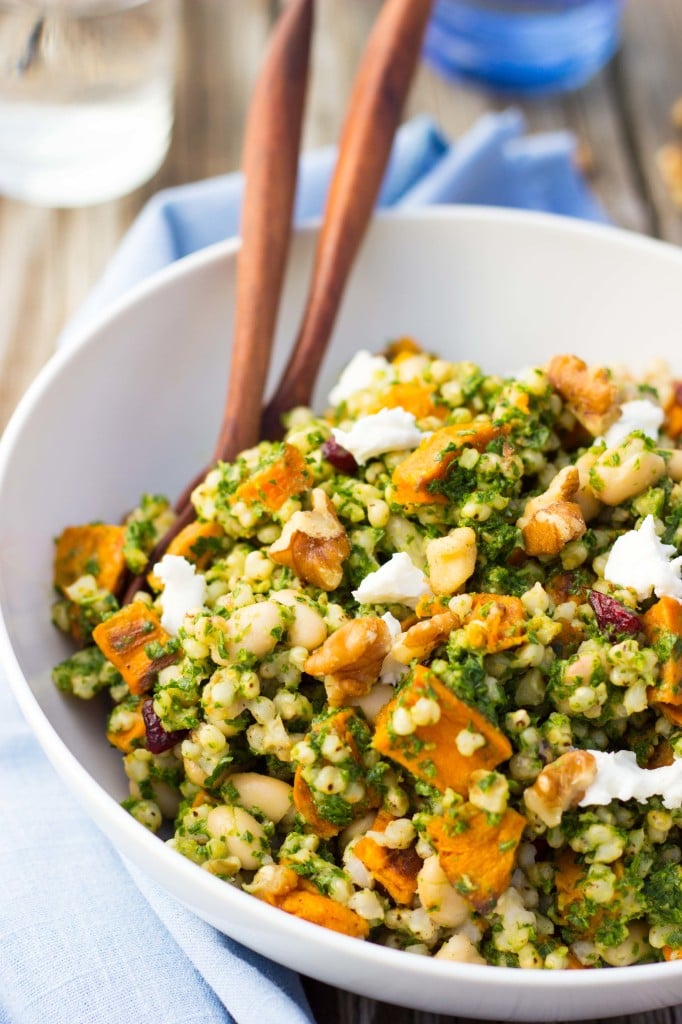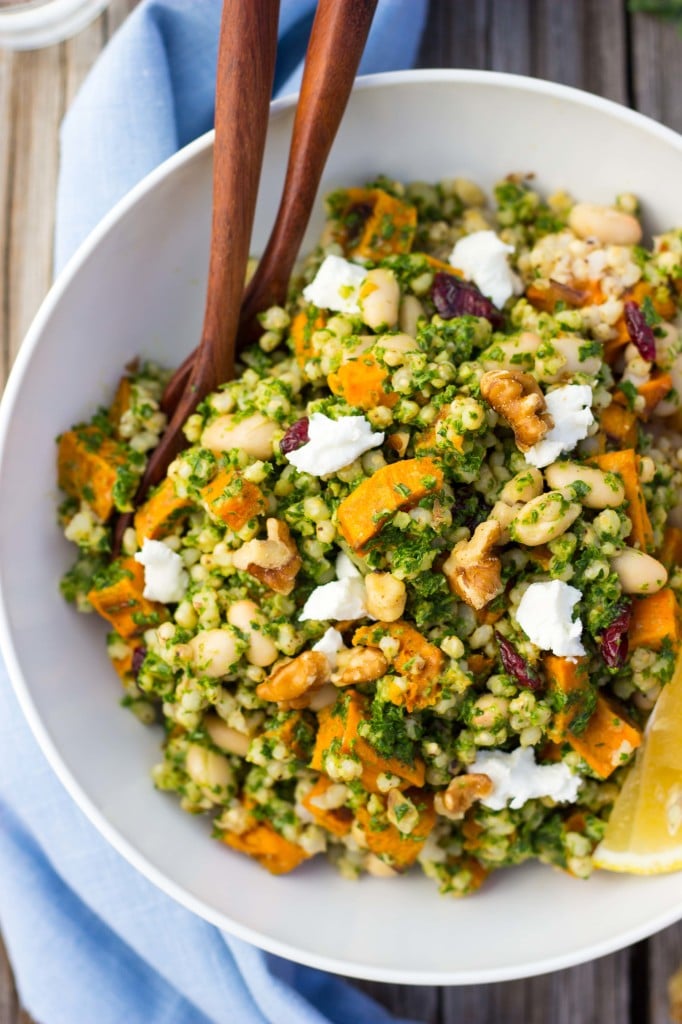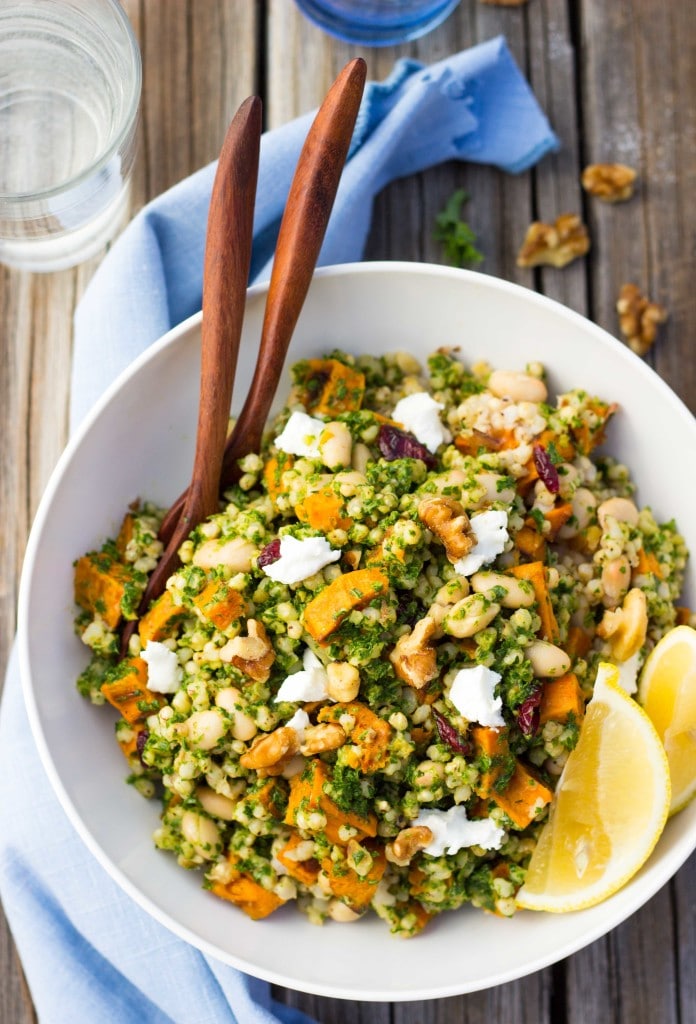 Eric built this fort for Cheeto and he has been enjoying it for days!