Learn exactly How To Make Watermelon Juice! It's so easy and all you need is a seedless watermelon! This watermelon juice is so refreshing and the perfect drink for summer!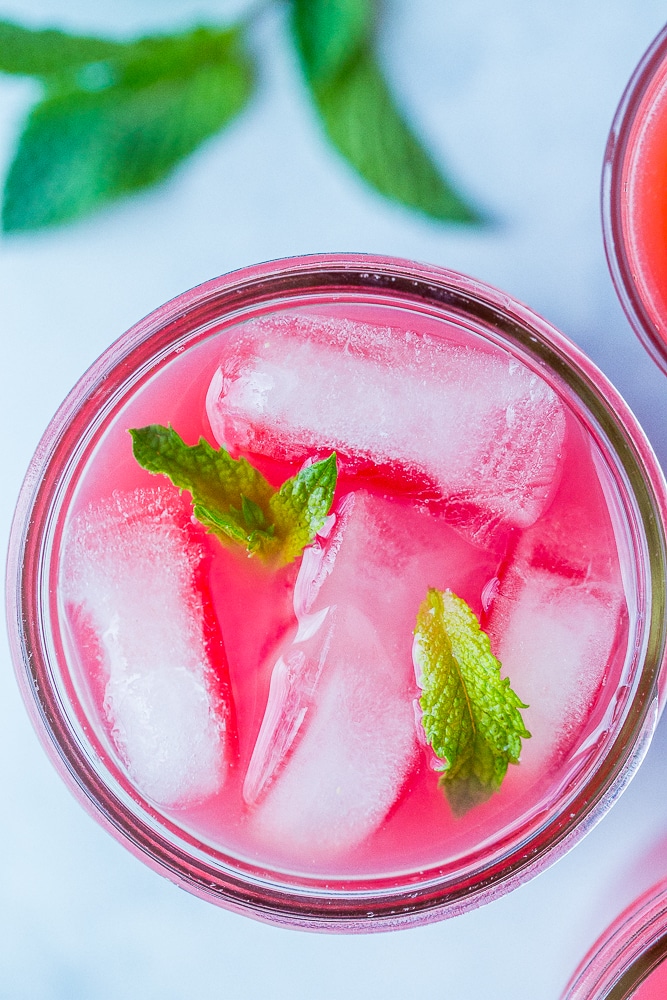 I was a little hesitant to put this "recipe" on the blog because it's so easy to make. But, I've been making this Watermelon Juice Recipe a few times a week since it started getting warm and my entire family is obsessed with it! So, I decided to show you exactly How To Make Watermelon Juice 🙂
I feel like watermelon is the quintessential food of summer. It's cheap, fun to eat and so refreshing. Just the smell of it takes me back to my childhood and brings back so many great summertime memories. I've only started making this Watermelon Juice this year and I'm wondering why I went so many years without it!
Watermelon Juice Benefits:
We all know that watermelon is delicious but you've probably heard that it's mostly just made up of water. We know water is good for us, but here are a few more benefits to drinking watermelon juice!
The obvious one is that it helps you stay hydrated. It may seem like a no brainer but it's really important to stay hydrated in the heat of the summer especially if you're doing a lot of outdoor activities. Watermelon is 92% water!
Watermelon is low in calories (only 46 calories per cup) and high in nutrients. Watermelon contains high amounts of Vitamin C, Vitamin A, Potassium, Magnesium and Vitamin B.
Watermelon is high in lycopene, which is a type of carotenoid and antioxidant, that has been show to reduce the risk of some cancers, reduce risk of heart disease and lower blood pressure.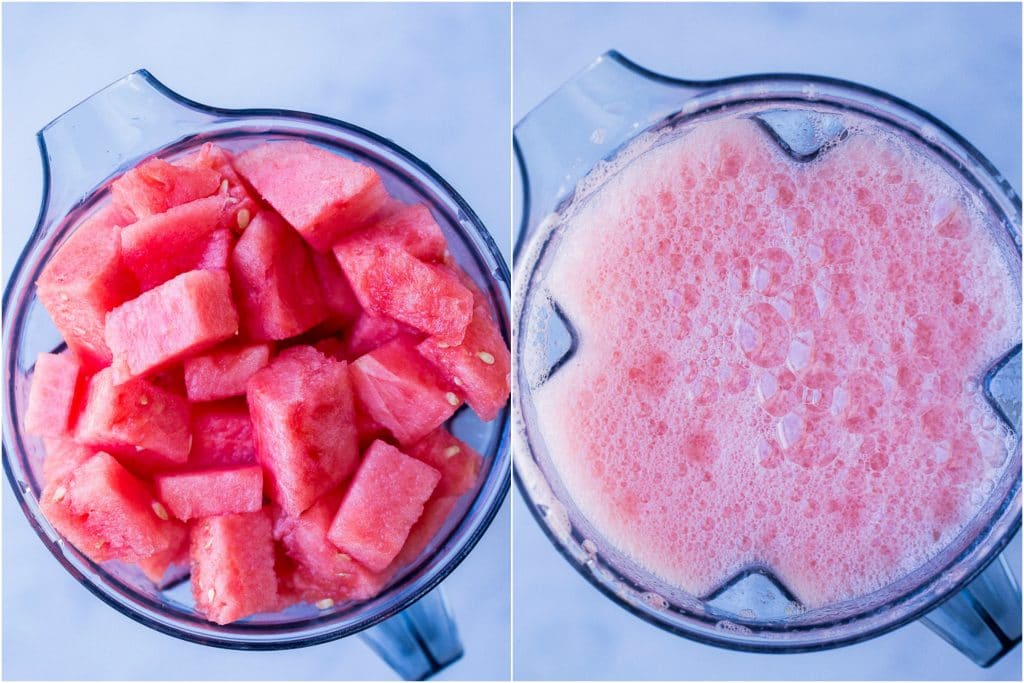 How To Make Watermelon Juice:
The most difficult thing about making watermelon juice is cutting up your watermelon. If you're not familiar with the best way to cut a watermelon, check out this video here. You can also buy pre-cut watermelon at the grocery store, but you want to make sure it is a seedless watermelon.
First, you cut your watermelon into cubes. You just want them to be small enough for your blender to be able to blend up. I use a Vitamix and can usually fit an entire small watermelon in it, but if you can't you can just blend it in batches.
Blend watermelon for about 30- seconds to 1 minute. You want all the chunks to be completely liquified. If you like you can drink the watermelon juice just like that without straining it. I prefer not to have any watermelon pulp in my juice though, so strain it with a mesh strainer.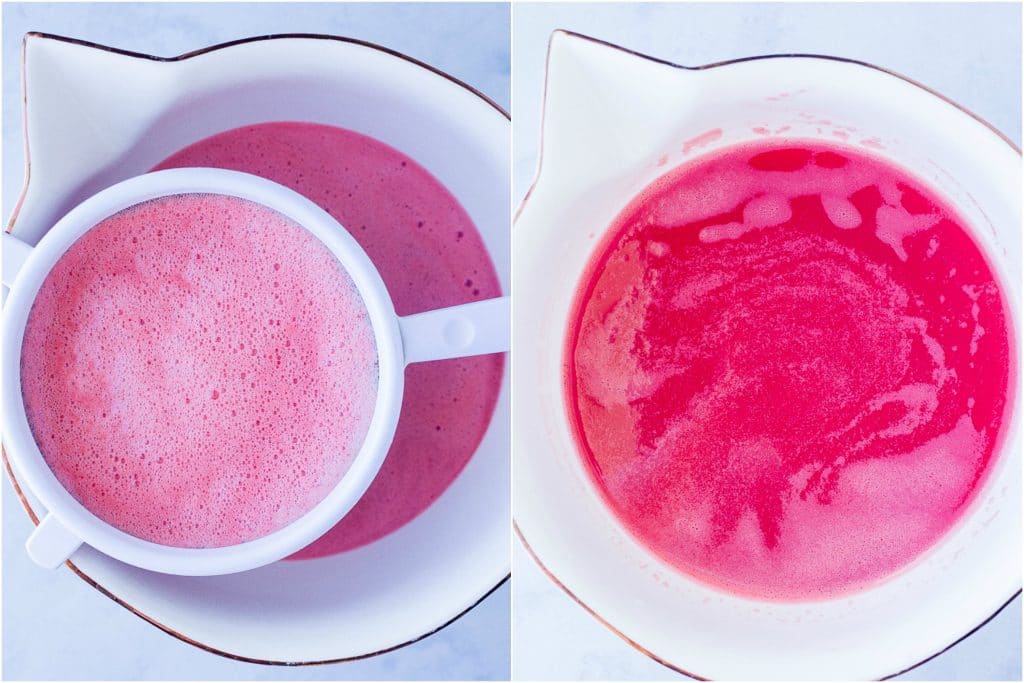 When straining your watermelon juice, you don't want to push everything through the strainer. I've found that some of the pulp usually make it through as well. I just let it sit and drain for a minute and then I help it a long by kind of rocking the strainer back and forth until what's left in the strainer is mostly just pulp. You can discard the pulp or use it in something else.
If there are a lot of bubbles on the top of watermelon juice, or if some of the pulp has gotten through, you may want to skim it off the top with a large spoon. Then you have your delicious and refreshing watermelon juice!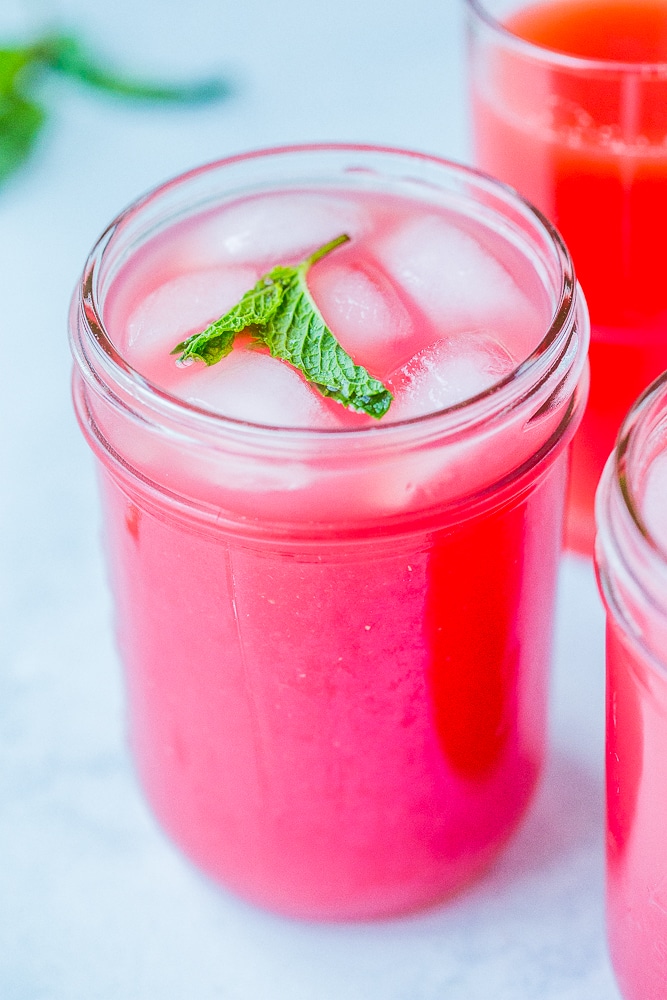 Tips For How To Make Watermelon Juice:
You want to make sure you get a seedless watermelon! The seedless watermelon will still have the small white seeds but it won't have the bigger black seeds, which you don't want for this recipe.
If you want to jazz up your watermelon juice recipe you could add in some lime juice, fresh mint or blend in about a half of a diced cucumber.
Watermelon juice is great for making summer cocktails with! Just use it as you would use any other mixer.
If you want to make more of a watermelon slushy, you can freeze the chunks of watermelon before blending them up.
Check out exactly how I make my Watermelon Juice:
Print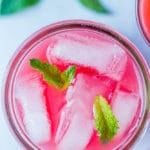 How To Make Watermelon Juice
---
Author:

Total Time:

10 minutes

Yield:

6

1

x

Diet:

Vegan
Description
This easy Watermelon Juice is so refreshing and perfect for summer!
---
1

small seedless watermelon
---
Instructions
Cut the rind off the watermelon and then cut it into bite size chunks.  Place watermelon into a blender and blend for about 1 minutes, until it's completely liquid.  You may need to help it get started at first but eventually it will all blend.
Place a mesh strainer over a large bowl and pour watermelon juice in the strainer.  Let juice drain out.  You can pick up the strainer and rock it from side to side to encourage more juice to come out but you don't want to use a spoon to press down everything in the strainer.  If you do that it will allow some of the pulp to get through and you don't want that.  Once it's just pulp left in the strainer you can dump that out and strain the rest of the juice.
If there's lots of bubbles on top of the watermelon juice, or if some of the pulp got though, use a spoon to scoop it off the top.  You may want to let it sit for a few minutes to let things settle down before doing this.
Enjoy watermelon juice over ice and garnish with fresh herbs or a lime wedge, if desired!
Notes
You can skip the straining step if you like!  I just prefer no pulp to be in my juice, but if you don't mind you can enjoy it right out of the blender.
Store watermelon juice in an airtight container in the refrigerator for up to 5 days.
Prep Time:

10 mins

Category:

Drink, Vegan, Gluten Free

Method:

Blender

Cuisine:

American
Keywords: How To Make Watermelon Juice