These Crispy Tofu Sandwiches are full of flavor and crunch! They're perfect for lunch or dinner and can even satisfy the meat eaters in your family!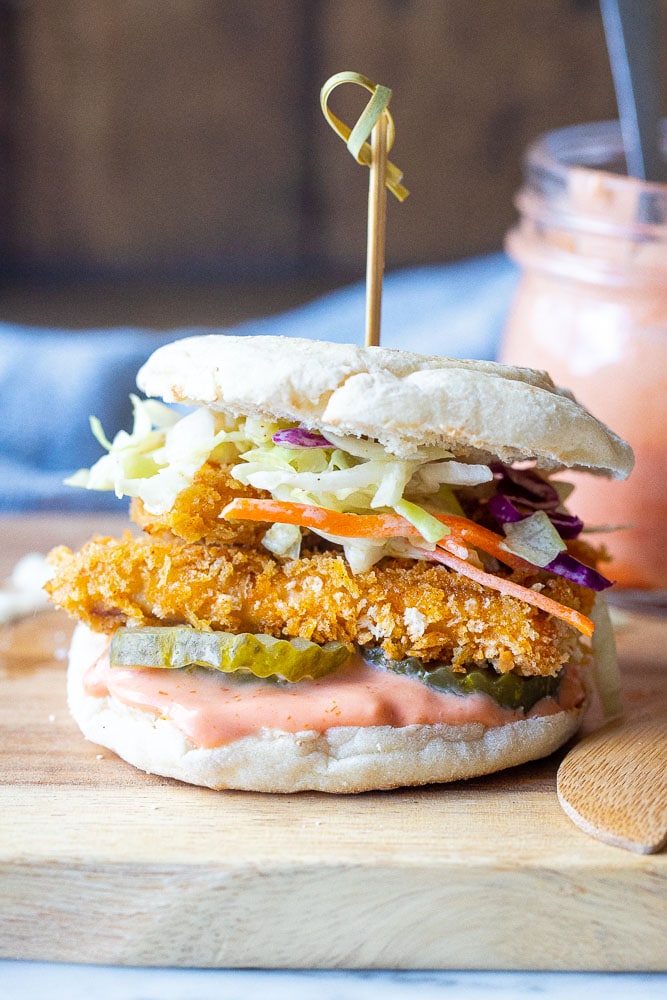 Anyone else really miss going out to eat? This whole experience is making me realize just how much we went out to eat and it's probably for the better that we're taking a little break haha. One of our favorite places to go eat was a little local taproom that has delicious beer and well made pub food. My husband gets this crispy chicken sandwich and it always looks so good to me. So, I decided to create a vegetarian version and these Crispy Tofu Sandwiches are so good!
I always love the challenge of turning my husband's favorite meat recipes into delicious vegetarian meals! He doesn't always agree with me about them, but I can assure you that he absolutely loved these Crispy Tofu Sandwiches 🙂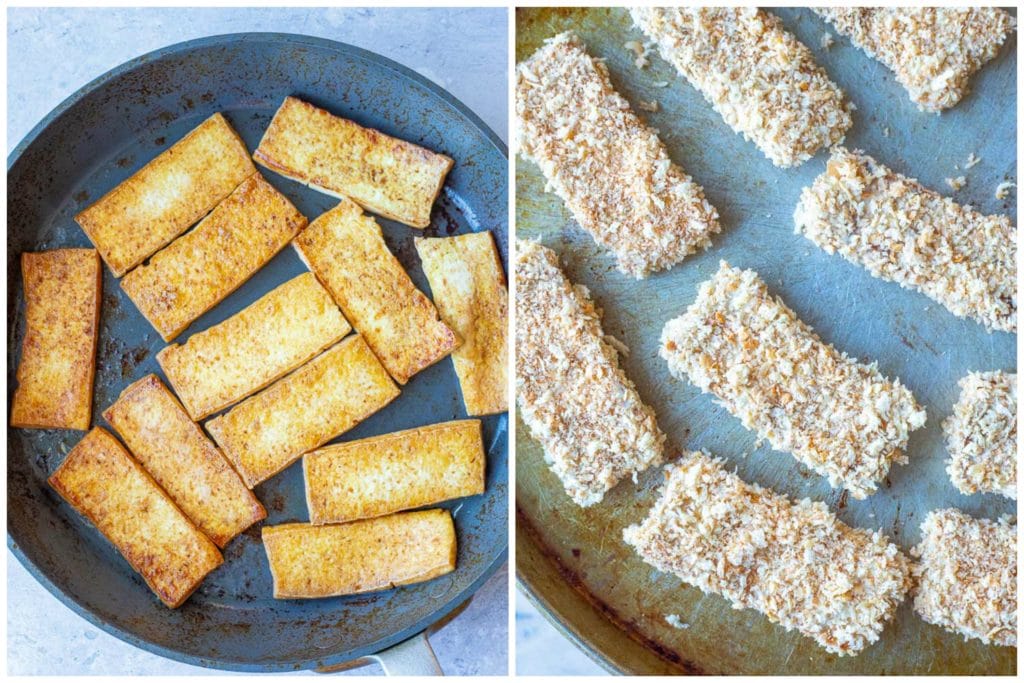 How To Make The Crispiest Tofu Sandwich Recipe
I put a lot of thought into this recipe for you! I really wanted the crispy tofu to have tons of flavor so I started out by browning the tofu in a skillet with some tamari. I didn't cook it for too long, but just enough to get the salty flavor into the tofu before crusting it.
Instead of doing a traditional breading using flour, eggs and breadcrumbs I decided to go with a little thicker of a breading to make the tofu really crunchy. I used the same method of breading that I used in this Vegan Orange Cauliflower recipe and it worked great!! It allows this recipe to be vegan, while still giving a great crunch.
The last thing I did to make sure these sandwiches were extra crispy was to cook them on the stovetop with oil. You can certainly bake them and they would be great, but I really wanted to recreate that fried crispy chicken sandwich texture and I found that pan frying them in a little bit of olive oil really did the trick!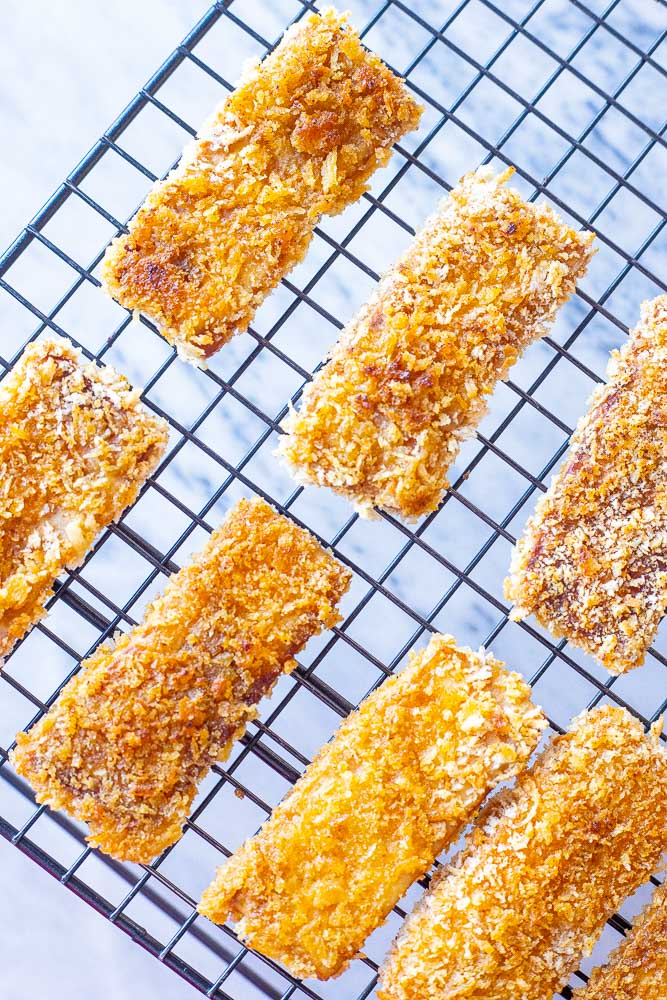 How To Enjoy Your Crispy Tofu Sandwiches
You can really enjoy them however you like! But, I was trying to copy my husband's favorite crispy chicken sandwich so I chose the following toppings and they were delicious:
Coleslaw – I just threw together an easy slaw using vegan mayo, apple cider vinegar, dijon mustard, maple syrup, salt and celery seed. Very similar to this recipe of mine.
Spicy Fry Sauce – For this I just mixed together some vegan mayo, ketchup and a few squires of sriracha. So easy to make and I love it because it's creamy and spicy!
Pickles – The original chicken sandwich had some thinly sliced homemade pickles but I just used regular hamburger pickles and they worked perfectly!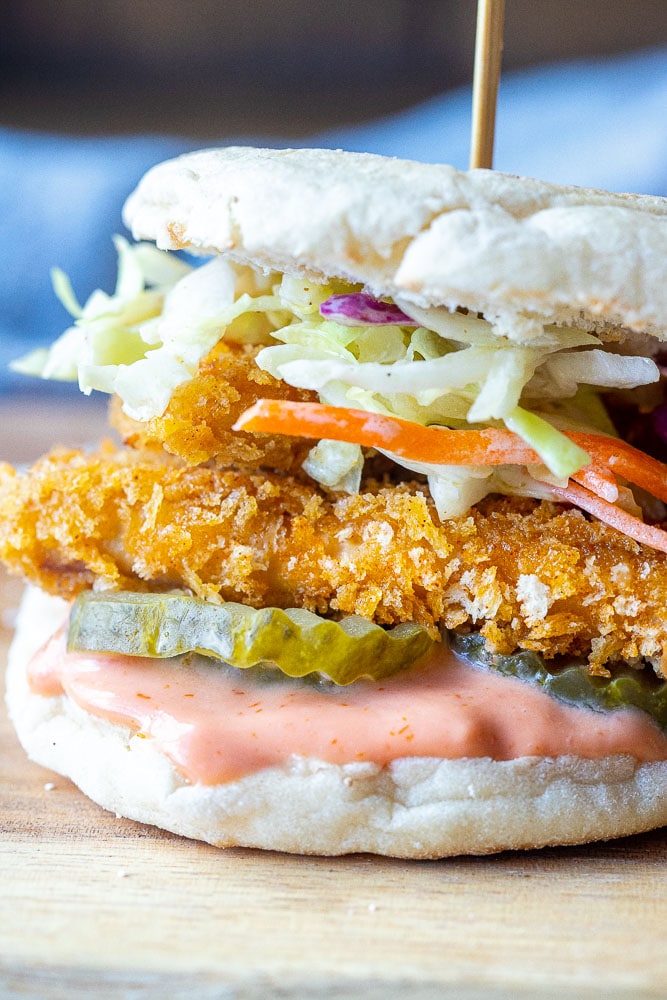 Oven Baked Crispy Tofu Sandwiches
This method is my new favorite for making easy, crispy tofu! And if you bake it in the oven, it requires no oil at all! I have a Crispy Popcorn Tofu recipe coming up next week that uses the same method and I think you'll love it!
Enjoy other vegetarian sandwich recipes:
Curried Chickpea Salad Sandwiches
Vegan Chicken Patty Sandwiches
Greek Chickpea Salad Sandwiches
Print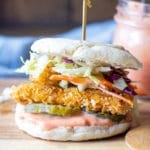 Crispy Tofu Sandwiches
---
Author:

Total Time:

45 minutes

Yield:

5

Diet:

Vegan
Description
These Crispy Tofu Sandwiches are full of flavor and great for lunch or dinner!
---
1

(14 oz) package extra firm tofu, pressed well
Olive oil

1 tablespoon

tamari or soy sauce

1/2 cup

all purpose flour

1/2 cup

plain, plant based milk

1/2 teaspoon

garlic powder

1/2 teaspoon

onion powder

1 1/2 cups

Panko bread crumbs
salt
pepper
Hamburger buns or bread
Optional toppings: pickles, spicy ketchup, mustard, coleslaw, mayo
---
Instructions
Slice the tofu into thin slices.  I was able to get 10 slices and used two slices of tofu on each sandwich.  You can slice it anyway you like.  Heat a large pan over medium heat and add about 1 1/2 teaspoons olive oil.  Add tofu and cook until each side is starting to brown, about 5 minutes.  Add tamari and let cook for 30 seconds, flip and cook for about 30 more seconds.  Remove tofu and let cool for a few minutes.
To a medium sized bowl, add the flour, milk, onion powder and garlic powder.  Mix until a batter is formed.  Pour the panko onto a large plate or shallow dish and season with a little bit of salt and pepper.
Use your hands to coat each piece of tofu with the batter.  You only want a thin coat.  Next, place the tofu in the panko and make sure it's completely covered.  Repeat until all the tofu is coated with batter and panko mixture.
Heat a large skillet over medium heat and add 3-4 teaspoons olive oil.  Add tofu and let cook until each side is golden brown and crispy, about 8 minutes on each side.
OR you can pre-heat oven to 400 degrees F.  Place tofu on a baking sheet and bake until golden brown and crispy, flipping once, 15-20 minutes.
Assemble your sandwiches and enjoy!
Prep Time:

20 mins

Cook Time:

25 mins

Category:

Vegan, Sandwich

Method:

Stovetop

Cuisine:

American
Keywords: Crispy Tofu Sandwich