These No Cook Mediterranean Hummus Pizzas are so quick and easy to make!  They're topped with hearty hummus and fresh veggies for a healthy dinner or lunch!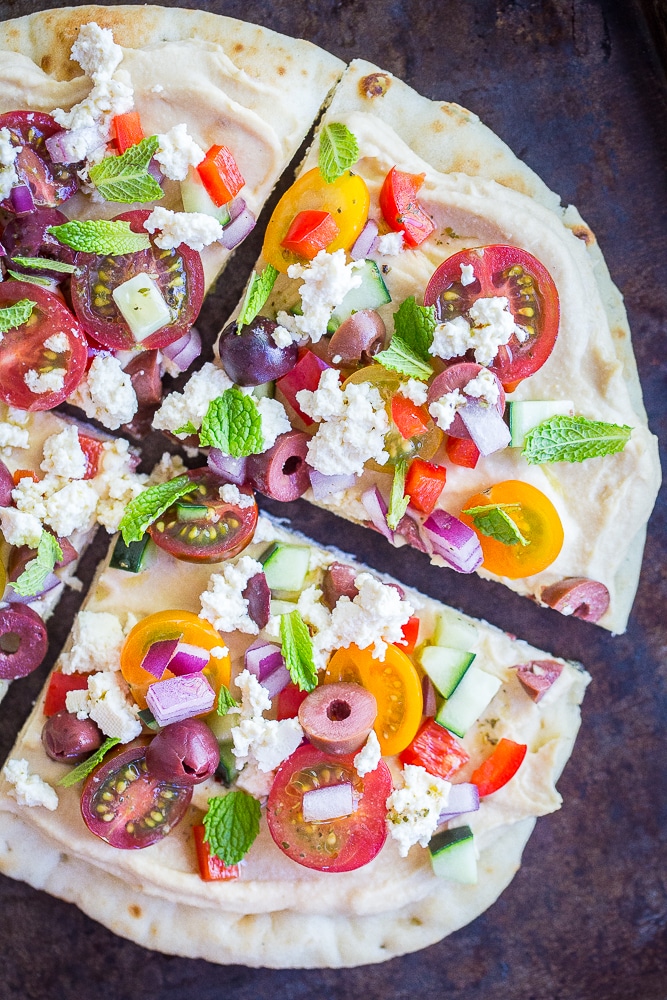 As much as I love to cook, I'm also really low maintenance when it comes to the recipes I make.  Especially in the summer when I want a 10 minute dinner that requires no cooking at all!  These No Cook Mediterranean Hummus Pizzas check both those boxes and they're on a regular rotation around here this time of year.
Mediterranean flavors are some of my favorites.  They're so clean and fresh and I never feel too full after eating them.  It's also a veggie heavy cuisine which I love!  Or, at least I like to make my Mediterranean dishes veggie heavy 🙂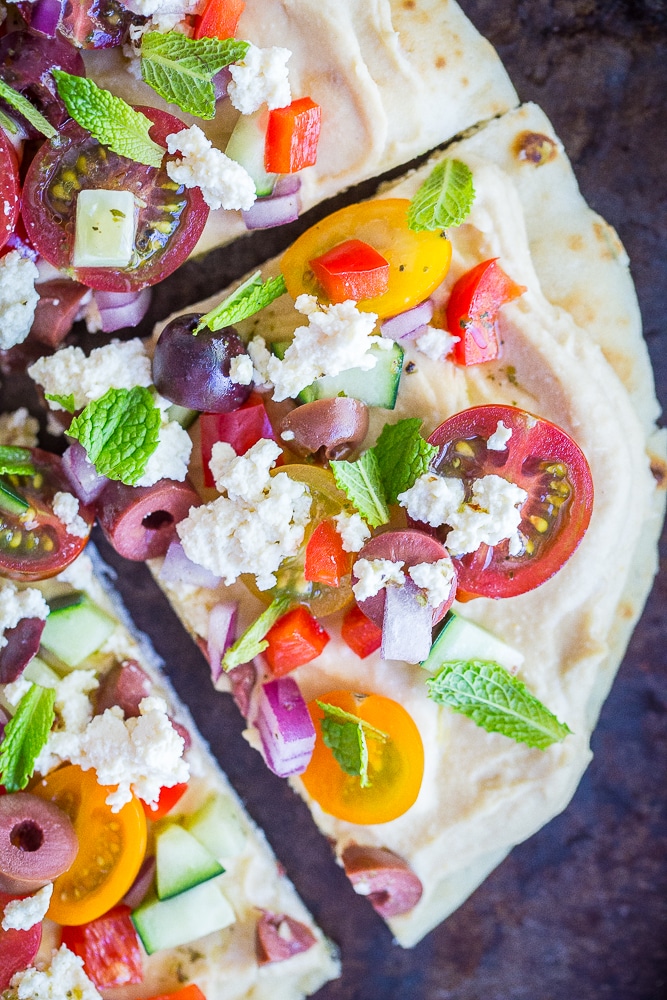 Do you guys want to know just how easy these No Cook Mediterranean Hummus Pizzas are?!  You start out with a pre-cooked base.  You can either make your own pizza dough, if you like, or just use some pre-made naan or pita bread.  If making gluten free, I would recommend a gluten free pita bread or you could pre-bake some of my Gluten Free Pizza Dough.  That would require some cooking, but it's so good I think you'll find it work it 🙂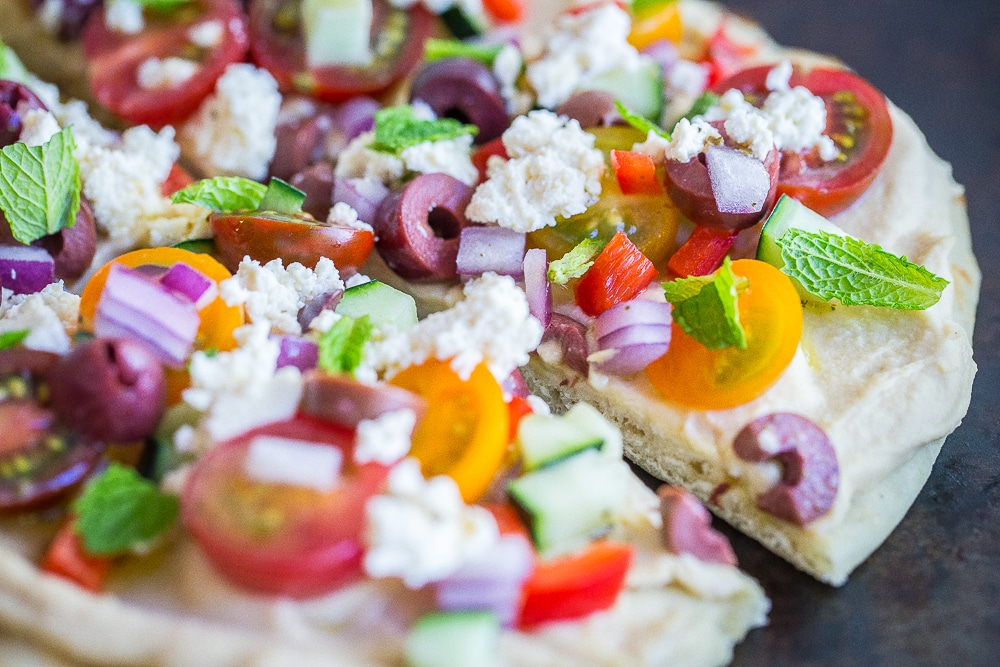 Once you have your pizza crust, you just spread it generously with some hummus.  To make it super quick and easy you can just use a good store-bought hummus, I really like this brand.  You could also make your own if you prefer.  I have a few delicious hummus recipes in my appetizers section.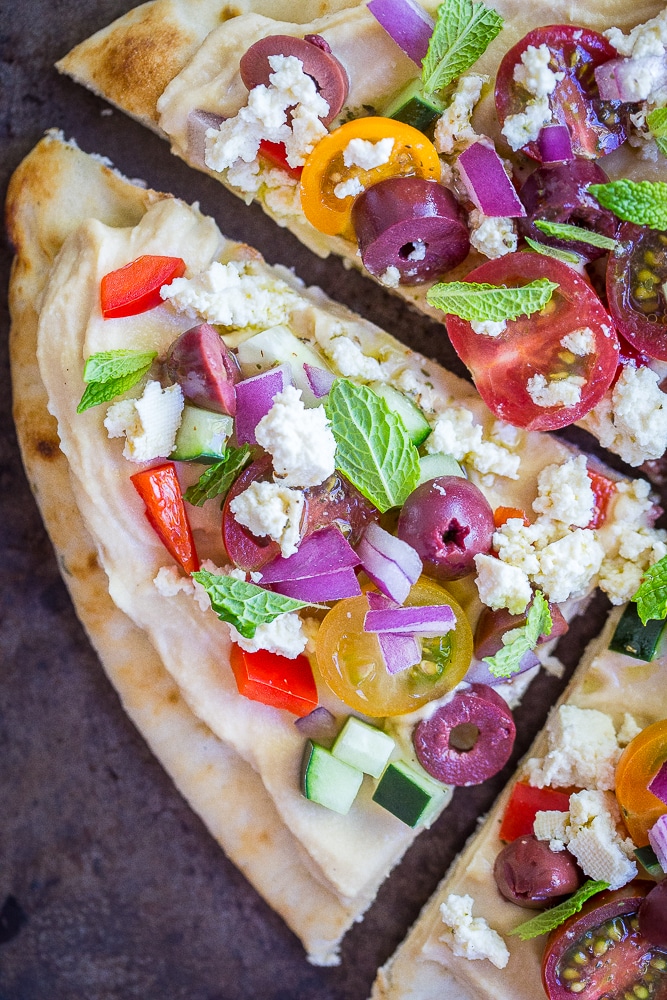 You then top it off with your favorite fresh vegetables!  For Mediterranean cuisine I like to use tomatoes, cucumber, red onion, kalamata olives and red pepper.  Feel free to omit any you don't like and add any extras you love.  I also top it with some tofu feta, fresh herbs and a really easy red wine vinaigrette.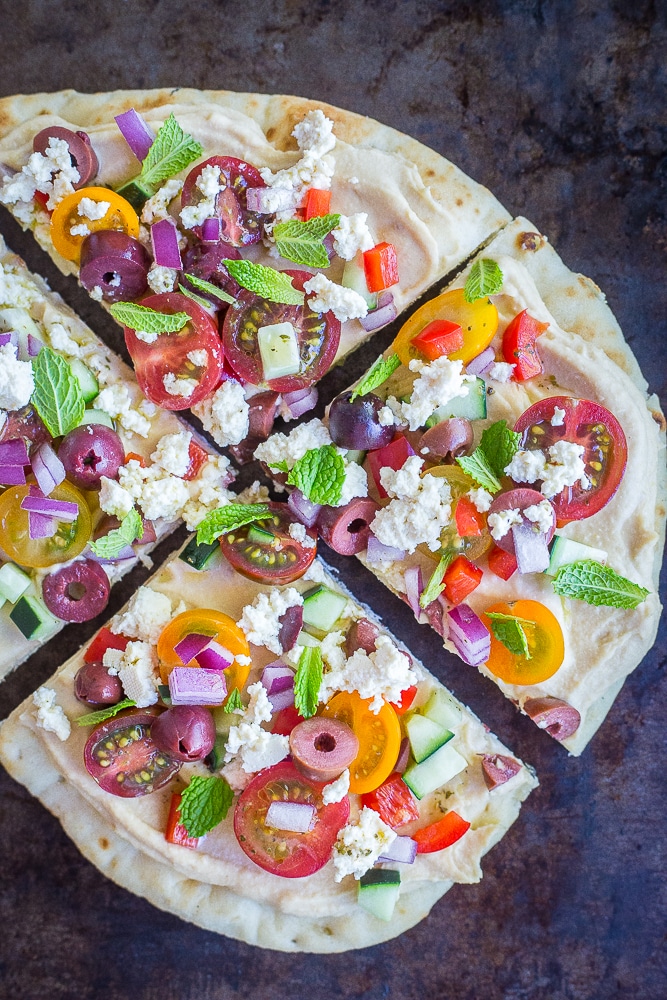 If you're like me and love easy, healthy and delicious no cook meals, then these Mediterranean Hummus Pizzas are for you!  They take about 10 minutes to make and are great for lunch or dinner.  I've made them so many times this month and with the heat we are already having, I don't see them coming off the menu anytime soon 🙂
<iframe width="560″ height="315″ src="https://www.youtube.com/embed/yn5Ofd6eC-o" frameborder="0″ allow="autoplay; encrypted-media" allowfullscreen></iframe>
Print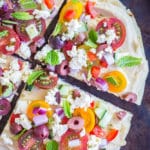 No Cook Meditteranean Hummus Pizzas
---
Author:

Total Time:

50 minute
Description
These No Cook Mediterranean Hummus Pizzas are so quick and easy to make!  They're topped with hearty hummus and fresh veggies for a healthy dinner or lunch!
---
Naan bread or pita, or your favorite pre-cooked pizza crust
Hummus, homemade or store-bought
Cherry tomatoes, sliced in half
Cucumber, diced
Red pepper, diced
Red onion, diced
Kalamata olives, sliced
Feta cheese, regular or vegan
Fresh herbs for topping, I used mint

2 tablespoons

olive oil

1 teaspoon

red wine vinegar

1/2 teaspoon

dijon mustard

1/4 teaspoon

dried oregano, or Italian seasoning
Salt, to taste
---
Instructions
Spread your bread or crust with a big spoonful of hummus and then top with chopped vegetables.
Add the olive oil, vinegar, mustard, oregano and salt to a small bowl and whisk until combined.  Drizzle the top of each pizza with a small spoonful of vinegar and sprinkle with fresh herbs.
Cut pizzas into slices and enjoy!
Notes
I didn't add amounts to the hummus and vegetables because you can use however much you like!  It also depends on if you are making just one pizza or multiple pizzas.  Let me know if you'd like more precise ingredient amounts!
SaveSave
SaveSave
SaveSave
SaveSave
SaveSave
SaveSave
SaveSave
SaveSave