This smoky marinated tofu is so flavorful and perfect for your next summer BBQ!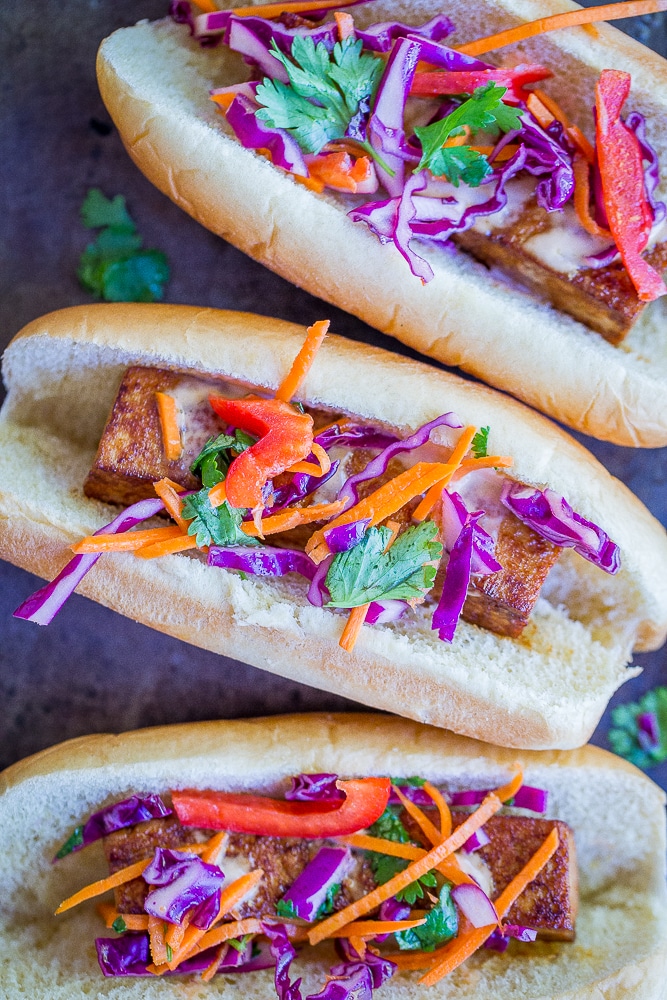 Can you believe that it's almost August?!  I happen to love August because it's my birthday month, but it also signals the end of summer.  That is, if you don't live in the desert where is stays hot until after Thanksgiving 🙂

I feel like late July, early August is when people are trying to get in the last of their summer fun before school starts back up.  Which hopefully means a few more BBQs and maybe a vacation or two.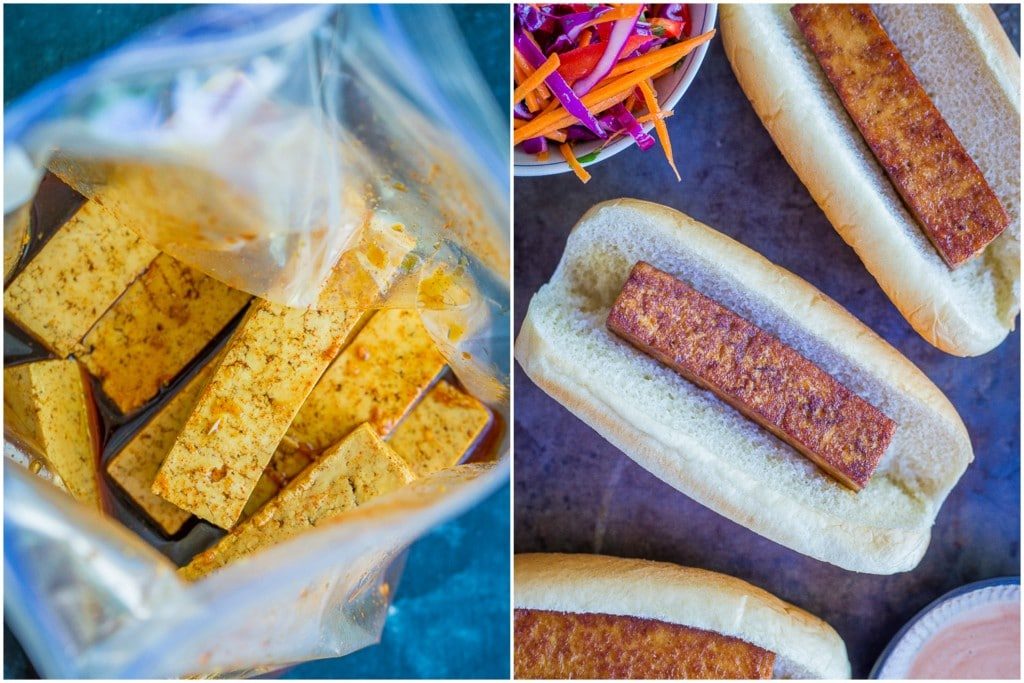 As my husband said, this is a piece of tofu in a bun, not a hotdog, but I'm standing by my recipe name!  I've marinated the pieces of tofu in a bunch of delicious flavors and they have such a great smokey flavor that tastes pretty darn close to a hotdog if you ask me 🙂
I see a lot of fake meat marinades that contain liquid smoke and in this recipe I opted to use something a little more natural, because for some reason liquid smoke kinda weirds me out!  Instead I used smoked paprika, which adds such nice smoke flavor and also some nice color to these "hotdogs".
As with most things, these taste better the longer you let them soak in the marinade.  You could throw them on the grill, but here in Arizona it was a little too hot to even go outside to use the grill so I opted for the stovetop, which gave them a nice crust.  I hope you enjoy 🙂
Print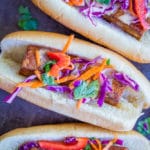 Smoky Homemade Veggie Dogs
---
Description
A delicious and flavorful veggie hotdog alternative!
---
1

(14-16 ounce) package extra firm tofu, pressed to get as much water out as you can

1/2 cup

tamari, I use low sodium

2 tablespoons

pure maple syrup

2 teaspoons

smoked paprika

1/4 teaspoon

toasted sesame oil

1/4 teaspoon

freshly grated garlic

1/4 teaspoon

freshly grated ginger
Hotdog buns
Sriracha mayo (optional) I just mixed some vegan mayo with sriracha to taste.
Slaw (optional)
2 tablespoons

vegetable oil of your choice

1 tablespoon

rice wine vinegar

1/2 teaspoon

maple syrup

1/4 teaspoon

salt

3 cups

thinly chopped purple cabbage

1 cup

thinly sliced red pepper

1 cup

grated carrots

1/4 cup

cilantro leaves
---
Instructions
Cut the tofu into about 8 strips, you could make the strips as big or as small as you like.  Use a fork and poke each side of the tofu a few times to help the marinade really get in there.
To a large ziplock bag add the tamari, maple syrup, smoked paprika, sesame oil, garlic and ginger.  Close the bag and use your hands to make sure everything is mixed well.  
Add the tofu to the bag and lay flat on a plate or in a baking dish.  Make sure marinade is covering all the tofu evenly.  I like to flip mine over a few times to make sure it gets everywhere.  Marinate tofu for at least 2 hours, but the longer the better.
Once ready to cook, heat a large pan over medium heat and add a small amount of oil.  Place tofu in the pan and let cook for about 2 minutes on each side, until browned and crispy.  Top with your favorite toppings and enjoy!
To make the slaw, add the oil, vinegar, maple syrup and salt to a large bowl and mix until combined.  Next, add all the veggies and stir until  they're all coated.  Slaw can be refrigerated for up to 3-4 days.