This Vegan Lasagna Recipe is packed with tons of veggies and layered with a creamy vegan ricotta sauce. It's the perfect cozy family meal that is freezer friendly!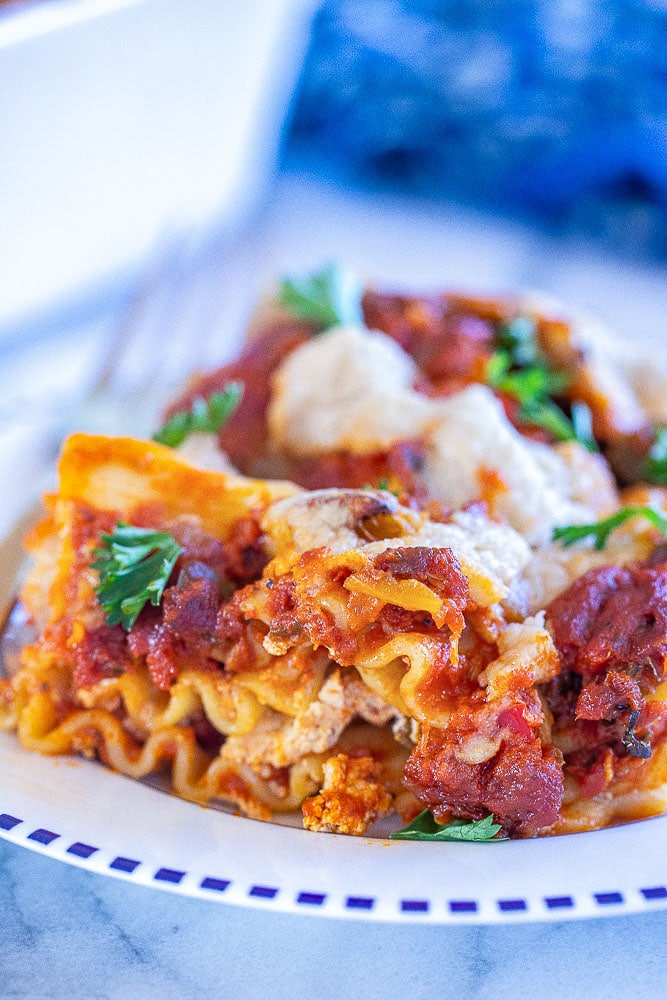 Lasagna is one of those meals that I don't make very often but when I do, I remember just how much I love it! Making lasagna can sometimes feel like a labor of love but I can assure you that it is totally worth it. This Vegan Lasagna Recipe is so delicious my husband didn't even realize it was vegan the first time I made it for him.
THE BEST VEGAN LASAGNA RECIPE
My secrets for making the best vegan lasagna are to always use a high quality flavorful tomato sauce and to make it with my homemade tofu ricotta recipe. We religiously use Rao's tomato sauce because it's full of flavor and made with high quality ingredients and my tofu ricotta perfectly mimics the texture and flavor of real ricotta cheese!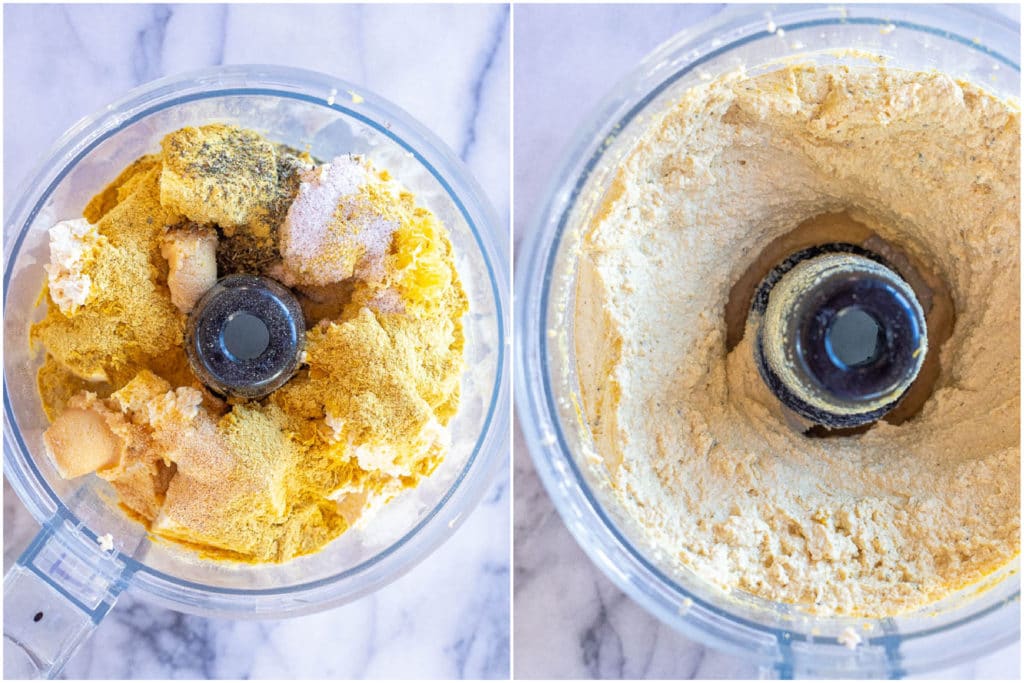 VEGAN RICOTTA CHEESE RECIPE
I've tried cashew ricotta cheese before but I prefer using tofu for a few reasons:
Tofu is generally cheaper than cashews are and I always have tofu on hand.
When using cashews you have to remember to soak them overnight, which isn't required with tofu.
Tofu is much lower in fat and calories than cashews are. Both have lots of nutritional benefits but tofu is a great low fat, low calorie food that is high in protein.
When making a big batch of lasagna, like I did here, I use two packages of firm-extra firm tofu and blend it in the food processor with nutritional yeast, lemon juice, garlic powder, dried herbs, salt and a little bit of unsweetened almond milk. It's smooth, flavorful and has such a close texture to regular ricotta cheese.
LOADED VEGETABLE LASAGNA
Another reason this is the best vegan lasagna recipe is that it's loaded with so many healthy veggies! As I mentioned above, we love using Rao's homemade tomato sauce in our lasagna because it has so much flavor and it's made with healthy ingredients.
I also love lightly sautéing my favorite vegetables with a little bit of balsamic vinegar and mixing them in with the tomato sauce to create one layer. My usual lasagna veggies are: onion, garlic, yellow squash, zucchini, red pepper, green pepper, mushrooms and spinach. You can really use any veggies you like in this lasagna recipe.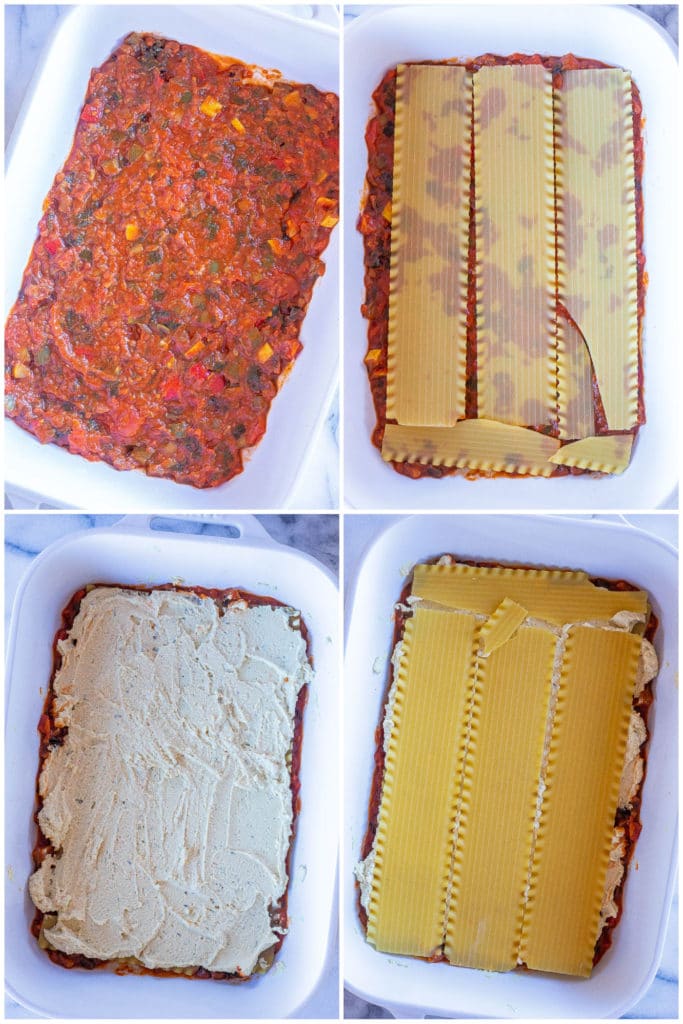 HOW TO LAYER YOUR VEGAN LASAGNA
You can of course layer your lasagna anyway you like! I feel like I'm always a little intimidated knowing what to put where, so I'll share how I layer mine:
Sauce – It's always important to put a layer of sauce down on the bottom of the lasagna pan, if you just start with noodles they'll get hard and stick to the bottom. I put 1/3 of the sauce mixture down first.
Noodles – I usually use lasagna noodles that don't need to be cooked beforehand. I just like how easy they are and I always seem to have them break apart if I trying boiling them all together.
Cheese – I split the ricotta cheese into two layers instead three, like the sauce, because it's richer so I feel like it's nice to have more layers of sauce and veggies to even things out.
Noodles – Another layer of noodles on top of the cheese
Sauce – I like mine saucy!
Cheese – I usually separate the sauce and cheese layers by the noodles but I didn't want to make the lasagna too noodle heavy so I put them on top of each other this time. You could put an extra layer of noodles in here though.
Noodles – One last layer of noodles.
Sauce – It's really important to put a last layer of sauce on top of the noodles! If you don't, the top layer of noodles will just dry out, harden and possibly burn.
Cheese Topping – For the cheese topping, I either reserve some of the tofu ricotta to put on top or use a quality vegan mozzarella cheese.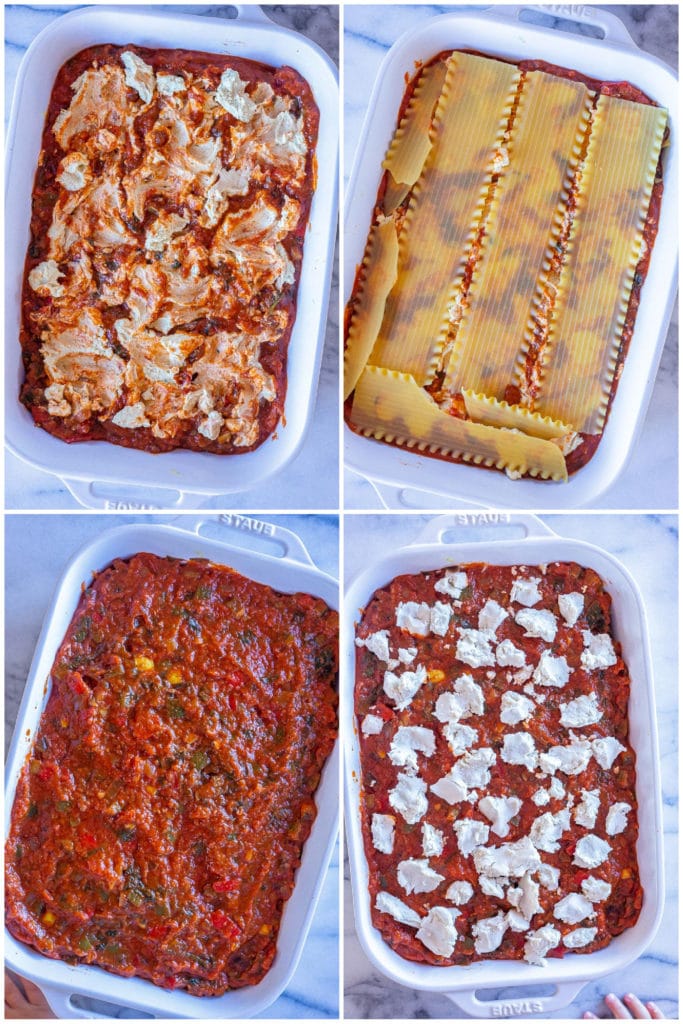 VEGAN LASAGNA FREQUENTLY ASKED QUESTIONS
How much ricotta does the recipe make? Probably about 3- 3 1/2 cups. I would say I usually use 1 1/2 cups of the tofu ricotta for each of the cheese layers and then a little bit for the top.
Can I make lasagna rollups with this recipe instead of a big pan? Sure! Just cook your lasagna noodles first and then spread them individually with some tofu ricotta and sauce, roll them up and place them in a pan with tomato sauce.
How much lasagna does this recipe make? I use a 9×13 baking dish and it all fits perfectly. You could also make two and use two 8×8 baking dishes.
Can I freeze this vegan lasagna? Yes! I would recommend securing in a freezer safe container and you can freeze for about 6 months. Bake from frozen when baking it off.
Can I just use spinach instead of all the other vegetables? Of course, you'll probably want to use an entire bag of spinach since it cooks down quite a bit.
Do I have to mix the vegetables with the tomato sauce? No, you can give them their very own layer or just put them down on top of the tomato sauce.
Have a question that I didn't answer above? Leave it in the comment section below and I'll get back to you ASAP!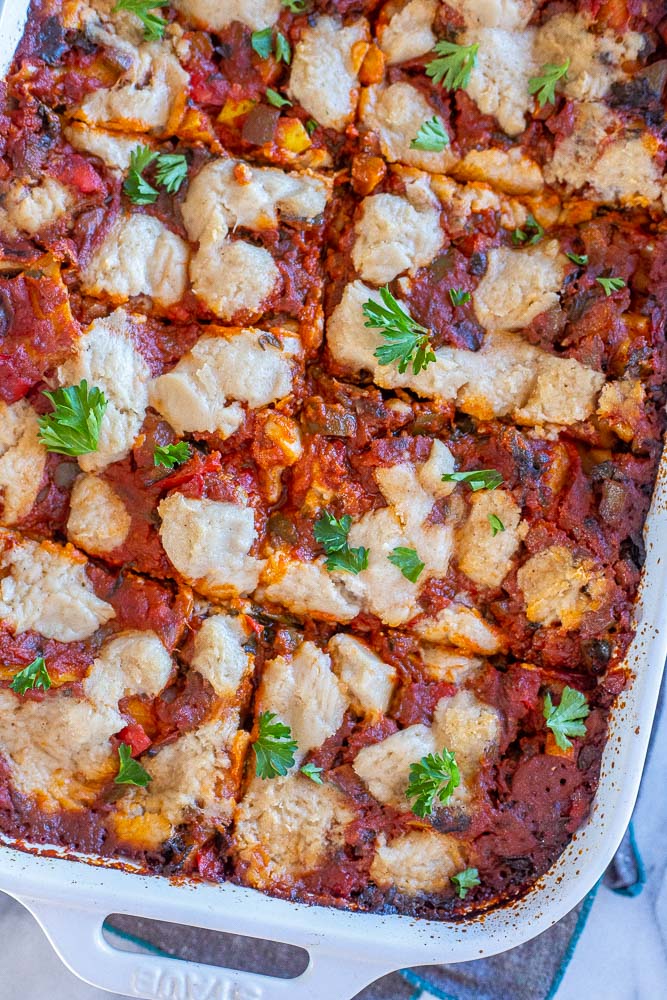 LOOKING FOR MORE VEGAN PASTA RECIPES?
Pesto Pasta with Summer Vegetables
Print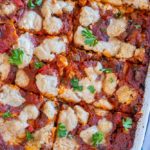 Vegan Lasagna Recipe
---
Author:

Total Time:

1 hour 45 minutes

Yield:

1

0

1

x

Diet:

Vegan
Description
This Vegan Lasagna Recipe is packed with tons of healthy vegetables and a creamy tofu ricotta.  It's prefect for a cozy family dinner that is also freezer friendly.
---
1 teaspoon

avocado oil

1/2

yellow onion, diced

1

red bell pepper, diced

1

green bell pepper, diced

1

medium sized zucchini, diced

1

medium sized yellow squash, diced

2 cups

small diced mushrooms

2 cups

chopped baby spinach leaves

2

cloves garlic, minced

2 tablespoons

balsamic vinegar

1 teaspoon

granulated garlic

1 teaspoon

dried Italian herbs

48 ounces

tomato sauce or marinara, about

5 cups

1

box lasagna noodles, I like to use oven ready (you might not need the entire box
Salt and pepper
Tofu Ricotta
2

(16 oz) packages extra firm tofu, patted dry

6 tablespoons

nutritional yeast
Juice of

1

lemon

2 teaspoons

light miso paste

1 teaspoon

granulated garlic

1 teaspoon

dried Italian seasoning
Plain, unsweetened almond milk
Salt, to taste
---
Instructions
Heat a large skillet over medium heat and add the oil, onion, bell peppers, squash, zucchini and mushrooms.  Season with granulated garlic, dried herbs and salt and pepper and cook until vegetables are softened, 7-10 mins.  Add in the garlic, spinach and balsamic vinegar and cook until spinach is wilted and most of the vinegar has cooked off.
Add the veggie mixture to a large bowl and pour in the tomato sauce.  Mix until combined and set aside.
Add all the tofu ricotta ingredients to a food processor and blend until creamy.  I like to get the food processor started and then slowly add in almond milk until the texture is just right.  Set aside.
Start building your lasagna in a 9×13 baking dish.  Layer in this order: 1/3 of the tomato sauce mixture, lasagna noodles, 1/2 cheese mixture, noodles, sauce, rest of the cheese, noodles, rest of the sauce, 3/4 cup grated mozzarella cheese.
Pre-heat oven to 400 degrees F.  Let the lasagna sit on the counter until oven is preheated and then cover with tinfoil and place in the oven. Bake lasagna until the noodles are cooked through and sauce is bubbly, about an hour.  I usually take the tin foil off for the last 15 -20 minutes so the cheese can brown a little bit.  Let lasagna cool for 10-15 minutes before enjoying.
Prep Time:

30 mins

Cook Time:

75 mins

Category:

Dinner, Vegan

Method:

Stovetop, Oven

Cuisine:

Italian
Keywords: Vegan Lasagna Recipe