This Vegan Tuna Salad is super easy to make and tastes so much like real tuna! I add a secret ingredient that gives it a slight fishy taste and it's so delicious! Great for sandwiches or with crackers.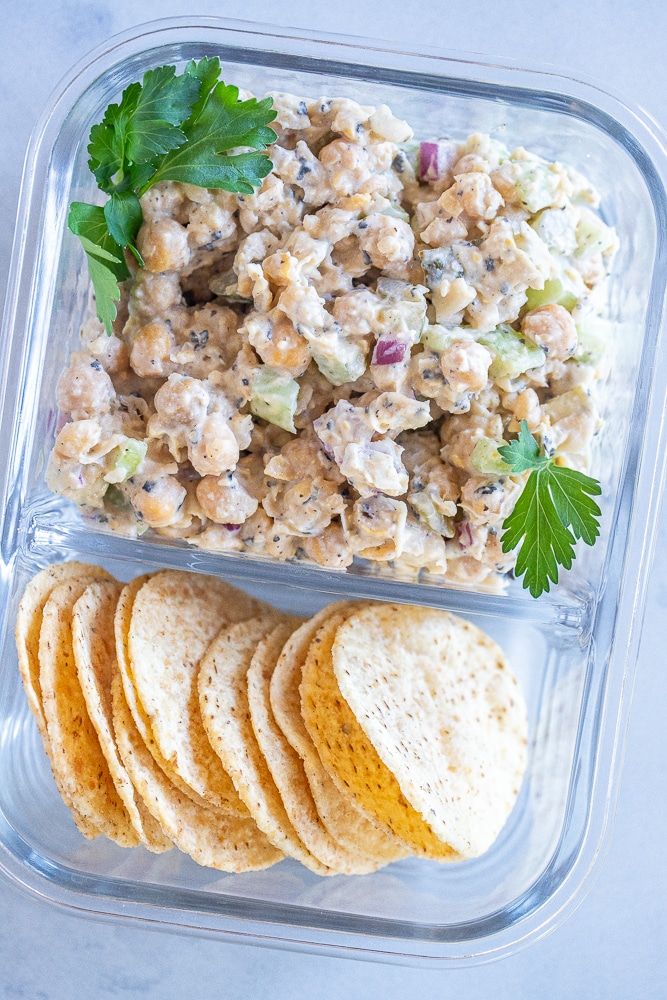 I've always loved tuna sandwiches so I wanted to create a Vegan Tuna Salad that tasted very similar to the real thing. This recipe uses chickpeas instead of tuna fish and then I add in all my regular tuna salad ingredients. It is the perfect vegan version that will satisfy all your cravings!

This Vegan Tuna Salad recipe was part of my Meal Prep Challenge that I did last year. It's great for a meal prep lunch that requires no cooking at all. I like to pair it with chips or crackers for dipping, but it can also be enjoyed in a sandwich or on a green salad.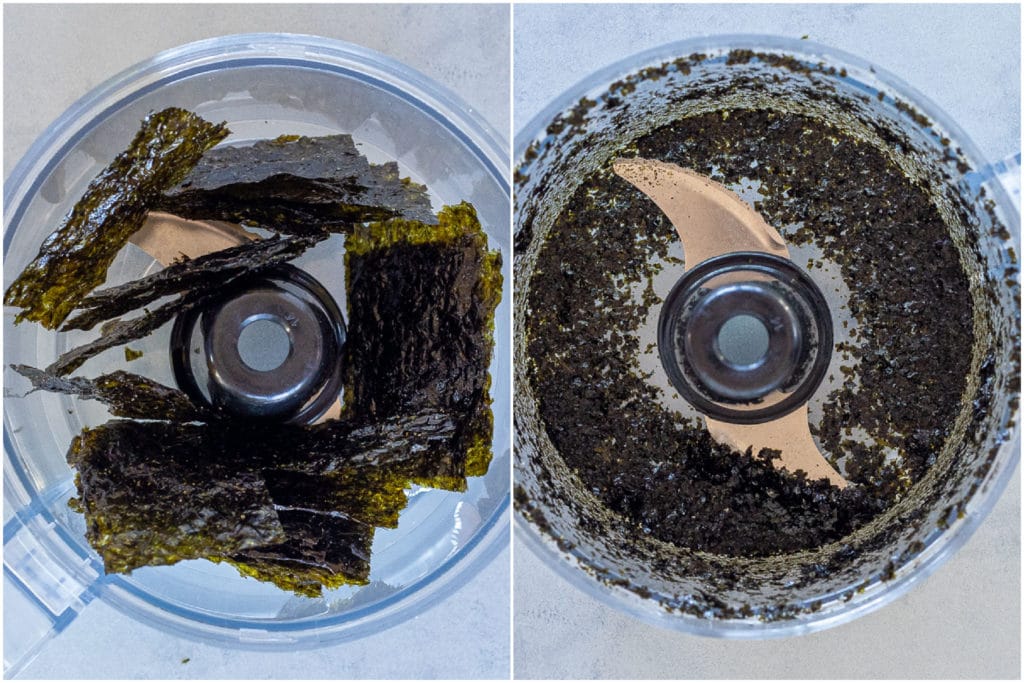 Vegan Tuna Salad Recipe Ingredients and Substitutions
Chickpeas – I like to use chickpeas in this recipe because they have a nice texture and their flavor is pretty mild. You could also use white beans or crumbled up tofu if you like. Or, you could us a mixture of all the above ingredients.
Celery – Celery is a classic tuna salad ingredient and I love it in this recipe. It has a nice crunch and helps to make it feel more traditional. If you don't like celery, you could always add fresh radishes.
Pickles – Dill pickles are a must in my tuna salad! Some people use relish (dill or sweet) but I much prefer the chunks of regular sized dill pickles that have been chopped up.
Red Onion – I like to use raw red onion in this recipe but any kind of onion will work. If you're not a big fan of raw onion, you can decrease the amount or even use shallot since it has a milder flavor.
Vegan Mayo – Follow Your Heart vegan mayo is my favorite kind to use. If you're just looking for a vegetarian tuna salad, rather than vegan, you can use regular mayo.
Dijon Mustard – Mustard might not be a super traditional ingredient to tuna salad
Nori Flakes – Kelp, or seaweed flakes are really what gives this vegan tuna salad a real tuna taste! I will talk more about them below! You can definitely make the tuna salad without them if you prefer but I love the fishy taste they add.
Salt & Pepper – To taste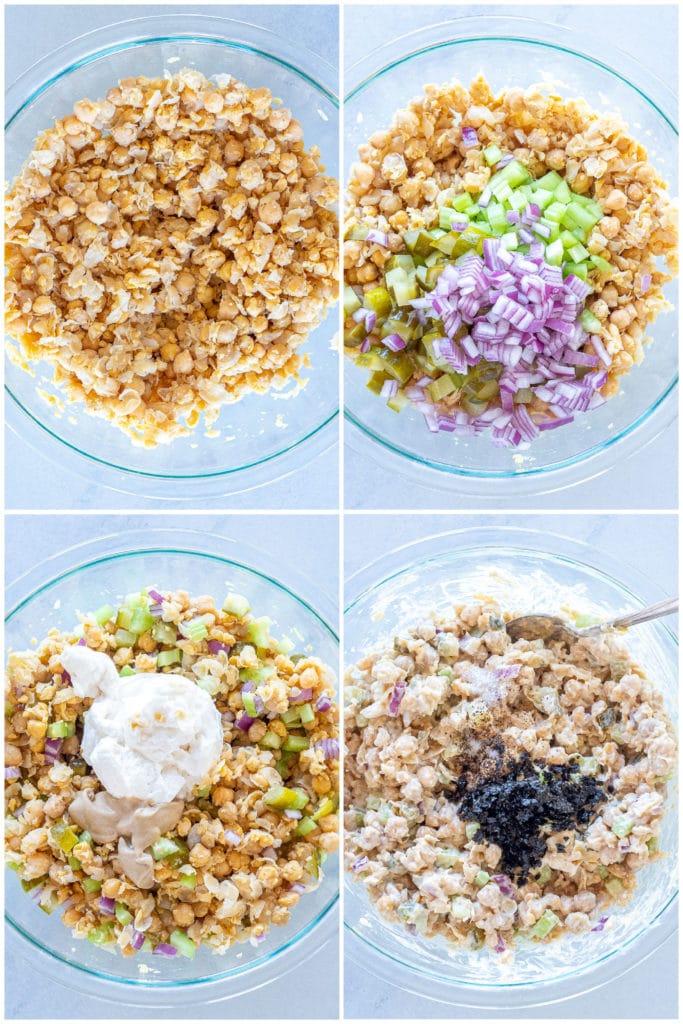 What Are Nori Flakes?
As I said above, the nori, or seaweed, flakes are really what make this Vegan Tuna Salad Recipe taste similar to regular tuna salad. They're completely plant based and they also happen to be really good for you!
If you've ever had sushi, nori is the dark green seaweed paper this is wrapped around the sushi, or inside of it. Nori is a dried edible seaweed made from a species of red algae. It has a strong seaweed flavor and it's a great source of omega-3 fats and Vitamin B-12!
You can buy bottles of nori flakes but I usually just buy a package of nori sheets and blend them in the food processor until they turn into small flakes. You can use large sheets or get a little pack of the small snacking sheets.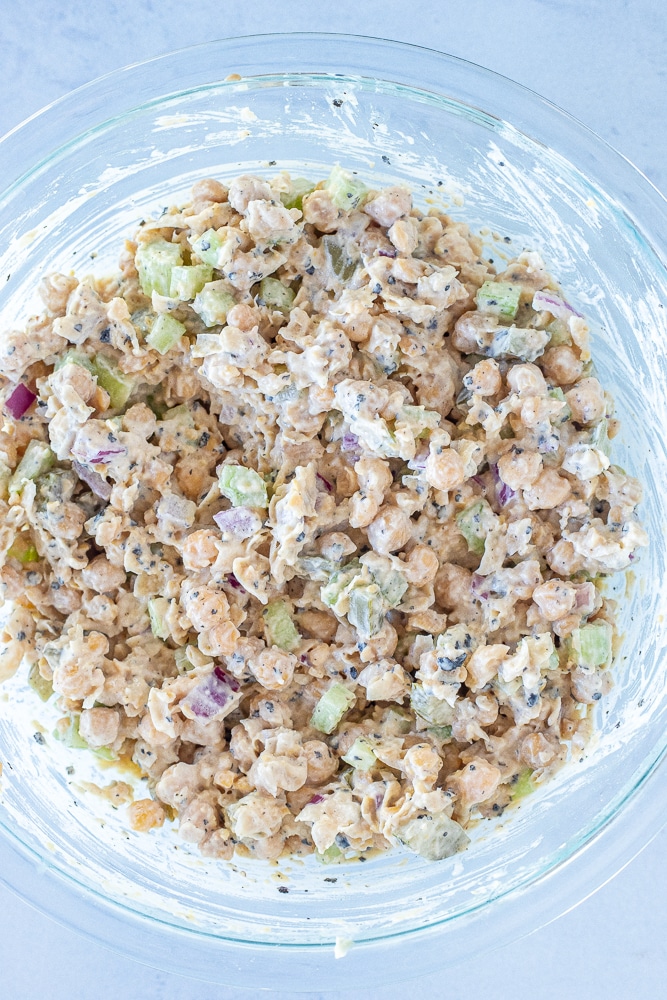 Inspiration For How To Best Enjoy The Best Vegan Tuna Salad!
You can obviously enjoy this vegan tuna salad however you like, but here are a few delicious suggestions!
Meal prep with a side of crackers, chips or pita bread.
Tuna sandwich with lettuce and tomato.
Tuna melt with vegan or regular cheese.
On top of a green salad with your favorite salad ingredients and dressing.
In a tuna pasta, similar to this recipe.
How do you like to enjoy your Vegan Tuna Salad?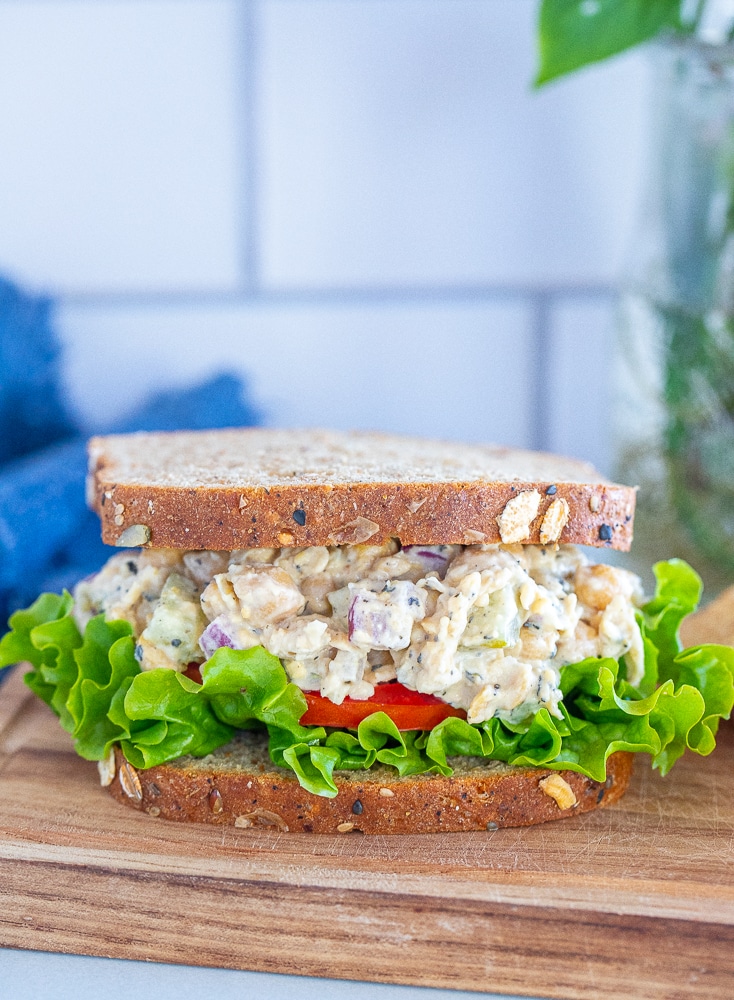 Vegan Tuna Recipe Frequently Asked Questions
How long will it keep in the refrigerator? I would store in an airtight container for up to 3-4 days.
Can you freeze this vegan tuna salad? I wouldn't recommend it because it's not something you would heat up after it's been frozen but you could always try!
What can I use instead of chickpeas/beans? Tofu would work great! You could use raw extra firm tofu or you could crumble it and then heat it in a pan with some oil if you want.
Can I use regular mayo? Yes, if you don't need it to be vegan, just use regular mayo.
Have a question that I didn't answer? Ask me in the comment section below and I will get back to you ASAP!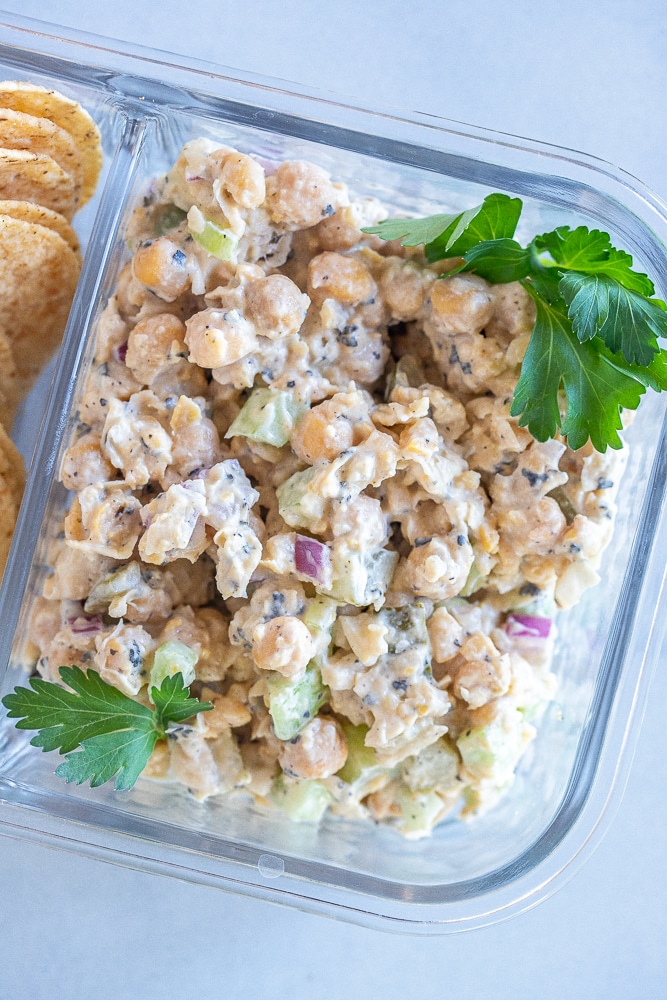 Looking For More Vegan Meal Prep Recipes?
Chickpea Fajita Meal Prep Bowls
Roasted Summer Vegetable Meal Prep Bowls
Chickpea and Lentil Taco Salad Bowls
Check Out Exactly How I Make This Vegan Tuna Salad Below!
Print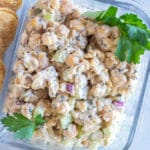 Vegan Tuna Salad
---
Author:

Total Time:

15 minutes

Yield:

6

1

x

Diet:

Vegan
Description
This Vegan Tuna Salad tastes similar to the real thing and is great in sandwiches or with crackers!
---
3

cans chickpeas, drained and rinsed

1/2 cup

diced celery

1/2 cup

diced dill pickles

1/4 cup

diced onion

1/2 cup

vegan mayonnaise

1 tablespoon

dijon mustard

1

–

2

tablespoons nori flakes (you can use more or less depending on how "fishy" you want it to taste)  See in post how to make your own!
Salt and black pepper, to taste
Optional additions: crackers, bread, lettuce cups, fresh fruit
---
Instructions
Add the chickpeas to a large bowl and use a potato masher, or fork, to roughly mash them.  It's ok if some are left whole.
Add in the celery, onion, pickles, mayo and dijon.  Mix everything together and then season to taste with nori flakes, salt and pepper.
Assemble your meal prep bowls: Put an equal amount of vegan tuna salad into each container (about 1 cup in each one).  You can either store your crackers/bread/lettuce/etc.. in a separate container or you can get a little plastic or metal container to fits into your large container so they don't touch the tuna salad.
Prep Time:

15 mins

Category:

Lunch, Vegan

Method:

No cook

Cuisine:

American
Keywords: Vegan Tuna Salad
*This post contains affiliate links, thank you for supporting She Likes Food!