These BBQ Roasted Brussels Sprouts are exciting and unique and will be perfect for your holiday table this year!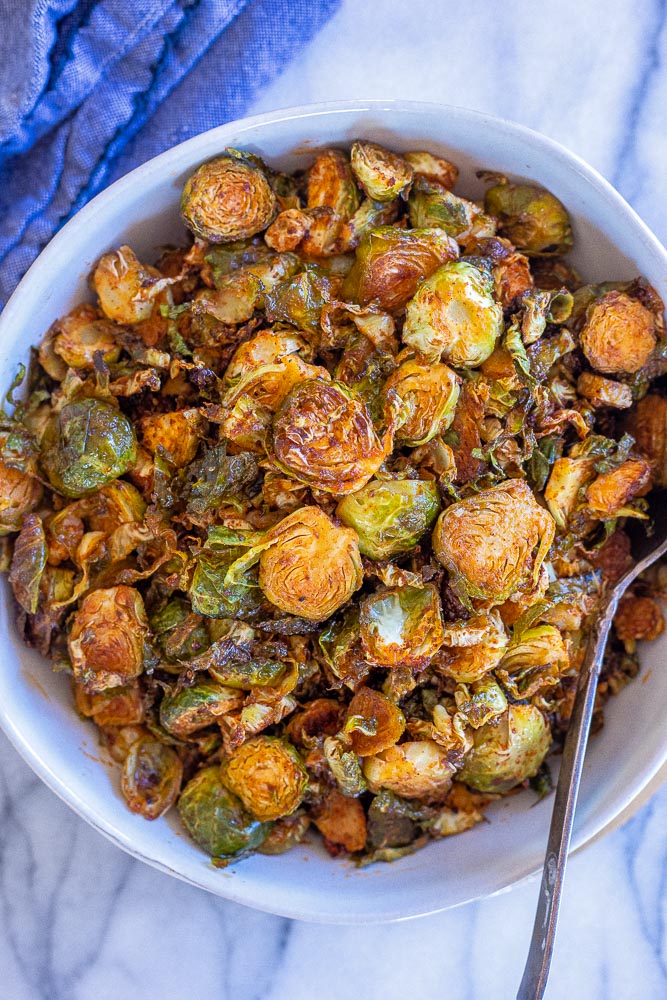 Do you love Brussels sprouts? If not, have you ever had them roasted? Roasting your Brussels sprouts is such a game changer and really makes them taste amazing. I usually use my go-to Simple Roasted Brussels sprout recipe, but for Christmas it can be fun to shake things up and make these delicious BBQ Roasted Brussels sprouts!
I feel like brussels sprouts are one of those vegetables, kinda like cauliflower, that have not been very loved over the years because people haven't eaten them prepared correctly. I really think that this BBQ Roasted Brussels sprout recipe will turn anyone into a sprout lover!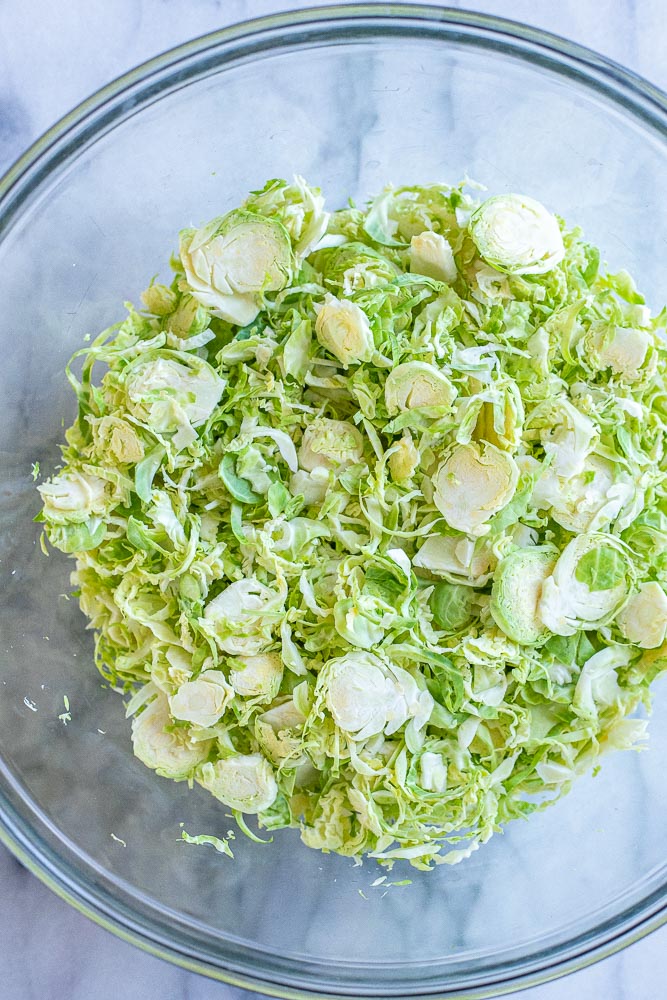 INGREDIENTS FOR MY BBQ ROASTED BRUSSELS SPROUT RECIPE
Brussels sprouts – You want to use fresh brussels sprouts for this recipe, not frozen. I thinly sliced my Brussels sprouts just for a change, but you could also just slice them in half or quarters. I wouldn't recommend leaving whole because there is less surface area to be seasoned and to caramelize in the oven.
Olive oil – I use olive oil because I like the flavor of it on my roasted vegetables, but you can use any kind of oil you like.
BBQ Spices – I used the recipe for my BBQ spice from my BBQ Cauliflower Tacos and it worked great! There are a few spices you will need including: Chili powder, paprika, smoked paprika, garlic powder, onion powder, cumin, dried Italian seasoning, sugar and salt.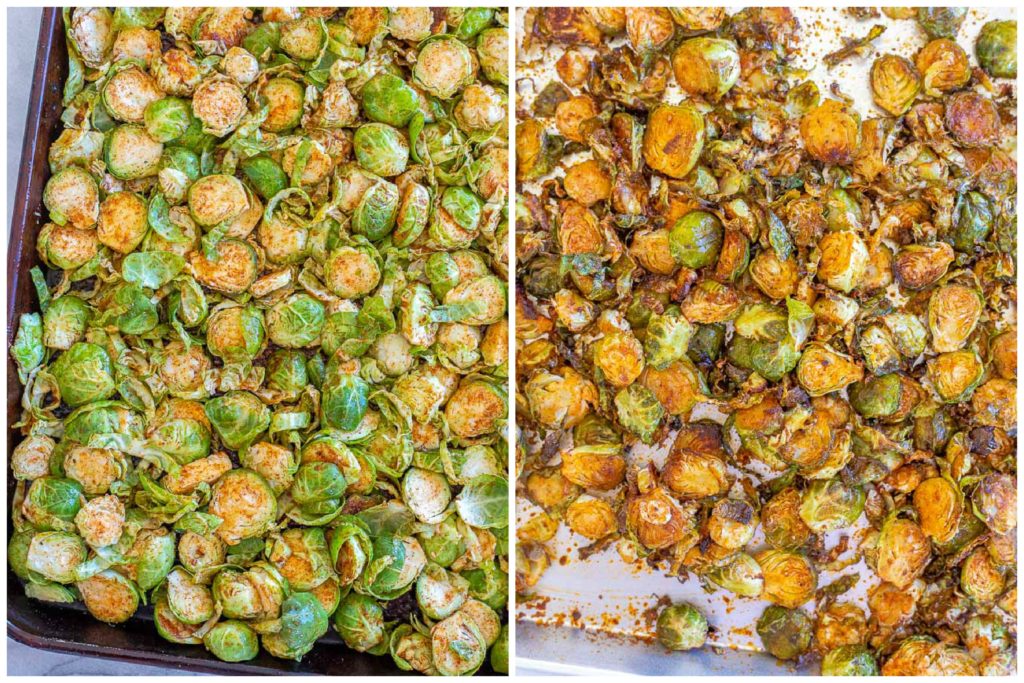 HOW TO MAKE THE PERFECT ROASTED BRUSSELS SPROUTS
Roasted Brussels sprouts are one of the easiest holiday side dishes you can make! Here are a few tips I use to make them perfect every single time:
Cut sprouts in half, quarters or shred them before roasting. As I said above, roasting them allows them to brown and caramelize which is what brings out such great flavor. The most surface area there is to brown, the better they turn out. They also take much less time if you cut them up, as opposed to roasting them whole.
Be liberal with your use of oil – I know some people don't like to use a ton of oil in their cooking, but to get the best caramelization on roasted vegetables it's important to use a good amount of olive oil. I used about 1/4 cup of olive oil for roasting 3 pounds of Brussels sprouts.
Be liberal with your seasoning – A lot of seasonings go into this recipe and you don't want to skimp on them!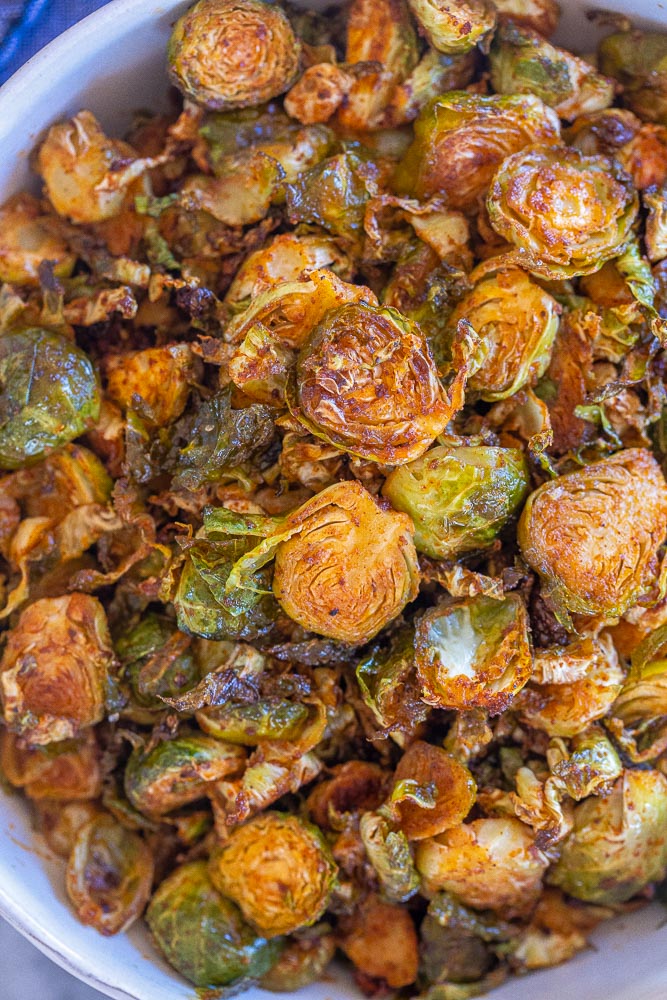 HOW TO CLEAN YOUR BRUSSELS SPROUTS
Brussels sprouts are like tiny little cabbages and their leaves are wrapped up really tightly. Here are a few steps I use to clean my Brussels sprouts before roasting them:
First, I place all the Brussels sprouts into a colander and rinse with cold water.
Next, I take each sprout and peel off a few of the outer leaves, especially if they're brown or have spots on them.
I then cut off a little bit of the stem, but I try to keep it in tact as much as I can.
You might find a few sprouts that have big brown spots or there might be a lot of dirt once you start peeling back the leaves, in that case I just toss them.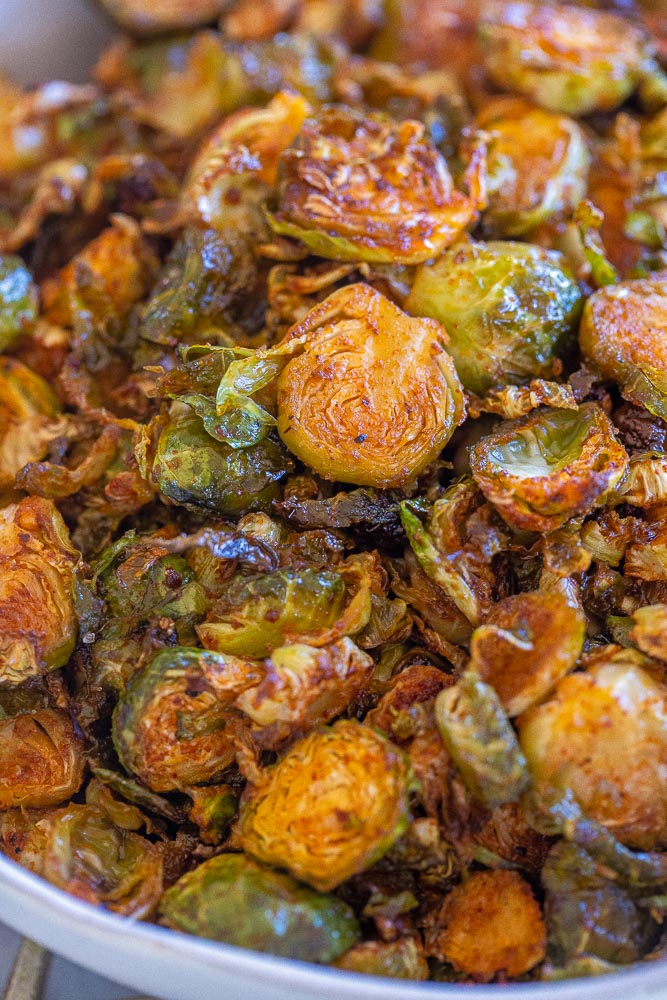 LOOKING FOR MORE ROASTED VEGETABLE SIDE DISHES?
Best Simple Roasted Brussels Sprouts
Roasted Sweet Peppers with Goat Cheese Dip
Roasted Radishes with Garlic and Herbs
Print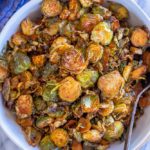 BBQ Roasted Brussels Sprouts
---
Author:

Total Time:

1 hour

Yield:

8

1

x

Diet:

Vegan
Description
These BBQ Roasted Brussels sprouts are super flavorful and the perfect way to mix things up for a delicious Christmas side dish!
---
2 1/2

–

3

pounds brussels sprouts

1/4 cup

olive oil

1 teaspoon

cumin

1 teaspoon

paprika

1 teaspoon

garlic powder

1 teaspoon

onion powder

1 teaspoons

salt

1 teaspoon

chili powder

1 teaspoon

coconut sugar

1/2 teaspoon

smoked paprika

1/4 teaspoon

black pepper
---
Instructions
Pre-heat oven to 425 degrees F.  Rinse your Brussels sprouts, peel off a few of the outer leaves, and cut off the top of the stem.  Use a sharp knife to thinly slice the Brussels sprouts, or cut them in half or quarters.
Add all the spices to a small dish and mix until combined.  Place brussels sprouts on a large sheet pan and drizzle with olive oil and dump the BBQ seasonings on.  Use your hands and toss until sprouts are evenly coated.
Roast Brussels sprouts until browned and tender, 35-40 mins, stirring once or twice.  Best when served immediately.
Prep Time:

15 mins

Cook Time:

45 mins

Category:

Side, Vegan

Method:

Oven

Cuisine:

American
Keywords: BBQ Roasted Brussels Sprouts