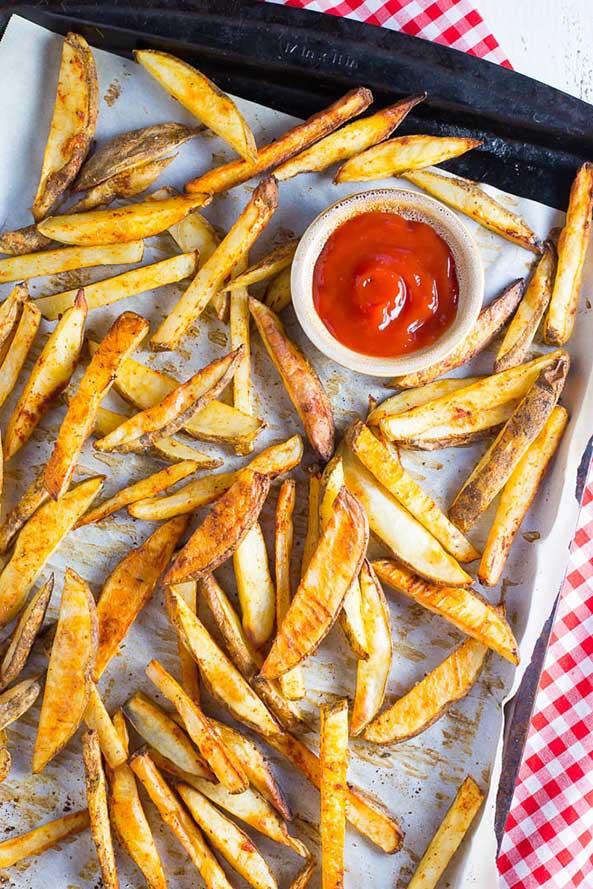 I've been making this French fry recipe for years and although they are amazing and delicious I never planned to share them with you. Not because I'm selfish and wanted to keep them all to myself, but because I always thought they might not be exciting enough to share with you. But I figured it was probably time I let my perfect oven baked fries out of the bag!
Truth be told, my husband doesn't cook much. I have a faint memory of him cooking when we first started dating, but I've kinda taken that task over and I have a little theory that he has actually forgotten how to cook. Since I prefer to be the one who cooks most of the meals, that doesn't bother me at all but it does lead to a lot of frozen pizzas when I'm away! But, he does know how to cook these French fries! Both because they are really easy to make and also because he loves them so much that he needs to be able to get his French fry fix when I'm gone. Pizza and French fries make the perfect balanced meal, right?!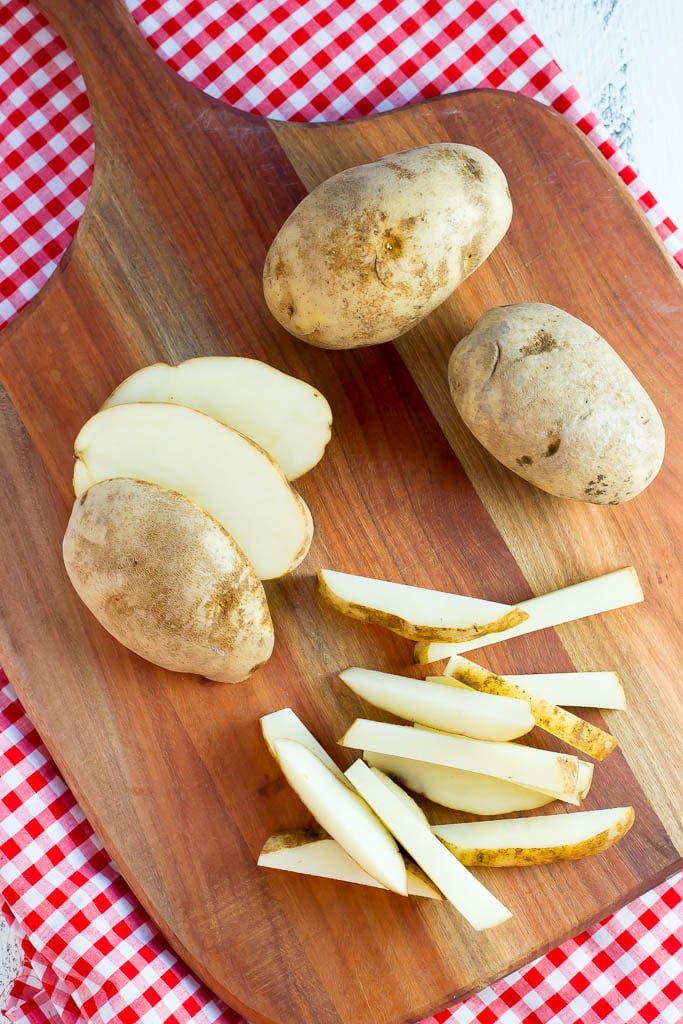 I make these French fries pretty much every time we have company over and my husband has now started making them whenever he is traveling and cooking dinner at a friend's house. And I must say that it is a general consensus that these Crispy Oven Baked French Fries are pretty amazing! Not only are they better for you because they are baked with just a little bit of olive oil, but they are also great because you can season them however you want. I have a few versions that I make, but today I'm sharing my classic seasoned version. All I use is salt, pepper, garlic powder, and paprika. They turn out so flavorful and the paprika gives them a nice color.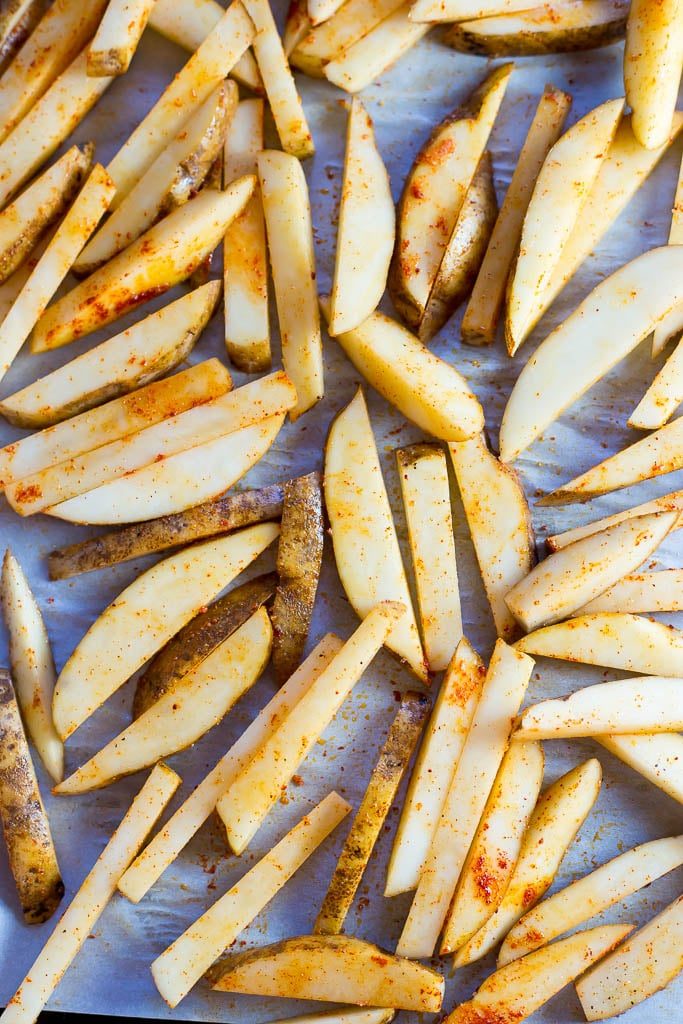 I know a lot of people say you need to soak your potatoes in water before you bake them to get rid of some of the starchiness, but I just don't got time for that! Usually when I get a French fry craving I need them immediately and just can't wait an extra hour while they enjoy a water bath. So, my secret to these baked French fries is to line the baking pan with parchment paper. In the past I've seriously ruined some baking sheets and a few batches of French fries without using the parchment paper. I'm also pretty sure I've eaten my fare share of baking sheet coating because I've literally had to scrape the fries off of the pan with all my might! The parchment paper makes it so the potatoes don't stick to the pan and gives you crispy French fries every time!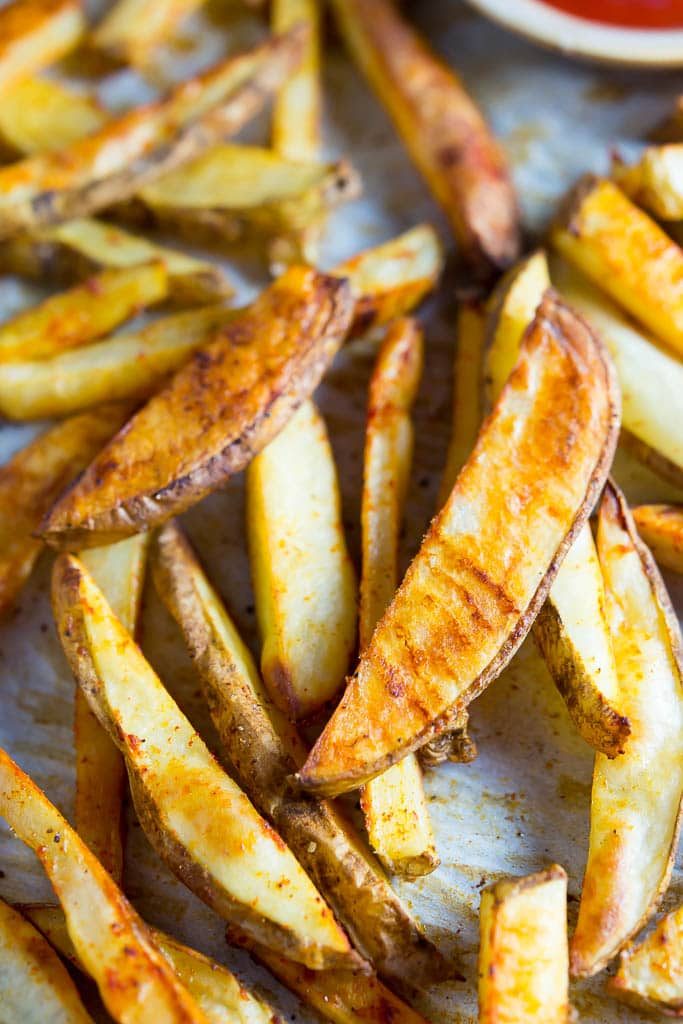 I am confident that once you try these oven baked fries, you will never buy frozen French fries again! Check out my video to see exactly how to make these delicious french fries!
Print
Crispy Oven Baked French Fries
---
Prep Time:

10 mins

Cook Time:

40 mins

Total Time:

50 minutes

Yield:

4

1

x
4

small – medium russet potatoes

1 teaspoon

olive oil
Heaping

1/2 teaspoon

salt

1/8 teaspoon

black pepper
Heaping

1/4 teaspoon

garlic powder

1/2 teaspoon

paprika
---
Instructions
Pre-heat the oven to 400 degrees Fahrenheit. Cut the potatoes into French fries (see photos in post). Line a large cookie sheet with parchment paper. Place the fries on the parchment paper and add the oil and all of the seasonings. Toss to make sure all the fries are coated evenly.
Bake French fries until light brown and crispy, 40-45 minutes, flipping 3/4 of the way through.
Category:

Side, Gluten Free, Vegan