These Perfect Baked French Fries are sure to be a hit with your entire family! They're great as a side dish or a snack! Instead of being deep-fried, they're baked to perfection in the oven with just a little bit of oil.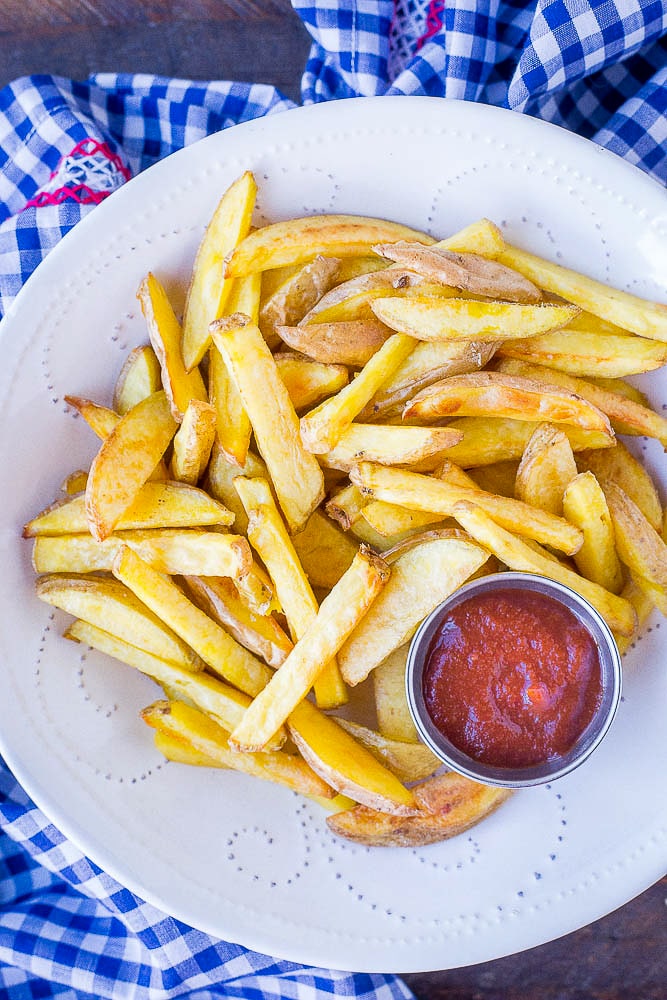 I don't think I know anyone who doesn't like French fries! A few years ago I started making my own and I rarely go back to buying the frozen ones. These Perfect Baked French Fries are a favorite around here and I make them at least once a week. They're also great because you can go as crazy or as minimal with the seasonings as you want.

These days there are lots of different kinds of frozen French fries you can choose from at the grocery store. But, while some might look healthier than others, they're all most likely deep friend in oil before frozen. I love making my own baked French fries because I can control the amount of oil I put in and they are most definitely not deep fried!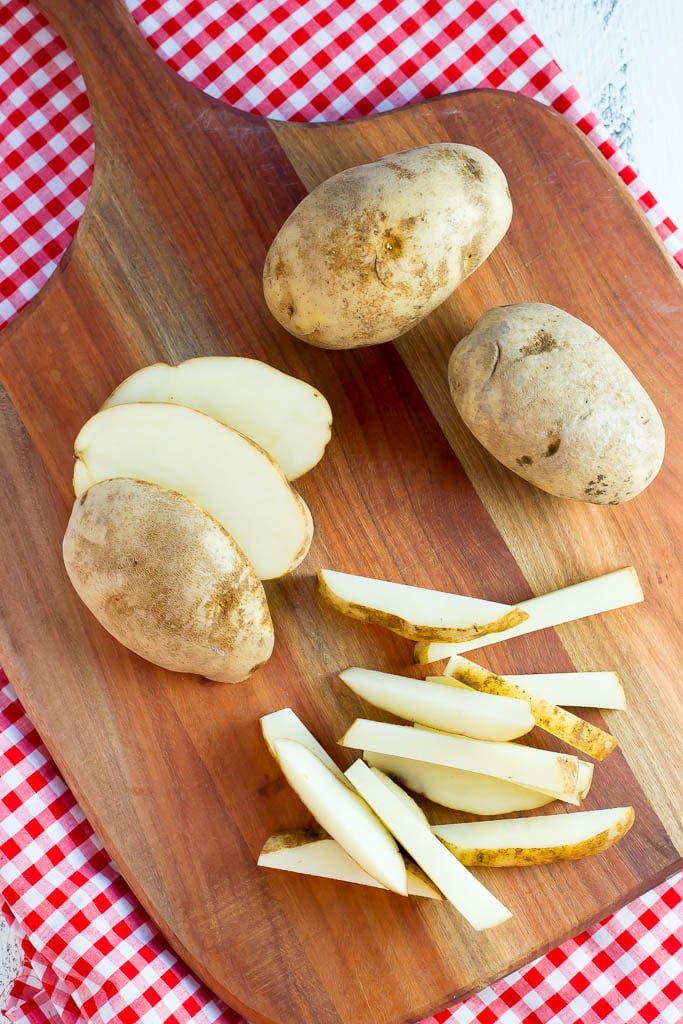 Baked French Fry Recipe Ingredients
Potatoes – This is obviously the most important ingredient 🙂 . I'm happy to say that you can use any potato you like for your homemade French fries. You can even use sweet potatoes! My favorite kind of potatoes to use are either russet or Yukon gold potatoes. The Yukon gold make your baked French fries crispy on the outside and so nice and fluffy on the inside and russet potatoes are classic French fry potatoes!
Oil – You can use any kind of oil you like. A few of my favorites are olive oil, avocado oil and coconut oil. If you use coconut oil you will want to use the refined coconut oil so that it doesn't give your French fries a coconut taste. I haven't tried making them without oil before, but you could probably cut down the oil if you wish. I do sometimes just give a few sprays of avocado oil from the spray bottle and that works great too and helps cut back on the amount of oil.
Seasonings – Seasonings are totally optional but I would recommend at least using salt. In this recipe I just used salt because I wanted to make a classic French fry but sometimes I like to mix it up and use salt, paprika, garlic powder and pepper. It makes for a nice seasoned French fry.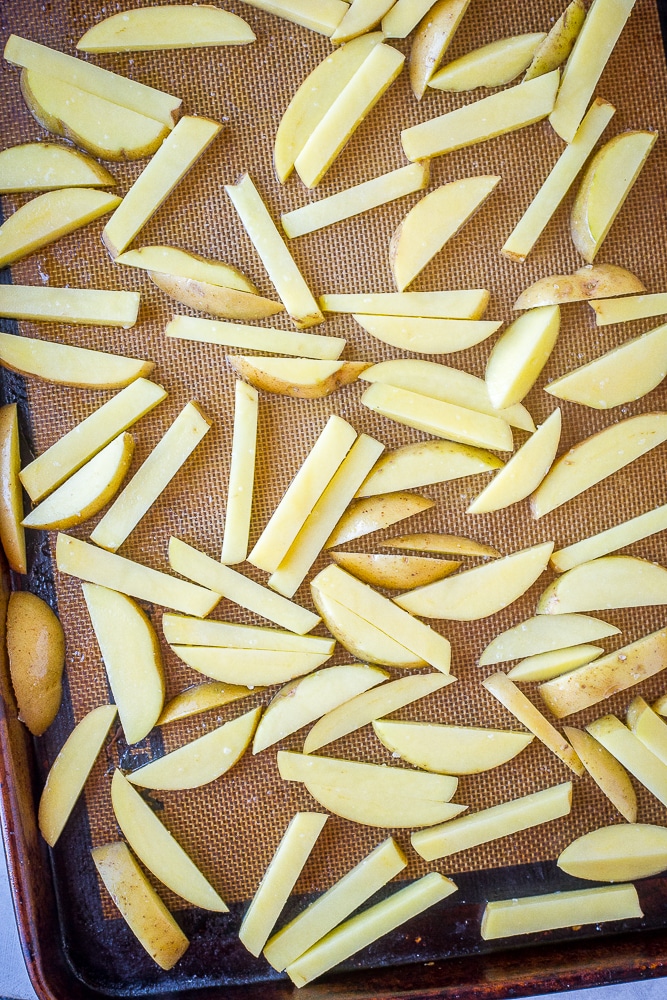 How To Make The Best Homemade Baked French Fries
You can either peel your potatoes or leave the skin on, totally up to you. I usually peel mine if I'm using russet potatoes and making the fries for the kids, but leave the peels on other times. If you're not peeling your potatoes, just make sure to wash them really well because potatoes can have a lot of grit on their skin.
You then want to cut the potatoes into French fry shapes. I have a photo at the top of the post that shows exactly how to do that. It's important to make sure that the fries are all relatively the same shape. You want them all to cook up in the same amount of time which won't happen if some are really small and some are much larger. I also, just in general, try not to make them too thick because they will take much longer to bake and they won't be as crispy.
Some homemade French fry recipes call for soaking the potatoes in cold water before cooking them, but I never bother with that. What it does is remove extra starch from the outside of the cut potatoes which will make them crispier, but I feel like mine crisp up great without that extra step.
Once potatoes are cut you will place them on your baking sheet. I used to always either use parchment paper or a non-stick mat when making baked French fries because I was scared they would stick otherwise. Now, I've found that if I just wait until they are completely crispy on the bottoms, they will flip really easily just straight on the baking sheet. You can definitely use parchment paper or a mat though!
Add the oil and salt on top of the potatoes and toss well to make sure all the potatoes are coated with oil and seasoning. If you're using more than just salt, now is the time to add that in too.
Place fries in the oven and bake for 25-30 minuets, flip them with a spatula. They should be fairly easy to flip if the fries have browned enough. Bake for another 10 minutes or so until each side is perfectly crispy and then remove from the oven. Let cool a few minutes and then serve with your favorite dipping sauce.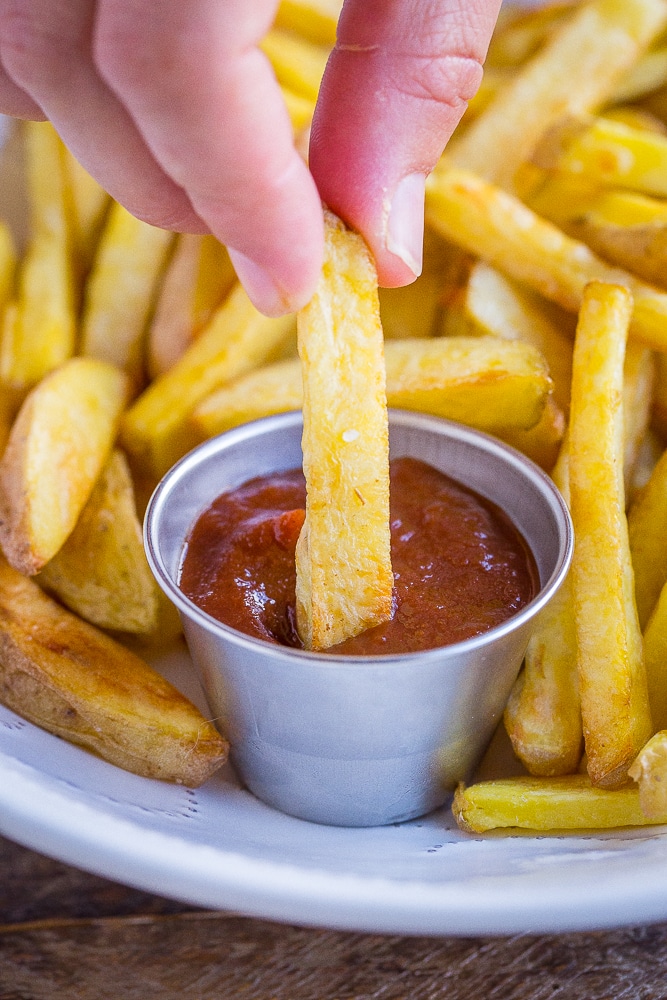 Looking For More Healthy Side Dish Recipes?
Roasted Radishes with Garlic and Herbs
Print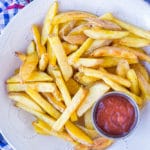 Crispy Oven Baked French Fries
---
Author:

Total Time:

50 minutes

Yield:

4

1

x

Diet:

Vegan
Description
These Baked French Fries are perfectly crispy and much healthier than the deep fried frozen ones!
---
4

medium russet or Yukon gold potatoes

2

–

3

teaspoons olive oil

1/2 teaspoon

salt
---
Instructions
Pre-heat oven to 425 degrees F. Line a large baking sheet with a non-stick mat or parchment paper, if desired.

Wash your potatoes (you can also peel them if you prefer) and cut them into French fry shapes that are about 1/4 inch thick. You want them all to be similar size.  Place potatoes on the baking sheet and drizzle with olive oil and season with salt. Toss to make sure all potatoes are coated with oil and salt.

Bake french fries until starting to crisp up, about 25 minutes, flip once and bake for another 10-15 minutes. Remove from the oven and enjoy with your favorite dipping sauce.  You can also bake them a little longer if you want them to be more crisp.

Let cool for a few minutes and enjoy with your favorite dipping sauce.
Prep Time:

10 mins

Cook Time:

40 mins

Category:

Side, Gluten Free, Vegan

Method:

Oven

Cuisine:

American
Keywords: Baked French Fries