These Spaghetti Squash and Black Bean Enchiladas are hearty, filling and full of flavor! They're perfect for a fall/winter themed vegetarian dinner recipe.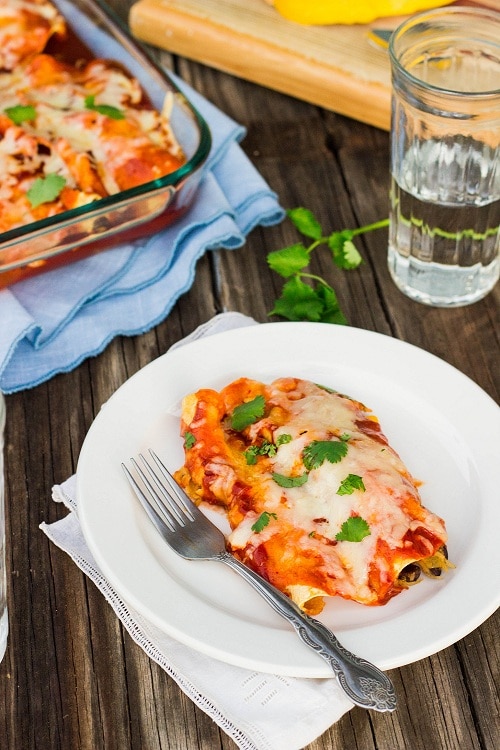 Mmmm… Mexican Food. I could truly it eat everyday of my life and not get tired of it. While it helps that there are so many different varieties to choose from; tacos, quesadillas, fajitas, and my absolute favorite, nachos, I think I could survive on only one of those varieties and never get bored of it. That being said, as someone who loves to cook and experiment with different recipes, I have a lot of fun coming up with new ways to cook old favorites, such as enchiladas.
What could be better than warm corn tortillas wrapped around melted cheese, topped with a spicy enchiladas sauce, you ask? How about adding some spaghetti squash, black beans, corn, and green chillies? I realize that a few posts ago I was so excited about the arrival of Spring, but then I realized that I had gone the entire winter without eating any spaghetti squash and I had to remedy that. If you have never tried spaghetti squash before you really should give it a try. When you cut it in half and boil, or roast it, it gets very soft and you can easily scoop out all yummy goodness on the inside. It comes out in long pieces that resemble spaghetti noodles, hence the name spaghetti squash. You can use it as a great alternative to pasta, or you can stuff it into enchiladas, which is exactly what I did here.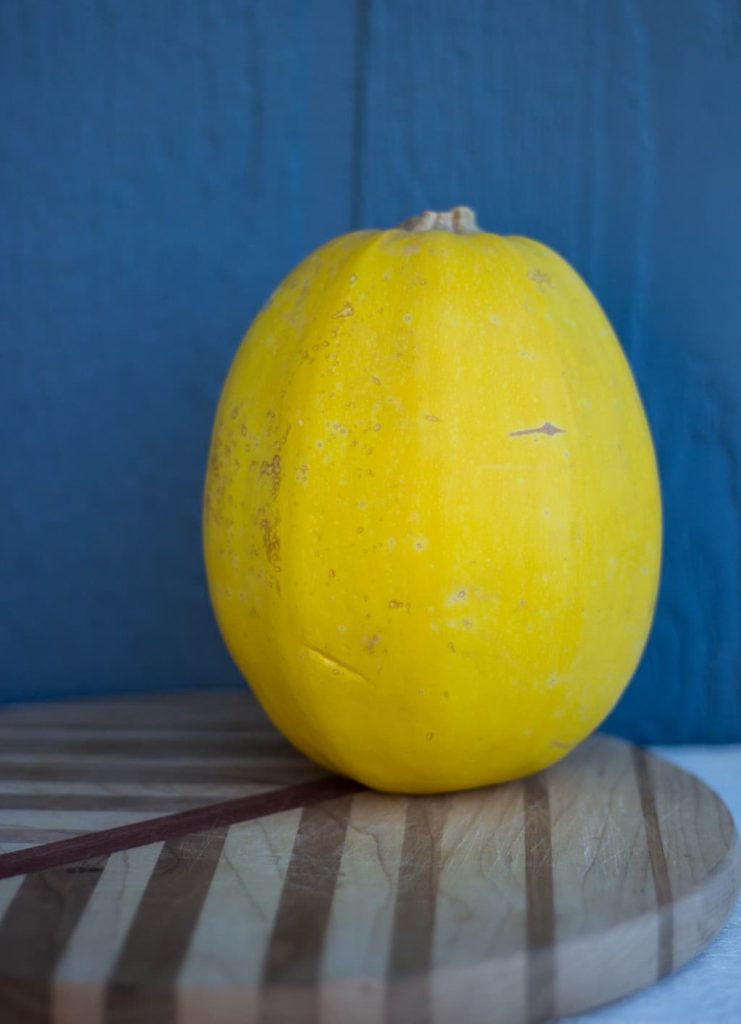 Since it does take a little time to bake the squash until it is tender, I used a short cut method for this recipe. I cut the squash in half, scooped out all the seeds and other inards, and then I took a spoon and scraped out all of the meat of the squash. I then cooked the squash over medium heat for about 10 – 15 minutes until it was tender. This method worked great for these enchiladas because I wanted the squash in smaller pieces rather than in spaghetti size pieces.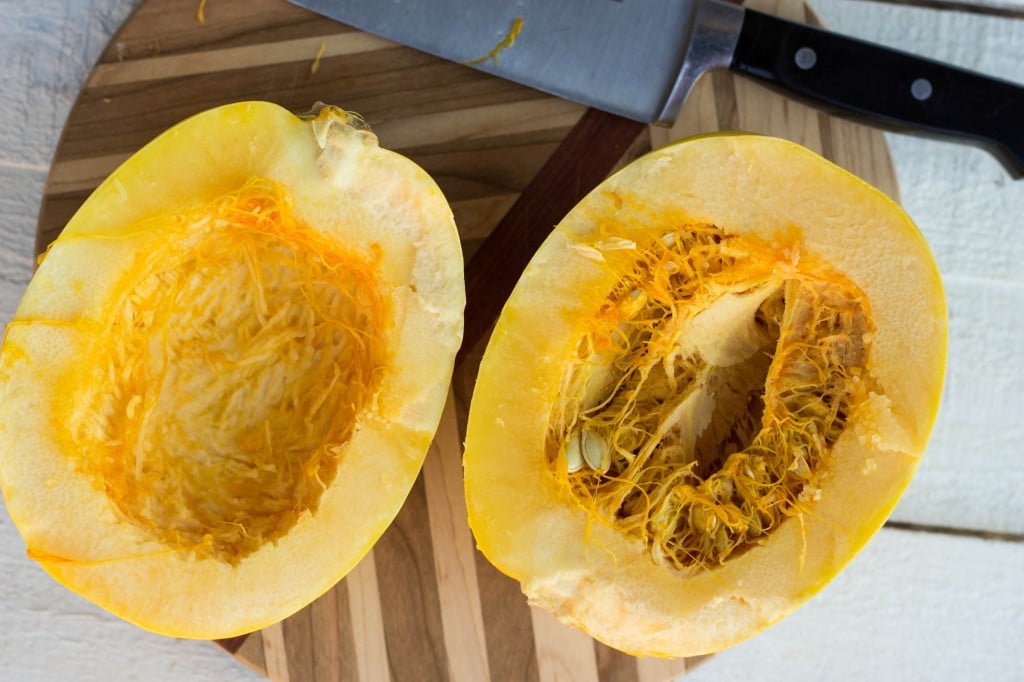 And yes, I think that is my reflection in the spoon, oops!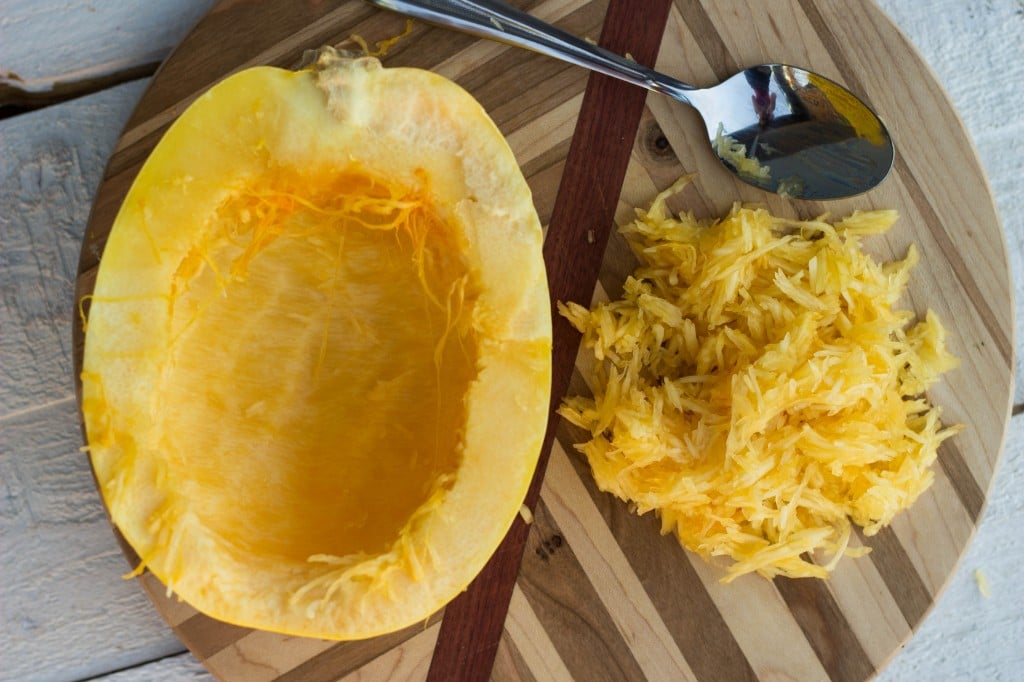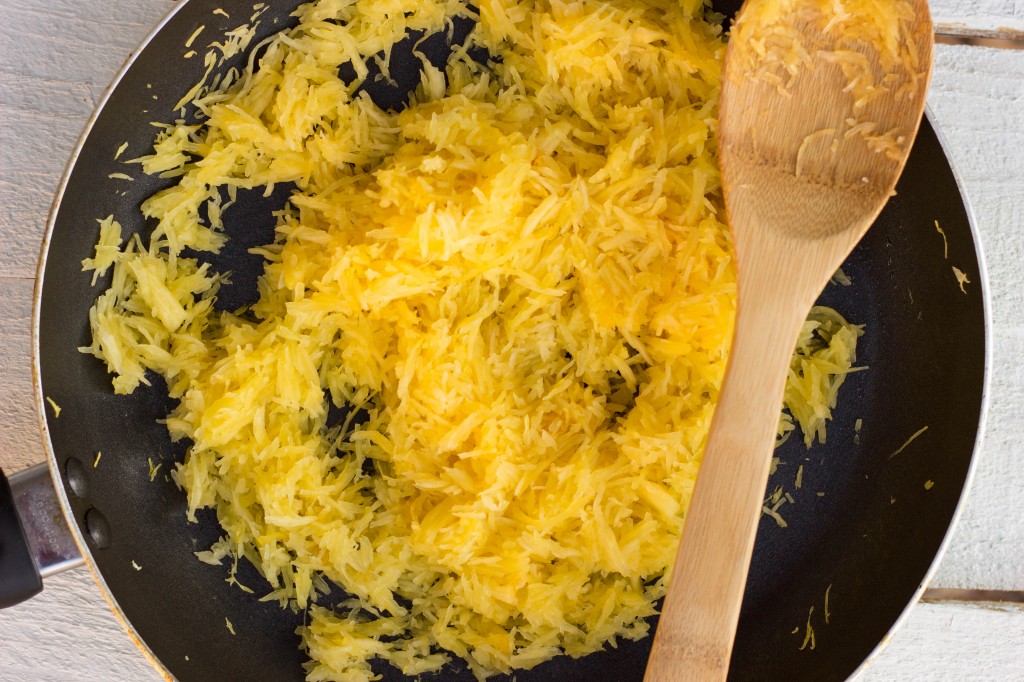 When it comes to getting dinner on the table after a long day of work, faster is always better in my opinion. If my dinner takes too long, I usually end up filling up on snacks and then am almost too full to eat the dinner I just spent over an hour cooking. I am always the person at the Mexican restaurant that eats way too much of the free chips and salsa and is then way too full to eat my dinner when it finally comes. You think I would eventually learn to limit my chips and salsa in take, but I guess I just love chips and salsa way to much! And plus, you can take your dinner home for leftovers, but I think it might be frowned upon to ask for a to-go container for the complimentary chips and salsa, not that I've ever tried to do that….. 🙂
*Very helpful tip: warm the corn tortillas in a pan over medium heat for a few minutes before you stuff them with filling and roll them, otherwise they will break a little bit. As you can see, sometimes even when you think you have warmed them enough, they still break a little bit! If that happens, don't worry, we will cover them with cheese and no one will ever know!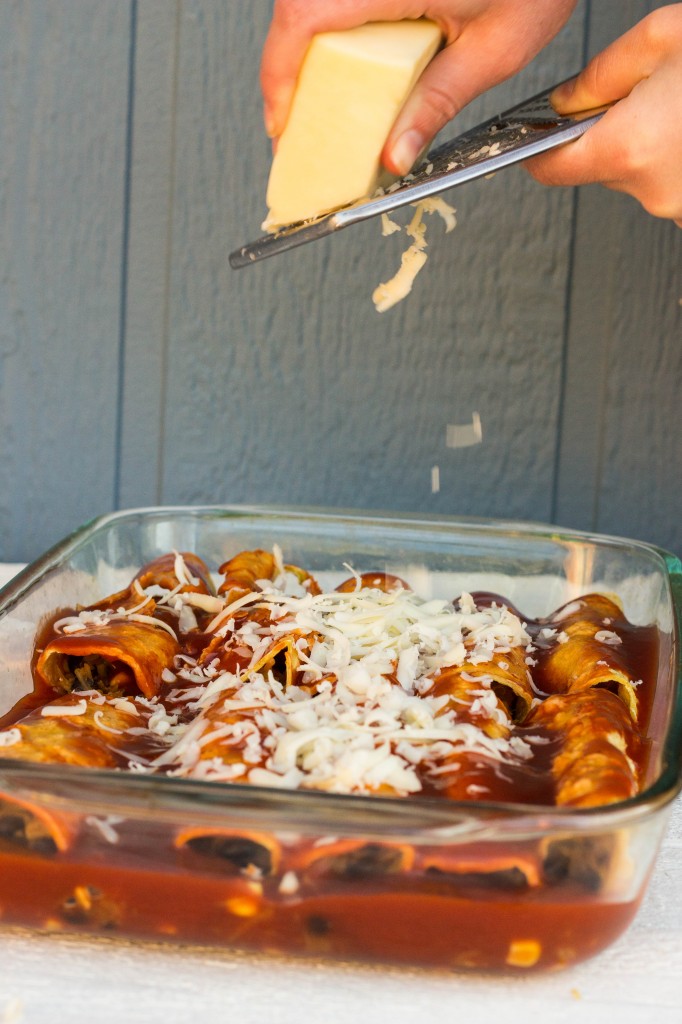 Bake for about 20 – 25 minutes until cheese is melted and bubbly.
Print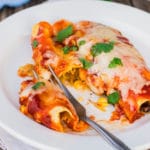 Spaghetti Squash & Black Bean Enchiladas
---
Author:

Prep Time:

30

Cook Time:

20

Total Time:

50 minutes

Yield:

12

1

x
Category:

Dinner, Vegetarian

Method:

Oven

Cuisine:

Mexican

Diet:

Vegetarian
Description
These Spaghetti Squash & Black Bean Enchiladas are hearty, filling and flavorful!
---
Ingredients
10

corn tortillas

1

medium sized spaghetti squash

1

15 oz can of black beans, drained and rinsed

1

small can of corn (

8.75 oz

), drained and rinsed

1

4 oz can of green chilies, you can drain a little of the liquid out if you want

2 cups

enchilada sauce, more or less depending on how saucy you like your enchiladas

1/2 cup

cheese, grated, I used monterrey jack

1/2 teaspoon

salt

1/4 teaspoon

black pepper

1/2 teaspoon

garlic powder

1 teaspoon

ground cumin

1 teaspoon

paprika

1/2 teaspoon

olive oil
Cilantro, for garnish, if desired
---
Instructions
Preheat the oven to 375 degrees F.  Using a sharp knife, cut the spaghetti squash in half and scoop out the seeds.  Using a metal spoon, scrape out the spaghetti squash by running the spoon down the inside of the squash. It should be easy to get out and it will come out in small pieces. (see above photos) Scrape until you have about 3 cups.
Heat a large saucepan over medium heat and add the olive oil. Then add the spaghetti squash and a pinch of salt. Cook for about 10 minutes, until spaghetti squash is soft and tender.  Add the black beans, corn, green chilies and all the spices.  Cook mixture until everything is heated through.
Pour 3/4 cup of enchilada sauce into the bottom of a 9×12 baking dish.  Warm the corn tortillas in a saucepan over medium heat, in the oven, or in the microwave.
Fill each tortilla with about 2/3 cup of filling, roll, and place in baking dish seam side down. Repeat until you have all of your tortillas filled.
Pour about 1 1/4 cup of enchilada sauce over the top of the enchiladas.  Sprinkle cheese over the top. Place in the preheated oven and bake for about 20 – 25 minutes, until heated through and cheese is melted.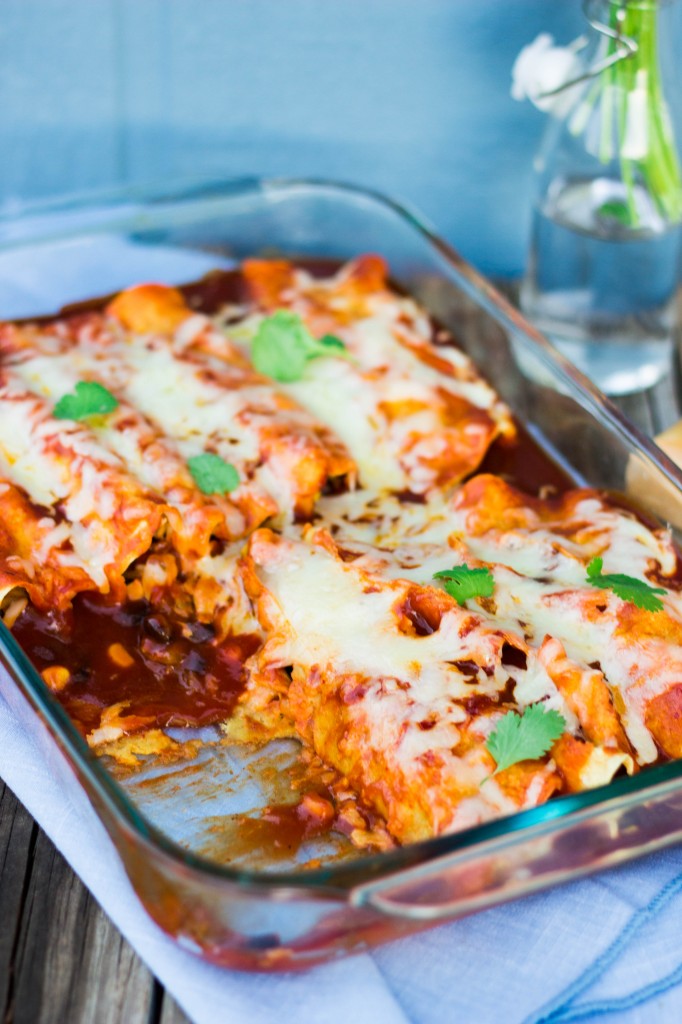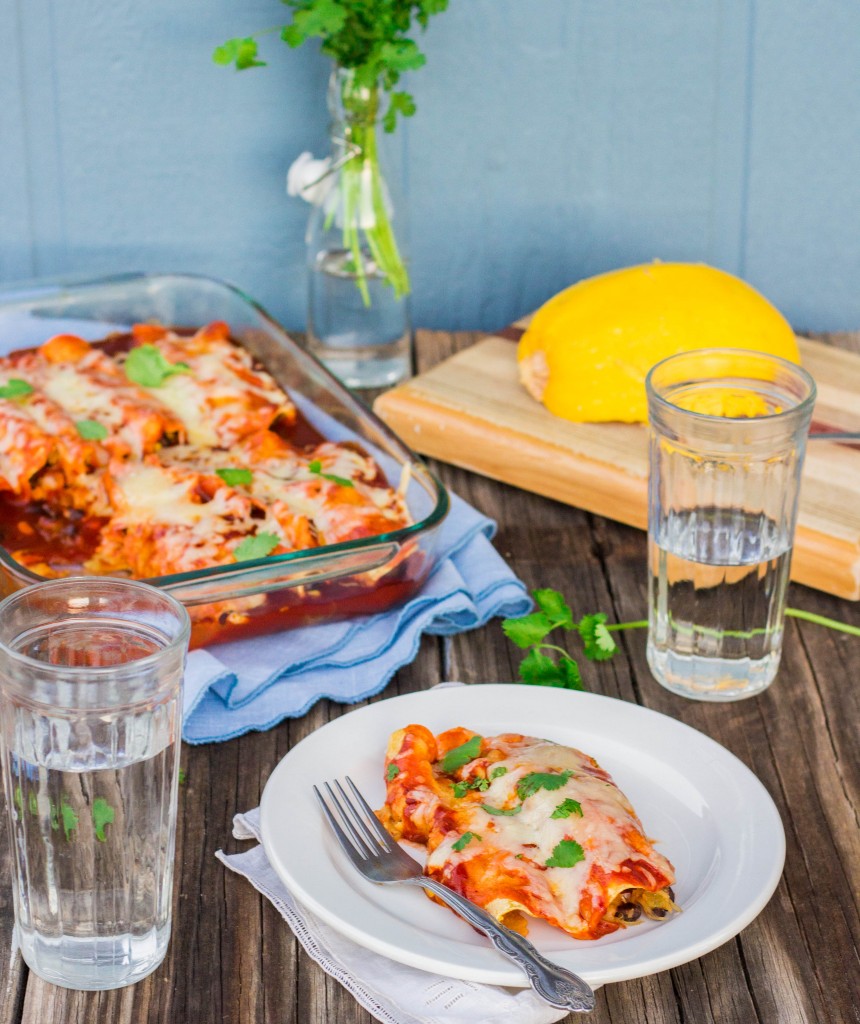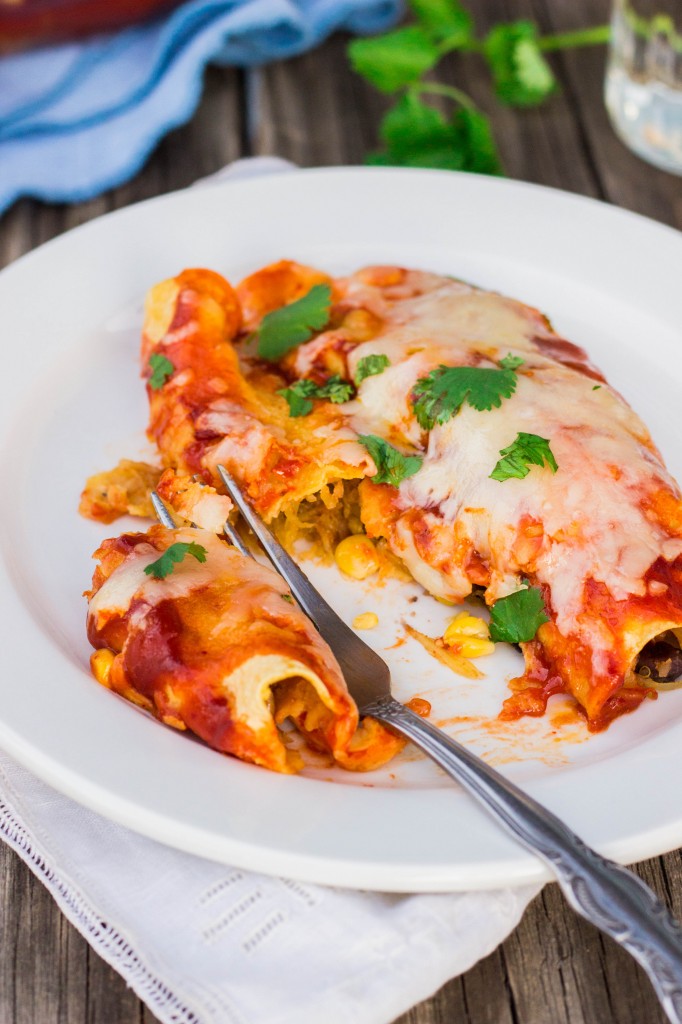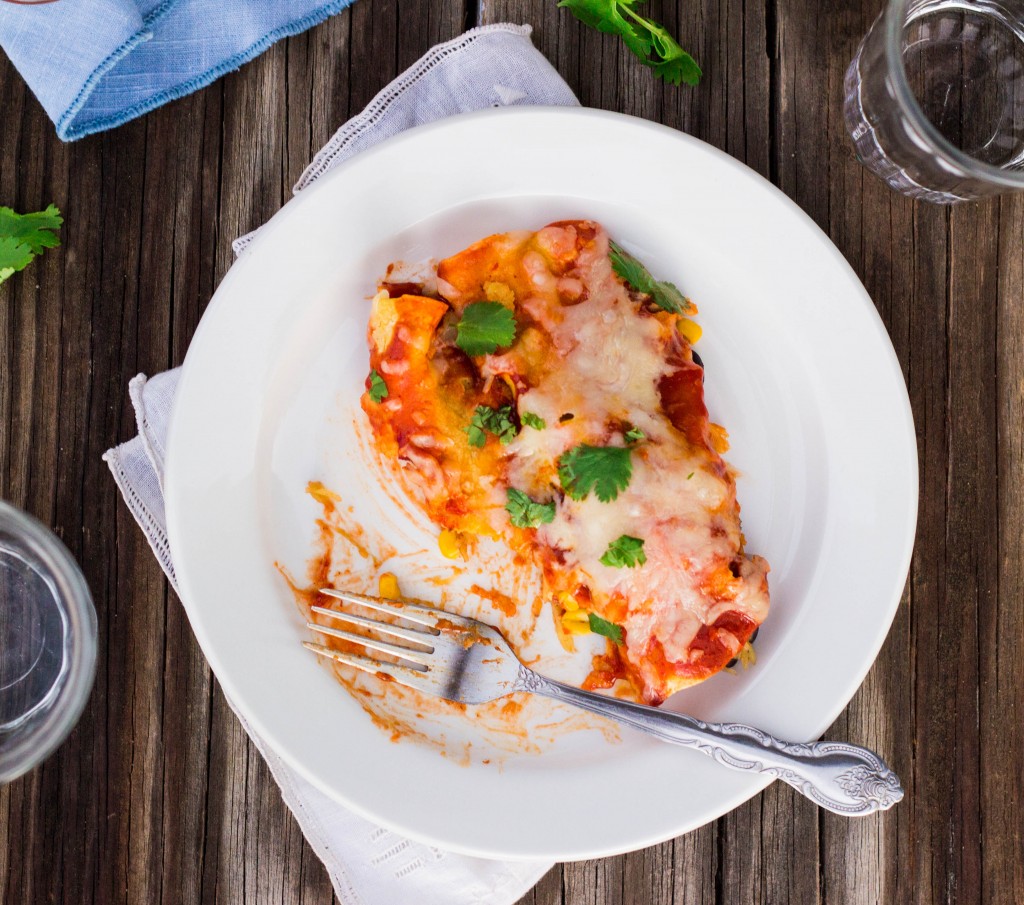 My little enchilada!