These Spring Vegetable and Meatless Meatball Bowls are hearty, delicious and filling!  They're loaded with veggies, quinoa, meatless meatballs and then topped off with fresh pesto!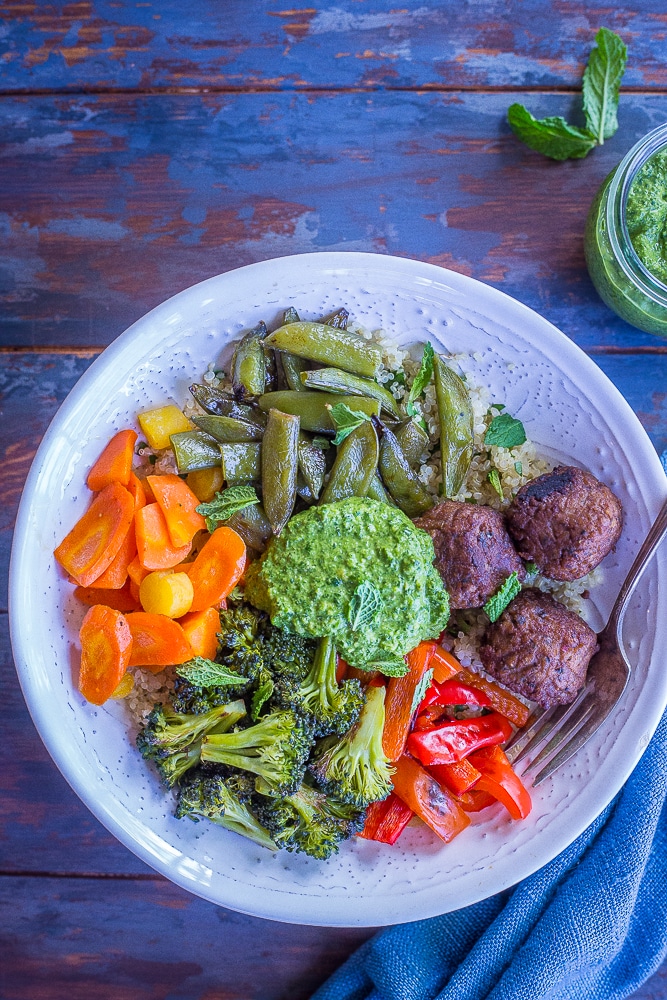 This post has been sponsored by Gardein and Earth Balance products. All thoughts and opinions are my own.
I feel like these Spring Vegetable Bowls are perfect for this time of year.  The time when you really want to be eating spring produce but it's also a little cold out and you want comfort food.  If that's you, I got you covered!
Let's talk about grocery shopping with a small, unpredictable, toddler.  Somedays Eli is amazing at the grocery store.  He charms everyone we pass by waving and smiling to them and I feel so proud.  Other days, he cries and squirms the entire time and I want to pretend we aren't related 🙂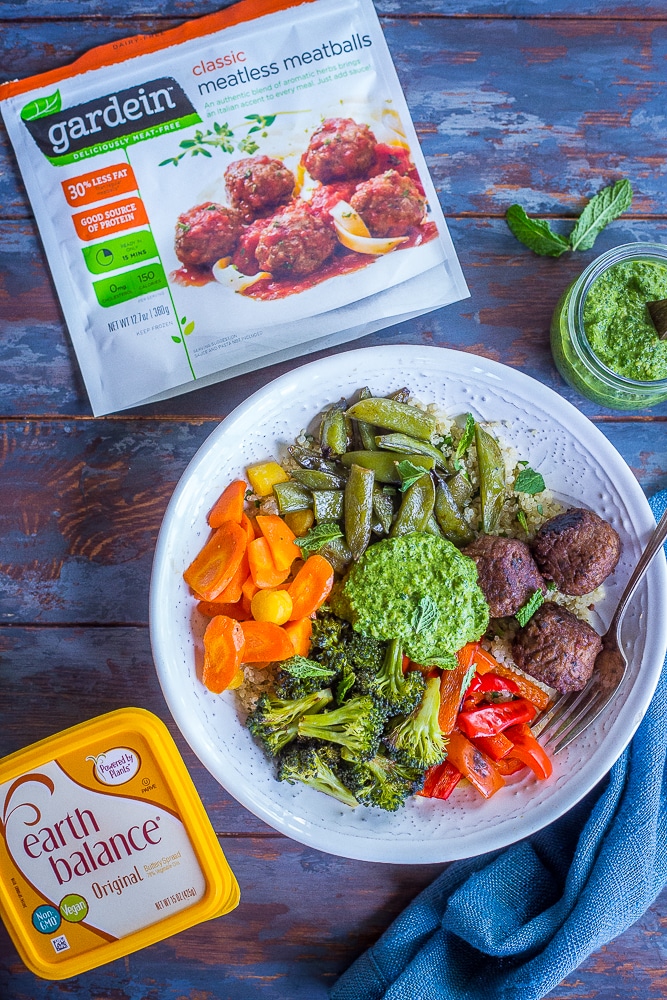 Recently, he's been getting a few new teeth in and he has not been the best grocery shopping partner.  My goal is to get in and out as fast I can and if the first store I go to doesn't have an ingredient, it's getting cut from the recipe.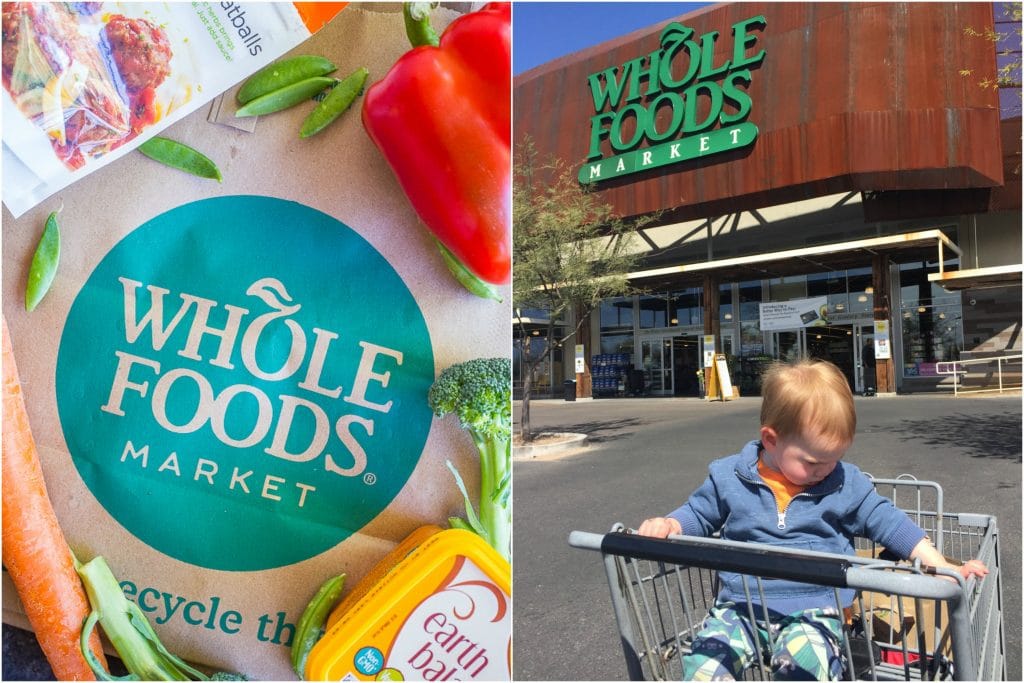 I went to Whole Foods a few days ago to buy the ingredients for these Spring Vegetable and Meatless Meatball Bowls and I was trying to get my stuff as fast as I could.  I made my way to the frozen food aisle for my favorite Gardein™ Meatless Meatballs and sure enough, they were completely out.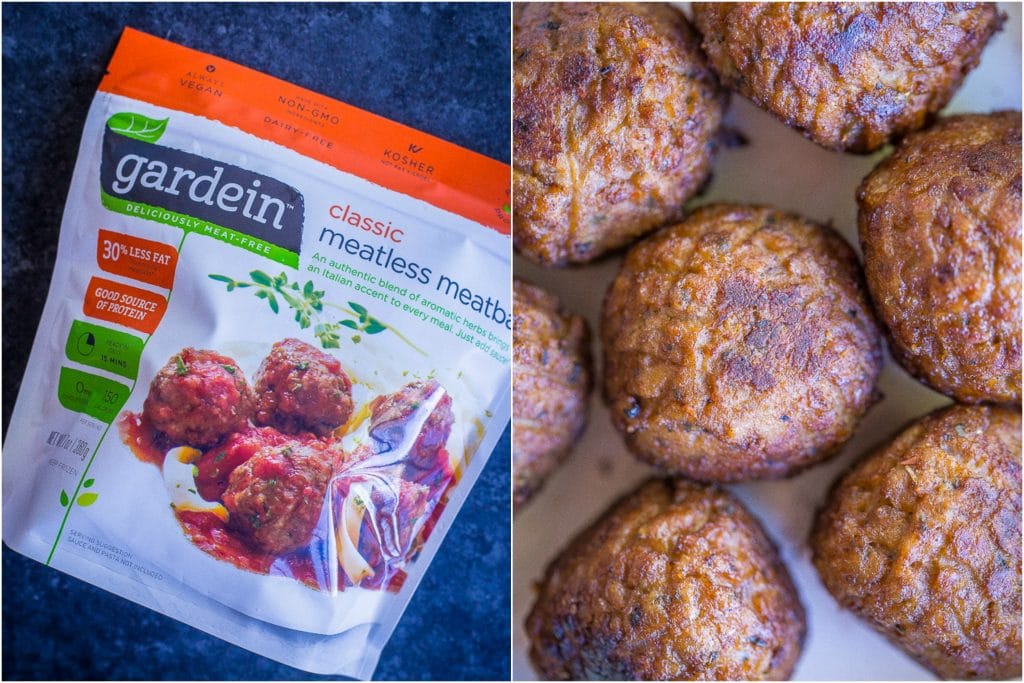 I died inside for a second thinking I'd just have to make these some other time because I was not going to another grocery store.  Then, all of a sudden an amazing woman appeared out of nowhere with boxes upon boxes of frozen food to stock.  And, sure enough she had a big box of these meatless meatballs on her cart!  She had to spend a few minutes digging for them but she didn't mind at all because she knew that I was in a hurry.  I literally could have hugged her!  Major points for Whole Foods!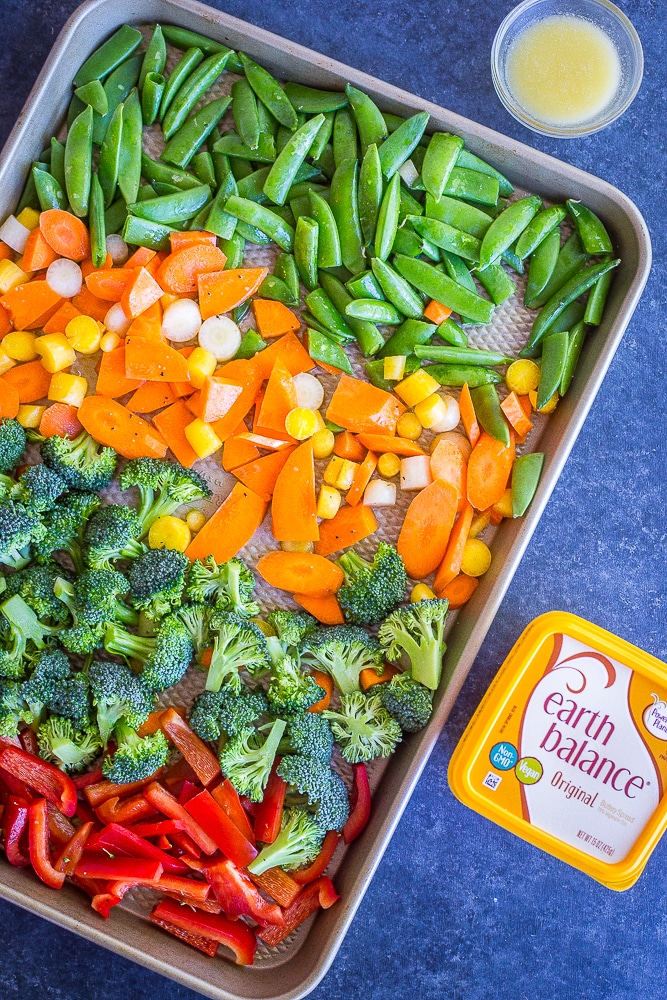 I was able to get my Gardein Meatless Meatballs, Earth Balance Buttery Spread and all my veggies and come home and make these delicious bowls!  You can find your local Whole Foods here, and use this coupon to save!
While I am a vegetarian, my husband is not.  But, over the past year I have gotten him to eat so many more vegetarian meals and it makes me so happy.  He especially loves these meatless meatballs so we eat a lot of them around here.  They have such great texture and flavor that I'm certain he doesn't miss the regular ones at all.  This makes it easier to choose plant-based food without giving up taste, convenience, or quality 🙂
I've been using Earth Balance for so many years now and even though I'm not completely dairy free, I always use Earth Balance instead of butter.
You can sub it 1-for-1 in any recipe that calls for butter and it tastes great!  It gives these roasted veggies a nice rich taste that makes them a little more special than usual 🙂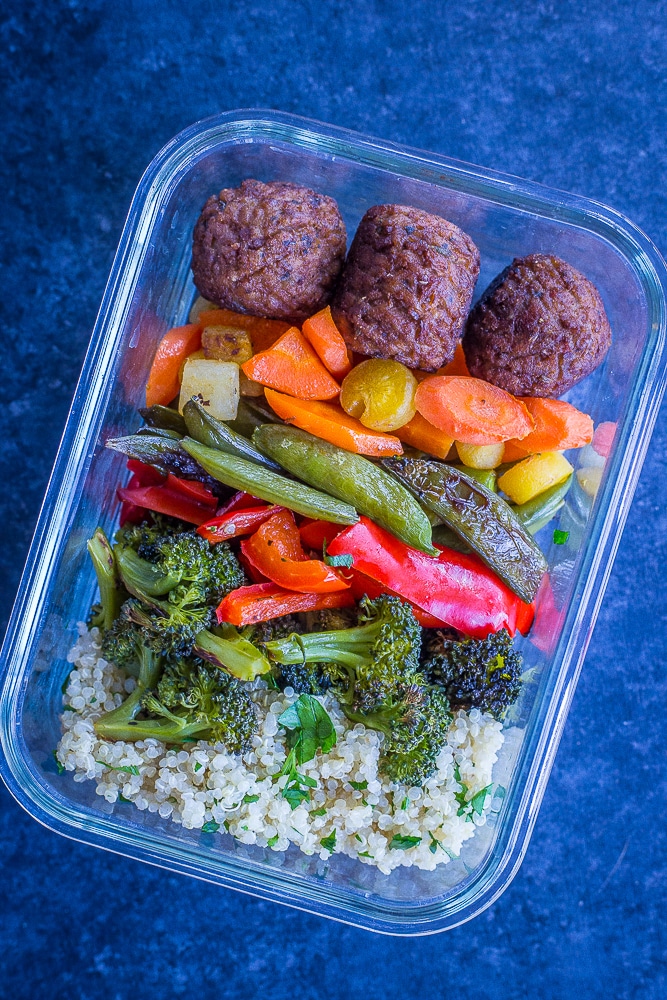 These Spring Vegetable and Meatless Meatball Bowls with Pesto are great for a quick and easy dinner or a healthier meal prep lunch!  The roasted broccoli doesn't last quite as long as my usual meal prep lunches, but they're great for taking 2 days in a row.  I hope you enjoy!
Be sure to utilize these savings during your next visit to Whole Foods for the Gardein Meatless Meatballs and Earth Balance Original Buttery Spread → https://ibotta.com/rebates?q=GardeinEarthBalance
Print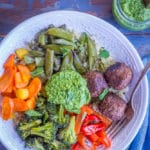 Spring Vegetable and Meatless Meatball Bowls with Pesto
---
Author:

Total Time:

1 hour

Yield:

4

1

x
Description
This hearty and filling bowls are packed with roasted spring veggies, vegetarian meatballs and pesto!
---
2 cups

small broccoli florets

2 cups

thinly sliced carrots

2 cups

sugar snap peas, cut in half

1

large red bell pepper, diced

2 teaspoons

Earth Balance Buttery Spread, melted

1/2 teaspoon

salt

1/4 teaspoon

black pepper

3/4 cup

dried quinoa

2 tablespoons

chopped fresh herbs, I used parsley

1

bag Gardein's Classic Meatless Meatballs

1 cup

pesto sauce, store-bought or you can use the recipe below for my Spinach Mint Pesto
Spinach Mint Pesto:
2 1/2 cup

baby spinach leaves

1/2 cup

fresh mint leaves

1/4 cup

chopped walnuts, or your favorite nut

3 tablespoons

nutritional yeast
Juice of

1

lime

1

clove garlic, minced

1/2 teaspoon

salt

1/4 cup

olive oil
---
Instructions
Pre-heat oven to 400 degrees F.  Place all the diced veggies on a large baking sheet and toss with the melted Earth Balance, salt and pepper.  Roast veggies until fork tender, 30-40 minutes, flipping once.
Rinse quinoa and add it to a medium sized pot with 1 1/2 cups water.  Bring to a simmer and cook quinoa until tender, 10-12 minutes.  Let quinoa cool and then mix in chopped herbs.  You could also add some salt, to taste, if desired.
Heat a large pan over medium heat and spray with cooking spray, or use 1/2 teaspoon olive oil.  Add meatballs to the pan and cook until browned and warmed through, 7-10 minutes.
If using homemade pesto: add all pesto ingredients to a food processor, or blender, and blend until smooth.
Assemble bowls: to each bowl add, 1/2 cup quinoa, 1/4 of the roasted veggies, 3 meatballs and about 1/4 cup of pesto.  Sprinkle with fresh herbs, if desired.
Notes
Recipe makes 4 bowls.  This recipe is great for dinner or a meal prep lunch!  It can be stored in the refrigerator for up to 2 days. (The roasted broccoli doesn't do quite as well if left longer.)
Prep Time:

20 mins

Cook Time:

40 mins

Category:

Dinner, Lunch, Vegetarian
SaveSave
SaveSave
SaveSave