These Vegan Meatballs are crisp on the outside and tender on the inside! They're loaded with tons of flavor and easy to make. Enjoy them with pasta, in your favorite sauce or in a sandwich!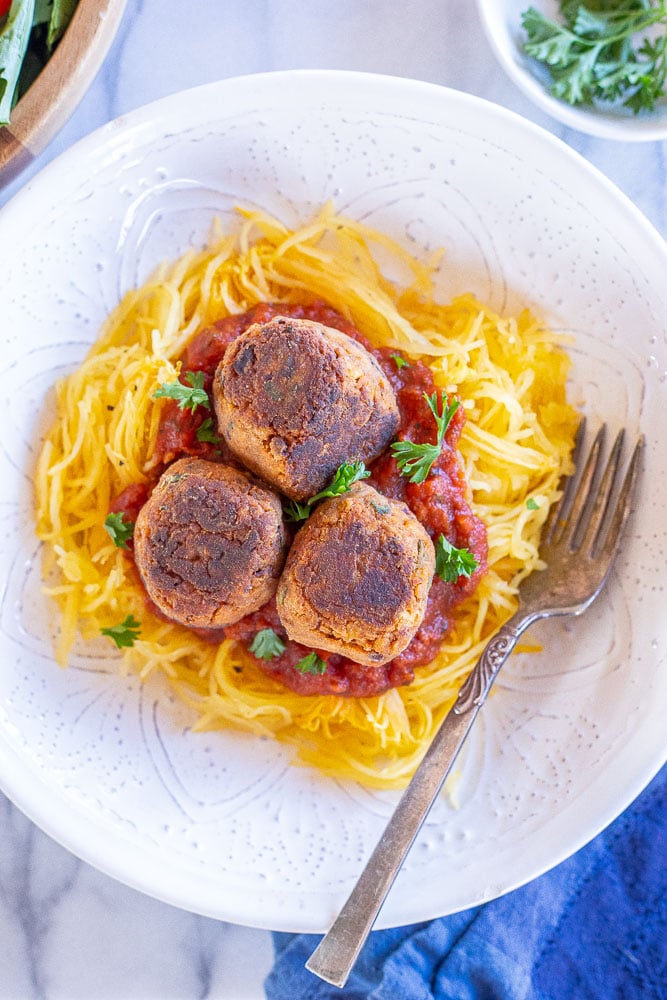 Let's talk Vegan Meatballs! I know some people who don't eat meat have a problem with vegan/vegetarian counterparts being referred to with the same name, like Vegan Meatballs or vegan chicken patties. Buttttt, us bloggers have to optimize our posts for google these days and I don't think there are many people googling "veggie bean balls" 🙂
Vegan and vegetarian versions of meat products can sometimes be hard to nail when making homemade. I think a lot of people expect them to have a similar texture as their meat counterparts. I find a lot of store-bought vegan meat products do have similar texture as the meat ones, but that isn't always the case when preparing them at home using whole ingredients.
These Vegan Meatballs are not super meaty like a store-bought vegan meatball, but I do feel that they're texture holds up nicely.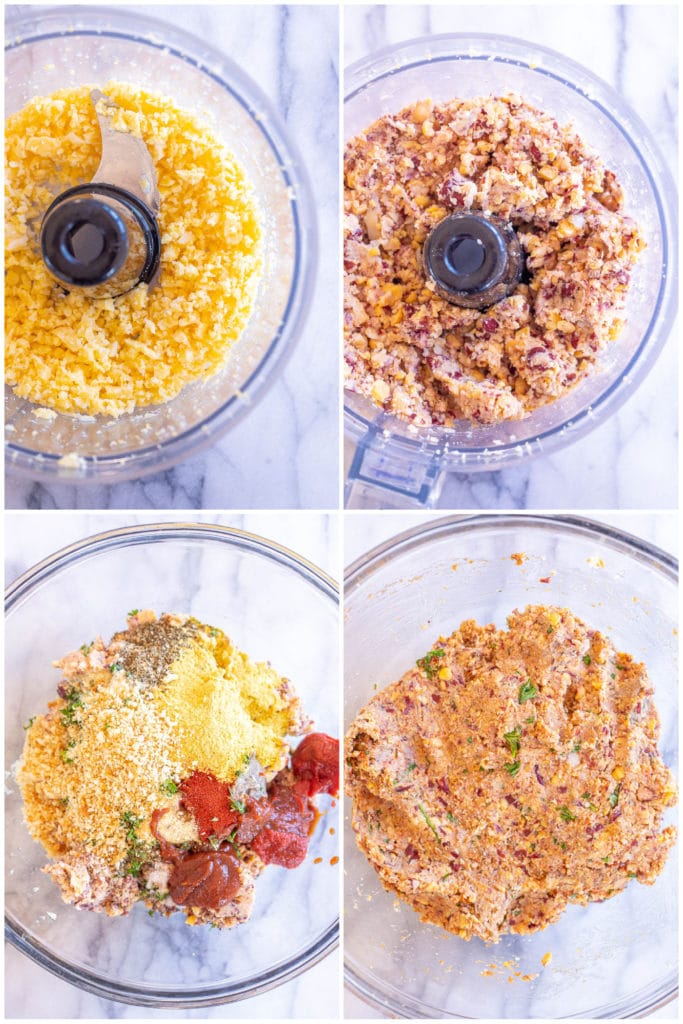 INGREDIENTS NEEDED FOR THIS VEGAN MEATBALL RECIPE
Beans – I used chickpeas and dark red kidney beans for these vegan meatballs. I like chickpeas because they're not as soft as other beans and have a very neutral taste and the kidney beans add nice color and have more of a meaty texture.
Polenta – Honestly, I kind of randomly decided to throw this in and it worked great! I just used a few sliced from a tube of cooked polenta and it acted as a nice binder and filler in the meatballs.
Chia Egg – Lately, I've been using ground chia seeds to make a vegan egg, rather than flax, because it seems to have more of an egg like texture but you could use either. You could also use a real egg if making vegetarian.
Breadcrumbs – I used plain Panko breadcrumbs. They help bind the vegan meatballs together nicely.
Tomato Paste & Ketchup – These are very similar ingredients but I like to use a mixture of the two because each has a little bit different of a flavor and the ketchup isn't as thick as the tomato paste. Feel free to use one or the other if you prefer though.
Fresh Herbs – I love adding fresh herbs! I used thyme and parsley but you could use any fresh herbs you like. And, if you don't happen to have any fresh ones on hand, dry is good too.
Spices – The beans and polenta are a little bland on their own, so lots of spices give these meatballs such great flavor.
Nutritional Yeast – Growing up, my mom always added parmesan to her meatballs and I loved it, so I decided to throw a few tablespoons of nutritional yeast in and it gives them a very subtle cheese flavor that I love.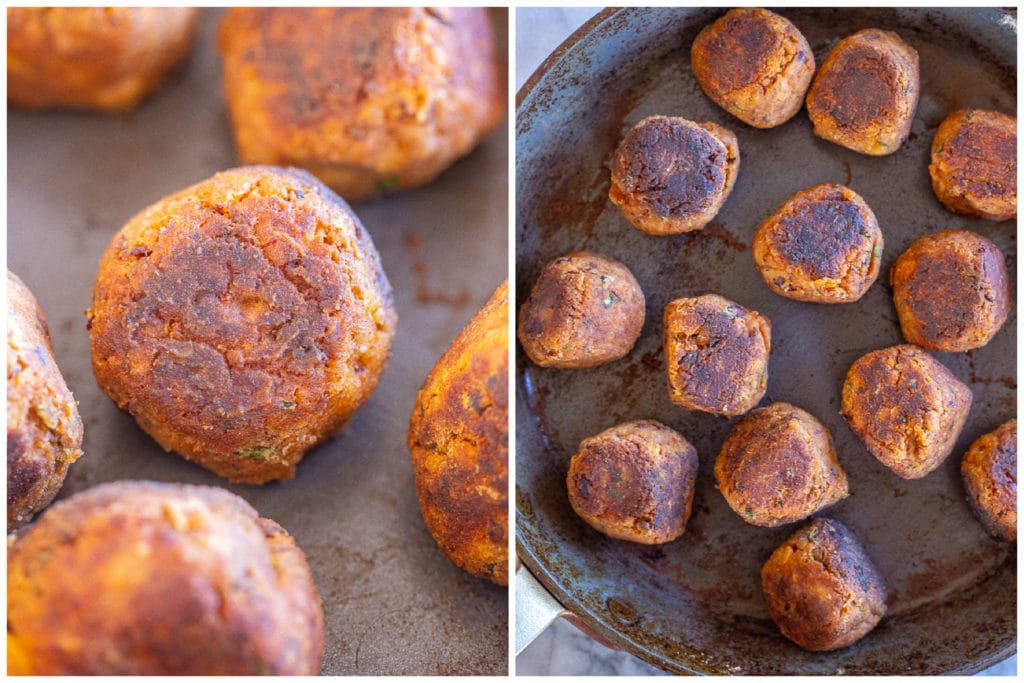 WHAT MAKES THESE VEGETARIAN MEATBALLS SO DELICIOUS?
The flavors and texture of these vegetarian meatballs are really great, but I think the thing that makes them taste most like my mom's turkey meatballs is that I roll them in flour before cooking them. It might sound like a small step, but it really does make a huge different! All you need to do is roll each meatball in some flour until it's completely coated, just a light coating, and then place it in a hot pan with a good amount of olive oil.
This makes the meatballs get a really nice crust on the outside and also adds really great flavor! I don't suggest skipping this step! Gluten free AP flour, or even almond flour, would work great too.
HOW TO ENJOY THESE MEATBALLS
Obviously you can enjoy these vegan meatballs however you like! But, in case you are curious, here are a few ways we like to eat them:
My 1 1/2 year old likes to just take one in his hand and eat it plain as a snack 🙂
I love these meatballs on spaghetti squash, or regular pasta, with tomato sauce. Classic and delicious.
You could make a meatball sub with them by toasting a hoagie and adding tomato sauce, cheese and meatballs and heating in the oven.
You can slice them up and add them to a pizza.
You could heat them in some tomato sauce and enjoy them on top of a bowl of polenta.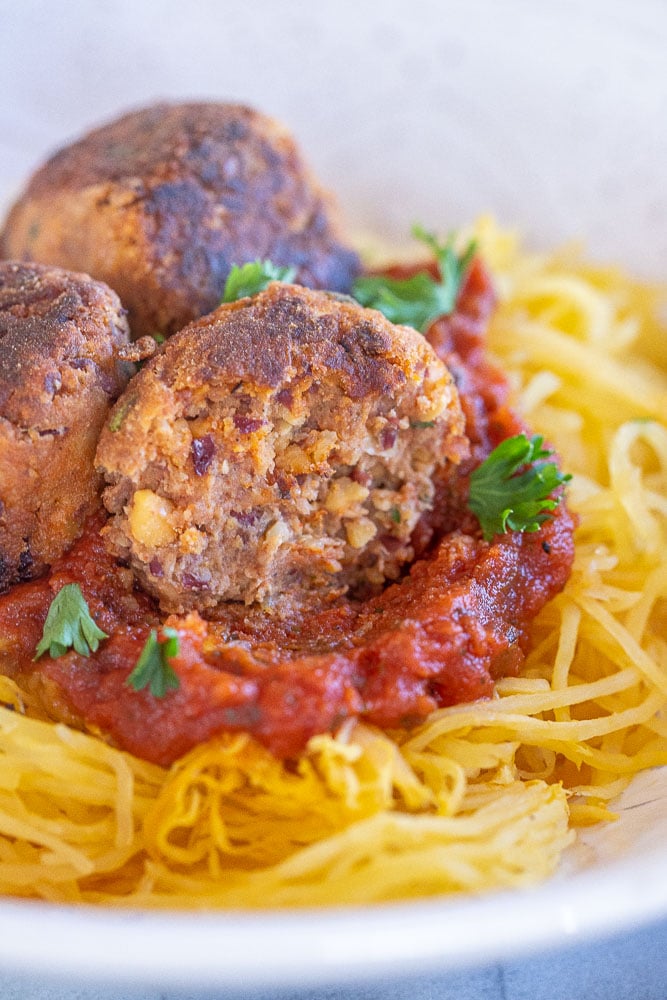 Check Out Other Delicious Filling Vegan Recipes:
Vegan Meatloaf with Lentils and Chickpeas
Polenta Parmesan with Spinach and White Beans
Print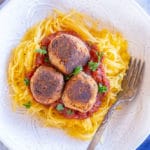 Vegan Meatballs
---
Author:

Total Time:

55 minutes

Yield:

2

0

1

x

Diet:

Vegan
Description
These Vegan Meatballs are crisp on the outside and tender on the inside! They're loaded with tons of flavor and easy to make.
---
3

(1/2 inch) slices of polenta from a tube, a little less than half

1

(15 oz) can chickpeas, drained and rinsed

1

(15 oz) can dark red kidney beans, drained and rinsed

1

chia egg (mix one heaping tablespoon ground chia seed with

3 tablespoons

water and let sit for 2 minutes)

1/4 cup

bread crumbs

4 tablespoons

nutritional yeast

3 tablespoons

ketchup (I like to use True Made Foods sugar free ketchup)

2 tablespoons

tomato paste

2 tablespoons

chopped fresh parsley

1 tablespoon

grated onion, or finely chopped

2

cloves garlic, grated

1 teaspoon

smoked paprika

1 teaspoon

dried basil

1 teaspoon

garlic powder

1 teaspoon

onion powder

1 teaspoon

salt

1/2 teaspoon

black pepper

1/3 cup

flour
Olive oil for frying
---
Instructions
Add the polenta to a food processor and pulse a few times until it's broken down.  Next, add the chickpeas and kidney beans to the food processor and pulse a few more times until you have a thick mixture.  You don't want it completely blended to a paste.
Add mixture to a bowl and then add all the remaining ingredients, except the flour.  Mix until combined and refrigerate mixture for at least 30 minutes.  Longer is ok too.
Heat a large skillet over medium heat until it's hot and then add in olive oil (I used about 1 tablespoon).  Use a 1 tablespoon scoop to scoop the meatball mixture and then roll between your hands.  Roll in the flour until it's completely coated and then place in the hot oil.
Cook meatballs until brown and crispy on the outside and cooked through on the inside, 7-10 minutes.  Let them sit for about 5-10 minutes in the pan before serving and they will firm up a little bit.
Notes
If you want to cook them with tomato sauce, I would suggest browning them first and then adding in the sauce.
Recipe makes about 20 meatballs.
Prep Time:

45 mins

Cook Time:

10 mins

Category:

Dinner, Vegan

Method:

Stovetop

Cuisine:

Italian/American
Keywords: Vegan Meatballs