This Vegan Orange Chicken is SO good! It's full of fresh orange flavor, it's crispy and has perfect texture. You'd never believe it's made with cauliflower! And, kids love it!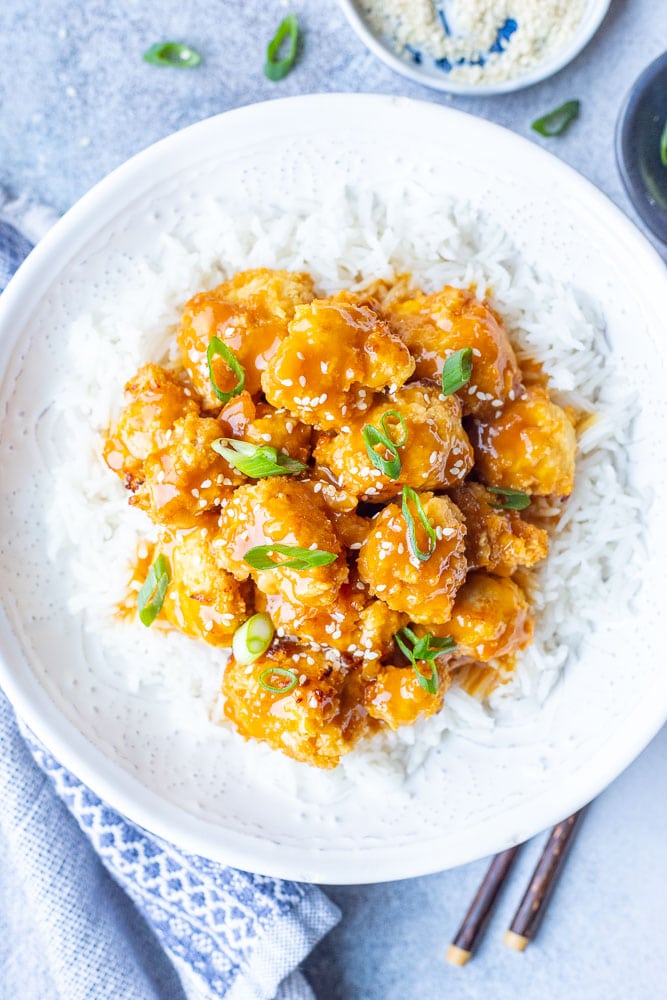 I am SO excited about this Vegan Orange Chicken recipe! It's crispy, the cauliflower has amazing texture, and the homemade orange sauce is so flavorful! I have a Vegan Orange Tofu recipe that I made years ago, but this orange "chicken" made with cauliflower is my new favorite!
I was inspired to create this recipe after making Jessica In The Kitchen's Cauliflower Hot Wings for the Super Bowl. The texture of the cauliflower was so great, crispy on the outside and tender on the inside, and it was so tasty mixed with the sauce. I immediately decided I had to try her technique to make the BEST Vegan Orange Chicken!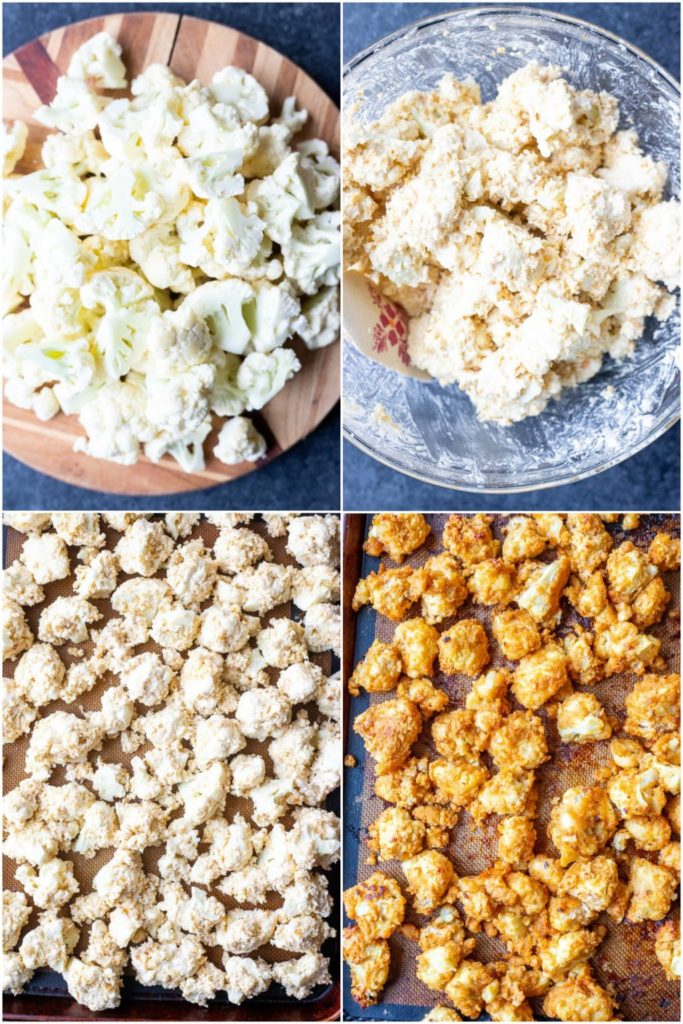 THE BEST VEGAN ORANGE CHICKEN RECIPE INGREDIENTS
Cauliflower – You will need to use fresh cauliflower for this recipe. I would recommend a medium sized head of cauliflower. You want just enough florets to fill the baking sheet but you don't want them crowded or else they won't get crispy. I used white cauliflower but you could also use purple or yellow.
Batter – The batter is made by mixing together equal parts flour and plain almond milk. I seasoned my flour with a little salt, onion powder and garlic powder. That is totally optional though.
Panko – You could also use regular bread crumbs but I find that the panko makes the cauliflower super crispy and I really like that.
Orange Sauce – I have an easy and healthier orange sauce recipe that I created a few years ago that I used for this vegan orange chicken. It's super quick and easy to make but you could also use a bottled orange sauce to make it a little easier for you.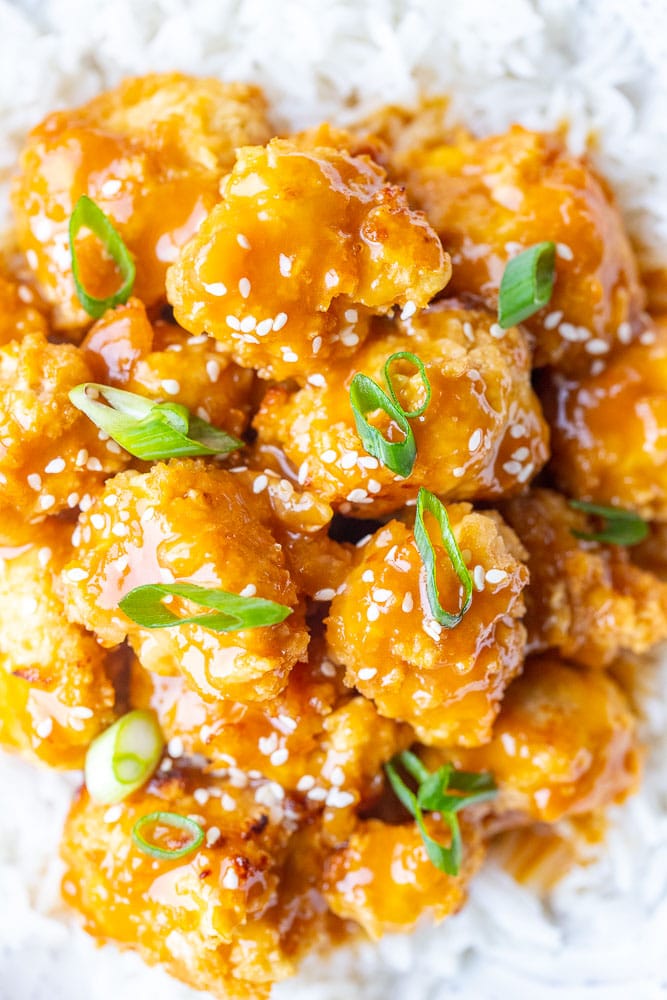 How to Make Vegan Orange Chicken
There are a few different steps to this recipe but all of them are really simple and don't require too much work.
First, you cut your cauliflower into florets. You can make them any size you want, but the smaller they are, they crispier they will get. I like to do a mixture of small and medium sized.
Next, you mix up your batter. It will seem a little thick but it needs to be thick to coat the cauliflower well. Once all the cauliflower florets are covered in batter, you pour in the panko and mix until the cauliflower is evenly coated. I like to pour one cup in, mix and then pour the other cup in.
Lay your cauliflower out on a baking sheet covered in parchment paper or a non-stick mat. You want to make sure to arrange them in a single layer and have them touching as little as possible. They won't get as crispy if they're touching or piled on top of each other. Bake the cauliflower until crispy.
I make the orange sauce while the cauliflower is baking. All you do is add all ingredients to a bowl, whisk until combined and then pour into a medium sized saucepan. Cook sauce until thickened. Remove cauliflower from oven and toss with 3/4 of the sauce and then put back into the oven to cook a little bit longer. I like to drizzle individual portions with the remaining orange sauce just before serving.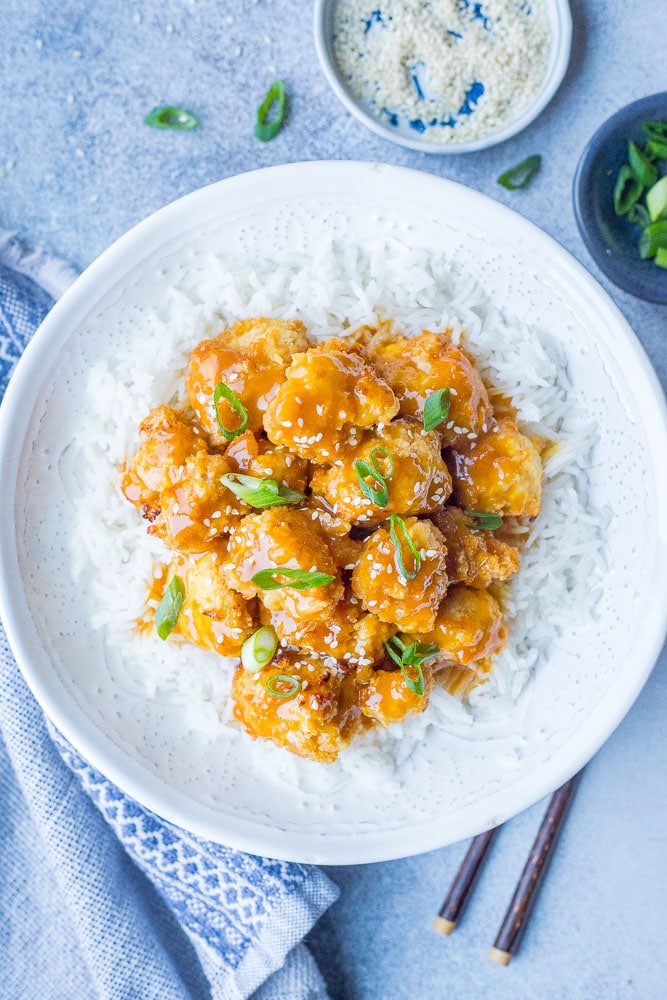 What Makes This The Best Vegan Orange Chicken Recipe?
I promise that I don't throw around the word "Best" lightly! Back in the day, I used to love the orange chicken from Panda Express so I know exactly what it's supposed to taste like. As I said before, I've made a vegan orange chicken recipe using crispy tofu before and it was good but the texture from this breaded and baked cauliflower is spot on! It's crispy on the outside and tender on the inside and holds onto the sauce really well.
Another thing I love about this recipe is the homemade orange sauce. It's made with healthy ingredients and doesn't have anything strange or artificial in it. It has orange juice as well as orange zest and I also add some garlic and ginger for extra flavor.
LOOKING FOR MORE VEGAN ASIAN INSPIRED RECIPES?
Korean Inspired Tofu & Vegetable Bowls
Print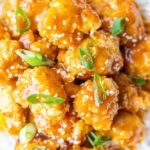 Vegan Orange Chicken Recipe [The Best!]
---
Author:

Total Time:

50 minutes

Yield:

4

-6

1

x

Diet:

Vegan
Description
This is the best Vegan Orange Chicken Recipe!  It's made with crispy cauliflower and a delicious homemade orange sauce!
---
1 medium sized head cauliflower
1 cup flour
1 cup plain, unsweetened almond milk, or other plant based milk
1/2 teaspoon salt
1/2 teaspoon garlic powder
1/2 teaspoon onion powder
2 cups panko breadcrumbs
Optional garnishes: sesame seeds, sliced green onion, cilantro
Orange Sauce Recipe:
1 cup orange juice, I like to use fresh squeezed
1/2 cup water
1/4 cup low sodium tamari
1/4 cup toasted sesame oil
1/4 cup pure maple syrup
1 clove garlic, grated
1/2 teaspoon grated fresh ginger
2 teaspoons arrowroot powder or cornstarch
---
Instructions
Pre-heat oven to 450 degrees F. Cut the cauliflower into small to medium sized florets. The smaller they are, the crispier they will get.

In a large bowl, whisk together the flour, onion powder, garlic powder, salt and almond milk. Add all the cauliflower to the bowl and mix until each floret is coated in batter.

Next, pour one cup of the panko over the cauliflower, mix and then pour the remaining up in. Mix until cauliflower is all coated with batter and panko.

Line a large baking sheet with parchment paper or a non-stick mat and lay cauliflower out. You want to make sure that it's touching as little as possible and not piled on top of eachother. Bake cauliflower until crispy and starting to brown, 20 minutes, and then remove from oven.

While cauliflower is baking, add all orange sauce ingredients to a medium sized bowl and whisk. Pour into a saucepan and cook until thickened, 7-10 minutes.

Pour about 3/4 of the sauce over the baked cauliflower and mix until combined. Place back into the oven for about 10 minutes, until crispy.

Serve over rice, if desired, and spoon remaining orange sauce over caulliflower just before serving. Garnish with sesame seeds and green onion.
Prep Time:

20 mins

Cook Time:

30 mins

Category:

Dinner, Vegan

Method:

Oven, Stovetop

Cuisine:

Asian
Keywords: Vegan Orange Chicken