This Watermelon Lemonade is made with only two ingredients and is so refreshing! All you need is watermelon and lemon juice to make this delicious summer drink.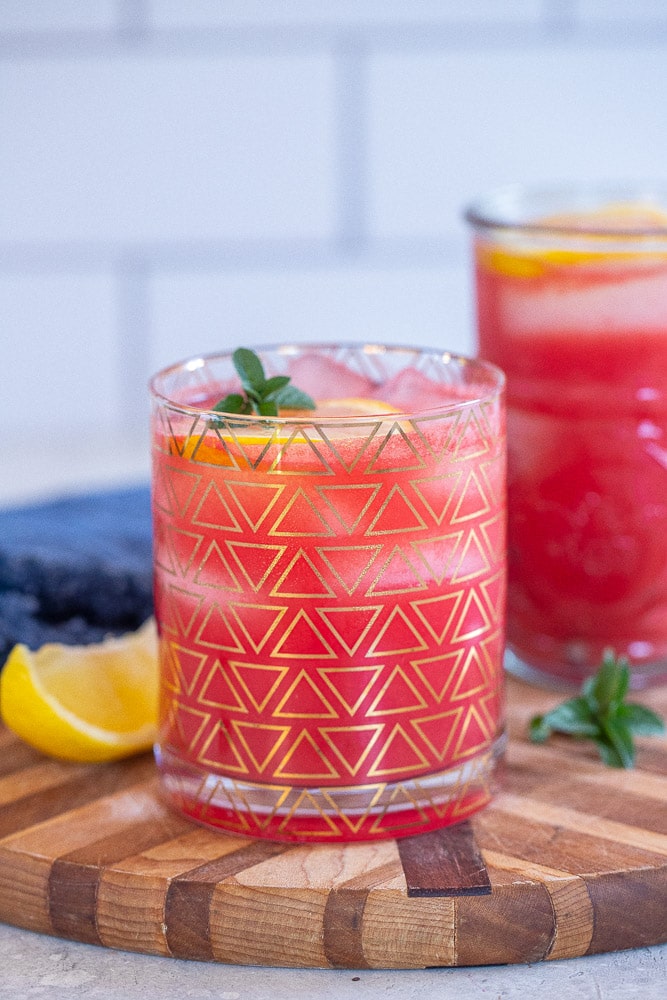 It has been really hot here lately, and we don't have air conditioning 🙁 So, we have been enjoying the most refreshing summer drink ever: Watermelon Lemonade! I've been making watermelon juice for years now and it never lasts long around here. This Watermelon Lemonade is very similar but has a nice citrus kick!
Watermelon is the perfect refreshing summer snack. It's naturally sweet and just happened to be such a beautiful pink color. We love cutting it into chunks to snack on but making fun drinks with it is my favorite way to use it!

WATERMELON LEMONADE RECIPE INGREDIENTS
You only need 2 simple ingredients!
Watermelon – I like to use a seedless baby watermelon when I make watermelon juice. It's great because there are no big brown seeds you need to pick out and I find them to be perfectly sweet. You want to make sure your watermelon is nice and ripe so it's not mealy or tasteless. A ripe watermelon is bright green in color with a slight yellow spot on one end.
Lemon – I like to use fresh lemon juice for this recipe. You could use regular or Meyer lemons. If you don't have lemons, limes would also be great in this recipe!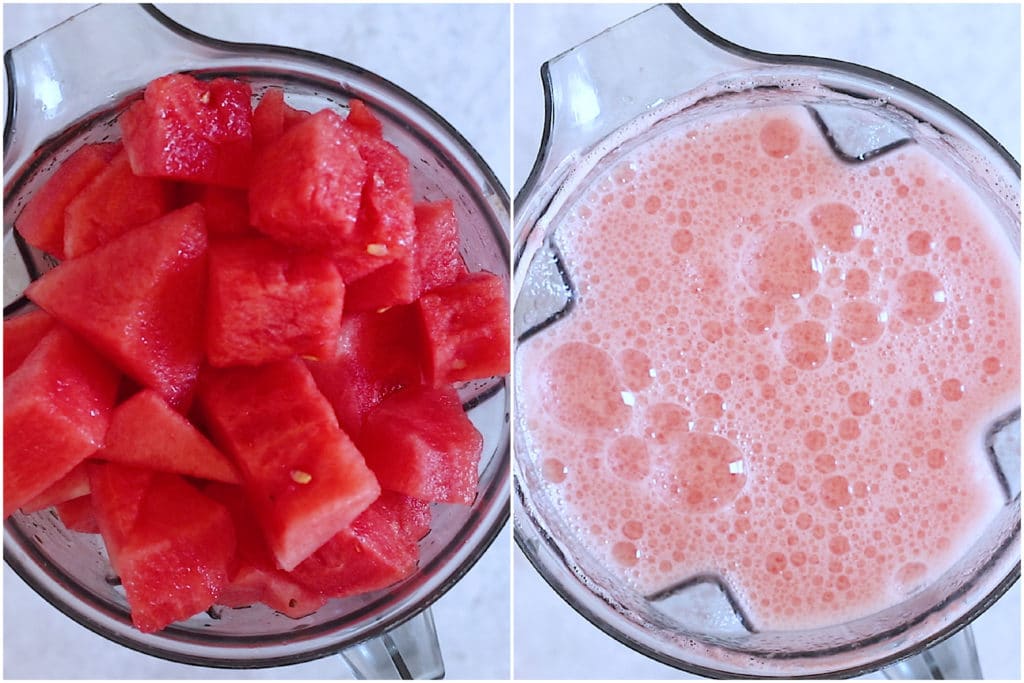 HOW TO MAKE WATERMELON LEMONADE
This Watermelon Lemonade is so easy to make! There are just a few steps:
Start by cutting up the watermelon. I like to cut each end off, stand the watermelon up on one flat side and then cut the rind off. Then, cut the watermelon into slices and then into small cubes. They don't need to be perfectly sized, just small enough to fit in the blender well.
Blend the watermelon until it's completely liquid. To minimize watermelon pulp in your watermelon lemonade you can pour the juice through a thin mesh strainer and then use a large spoon to scoop off any excess foam or pulp from the top of the juice.
Juice your lemons and then add your lemon juice to the watermelon juice and stir. I like to chill my watermelon lemonade or serve it over ice!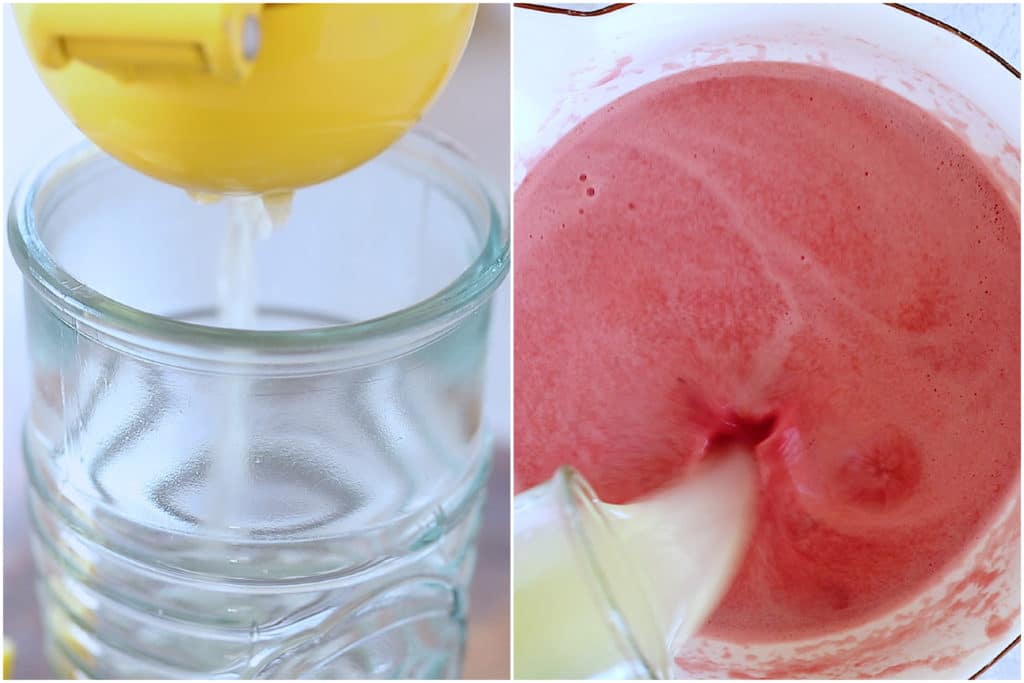 HEALTH BENEFITS OF WATERMELON
Watermelon is so good for you! One of the reasons I love using watermelon in summer drinks is because it's so sweet on it's own that you don't have to add any extra sweetener. Here are a few health benefits of drinking watermelon juice:
The obvious one is that it helps you stay hydrated. It may seem like a no brainer but it's really important to stay hydrated in the heat of the summer especially if you're doing a lot of outdoor activities. Watermelon is 92% water!
Watermelon is low in calories (only 46 calories per cup) and high in nutrients. Watermelon contains high amounts of Vitamin C, Vitamin A, Potassium, Magnesium and Vitamin B.
Watermelon is high in lycopene, which is a type of carotenoid and antioxidant, that has been show to reduce the risk of some cancers, reduce risk of heart disease and lower blood pressure.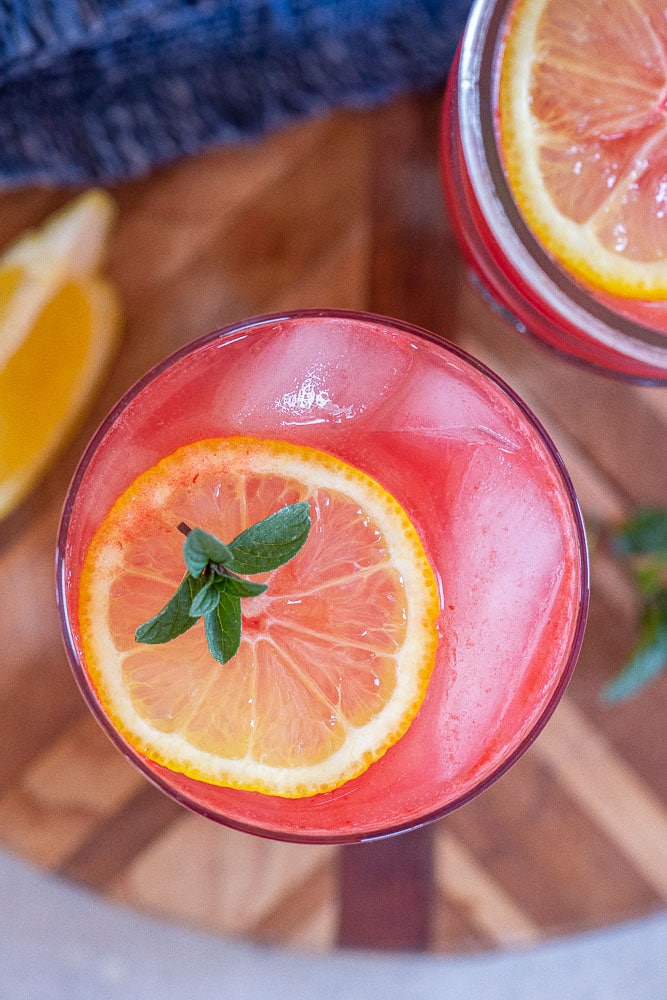 RECIPE FREQUENTLY ASKED QUESTIONS
What kind of watermelon should I use? I like to use the seedless baby watermelons. They're a great size to make a few cups of watermelon lemonade and I really like their flavor. You could use a large watermelon, just try to pick as many of the bigger, brown seeds out first.
How much juice does this recipe make? It makes about 5-6 cups of juice, depending on the size of your watermelon. If using a really large watermelon you may want to make the juice in two batches.
Can I use limes instead of lemons? Of course! That would be great!
How long does the watermelon lemonade keep in the refrigerator? We usually drink ours in one day, but I would refrigerate it for 4-5 days.
Can you freeze the watermelon juice? Yes, just freeze in an airtight container until ready to use.
Have a question that I didn't answer? Ask below and I'll get back to you ASAP!
LOOKING FOR MORE REFRESHING SUMMER RECIPES?
Crunchy Broccoli Salad with Maple Mustard Dressing
Frozen Chocolate Covered Banana Bites
SEE EXACTLY HOW I MAKE THIS WATERMELON LEMONADE BELOW:
Print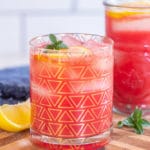 2-Ingredient Watermelon Lemonade
---
Author:

Total Time:

10 minutes

Yield:

6

1

x

Diet:

Vegan
Description
This Watermelon Lemonade is made with just 2 ingredients and is so refreshing!  It's the perfect summer drink.
---
1

small seedless watermelon

1/3

–

1/2

cup fresh lemon juice
---
Instructions
Cut the rind off the watermelon and then cut it into bite size chunks.  Place watermelon into a blender and blend for about 1 minute, until it's completely liquid.  You may need to help it get started at first but eventually it will all blend.
Place a mesh strainer over a large bowl and pour watermelon juice in the strainer.  Let juice drain out.  You can pick up the strainer and rock it from side to side to encourage more juice to come out but you don't want to use a spoon to press down everything in the strainer.  If you do that it will allow some of the pulp to get through and you don't want that.  Once it's just pulp left in the strainer you can dump that out and strain the rest of the juice.
If there's lots of bubbles on top of the watermelon juice, or if some of the pulp got though, use a spoon to scoop it off the top.  You may want to let it sit for a few minutes to let things settle down before doing this.
Pour the fresh lemon juice into the watermelon juice and mix until combined.  You can use as little or as much lemon juice as you like.  I usually use about 1/3 cup.  Enjoy watermelon lemonade over ice and garnish with fresh herbs or a lemon wedge, if desired!
Notes
You can skip the straining step if you like!  I just prefer no pulp to be in my juice, but if you don't mind you can enjoy it right out of the blender.
Prep Time:

10 mins

Category:

Drink

Method:

Blender

Cuisine:

American
Keywords: Watermelon Lemonade