These delicious and healthy Sweet Potato Tots only have 1 ingredient: sweet potatoes!  They're healthy, delicious, kid friendly and easy to make!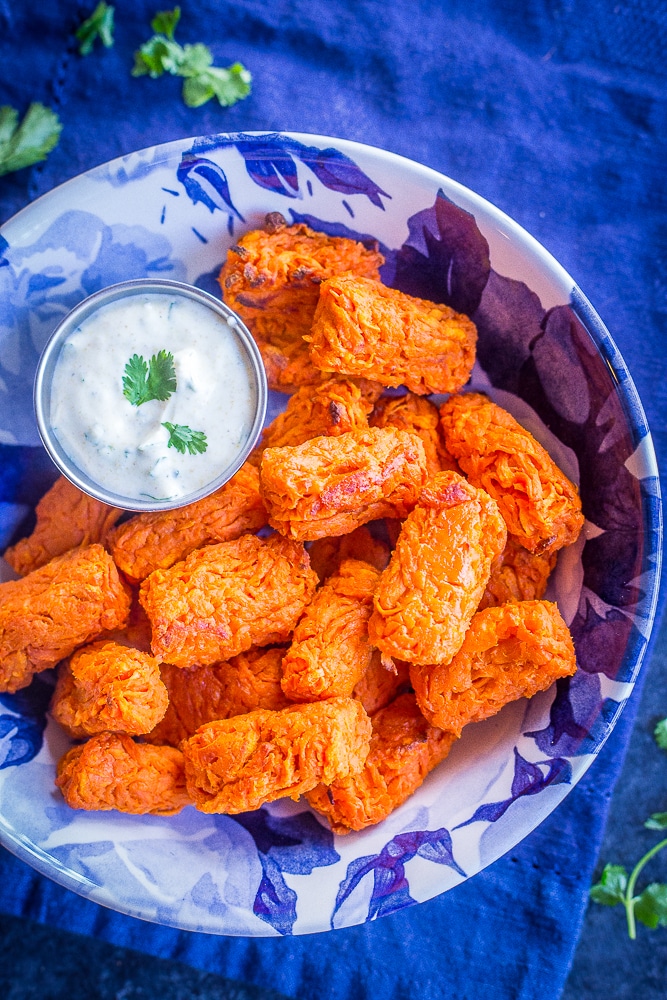 Is it Friday yet??  The week seems to be dragging by and I haven't been quite as productive as I'd like.  It's been in the high 90s and the heat is sucking all the energy out of me!
Every since I shared my 4-Ingredient Zucchini Tater Tot recipe I've had so many people ask if the recipe will work with sweet potatoes, rather than regular ones.
Regular potatoes have more starch than sweet potatoes and I was actually pretty skeptical that a sweet potato tot wouldn't need a binder.
Fast forward a few years (not sure why it took me so long to try!) and I finally have a sweet potato tot recipe for you!  And the best part?  Sweet potatoes are the only ingredient you need!
You could definitely season them with any spices you like, but I made them a few times and in the end I decided that I liked them best with just the sweet potato flavor.  I personally don't even think they need salt!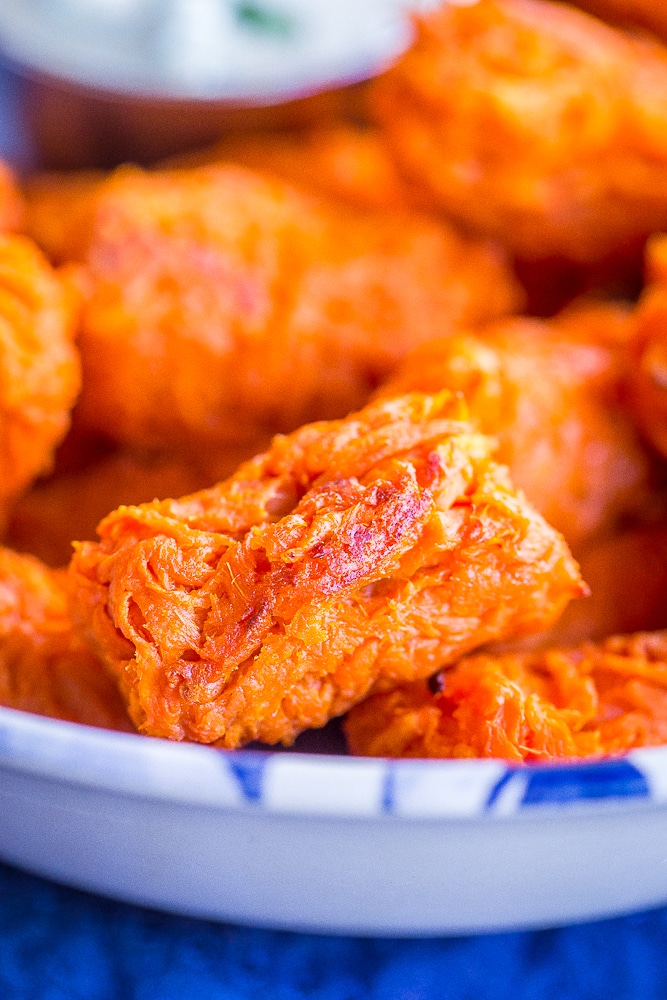 I've had a ton of comments on my Zucchini Tater Tots from people loving them, but I've also had a few comments from people who couldn't get them to shape up and hold together.  You never know why certain recipes don't turn out for some people but other's have no problem, but I wanted to give some pointers in hopes that no one has that problem!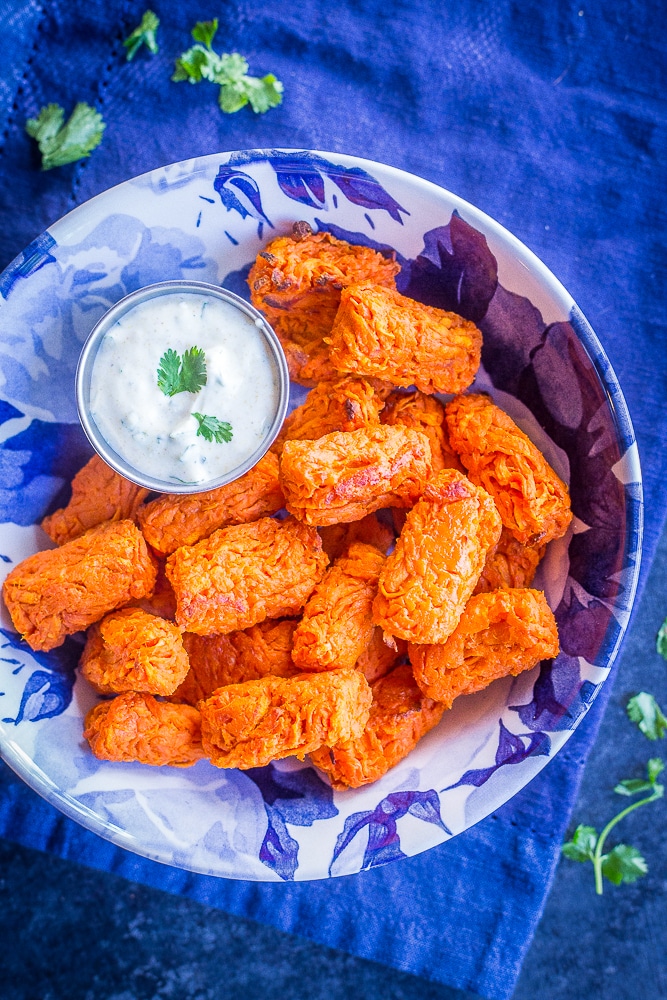 You want to boil the sweet potatoes until they're fork tender on the outside, but still a little hard on the inside. This way you will be able to actually grate the sweet potatoes without them turning into mashed sweet potatoes on the grater.
The ends of the sweet potato will probably be much mushier than the rest of it and that is actually a good thing!  While you don't want the center of the sweet potato to be mushy, a little mashed sweet potato will actually help hold the sweet potato tots together.
I like to mix the sweet potato together kind of vigorously, that way the grated sweet potato really integrates with the mushier part (the ends) and comes together in a cohesive mixture that's easy to pack together into a tot.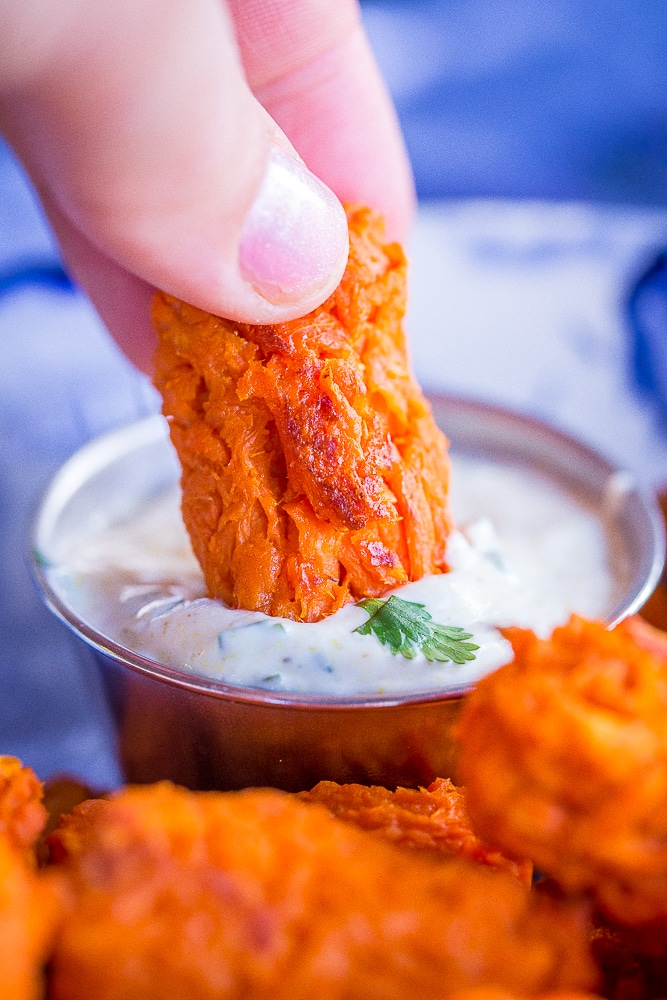 As I said before, I kept these sweet potato tots really simple and didn't even season them with salt, but if you want to mix things up a little bit they would be really good!  I would recommend either some Mexican style seasonings like, cumin, paprika and garlic powder or some BBQ flavors like chili powder, onion powder and a little coconut sugar 🙂
Print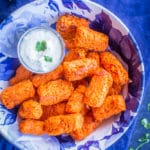 1-Ingredient Sweet Potato Tots
---
Author:

Total Time:

1 hour 45 minutes

Yield:

30

-

4

0

1

x
Description
These 1-Ingredient Sweet Potato Tots are healthy, delicious and perfect for a dinner side dish or afternoon snack!
---
2

medium sweet potatoes
Cooking spray, optional
Curry Cilantro Dip (optional)
1 cup

non fat Greek yogurt or veganaise/mayonnaise

1

and 1/4 teaspoons curry powder

2

–

3

tablespoons finely chopped cilantro leaves

2 teaspoons

lemon juice

1

pinch of salt
---
Instructions
Wash sweet potatoes and place them (skin on) in a large pot.  Cover with cold water and bring to a boil.  Boil sweet potatoes until the outer part is fork tender, but there is still some give in the middle, about 20 minutes.  It's ok if the ends are a little mushy, but you want to be able to actually grate the sweet potato.  Remove from water and let cool until you feel comfortable handling them.
Pre-heat oven to 375 degrees F and line a large pan with a non-stick mat or parchment paper.
Remove the skins from the sweet potatoes and grate them on the large side of a box grater.  It's ok the the ends are a little mushy!  Add everything to a large bowl and mix together really well so that the grated sweet potato mixes with the mushier sweet potato.
Use a small spoon or tablespoon to scoop the sweet potato and then use your hands to form it into a tater tot cylinder.  Place tots on the pan, spray the tops with cooking spray, if desired, and place in the oven.
Bake sweet potato tots until outsides are golden brown, flipping once, about 40-45 minutes.  You may have to be careful when flipping them because they tend to stick a little at first but if carefully flipped they should stick together just fine!  You may want to turn the oven up to 400 for the last 10-15 minutes for a crispier tot.
Add all Curry Cilantro Dip ingredients to a medium sized bowl and mix until combined.
Notes
Recipe makes 30-40 sweet potato tots, depending on how big you make them.
Sweet Potato Tots can be frozen!  I would recommend flash freezing them, before baking, on a large sheet pan and then placing them in an airtight container in the freezer.  Tater tots can be frozen for up to 3 months.  When ready to eat, bake at 375 for 45-50 mins.
Prep Time:

20 mins

Cook Time:

85 mins

Category:

Side, Vegan, Gluten Free
SaveSaveSaveSave
SaveSave