These homemade tater tots are packed with tons of broccoli and baked in the oven making them a really healthy side dish or snack!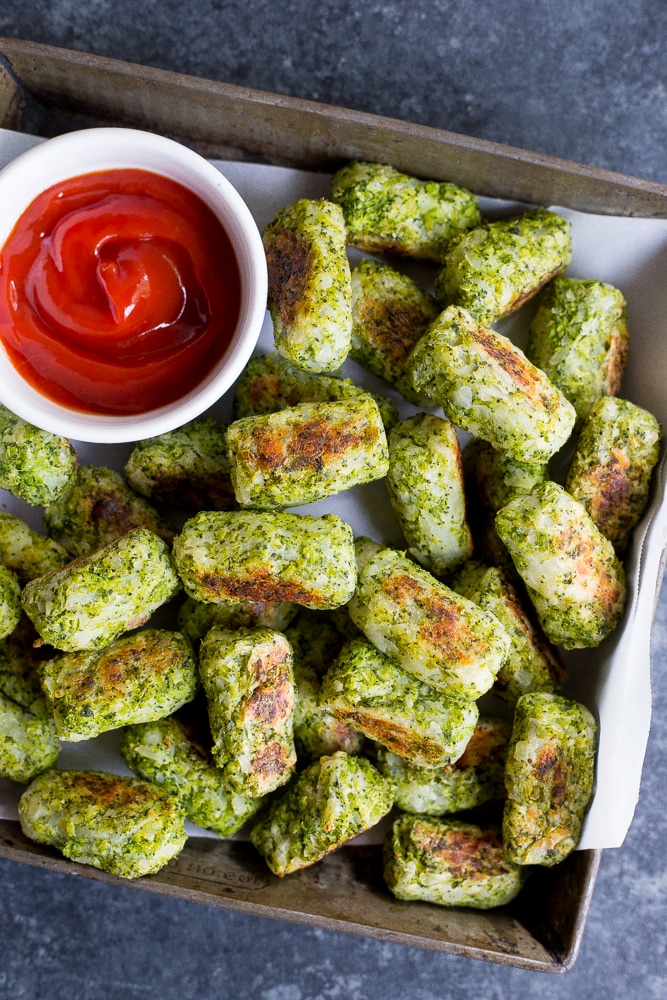 So, apparently when you live in the desert, spring means that it's 90 degrees outside! We went on a trip to Iowa last week to visit my husband's family and to introduce Eli to his two great grandmas. It was really nice to be around family and the weather was a welcomed change from what we're used to. Most days were between 20-30 degrees F and we even got to see some snow!
Then, we got home last night and I woke up to 90 degree weather this morning. We currently have the AC blasting and I've already decided there will be no more going outside until November. I'm really not ready for this heat and kinda want to move to Iowa!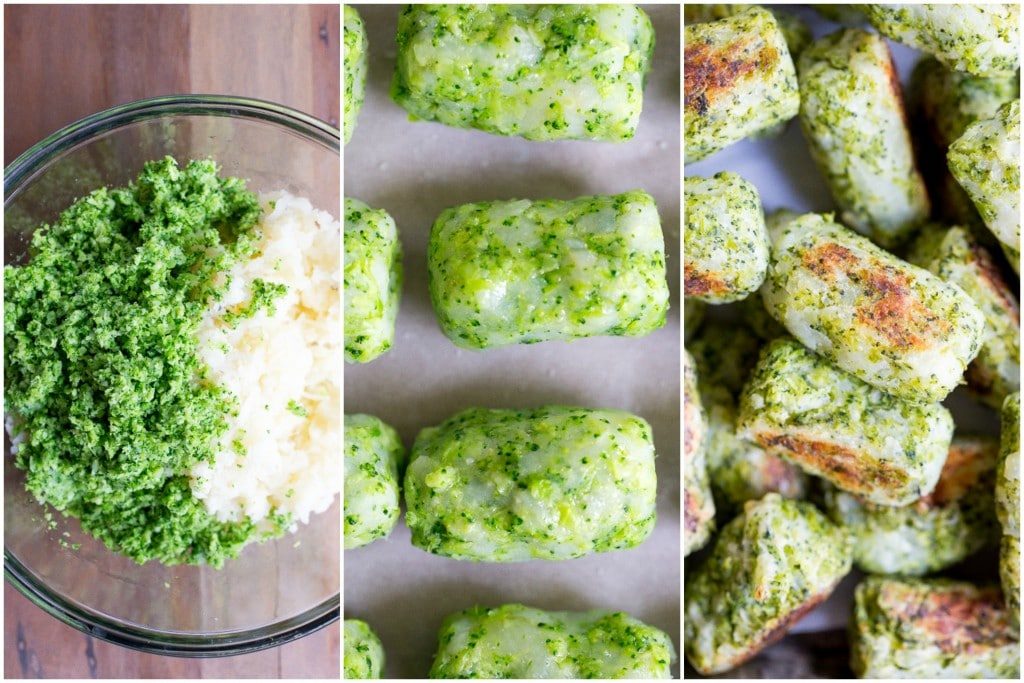 In happier news: 4 Ingredient Broccoli Tater Tots! If you haven't noticed, I'm a little obsessed with making tater tots. So far I've made these awesome zucchini ones, these spaghetti squash ones and don't forget these apple and smoked gouda gems 🙂 Homemade tater tots are a bit of a labor of love, but they are so worth it! They're much healthier than the frozen ones and they're great for adding extra veggies.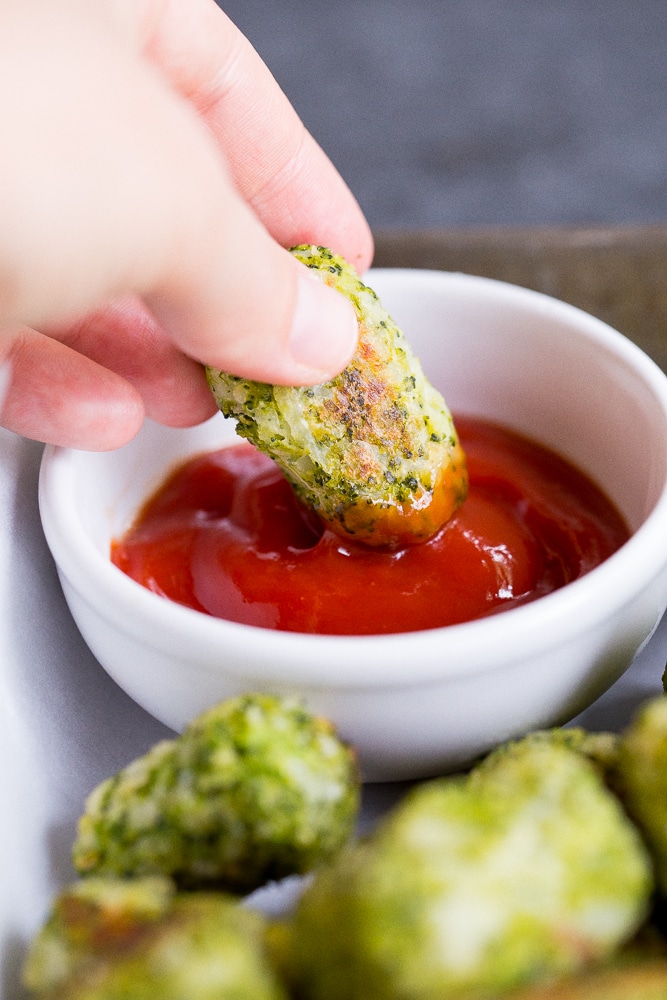 The only ingredients are potatoes, broccoli, salt and olive oil. And, I feel like salt and olive oil should be free ingredients so there's really just 2 ingredients! They're packed with 8 cups of broccoli so you definitely get your veggie servings in, but they're also potato-y and delicious! I would recommend making 2 batches because they won't stay around for long!
Print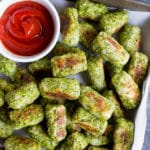 4 Ingredient Broccoli Tater Tots
---
Total Time:

1 hour 30 minutes

Yield:

4

0

1

x
3

large russet potatoes

2

(14 ounce) bags frozen broccoli florets that have been thawed, or

8 cups

steamed broccoli florets

2 teaspoons

salt, plus more for sprinkling on top
Olive oil
---
Instructions
Place potatoes in a large pot and cover with cold water. Bring water to a boil and cook potatoes for 20-30 minutes, until fork tender but still have some give in the middle. Drain water and let potatoes cool until they are comfortable to handle. It's best if they are still warm.
Once potatoes are warm enough to handle, remove the skins either with your fingers or with a potato peeler.
Preheat oven to 375 degrees Fahrenheit. Grate potatoes on the large side of a box grater and place into a large bowl.
Place the broccoli into a food processor and blend until it's in very small pieces, 30 seconds – one minute. You may need to do it in two batches. Place broccoli onto a kitchen towel and squeeze all excess water out.
Add the broccoli to the grated potatoes along with the salt and mix everything together. Make sure to mix very well because if you have pockets that are mainly broccoli the tater tots won't form together as well.
Line a large cookie sheet with parchment paper. Use your hands to form small cylinders with the mixture. Use about 1 tablespoon per tater tot. Place the cookie sheet in the freezer for about 10 minutes to allow them to firm up.
Brush the top of each tater tot with a small amount of olive oil and sprinkle each one with salt. Bake tater tots until browned a crispy, about 30-40 minutes, flipping halfway though.
Notes
Recipes makes 30-40 tater tots depending on how big you make them.
These tots freeze very well. Freeze before you cook them and make sure to separate them so they don't stick together. Can be frozen up to 3 months in an air tight container.
Prep Time:

25 mins

Cook Time:

65 mins

Category:

Side, Gluten Free, Vegan
If you like these, then you will also love:
4-Ingredient Zucchini Tater Tots