This Pesto Gnocchi with White Beans and Broccoli comes together in just 20 minutes and only requires one pan! You get a quick and easy weeknight dinner with minimal dishes!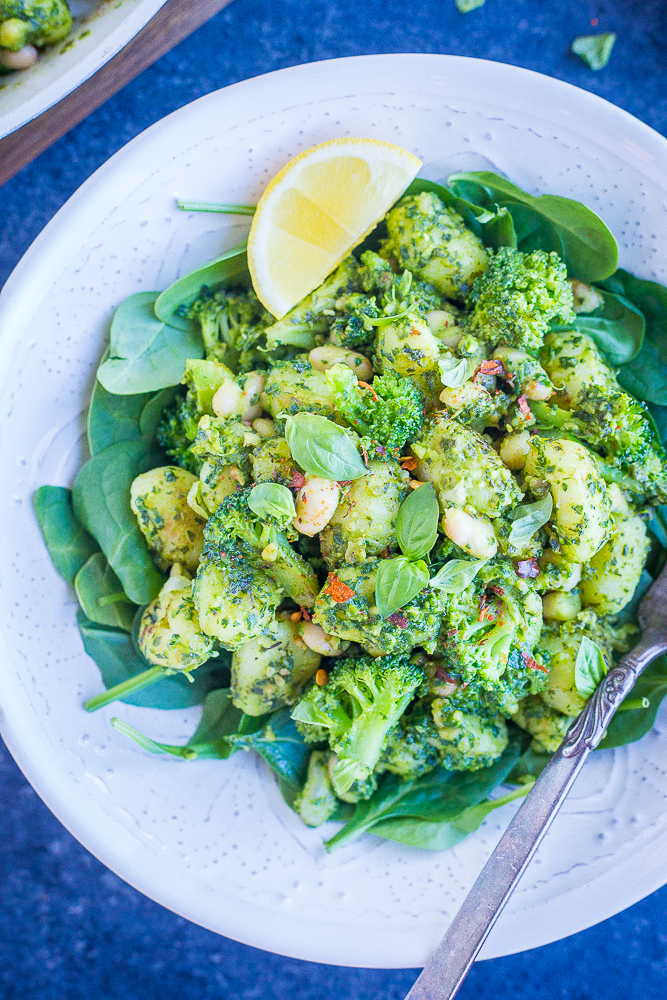 Hi Friends! This Pesto Gnocchi with White Beans and Broccoli is the last recipe from my 30 Minute Dinner Challenge! I'm hoping to do another one in a few months so if you're interested in joining my free challenge, sign up today!

30 minute meals have become a staple in our house so I hope you all enjoy them as much as we do!
This Pesto Gnocchi With White Beans and Broccoli recipe Has Quite a Few Things Going For It!
It's made from start to finish in under 30 minutes! It's such a quick and easy meal to make!
There's only four main ingredients that you will need: pesto, gnocchi, white beans and broccoli. I do add some salt, pepper and olive oil but those are usually things you already have lying around the house.
It's a one pan meal! I don't boil the gnocchi or steam the broccoli separately so everything is made from start to finish in just one pan. My cooking philosophy is: the less dishes the better 🙂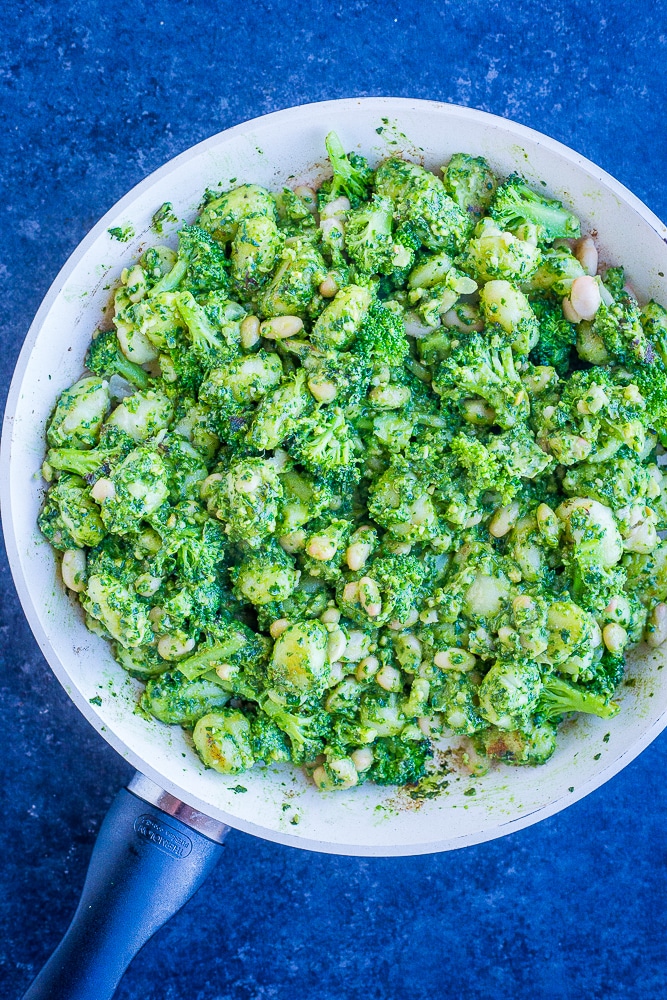 What is Gnocchi?
I love gnocchi! And I use it a lot in my 30 minute dinner recipes because it's so quick and easy to make. Gnocchi is Italian and considered to be a type pasta. Gnocchi is made with mashed potato, flour and sometimes egg. It's kind of like a potato dumpling.
Most fresh gnocchi recipes use egg, but I've found that the store-bought ones you find in the pasta aisle, that don't need to be refrigerated, are vegan. You can also usually find gluten free gnocchi at the grocery store.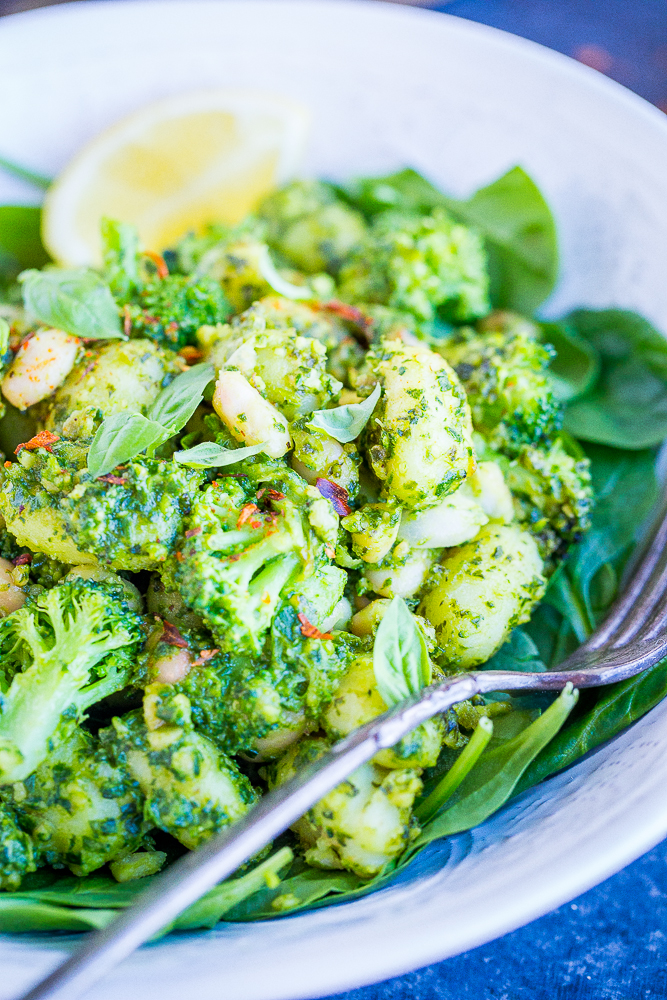 Besides the gnocchi, I decided to add in some white beans and broccoli for protein. I also enjoyed mine on a bed of fresh spinach which added some nice extra veggies to the recipe! And a squeeze of lemon is perfect for adding some fresh flavor.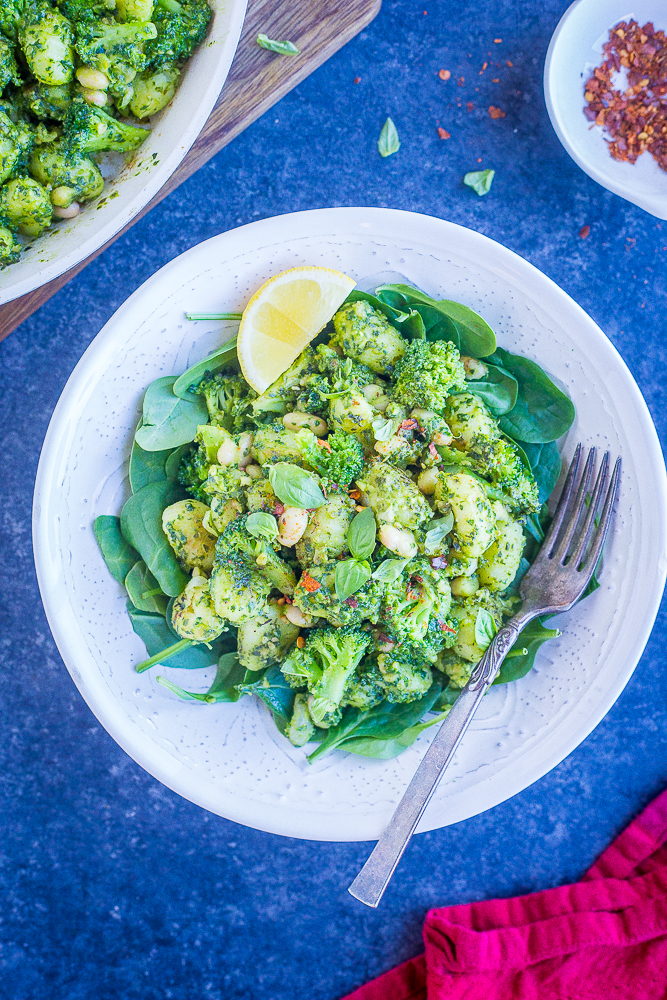 Recipe Tips For Pesto Gnocchi with White Beans and Broccoli:
You can use any kind of greens you like to enjoy with your gnocchi, or you can leave them out altogether if you like.
If you're using fresh or homemade gnocchi you will want to boil it first to make sure it's cooked through before you brown it in the pan.
You can use homemade or store-bought pesto. I usually make my own pesto by following a recipe similar to this one.
If you have leftovers for this recipe they can easily be used for lunches the next day!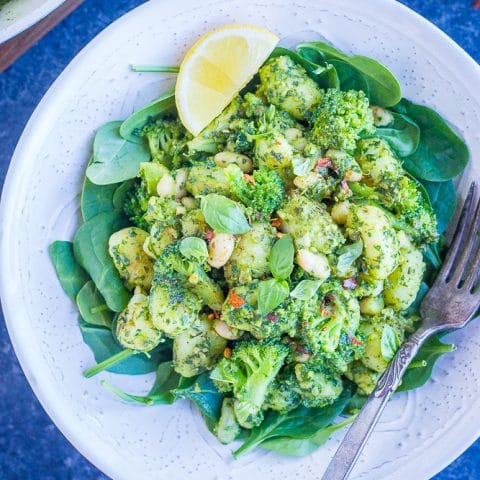 Pesto Gnocchi with White Beans and Broccoli
Ingredients
2 teaspoons olive oil, divided
3 cups small broccoli florets
1/4 cup water
1 (16 oz) package gnocchi, gluten free if necessary
1 (15 oz) can white beans, rinsed and drained (or 1 1/2 cups)
1 cup pesto sauce, homemade or store-bought
4-6 cups of your favorite greens, I used baby spinach leaves.
Salt and pepper, to taste
Instructions
Heat a large pan over medium heat and add 1 teaspoon olive oil and the broccoli florets. Sauté broccoli for 2 minutes then pour water into the pan and cover. Let broccoli steam until fork tender, about 4 minutes.
Add gnocchi plus 1 teaspoon olive oil, stir and then cover until gnocchi has softened, about 7 minutes, stirring once or twice.
Add the white beans and pesto, mix until everything is combined and heated through, 2-3 minutes. Serve pesto gnocchi over a big handful of your favorite greens and season with salt and pepper.
Nutrition Information
Yield

4
Serving Size

1/4
Amount Per Serving
Calories

897
Total Fat

43g
Saturated Fat

7g
Trans Fat

0g
Unsaturated Fat

28g
Cholesterol

24mg
Sodium

648mg
Carbohydrates

103g
Fiber

55g
Sugar

7g
Protein

48g
*Information may vary based on brand of ingredient you use.