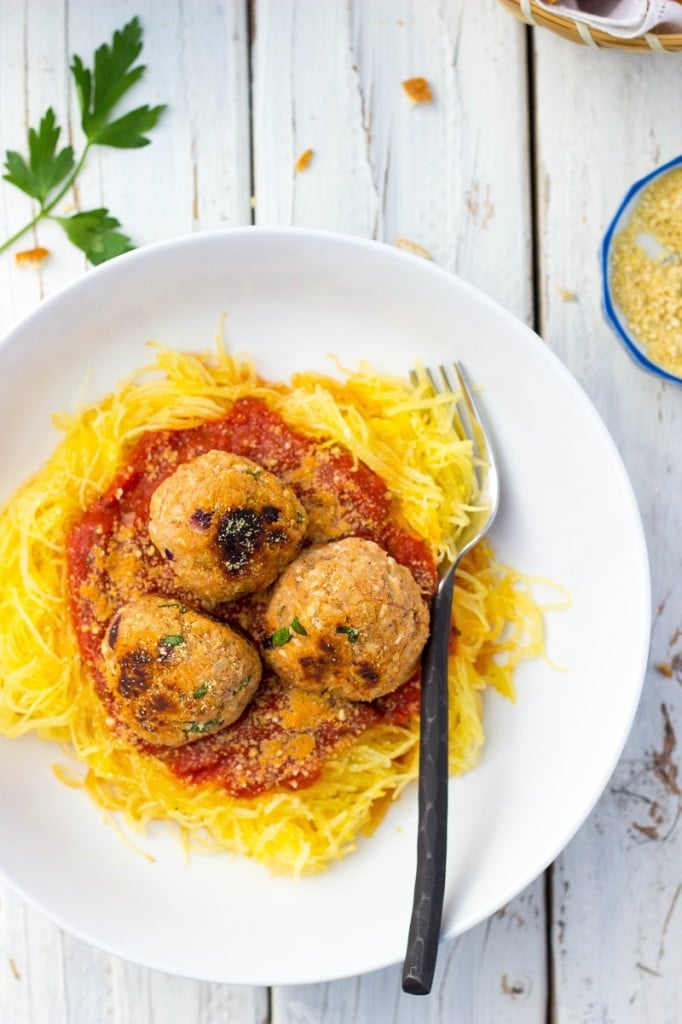 You know what my favorite thing about vegetarian meatballs is? They are basically just veggie burgers that are formed into balls and can be enjoyed with tomato sauce either in between little little buns like these sliders or on top of a big bowl of spaghetti squash like this dish that I have for you today!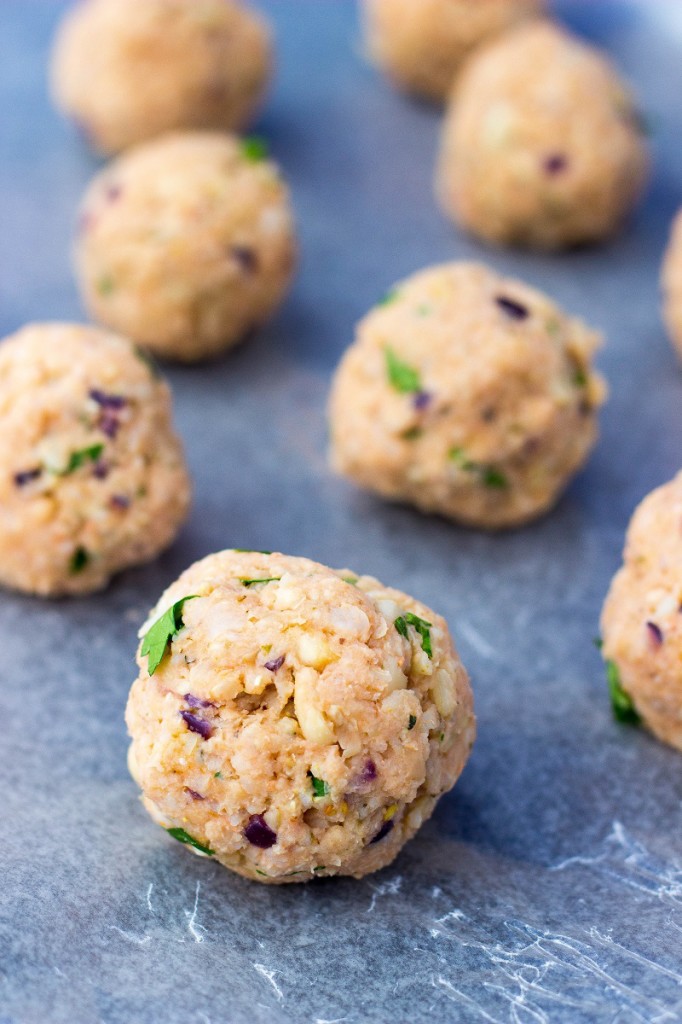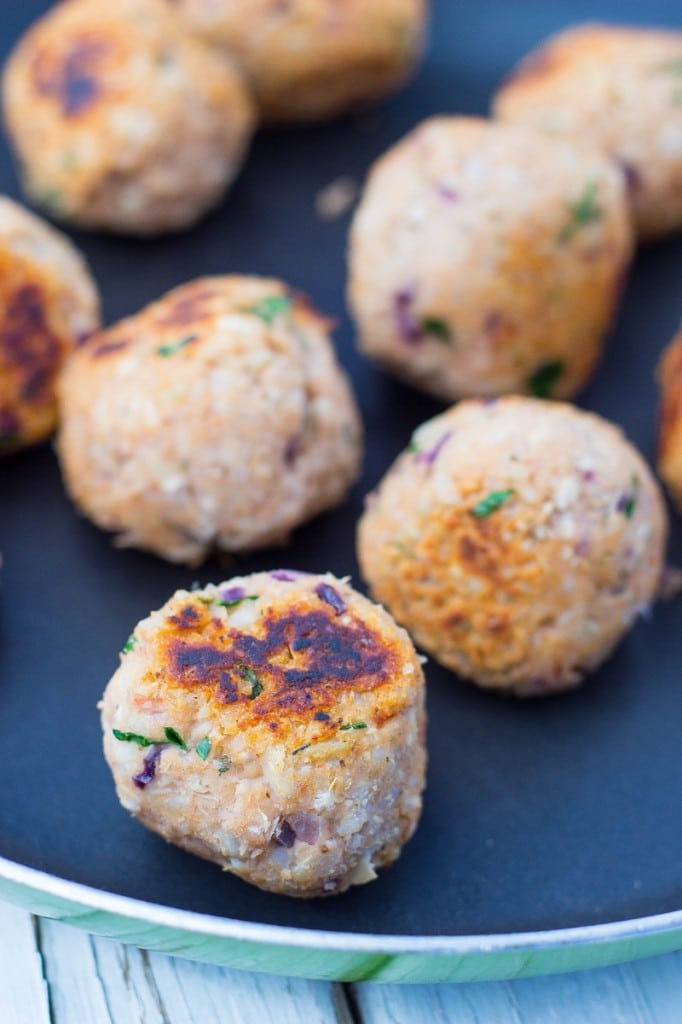 If you haven't noticed by all my recent recipes whose directions read, "put ingredients into the food processor" me and my food processor are pretty good friends these days! If you can't blend it, I want nothing to do with it! Kinda just kidding… While others are slow cooking everything (I'm so behind the times and don't even own a slow cooker yet!) I am giving everything a whir (as Ina would say) in my food processor. And delicious things are happening!
These vegetarian meatballs are made of a mixture of brown rice, white beans, and lots of delicious herbs and spices. By blending them in the food processor it allows everything to stick together to form these meatballs without using any eggs in the recipe as a binder. Without adding eggs, not only are they vegan, but you can also eat them without heating them up if you are lazy like me 🙂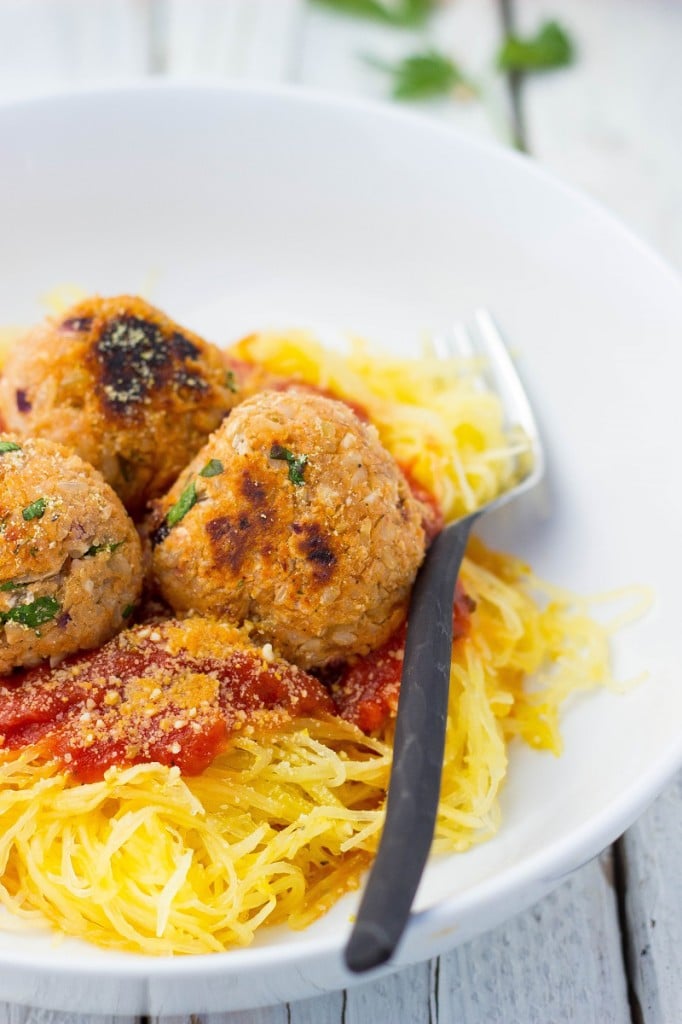 In all my other spaghetti squash recipes, I have showed you my quick method of just scraping out the small pieces of spaghetti squash and cooking them up in just ten minutes, but for these vegetarian meatballs with spaghetti squash I went all out and roasted the spaghetti squash and then scooped it out so it actually resembles spaghetti. You could use regular pasta for this recipe, but I think the spaghetti squash makes it nice, light, and less carb heavy since the vegetarian meatballs are made with brown rice and beans. I hope you enjoy these! I topped mine with this awesome vegan Parmesan from Minimalist Baker!
Print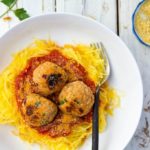 Vegetarian Meatballs with Spaghetti Squash
---
Yield:

4

1

x
Category:

Entree, Gluten Free, Vegan
Ingredients
Spaghetti Squash:
1

–

2

whole spaghetti
Olive oil
Salt
Pepper
Tomato Sauce, homemade or jarred
Vegetarian Meatballs:
1

large clove garlic, minced

1/4 cup

chopped onion

2 tablespoons

tomato paste

1 1/2 cups

cooked brown rice

2 cups

cooked white beans, I used cannellini beans

2 tablespoons

gluten free bread crumbs, or regular

1 teaspoon

ketchup

1/2 teaspoon

salt

1 tablespoon

chopped cilantro leaves

1/2 teaspoon

dried oregano

1/2 teaspoon

dried thyme
Red pepper flakes, to taste
Olive oil
---
Instructions
Pre-heat the oven to 375 degrees Fahrenheit. Cut spaghetti squash in half, lengthwise, rub with olive oil and season with salt and pepper. Place squash cut side down on a baking sheet and roast for 30-40 minutes, until fork tender. Once you are ready to assemble dish, use a fork to scoop spaghetti squash out of the skin. Use about 1 whole spaghetti squash per two people, depending on the size.
While spaghetti squash is baking, make the meatballs: heat a pan over medium heat and drizzle with a small amount of olive oil. Add the onion, a pinch of salt, and cook for 3 minutes and then add the garlic and tomato paste. Stir for 1 minute and then take off heat. Place the tomato paste mixture as well as the rest of the meatball ingredients into a large bowl and mix until combined. Add to a food processor and process for a total of 10-15 seconds, scraping down the sides every 3-5 seconds. You want the mixture still slightly chunky. Dump mixture back into the bowl and refrigerate for 30 minutes. Using your hands, form mixture into meatballs. You can make them whatever size you like. You should get 8-10 meatballs.
Heat a large pan over medium heat and coat the bottom with olive oil. Place meatballs in the pan, don't overcrowd, and cook until they are heated through and browned on the outsides.
Serve meatballs over spaghetti squash and tomato sauce.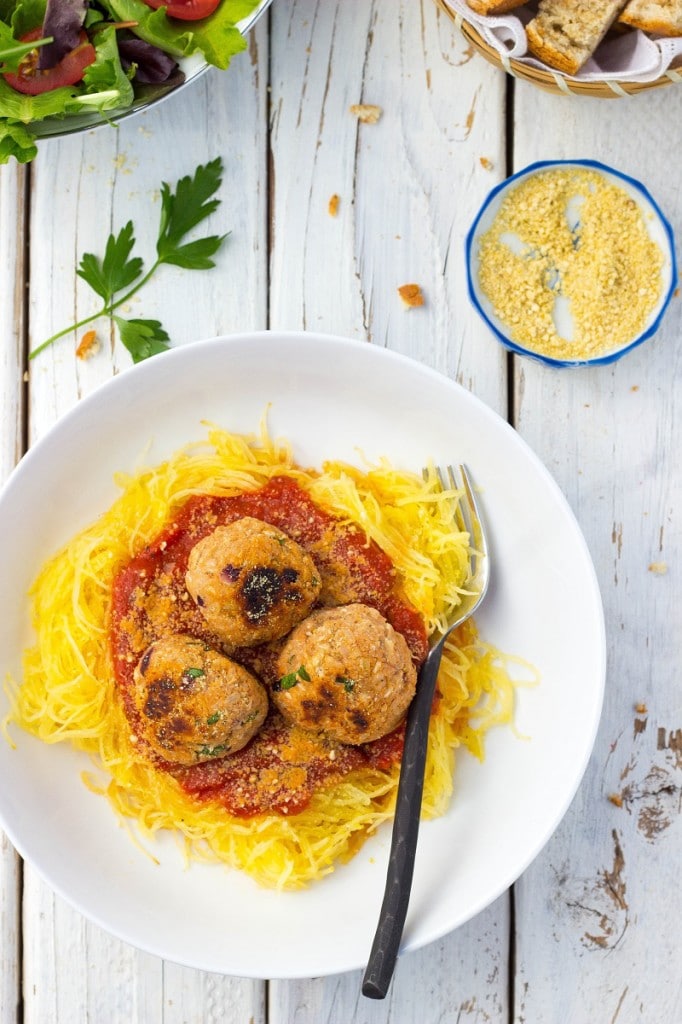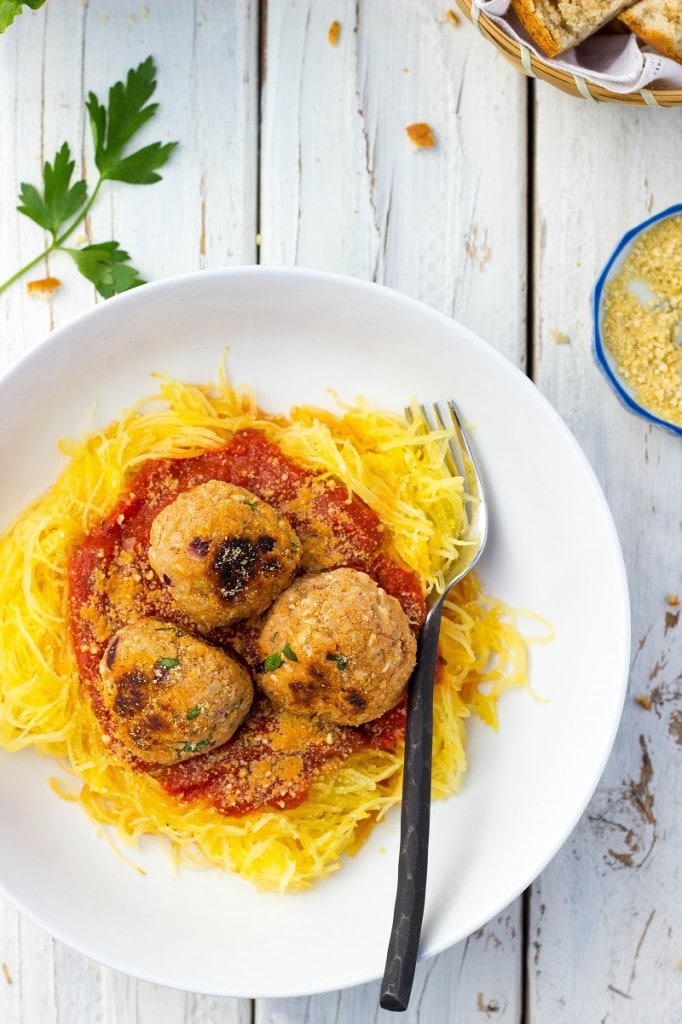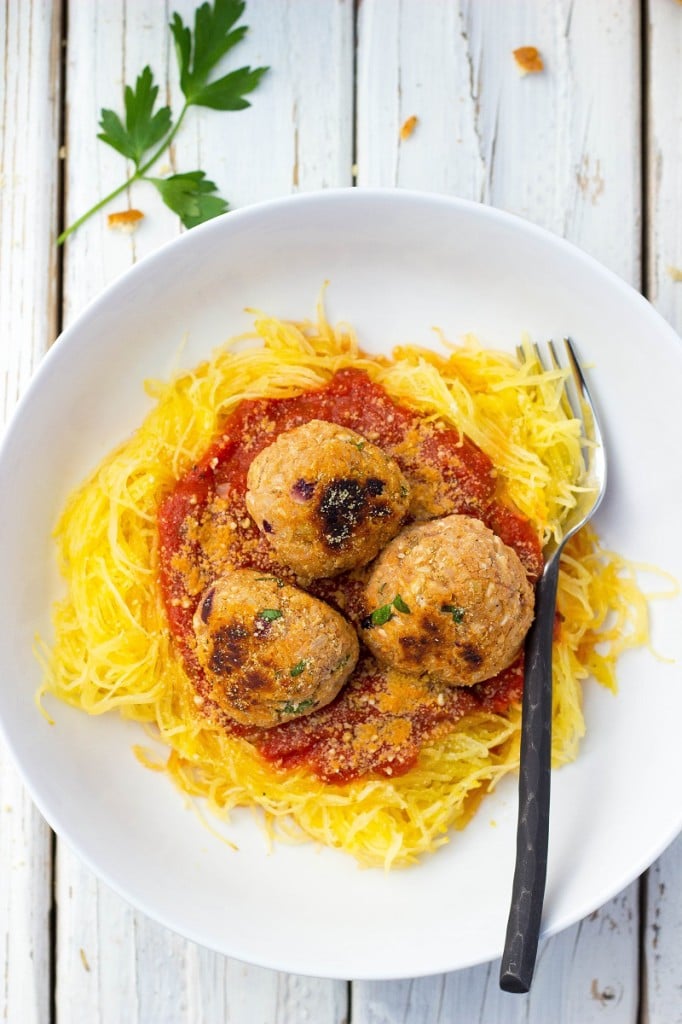 Giveaway Details!!!
***Giveaway is now over and winner has been notified***