These Easy Greek Salad Meal Prep Bowls are fresh, flavorful and loaded with tons of healthy veggies!  They're perfect if you're looking for more healthy vegan meal prep recipes!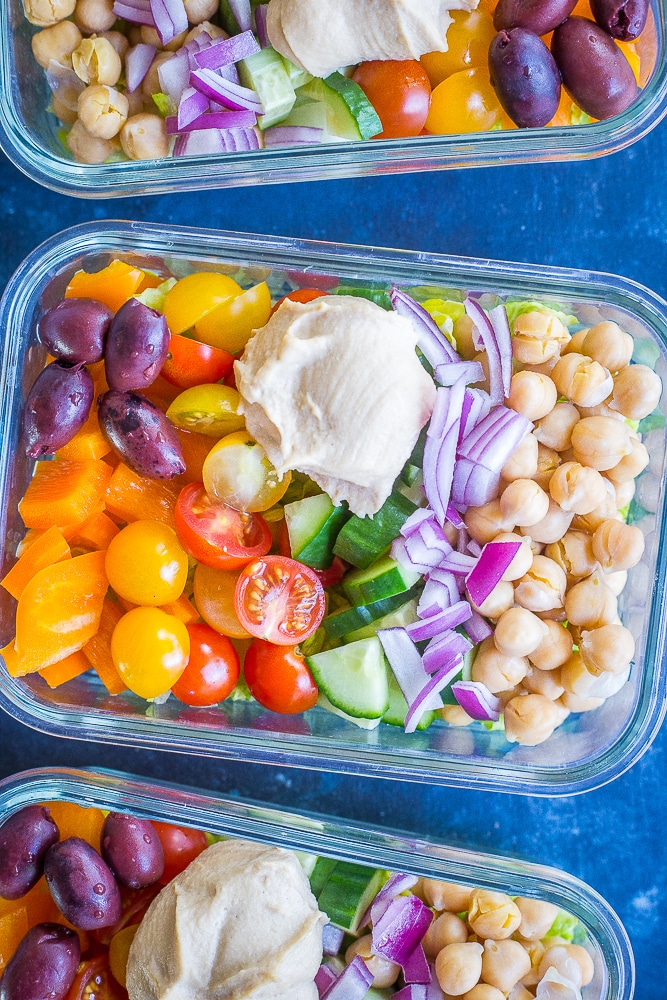 I was going to say that it was hard to decide what my absolute favorite cuisine was but then I remembered that it's Mexican food, hands down haha 🙂  But, coming in a close second would have to be Greek/Mediterranean food.
It's always so fresh, flavorful and a great excuse to eat all the vegetables!  I haven't spent much time meal prepping lately, but when I do get an extra few minutes these Easy Greek Salad Meal Prep Bowls are on my list!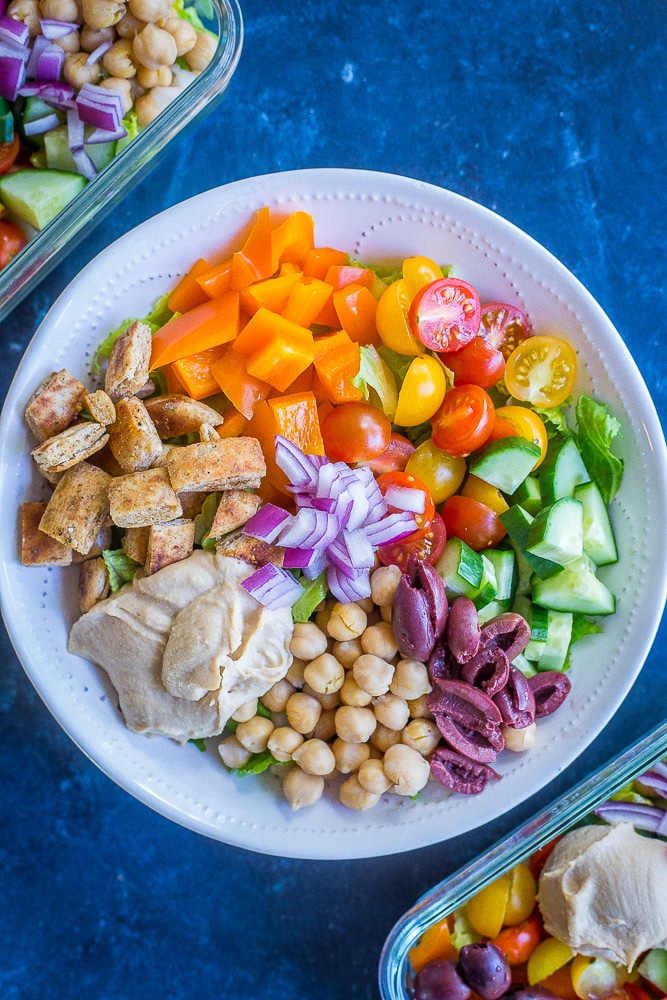 I really enjoy the different produce that each season has to offer, but I am a little biased towards summer produce.  I love fresh tomatoes, peppers and cucumbers and have been putting them into everything lately.  They happen to go perfectly in these Greek Salad Meal Prep Bowls, but you could really use any vegetables you have around.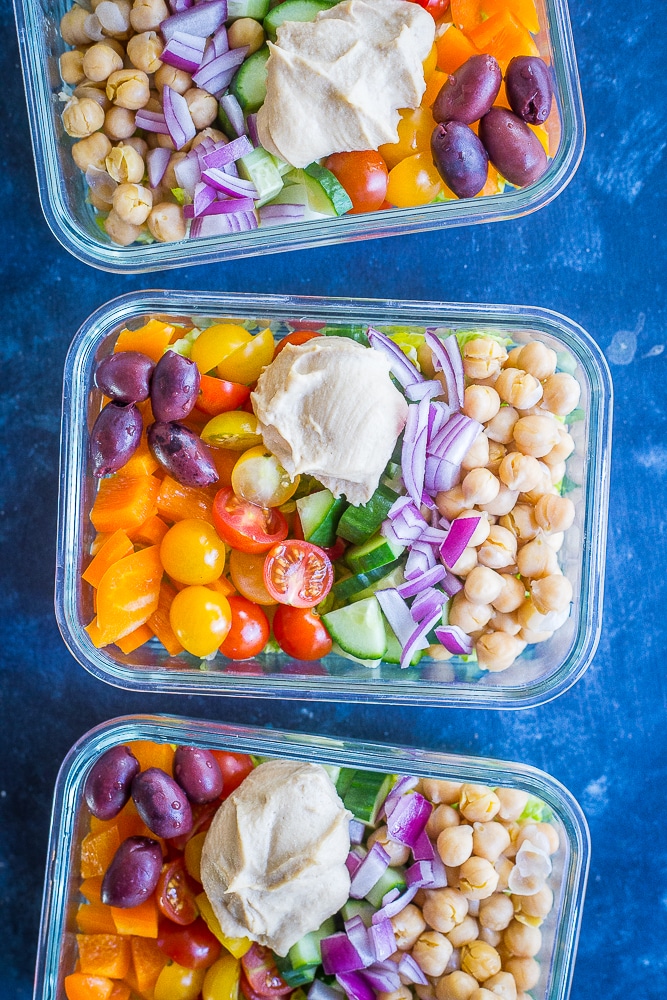 I realize that some people might think using chickpeas and hummus in the the same dish is a little redundant, but It's double the protein and the textures are a little different so I don't see the problem with it 🙂  You could also experiment with using different hummus flavors to shake things up.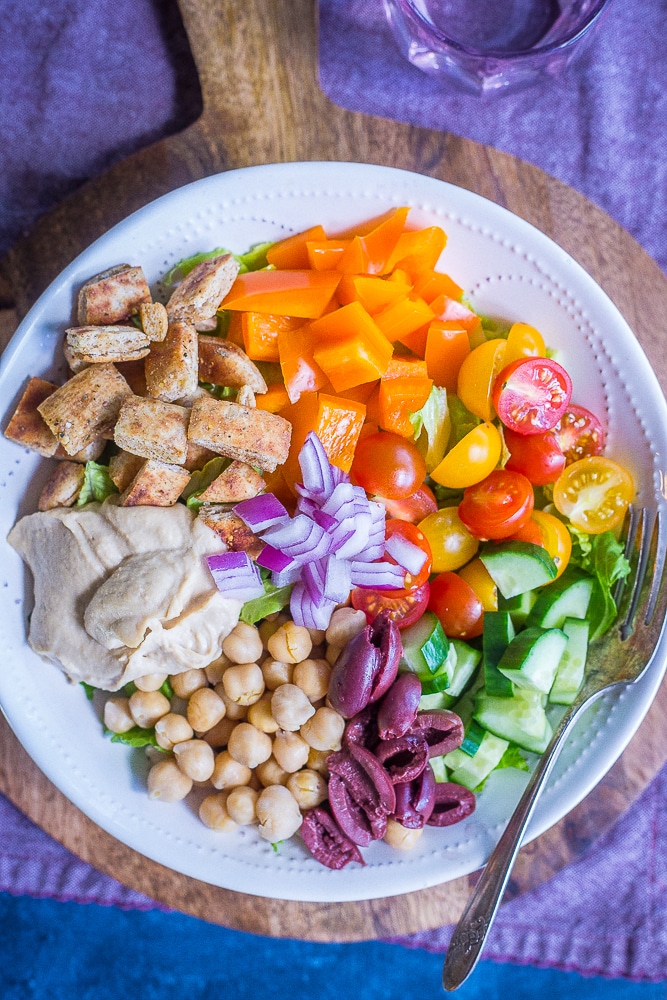 I also love to serve mine with some toasted pita bread cubes because let's face it, I love my carbs!  It also gives a nice texture to the salad and acts like a crouton.  When making this salad for meal prep, I like to leave the pita bread off until serving so it doesn't get soggy.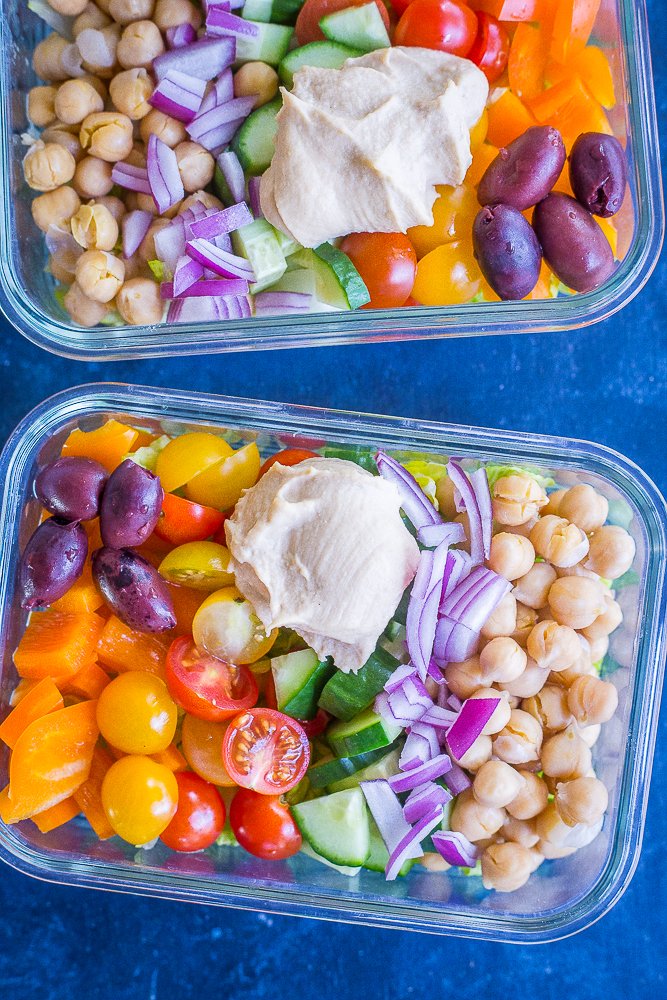 I hope you all enjoy these Easy Greek Salad Meal Prep Bowls!  They've been on repeat around here lately and I'm just loving how easy they are to make!
Link to my favorite Greek Salad Dressing.
Print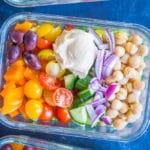 Easy Greek Salad Meal Prep Bowls
---
Author:

Total Time:

27 minutes

Yield:

2-4
Description
These Easy Greek Salad Meal Prep Bowls are full of flavor, vegetables and protein!
---
Your favorite greens: you could use spring mix, romaine, spinach, baby kale, etc…
Cherry tomatoes, diced
Bell pepper, diced (you can use red, yellow or green)
Cucumber, diced
Red onion, diced
Kalamata olives, sliced if preferred
Cooked Chickpeas
Hummus
Pita bread
Olive oil
Salt
Dried Italian seasoning
---
Instructions
To make pita bread croutons: Pre-heat oven to 350 degrees F.  Dice pita bread into bite size pieces.  I use about 1/2 a pita bread for each salad.  On a large baking sheet toss together pita bread with a drizzle of olive oil, salt and Italian seasoning to taste.  Bake pita until browned and crispy, 5-7 minutes, flipping once.  Pita croutons are best stored in an airtight container on the counter for up to 4 days.
Salad measurements for each bowl: 1 large handful greens, 1/3 cup chickpeas, 1/3 cup tomatoes, 1/3 cup cucumber, 1/3 cup bell pepper, 2 tablespoons kalamata olives, 1-2 tablespoons red onion, 2 tablespoons hummus.
Pile everything in a refrigerator friendly airtight container and store in the refrigerator for 3-4 days.  If using a delicate green like spring mix, you will probably want to store that separately as it may not hold up with all the other vegetables.
Enjoy with your favorite dressing!  Link to my go-to greek salad dressing above recipe card 🙂
Notes
You can make as many or as few servings of these Greek salads as you like!  I wouldn't recommend keeping them in the refrigerator for more than 4 days.
This recipe would also be great as a big lunch or dinner salad that is not prepped in advance.
Prep Time:

20 mins

Cook Time:

7 mins

Category:

Meal Prep, Vegan

Cuisine:

Greek
Keywords: Meal Prep Greek Salad
SaveSave
SaveSave
SaveSave