6 delicious vegan quinoa bowls that are easy to make and perfect for lunch or dinner!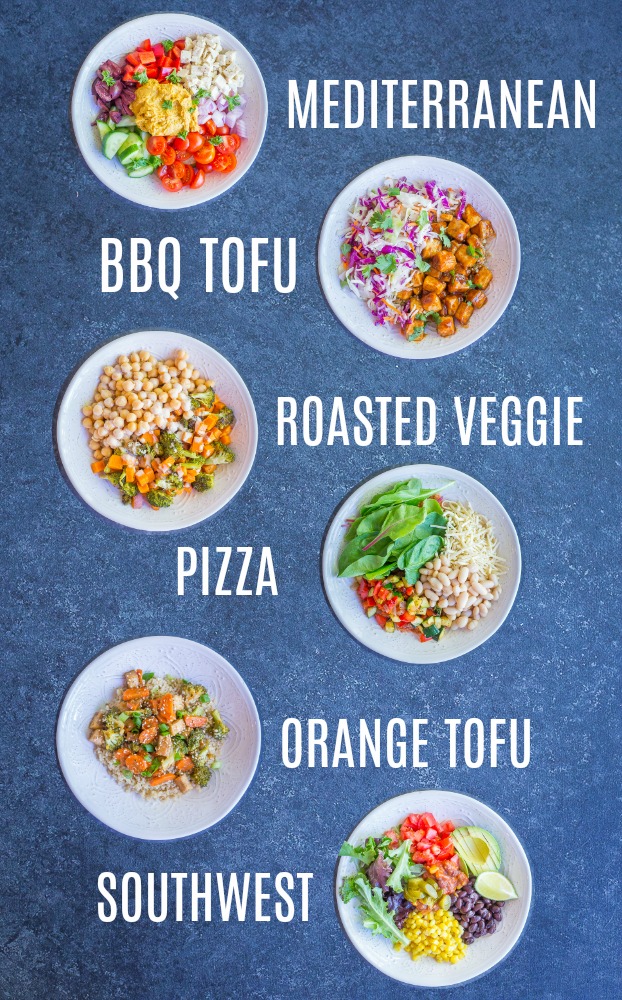 I'm so excited to share this post with you today!  It's been a labor of love and it's finally finished.  I hope you all love hearty one bowl meal recipes as much as I do because that's what this post is all about 🙂  
Quinoa (or any grain) bowls are one of those meals that I make quite often and are so great for using up leftovers.  I start with some quinoa as the base and then add in lots of veggies, beans or tofu, fresh herbs and a delicious dressing on top.  They so great for a healthy make ahead lunch or a quick and easy dinner.
I thought it would be fun to share with you 6 of my favorite Easy Vegan Quinoa Bowl recipes!  I hope they come in as handy for you as they do for me 🙂
A few things:
Each recipe makes 4 servings.  They're great for a make-ahead lunch that can be portioned out.
Quinoa tastes best when it's rinsed before cooking.  This tiny strainer works great!
Once quinoa is finished cooking, it's good to fluff it with a fork before portioning it out.
You can sub out any grain you like for the quinoa if it's not your thing.
I've put in measurements for all ingredients, but feel free to use as little or as much of each ingredient as you like.
Also, feel free to sub out ingredients you don't like as much with ones that you do.
Mediterranean Quinoa Bowl – This is one of my favorites!  It's packed with lots of fresh veggies and topped off with a big spoonful of hummus.  The tofu feta is delicious!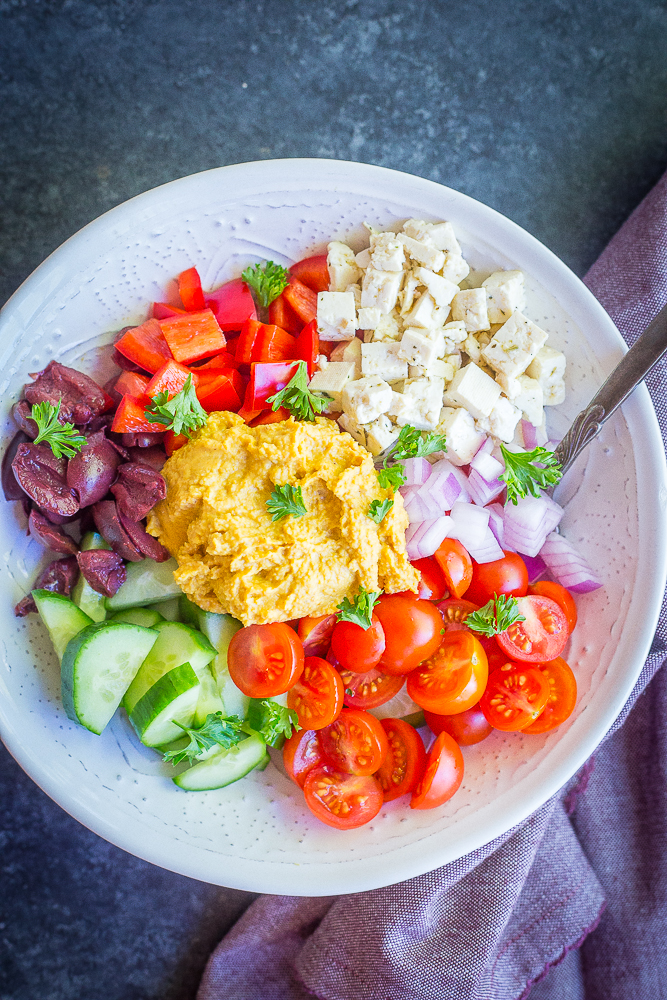 Print
BBQ Tofu Quinoa Bowl – These bowls are great if you love a good BBQ flavor!  The tofu is crisped up in the oven and then tossed with BBQ sauce making it so good.  I've also added some crunchy vinegar slaw in so you get your veggie fill 🙂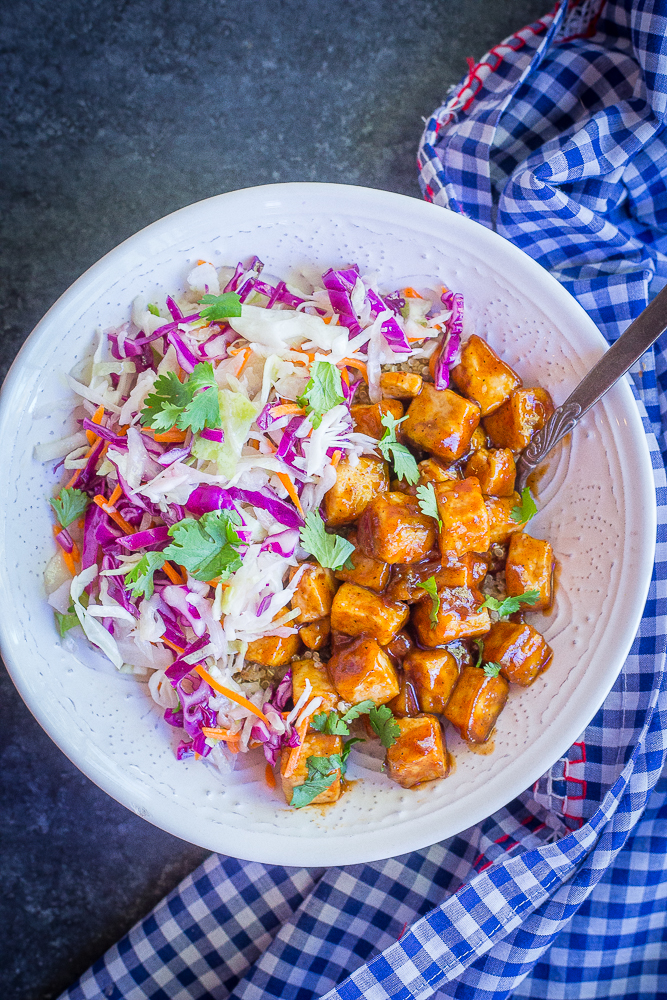 Print
Roasted Veggie Quinoa Bowl – This bowl is perfect for when you have extra veggies in the refrigerator that you need to use up!  You just roast up the veggies, add some chickpeas and then top with a creamy lemon tahini dressing.
Print
Pizza Quinoa Bowl – This bowl is loaded with all your favorite pizza ingredients!  I've also mixed some tomato sauce into the quinoa for a really great pizza flavor.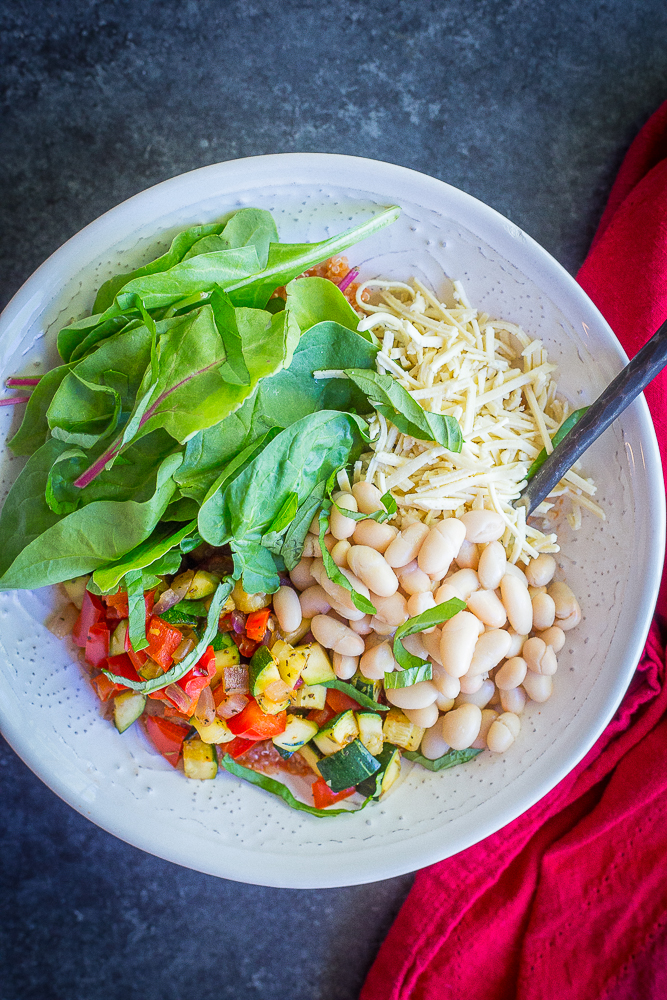 Print
Orange Tofu Quinoa Bowl – I've crisped up the tofu in the oven and then tossed it with veggies and a really flavorful orange ginger stir fry sauce.  This bowl is great for a quick and easy diner!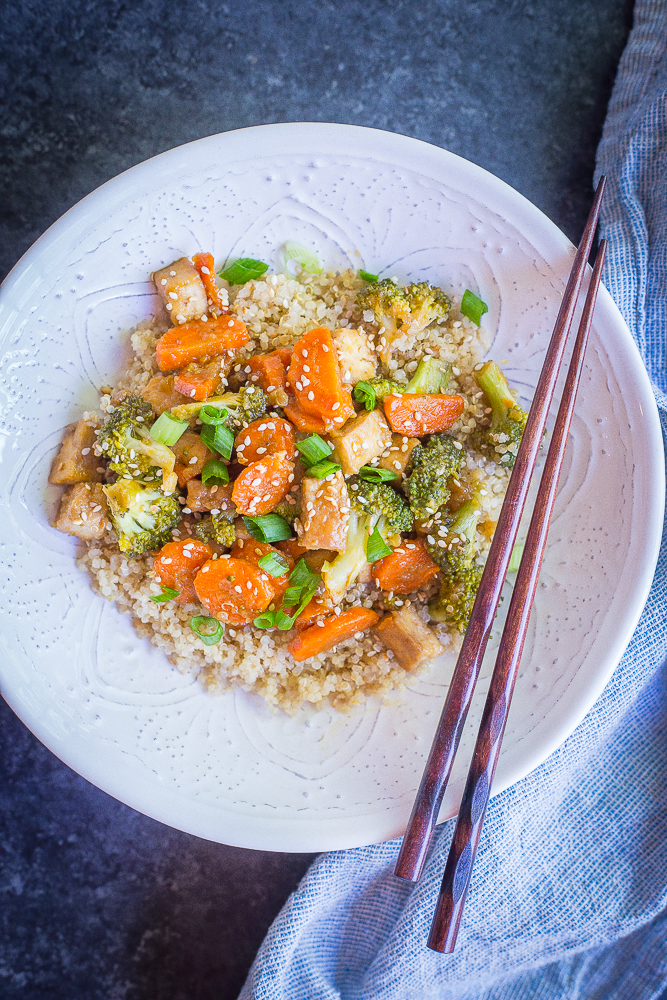 Print
Southwestern Quinoa Bowl – This bowl is packed with my favorite southwestern ingredients to make a fresh and filling meal!
Print
SaveSave
SaveSave
SaveSave
SaveSave
SaveSave
SaveSaveSaveSave
SaveSave
SaveSave
SaveSaveSaveSave