Pasta is a great ingredient for a quick and easy weeknight dinner, but the same old pasta and red sauce gets a little old after a while. Today I have rounded up 35+ of my favorite Easy Vegetarian Pasta Recipes so your pasta inspiration can be all in one place!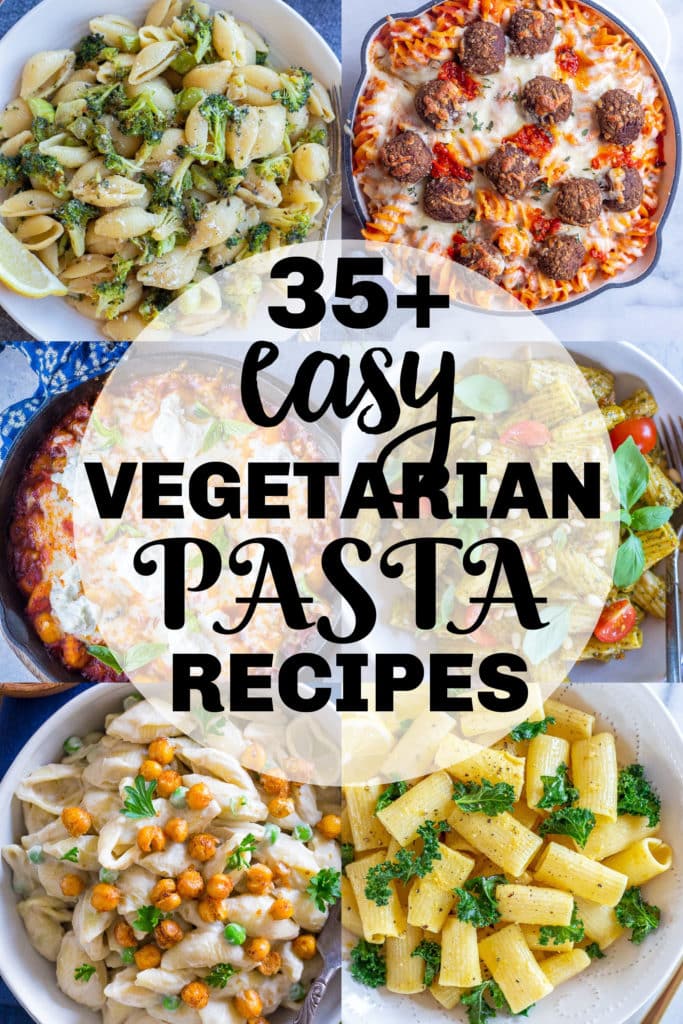 *In this roundup, I am including recipes that call for gnocchi and orzo, as well as pasta salads.
Easy Vegetarian Pasta Recipes
Most of these vegetarian pasta recipes can be made in 30 minutes or less. Others may take a little bit longer but they spend most of the time baking in the oven, so they are hands free. All recipes can easily be made gluten free by using gluten free noodles, and vegan cheese can be substituted in all recipes that call for cheese, if a vegan diet is required. I hope this list gives you some fresh, new dinner ideas! I will be updating this list as I add new easy vegetarian pasta recipes to my site.

Garlic Parmesan Pasta with Roasted Broccoli
Garlic lovers can add as much garlic as they like to this recipe! You can also load up the baking tray with a variety of veggies, rather than just roasting broccoli. Tofu or chickpeas can be added for extra protein.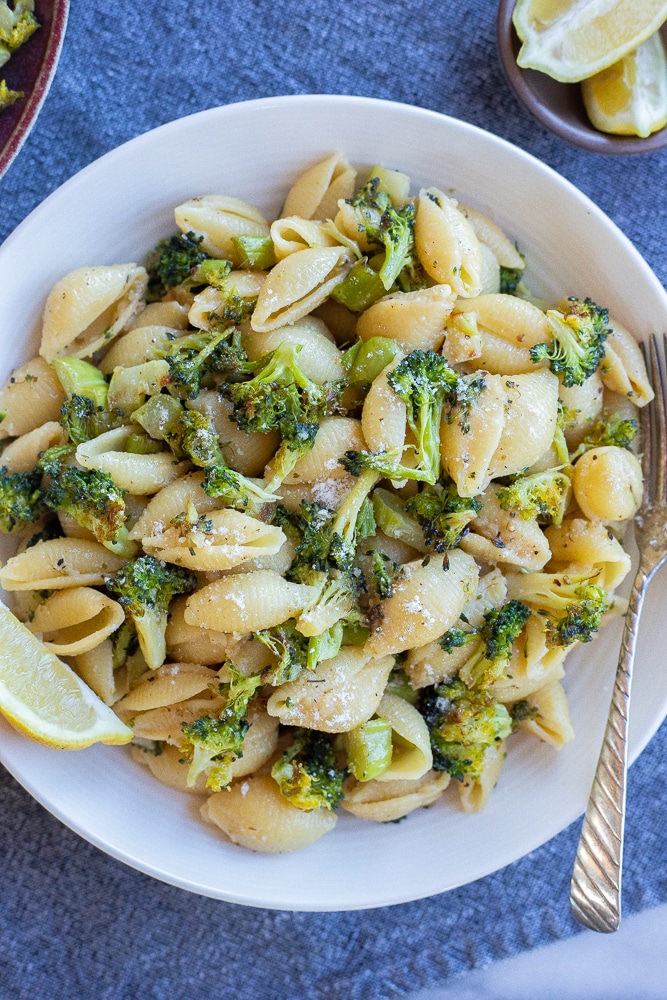 Spicy Baked Pasta with Vegetarian Meatballs
This cozy and cheesy baked pasta dish is made spicy by adding some Calabrian chilies to the sauce! They also add great flavor and the vegetarian meatballs make this recipe super filling and hearty.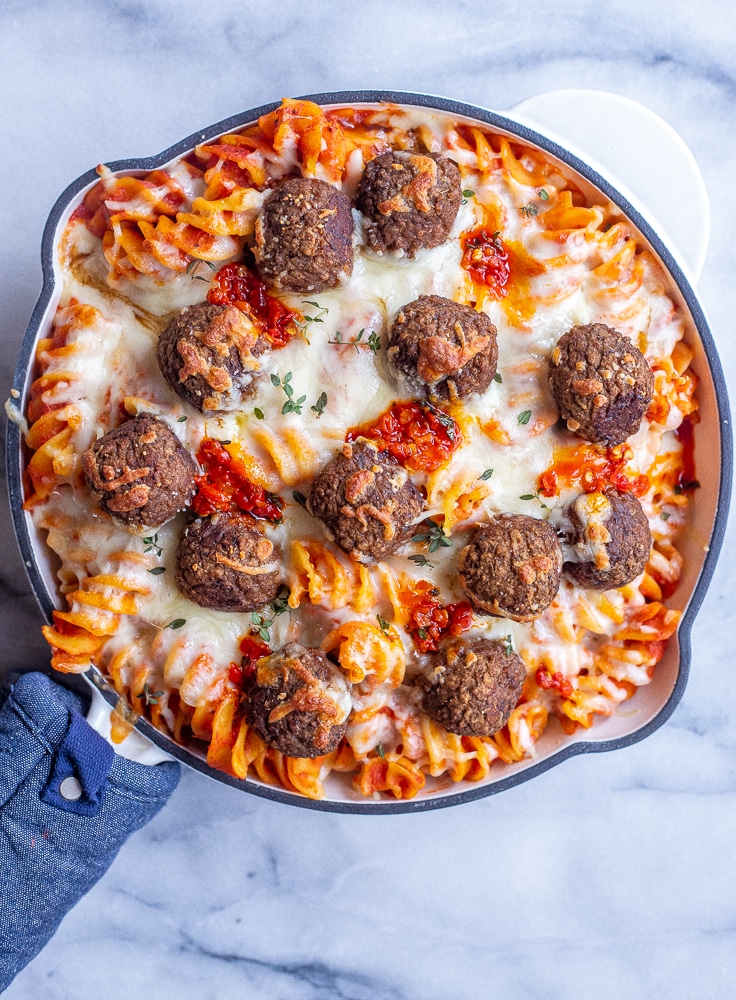 Herby Parmesan Tomato Pasta Salad
This delicious pasta salad is tasty enough to enjoy for dinner or lunch! Serve with some bread, chips, fries or veggies to make it feel more like a meal.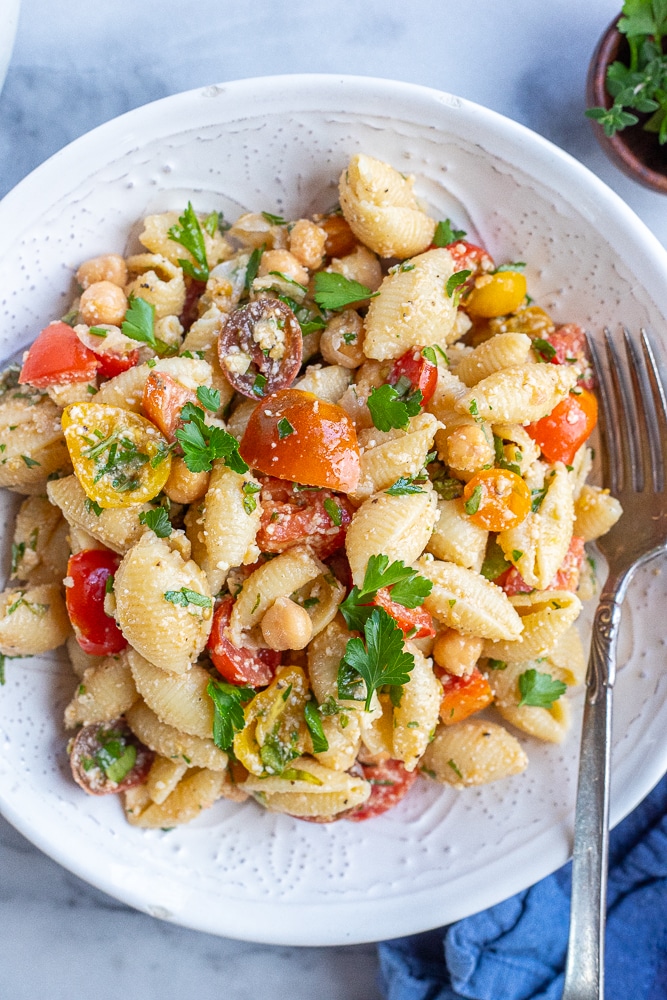 Baked Pesto Orzo with Cherry Tomatoes and Feta
This is a dish inspired by summer produce, but can be enjoyed anytime of the year! The flavors are both rich and refreshing!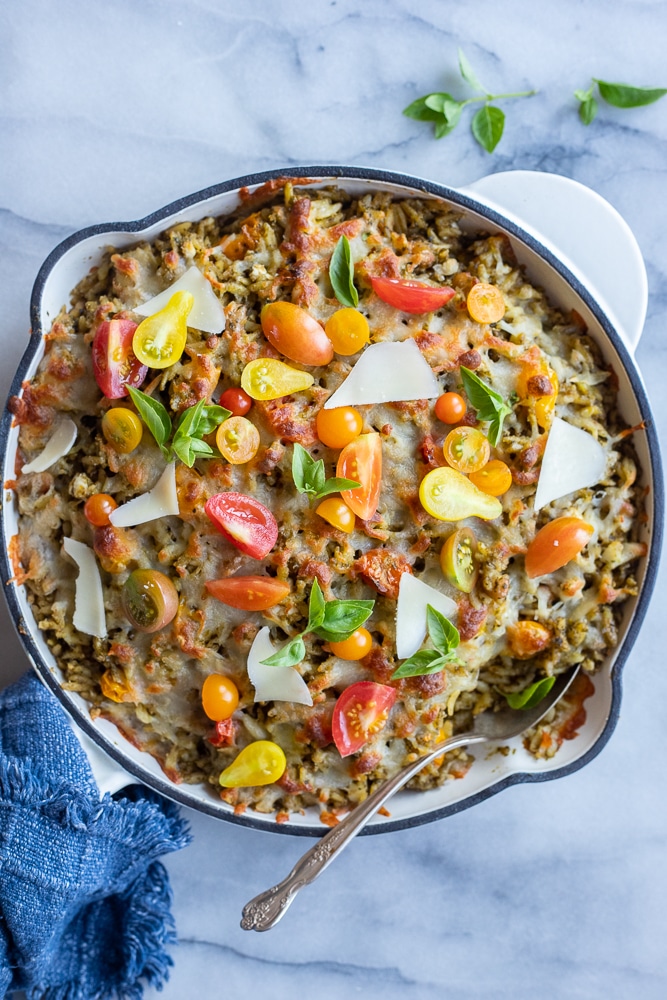 Tahini Balsamic Pasta Salad with Arugula
Another pasta salad recipe that can easily be enjoyed for dinner! It's packed with chickpeas, cheese and lots of veggies.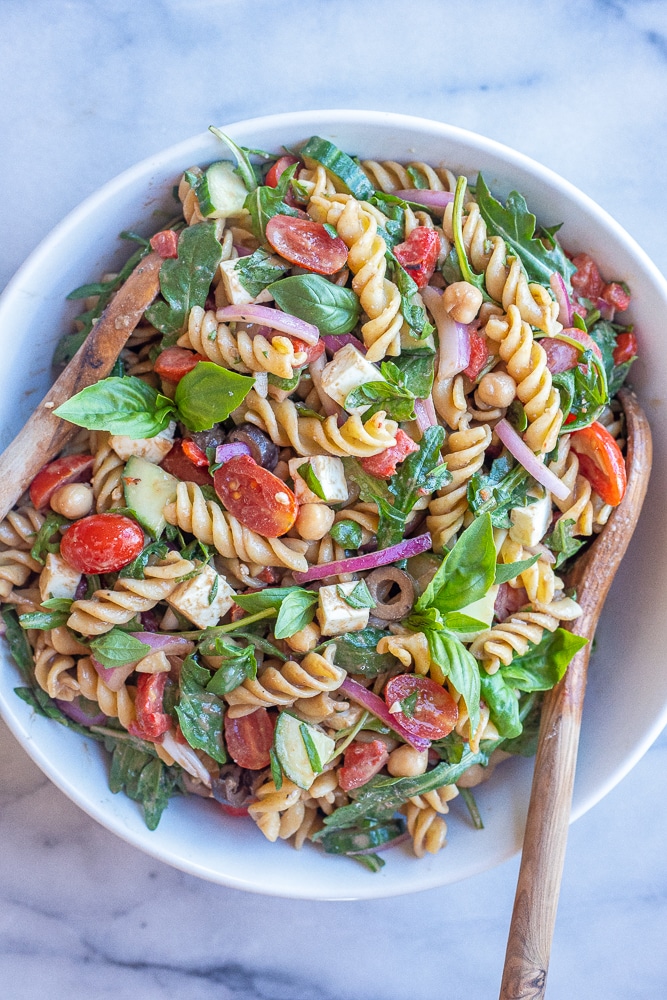 This is my classic vegetarian pasta salad recipe. It can be served warm or cold and you can add in any vegetables you like.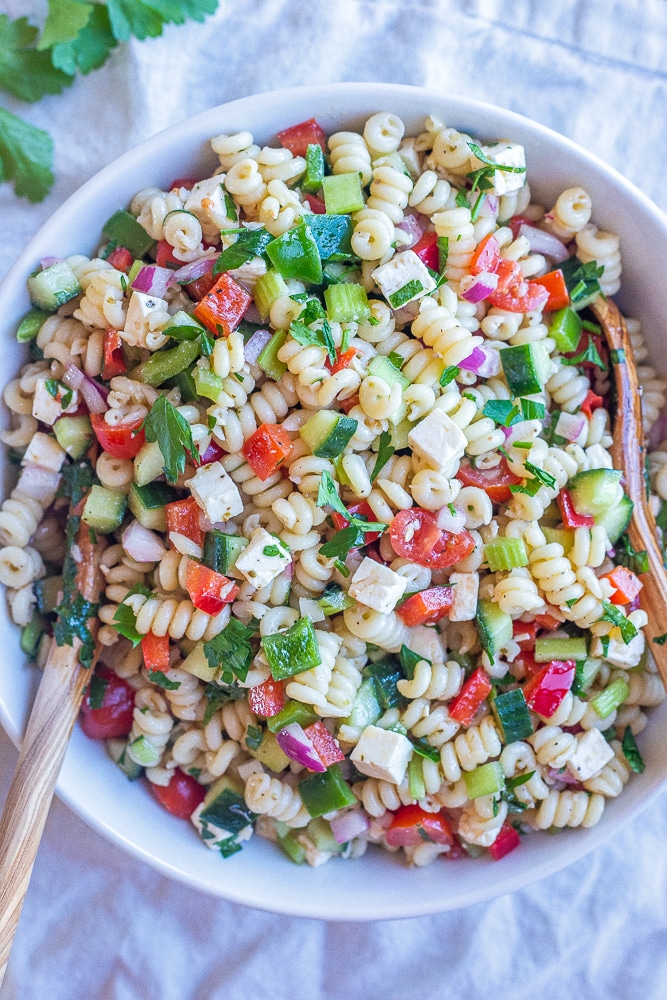 Lemon Broccoli Pasta with Roasted Tomatoes
This simple lemon broccoli pasta is fresh, flavorful and made with just a couple ingredients you might already have on hand!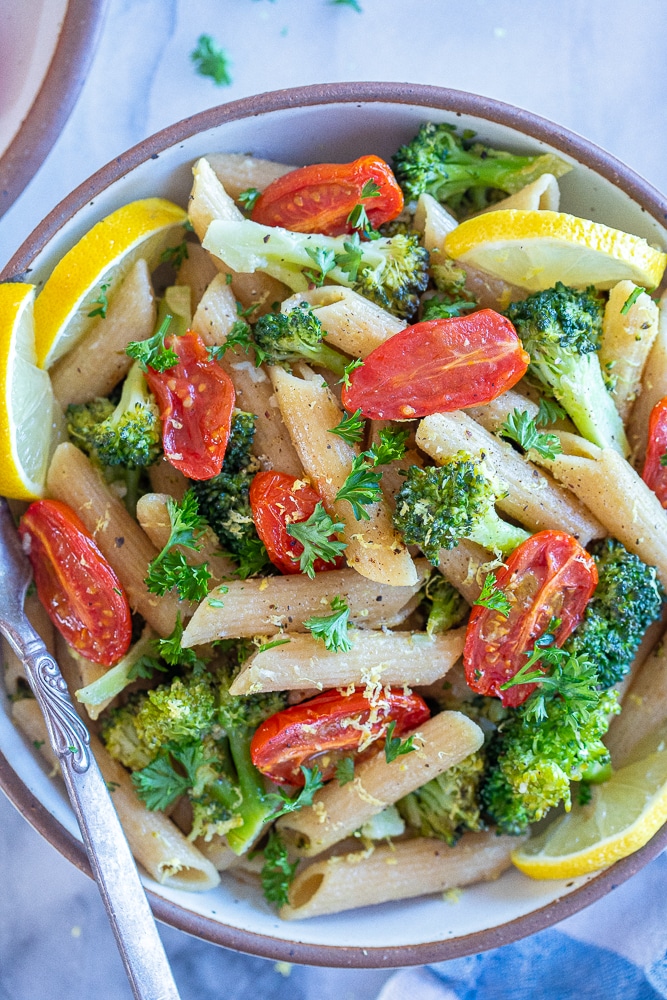 Baked pastas are great for adding in tons of veggies, so you can add much more than spinach if you like.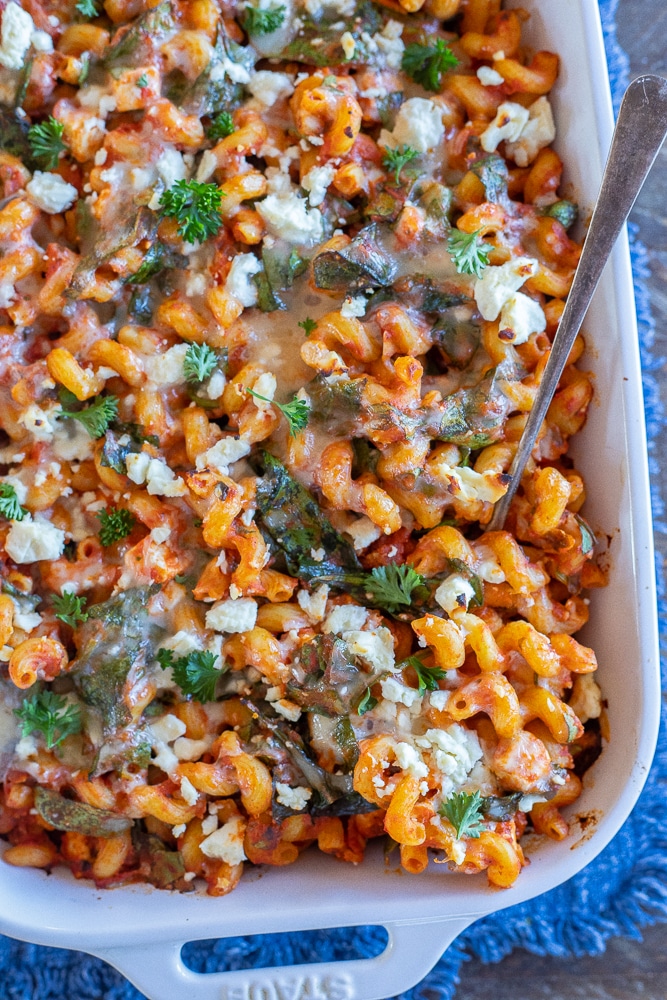 Sheetpan Gnocchi with Zucchini and Cherry Tomatoes
Sheetpan meals are great because everything cooks together at the same time! This one is summer inspired and the gnocchi gets perfectly crisp.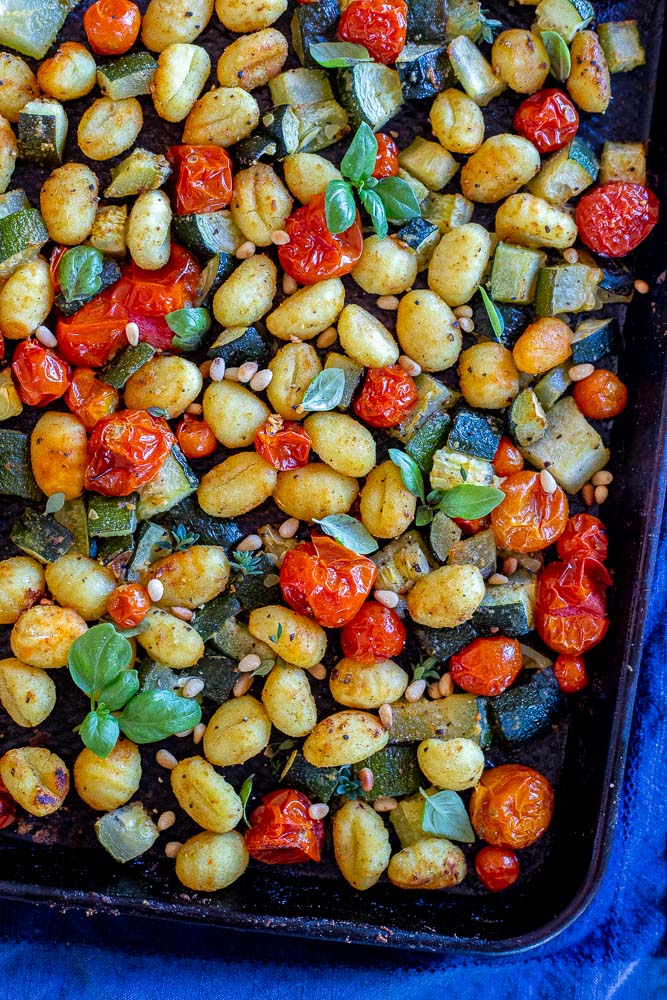 This recipe is a reader favorite! It's easy to make but packs some flavor! Any vegetables can be used in place, or in addition, to the kale.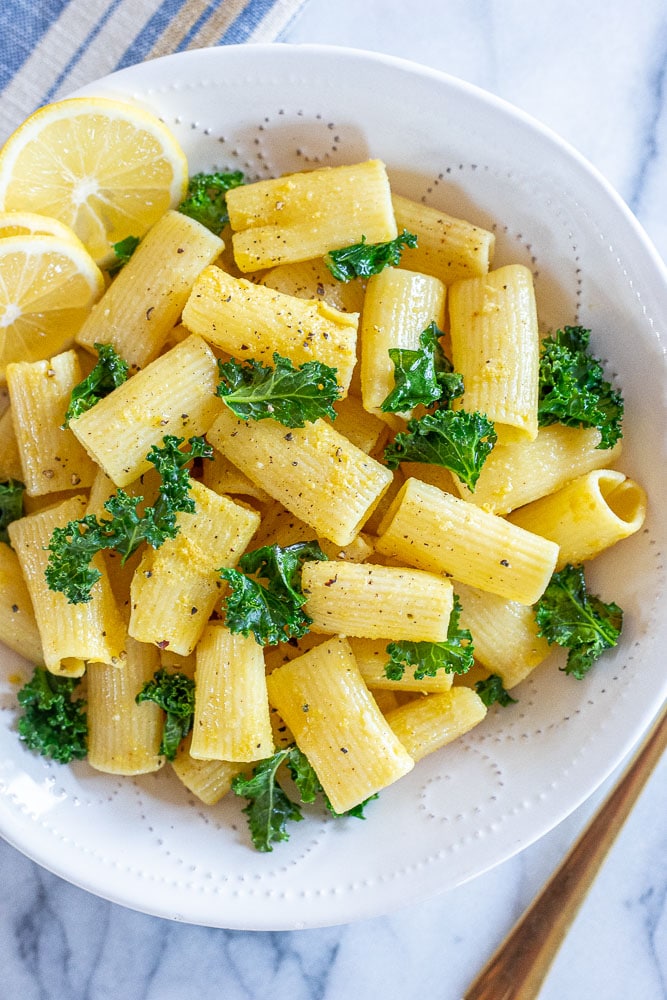 This is one of my favorite recipes that I make multiple times a month! It's packed with protein, veggies and flavored pasta.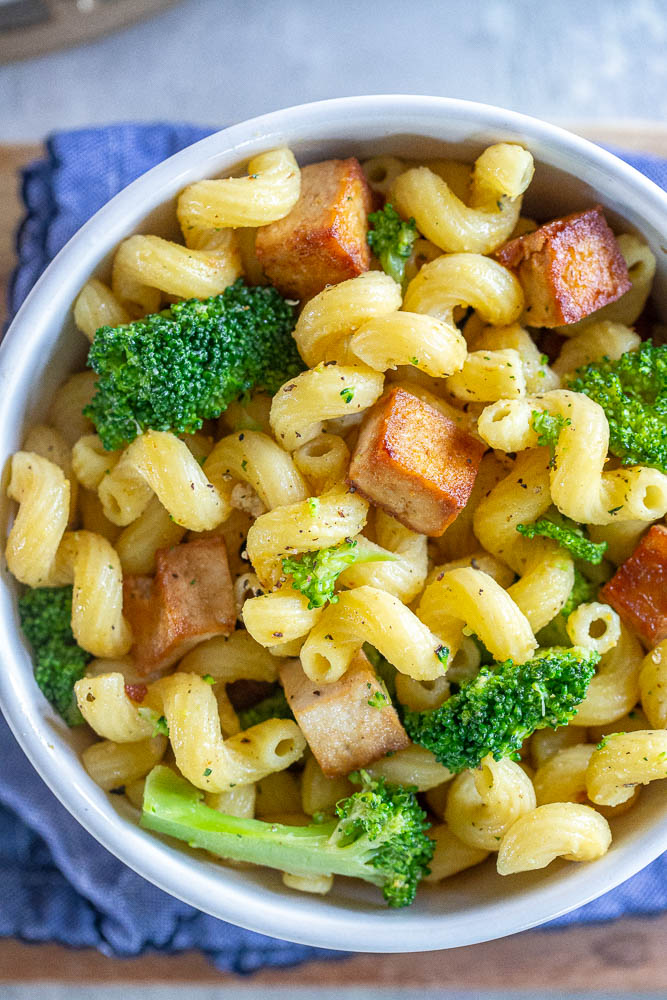 The sun-dried tomatoes add a ton of flavor to this easy pasta with homemade pesto! This is easily one of my favorite pesto recipes on the blog.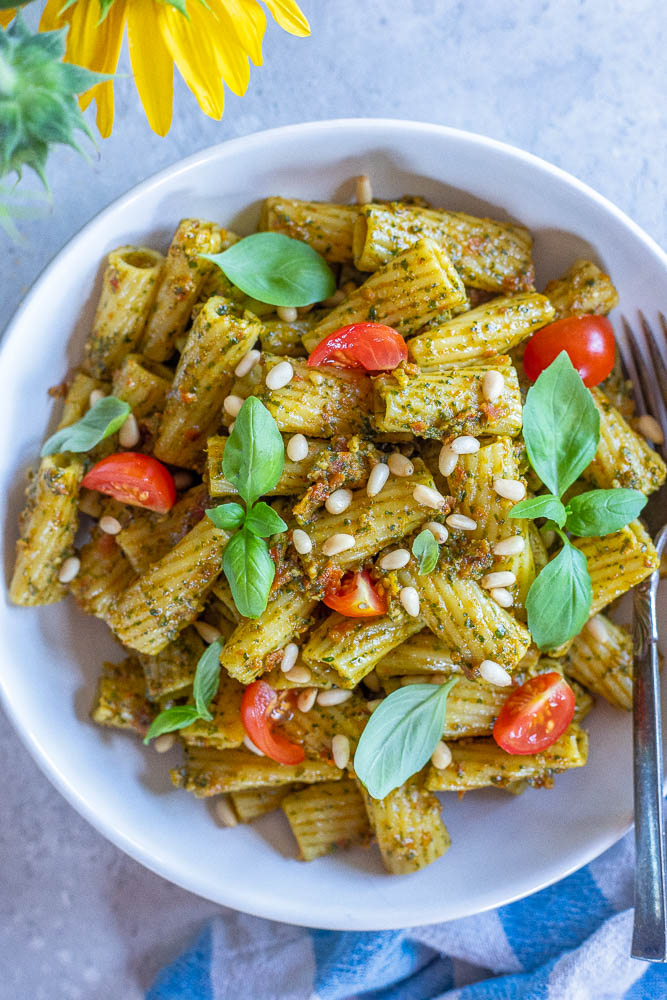 Bruschetta Pasta Salad with Parmesan
This bruschetta pasta salad is simple, but packed with familiar flavors that all compliment each other. It's great served warm or chilled.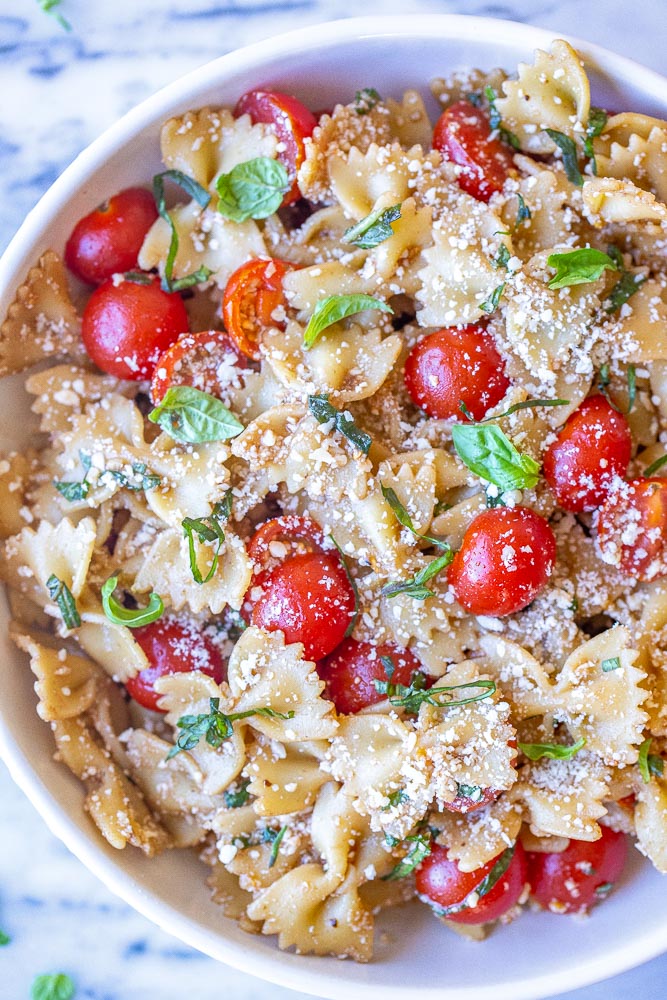 Fall Pasta Salad with Butternut Squash and Feta
I originally served this as a pasta salad at a potluck, but it can easily be served warm and enjoyed for dinner!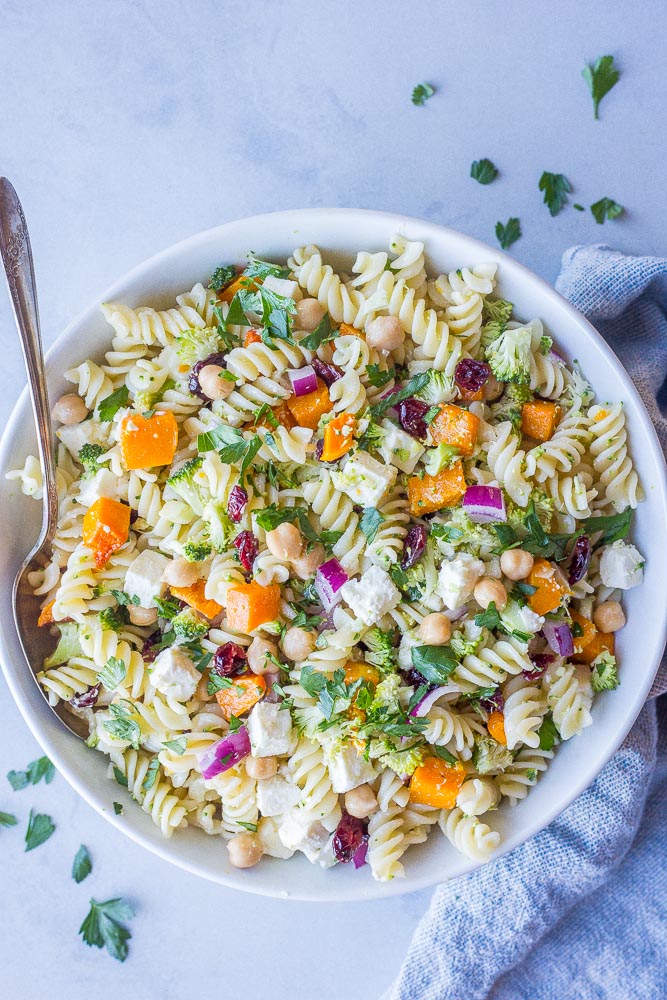 30 Minute Gnocchi Lasagna Bake
One of my favorite quick and easy cozy meals to make! Tastes so much like lasagna but is made with quick cooking gnocchi.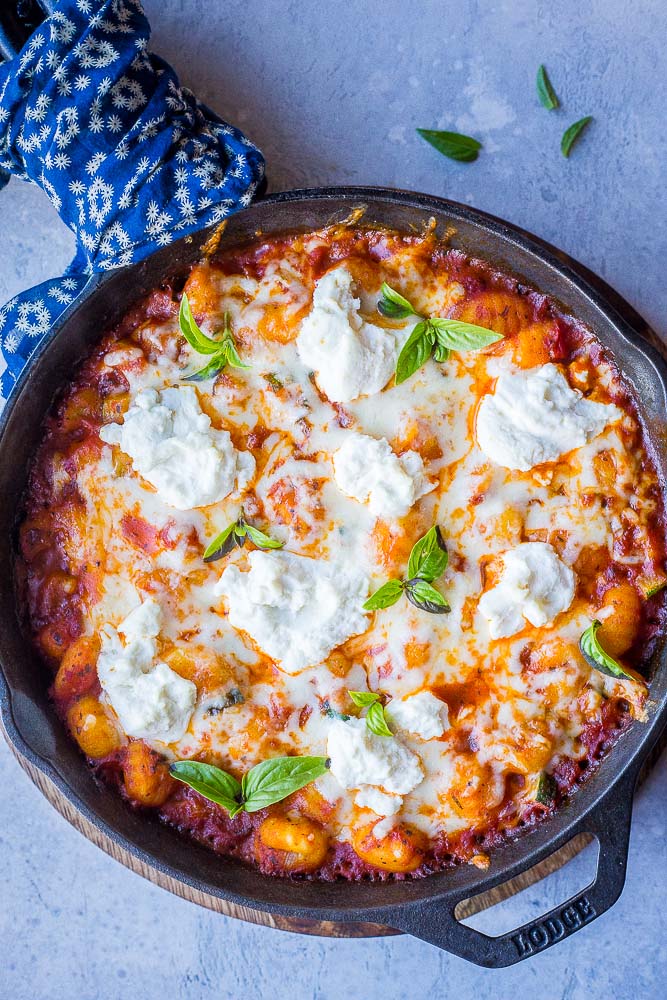 Pesto Pasta with Summer Vegetables
This is a great quick and easy dinner for the summertime. It's even better if you have your own garden produce to throw in!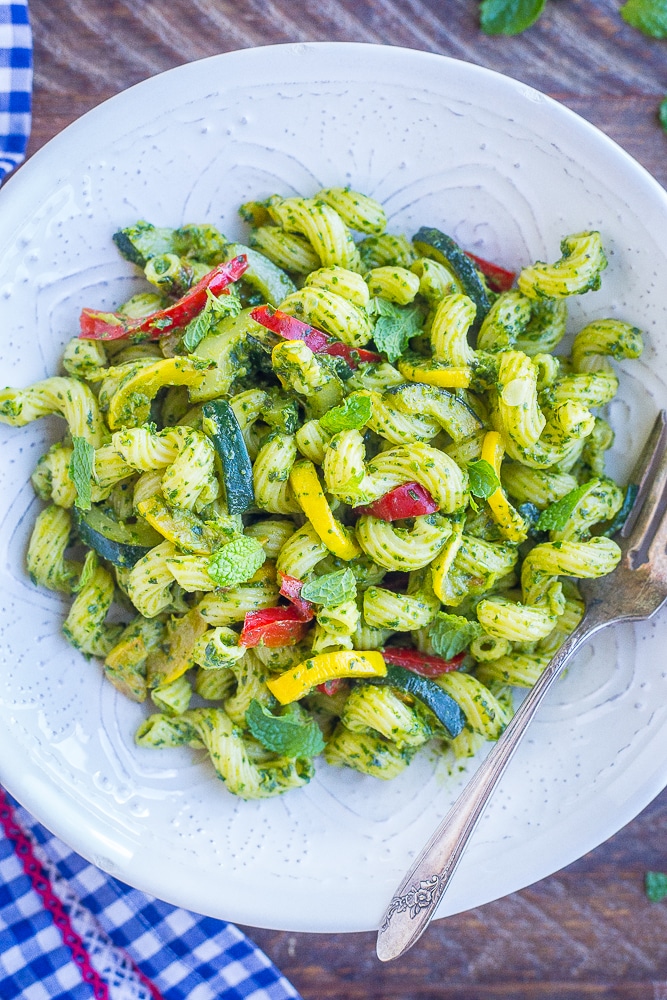 Pesto Gnocchi with White Beans and Broccoli
This easy dinner is packed with tons of veggies and the gnocchi goes so well with the white beans. I like to add extra fresh lemon juice!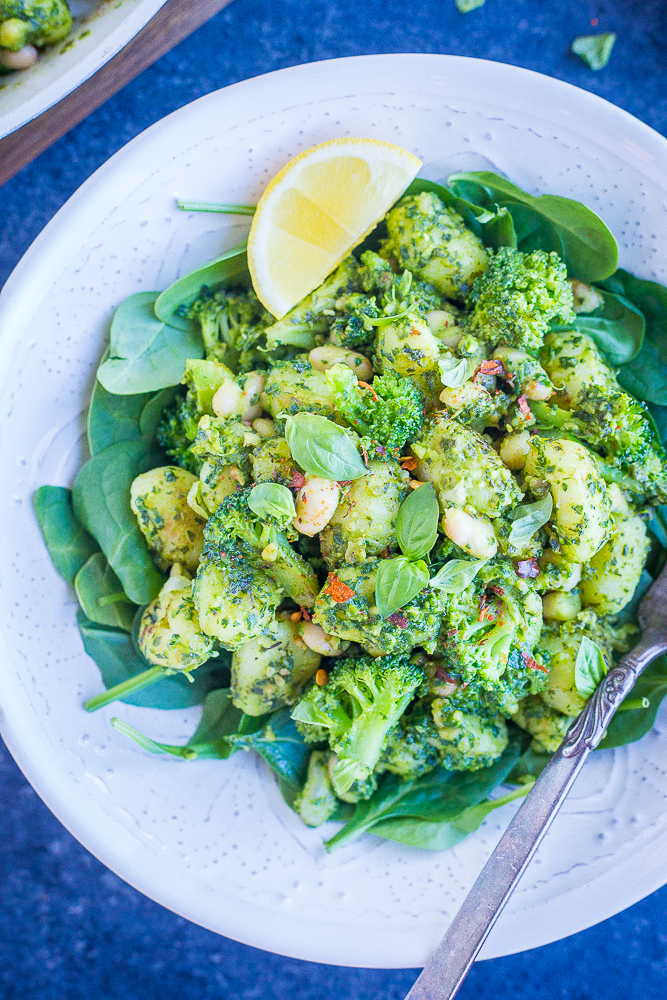 This is a spring inspired pasta salad recipe, but it can easily be served warm, with the veggies sautéed for an easy dinner!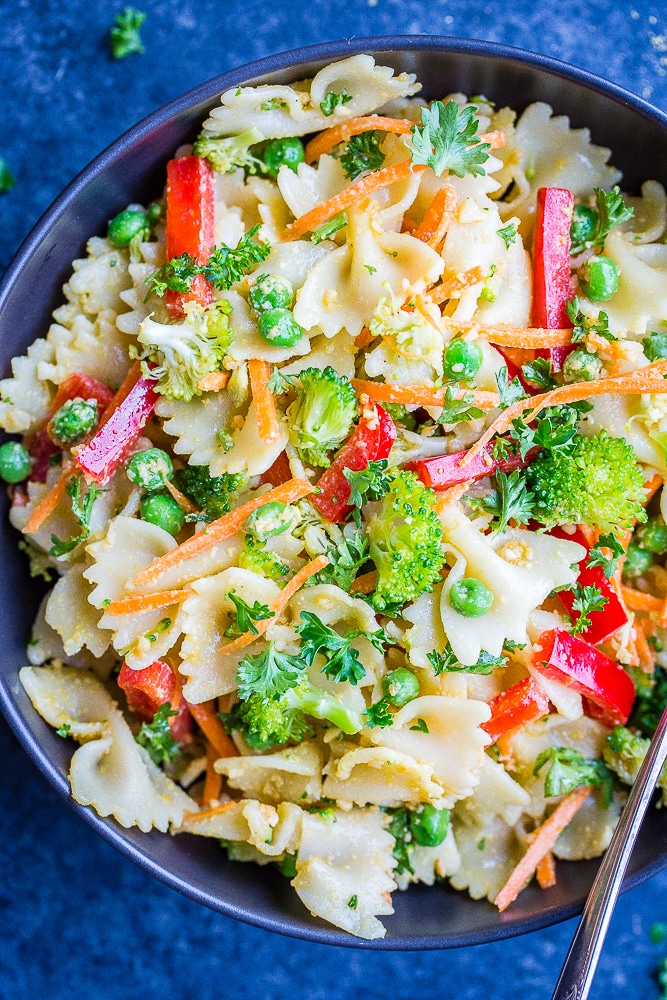 Avocado Pesto Zucchini Noodles
This recipe combines regular spaghetti with zucchini noodles so it is a great way to add in those extra veggies!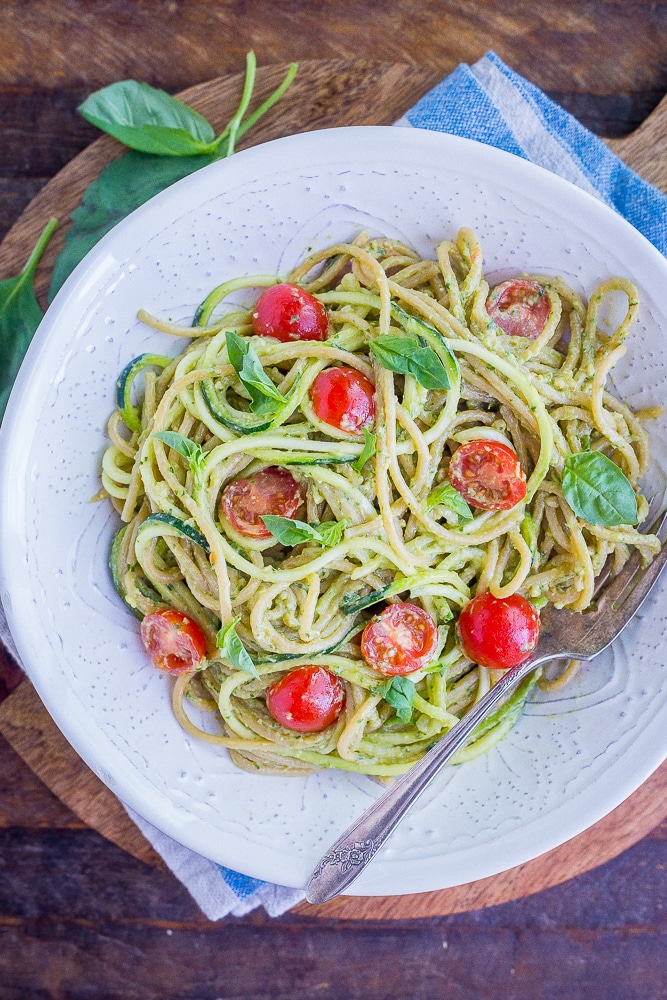 30 Minute Gnocchi Pizza Bake with White Beans
If you're craving pizza but don't have any crust, try this gnocchi pizza bake with white beans! It's great for an easy family meal.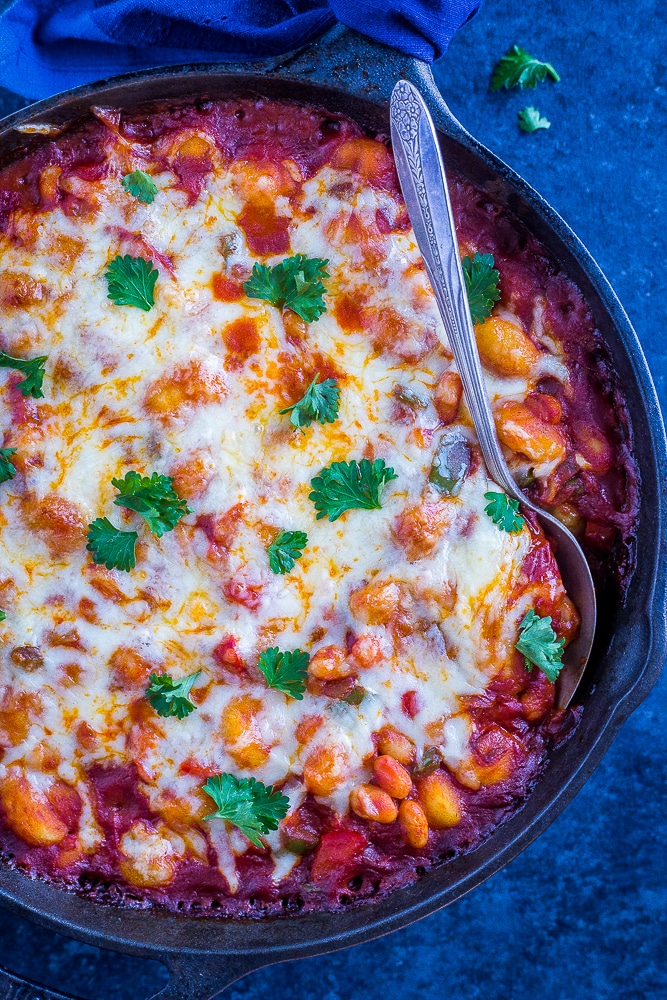 Vegan Alfredo Pasta with Crispy Chickpeas
This delicious Alfredo sauce is made using cauliflower, so this pasta recipe is like comfort food secretly packed with veggies!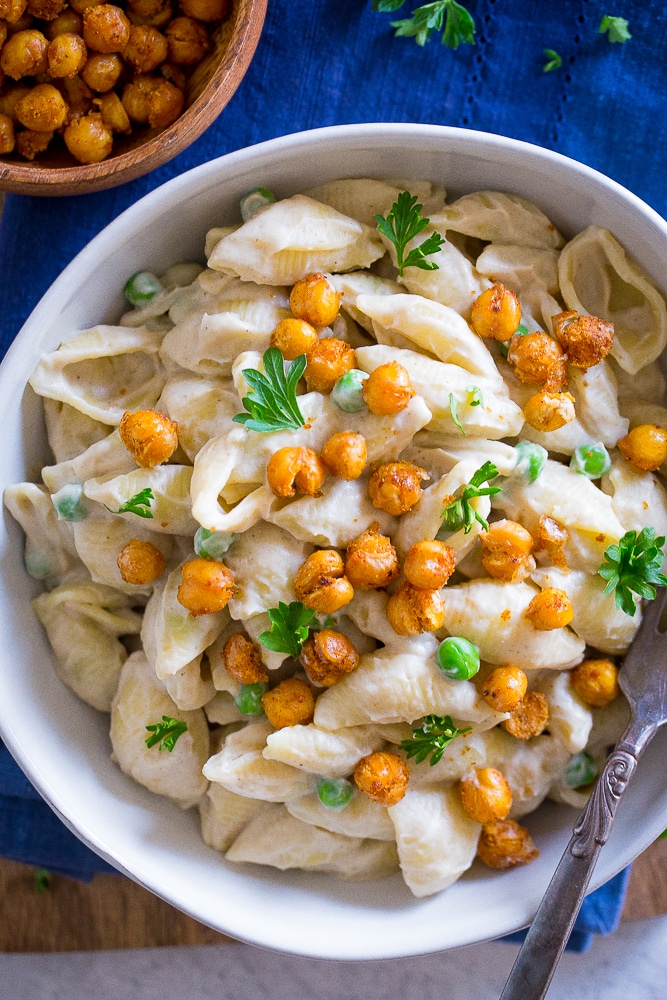 5 Ingredient Baked Ziti with Spinach and Chickpeas
Baked ziti is cheesy and delicious, but also a little more nutritious when served with spinach and chickpeas!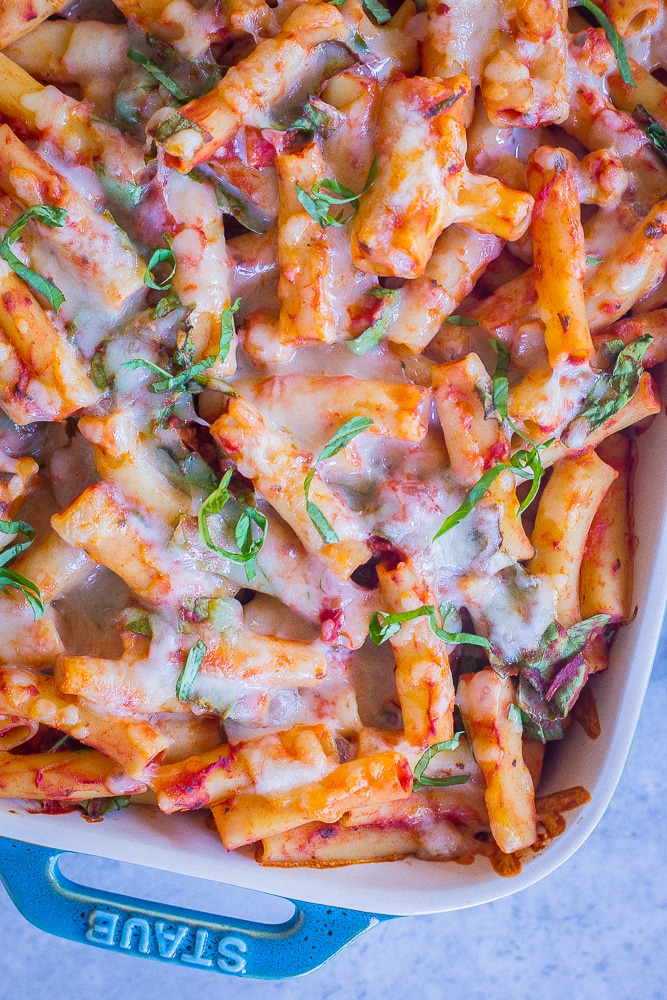 This pesto has a southwestern kick from the cilantro and lime juice! It's super flavorful and great for dinner or lunch.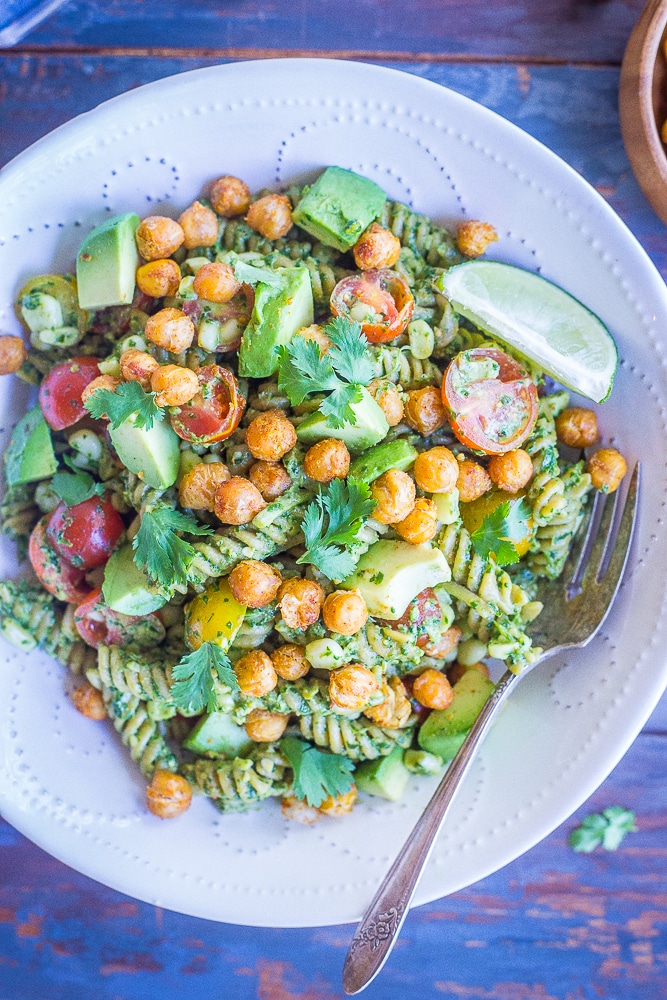 Creamy Goat Cheese Pasta with Everything Bagel Spice
You only need a few simple ingredients that make this really easy pasta dish!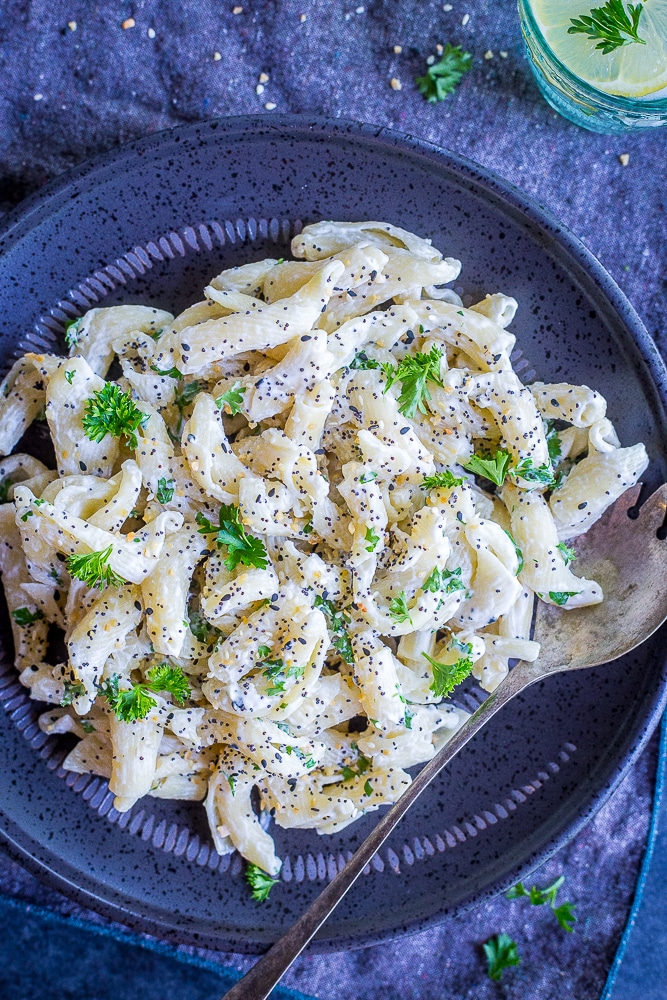 5-Ingredient Gnocchi Broccoli and White Bean Bake
Another easy baked gnocchi recipe that is filling and cozy! I like to serve with a big salad and some garlic bread.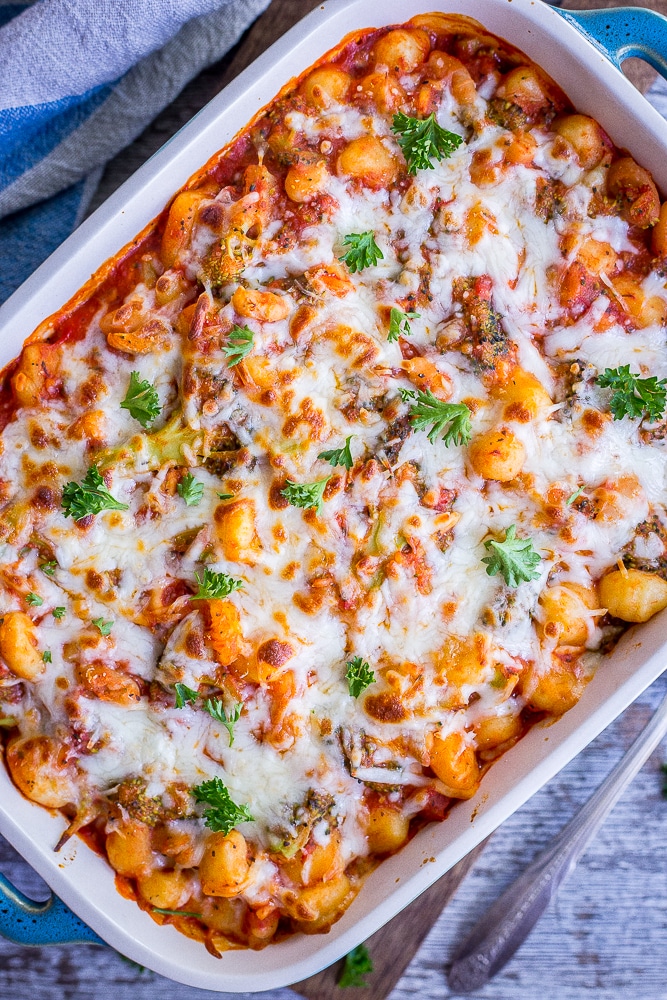 Loaded Greek Chickpea Pasta Salad
This pasta salad recipe is made with chickpea pasta, so that adds some nice extra protein!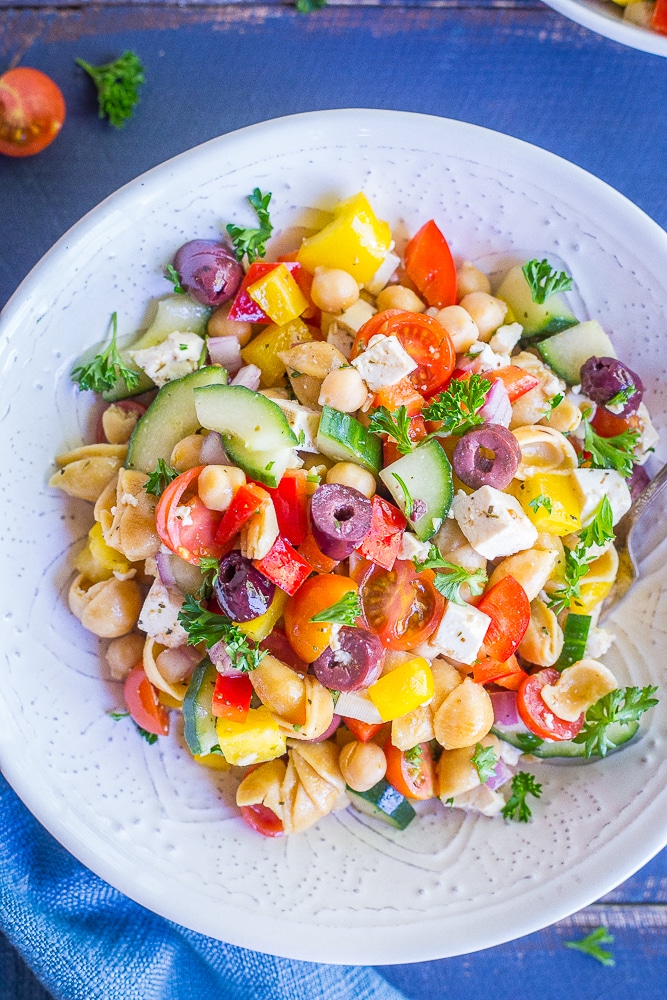 Polenta Parmesan with Spinach and White Beans
Polenta is not pasta, but it I like to think of this as a pasta inspired dish! The polenta is filling and when you buy it in the tube, it makes for a quick cooking vegetarian dinner ingredient.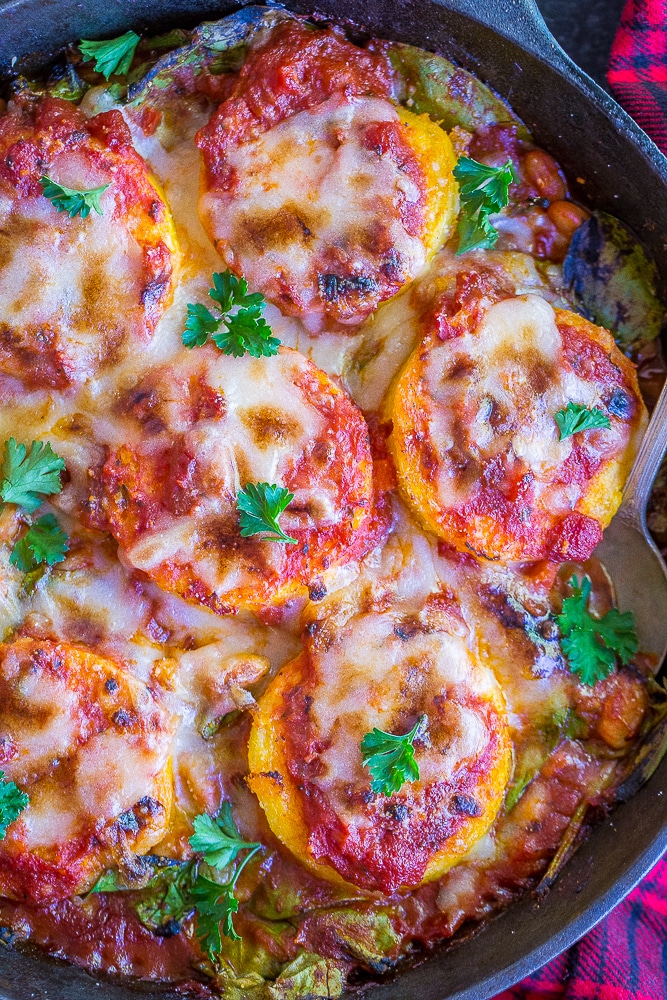 If you make the cheese sauce ahead of time, you can have a delicious dinner in just about 15 minutes! The sauce is made with pumpkin, but it can be enjoyed anytime of the year.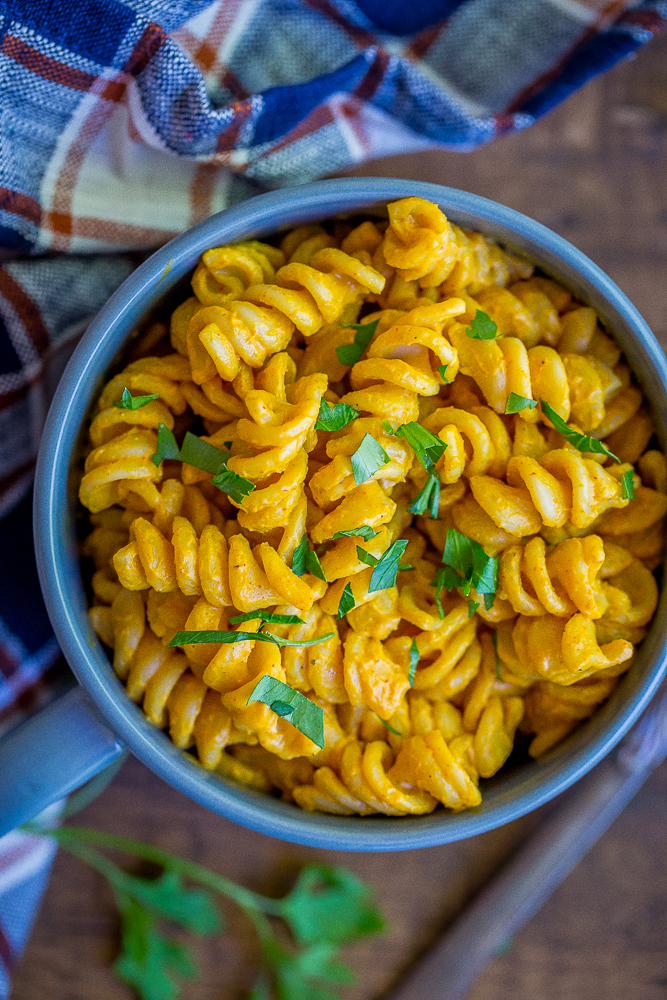 One-Pot Creamy Vegan Caprese Pasta
One pot pastas are so convenient and this vegan caprese version also happens to be easy and delicious!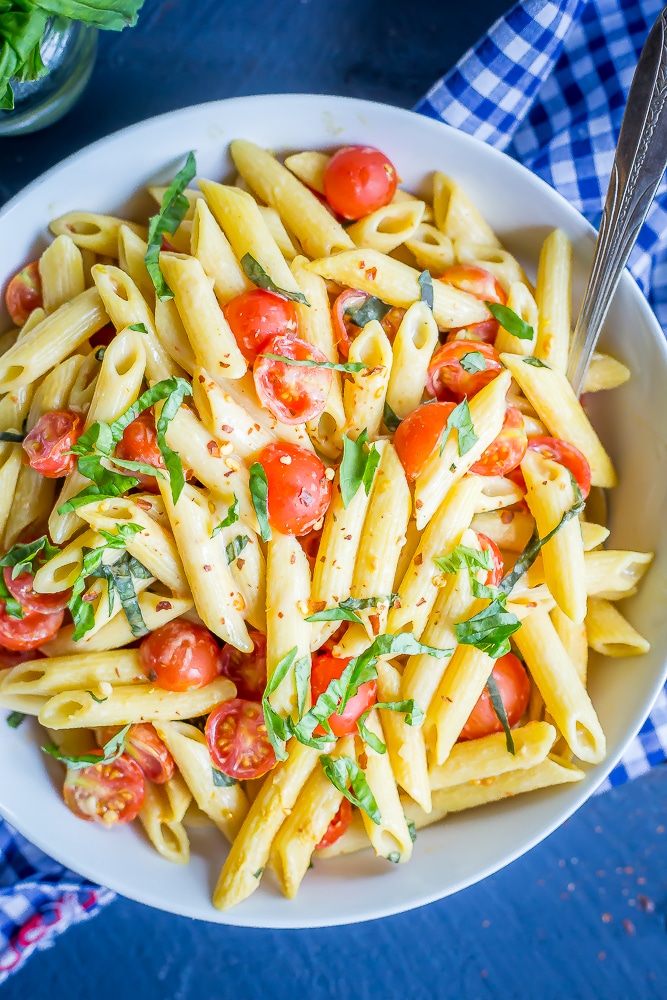 This pasta primavera is packed with veggies and protein, from the cheese. It's a great way to highlight spring produce but can be enjoyed anytime of the year.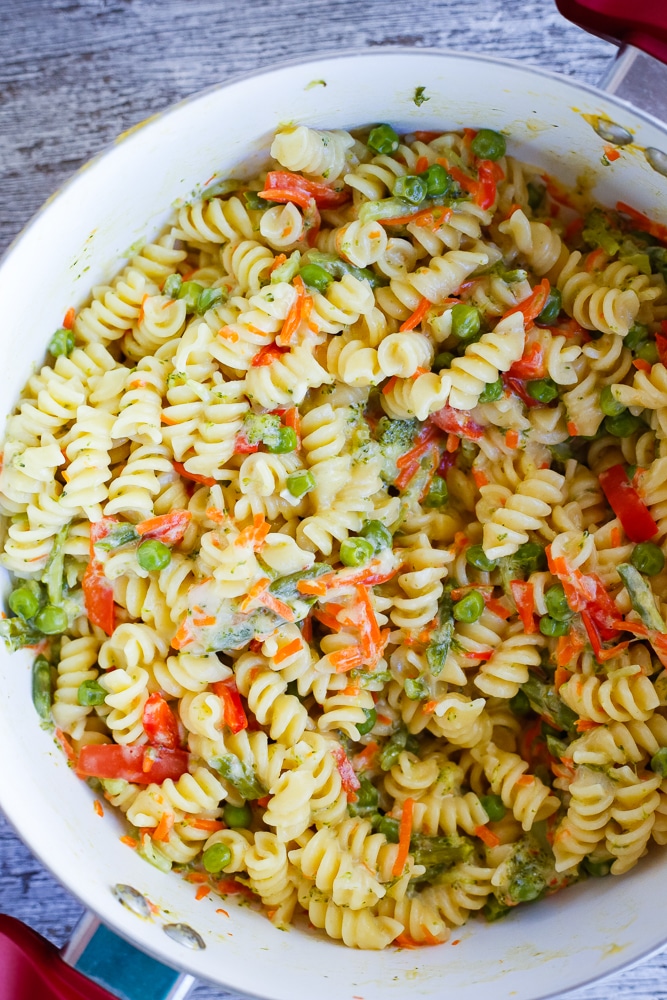 30 Minute Roasted Cauliflower Pasta with Chimichuri
This roasted cauliflower pasta recipe is light, yet filling. The chimichuri adds tons of flavor and makes this pasta dish fresh and bright!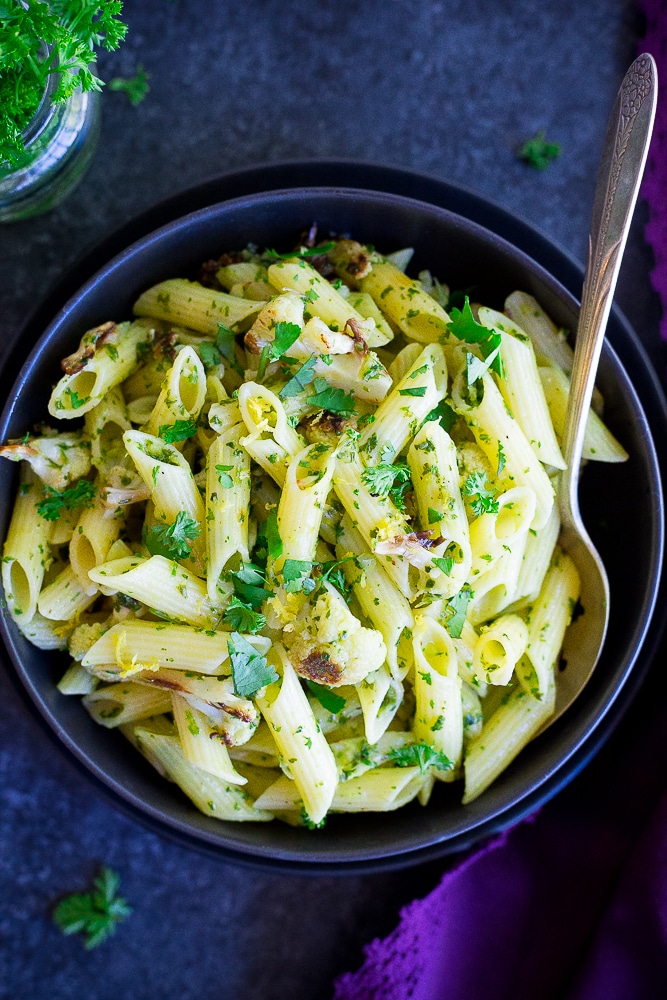 One Pot Loaded Vegetarian Chili Mac
Chili Mac is the ultimate comfort food and this vegetarian version does not disappoint!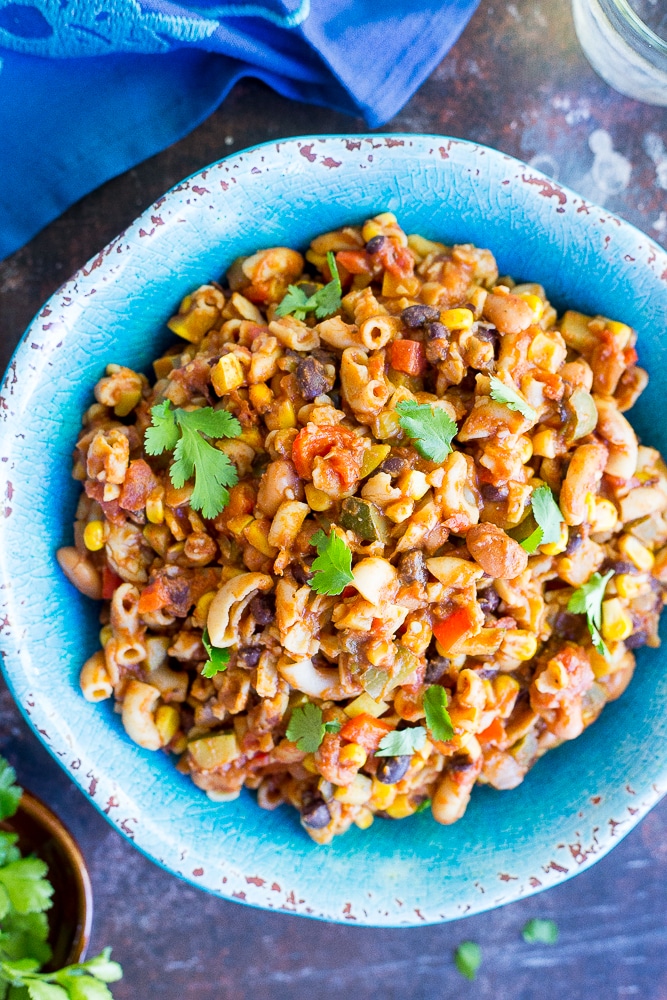 Healthier One Pan Stovetop Lasagna
This skillet lasagna recipes uses cottage cheese instead of ricotta cheese, making it a lighter version of a classic favorite!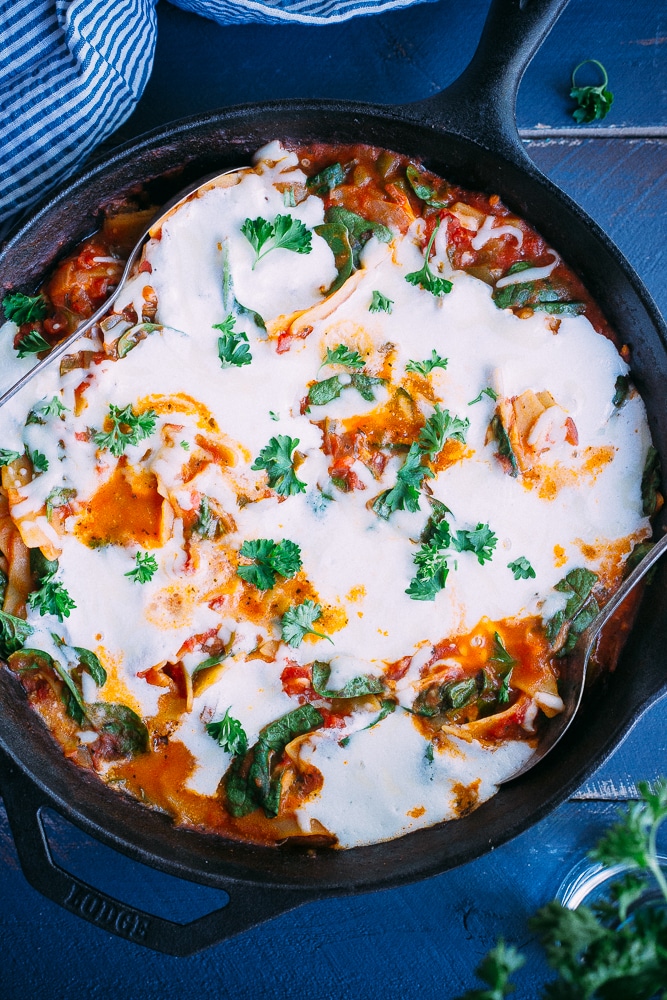 Creamy Tahini Greek Pasta Salad
The tahini dressing and added chickpeas make this Greek inspired pasta salad feel filling and healthy!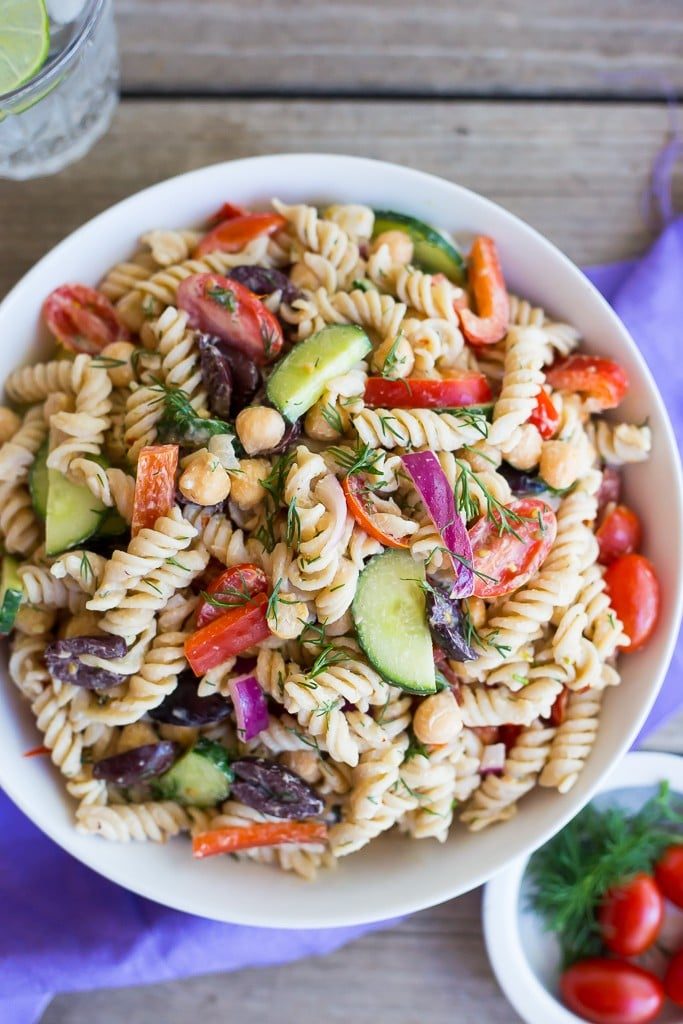 Balsamic Sweet Pepper Pasta with Parmesan and Spinach
This is the perfect pasta recipe for when the weather is getting warmer, but you still want something cozy and filling!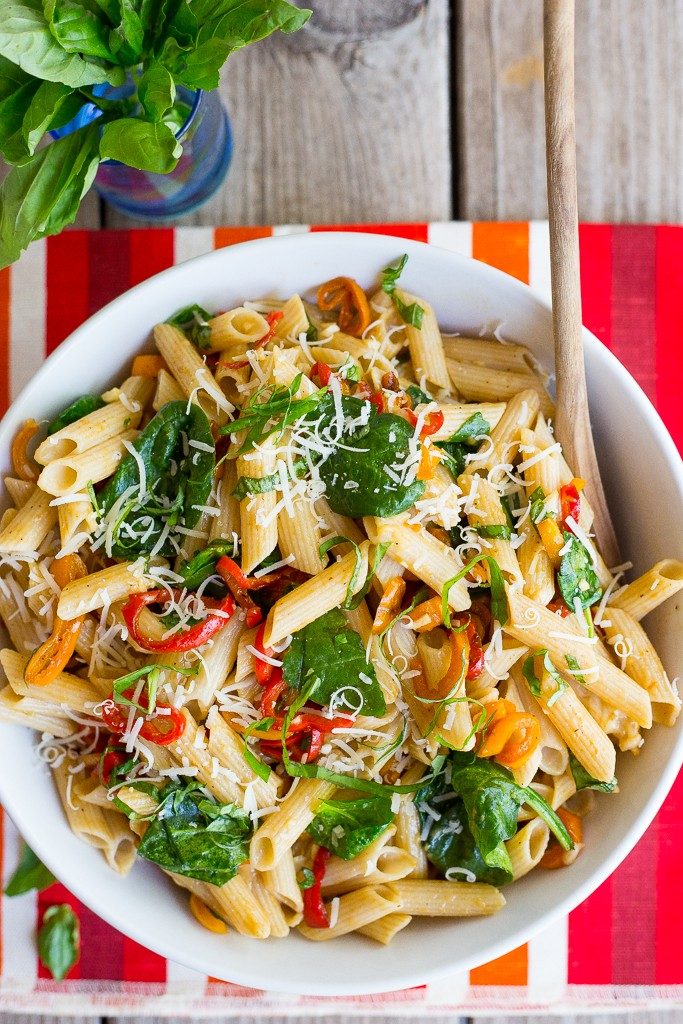 Kale and Leek Pesto Pasta with Tofu
Pasta with pesto and tofu is always an easy go-to dinner recipe when I need something quick and filling, that I know I will love! This pesto is made with kale and leeks for some fresh flavor.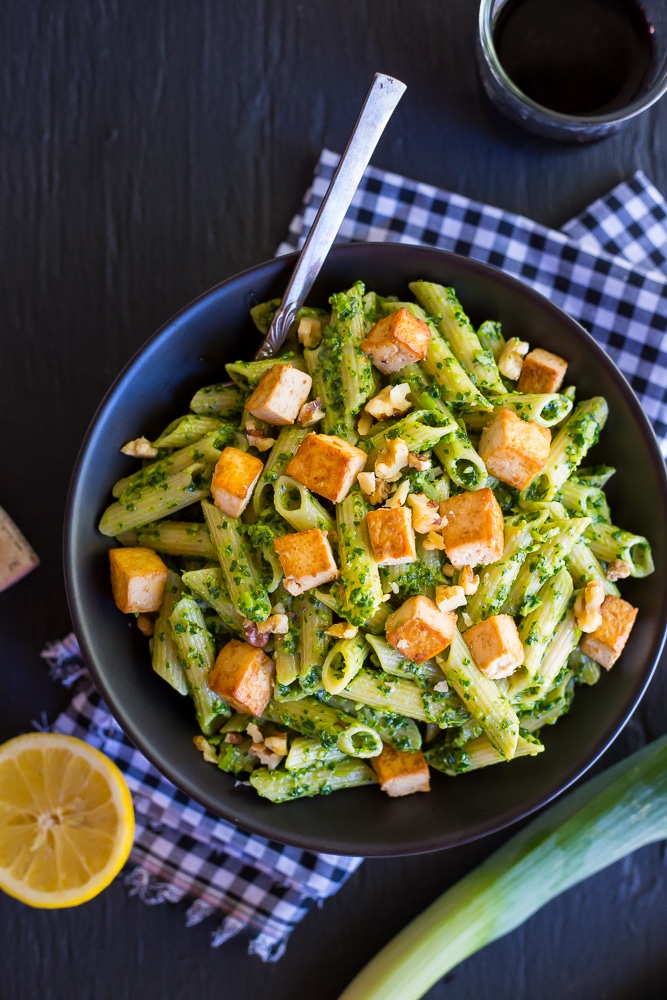 This easy penne pasta recipe uses fresh cherry tomatoes to make a quick and delicious sauce!